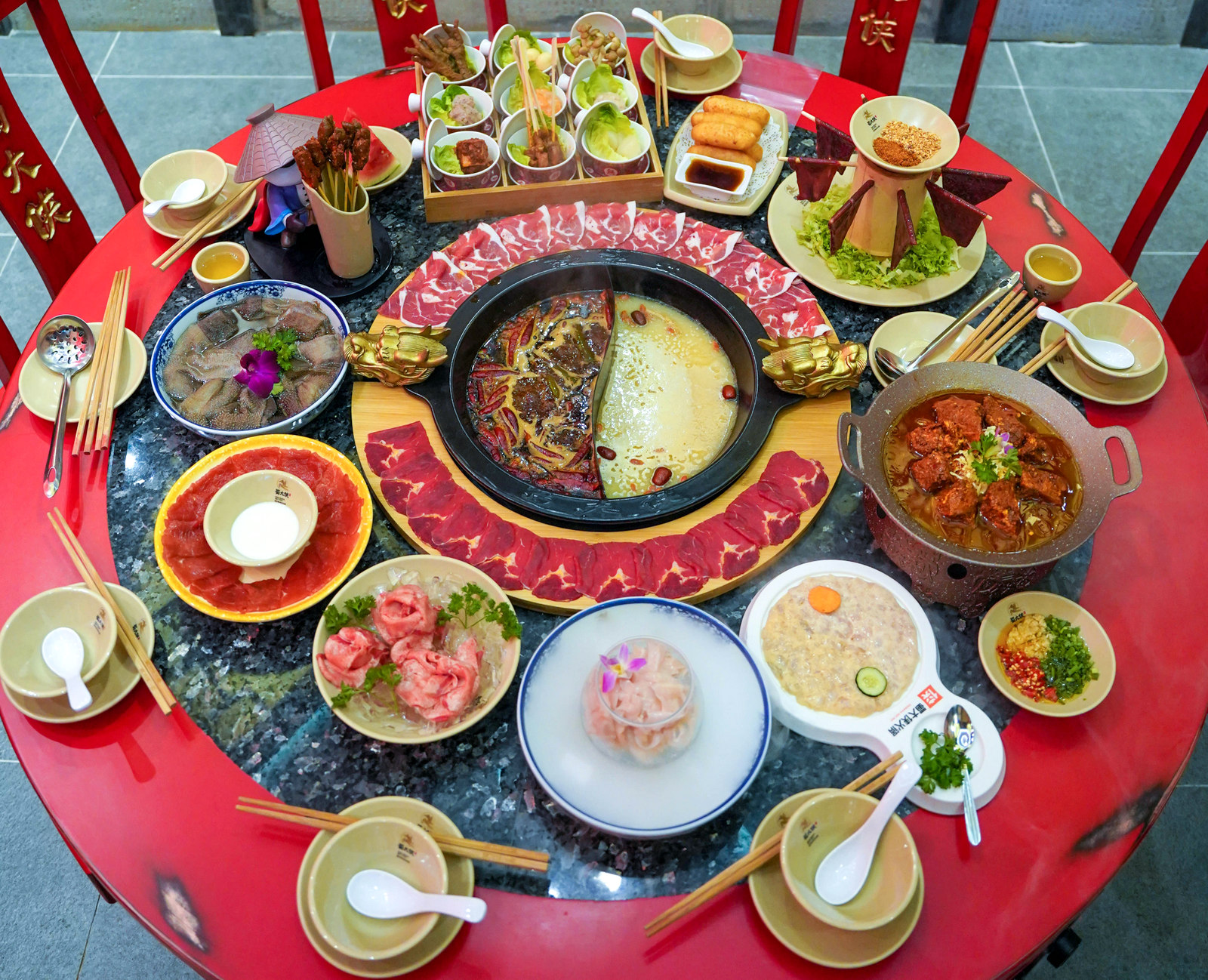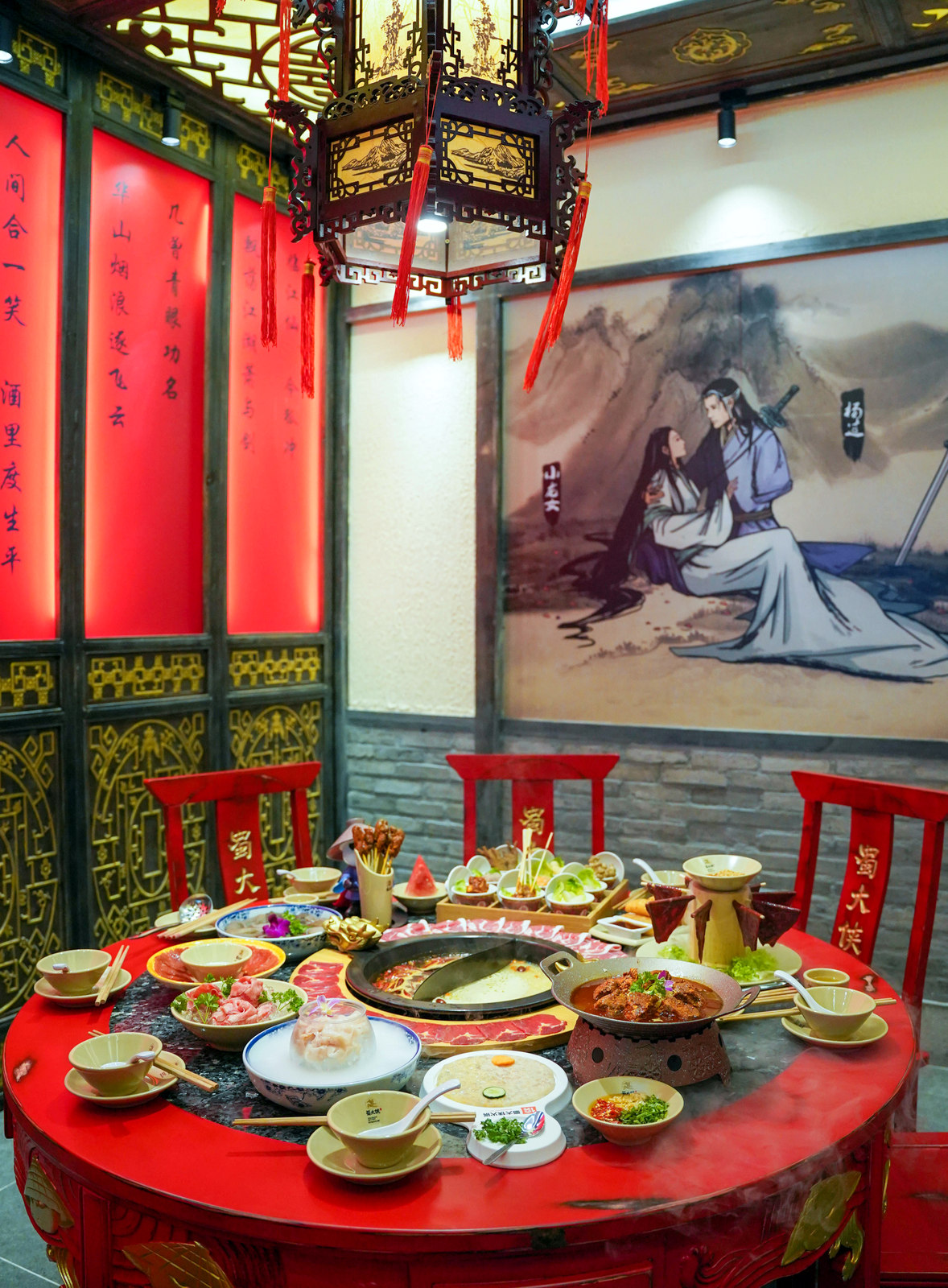 Stepping into Shu DaXia Hot Pot is a pathway into one of KL's most memorable hotpot experiences. This Chengdu-born purveyor of sultry, steaming soulfulness promises a sophisticated flourish to everything from its atmospheric ambiance that channels the adventure of wuxia fiction to its authentic attractions that capture the allure of Sichuan cuisine.
For an introduction to Shu DaXia Hot Pot, start by exploring its latest outpost in Hartamas Shopping Centre, where free valet parking is available for every customer and sterling service ensures an enjoyable visit, especially for special occasions like birthdays and parent's day celebrations.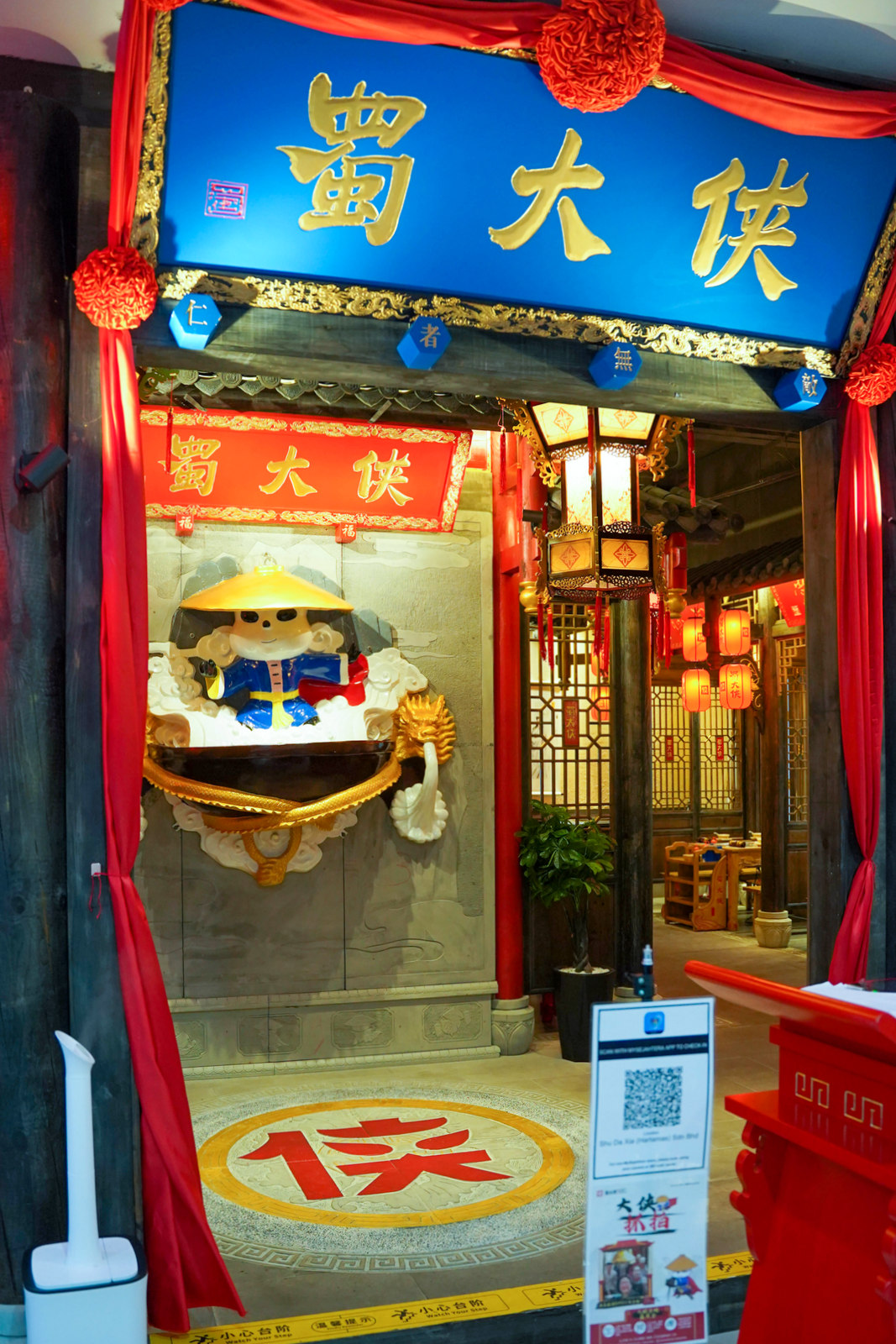 Shu DaXia Hot Pot is bursting with stories and heritage.
As you reach the entrance, its charming mascot welcomes you - a panda figurine soaring on a hotpot with dragonhead handles. Fun fact: The province of Sichuan, Shu DaXia's birthplace, is home to one-third of the world's giant pandas.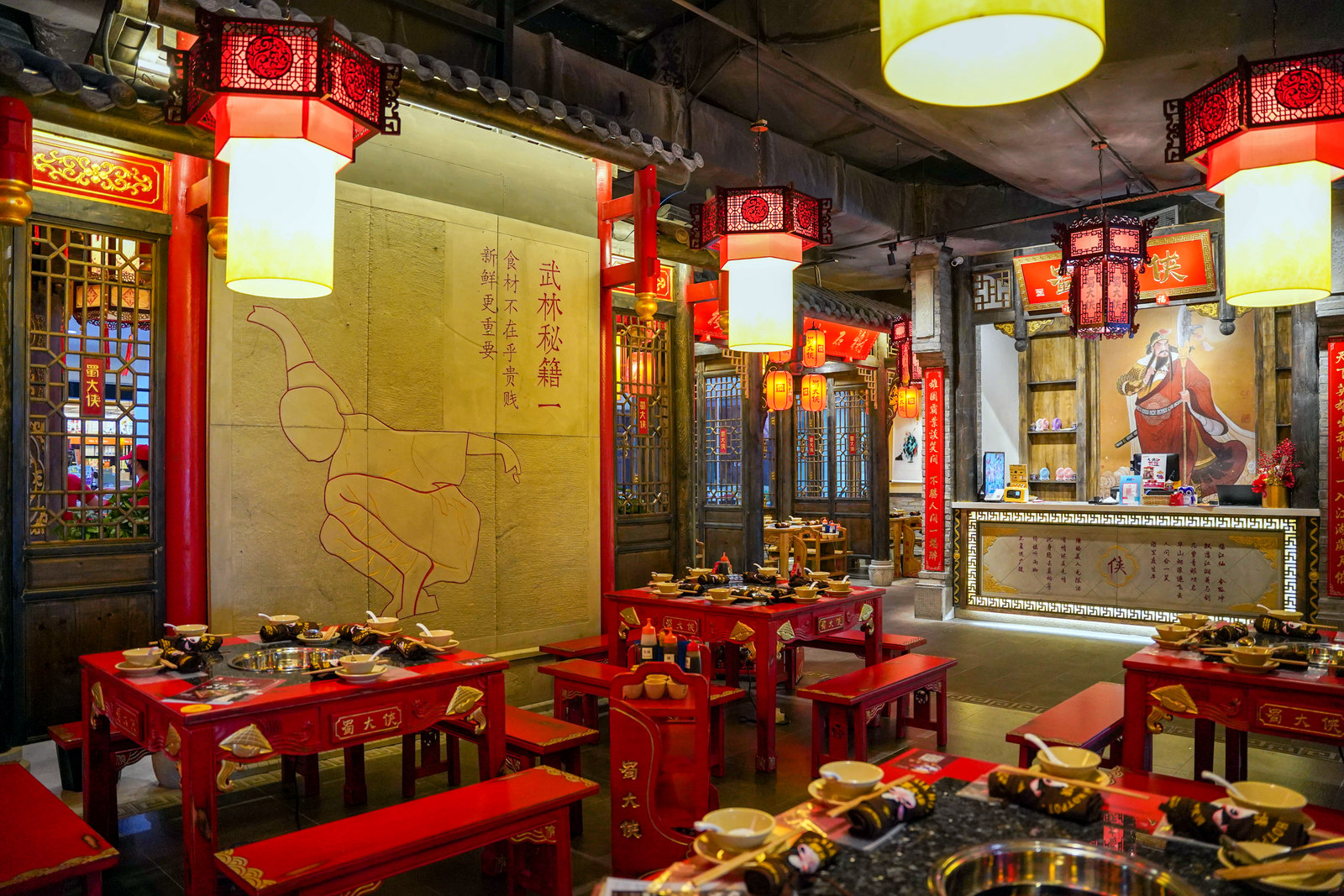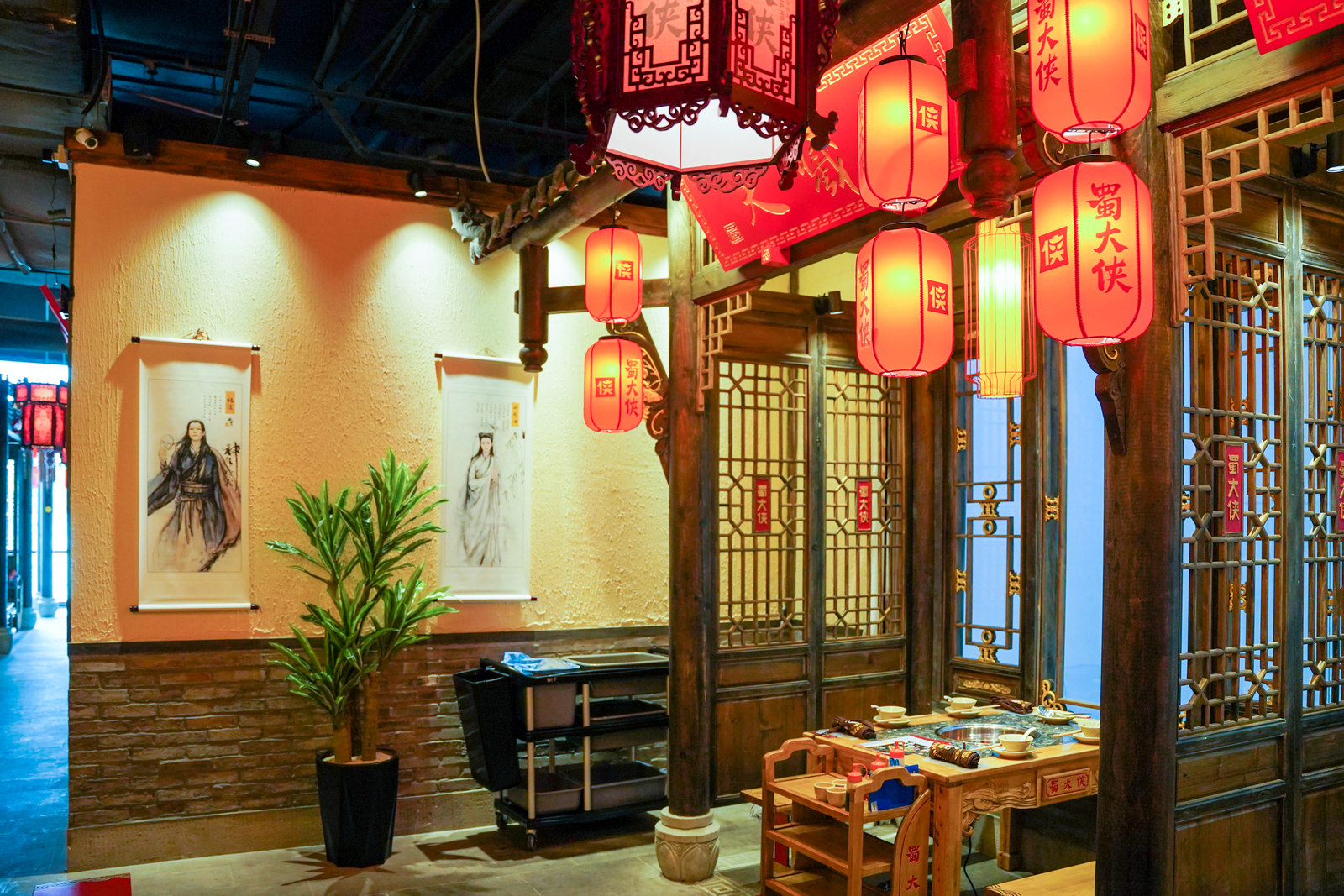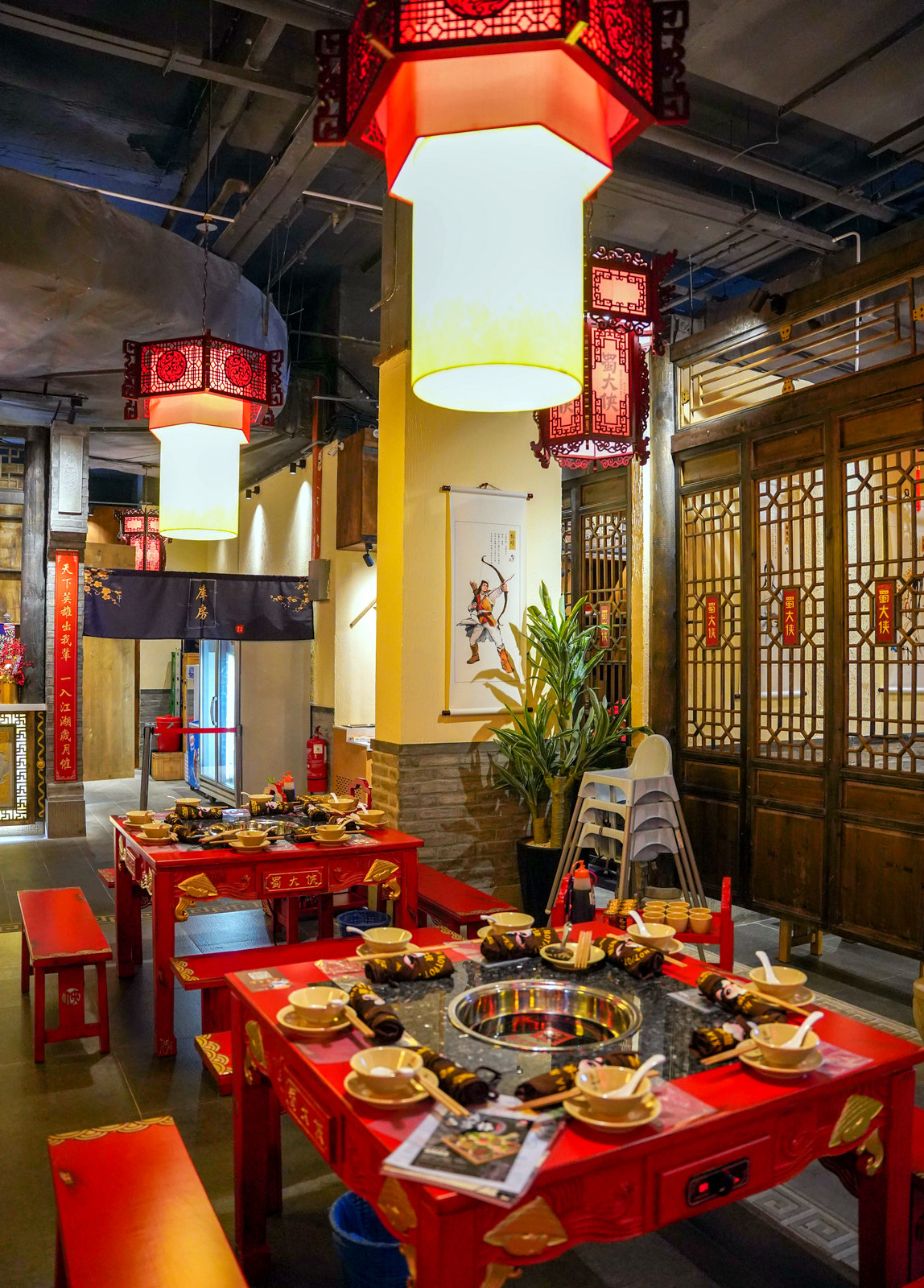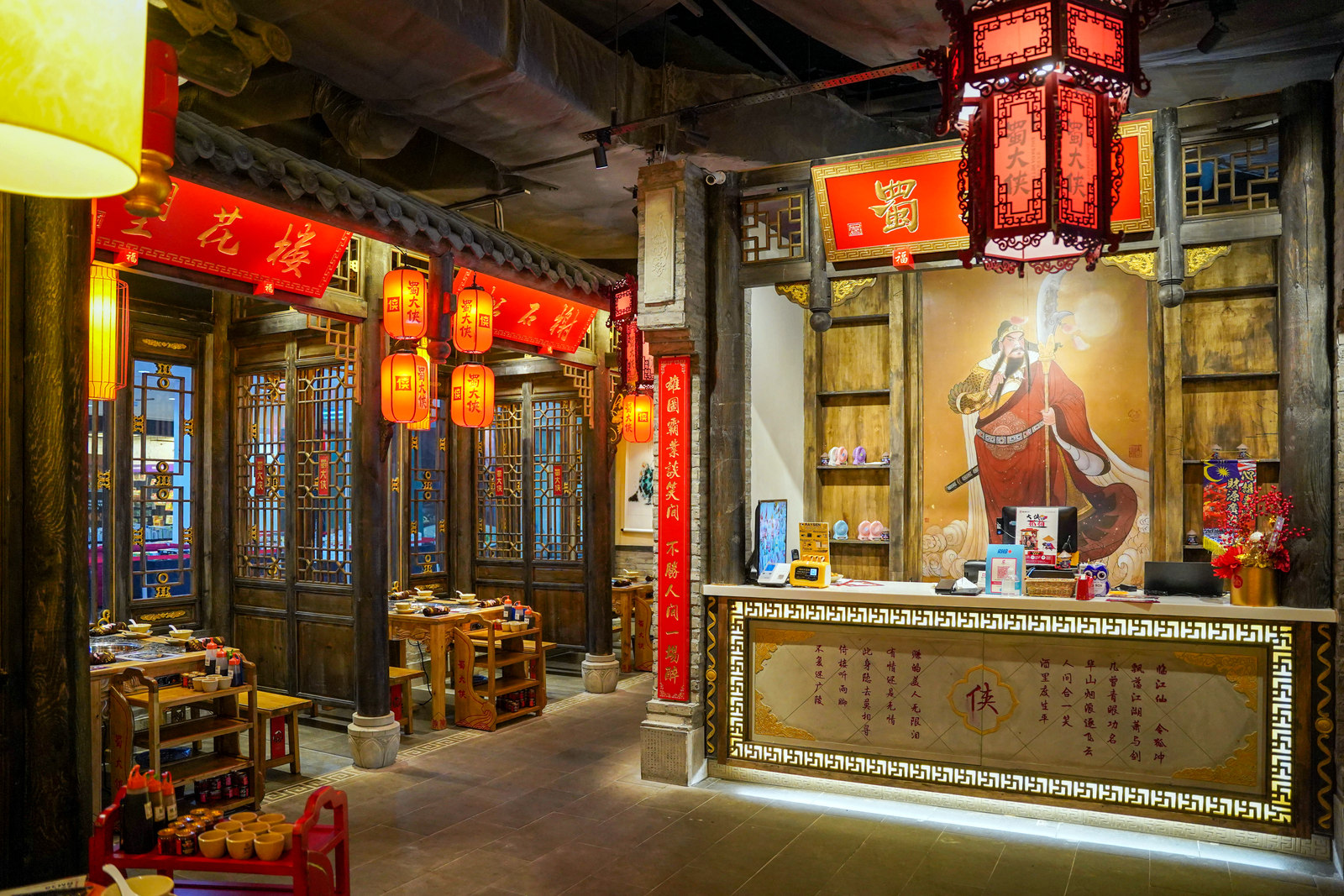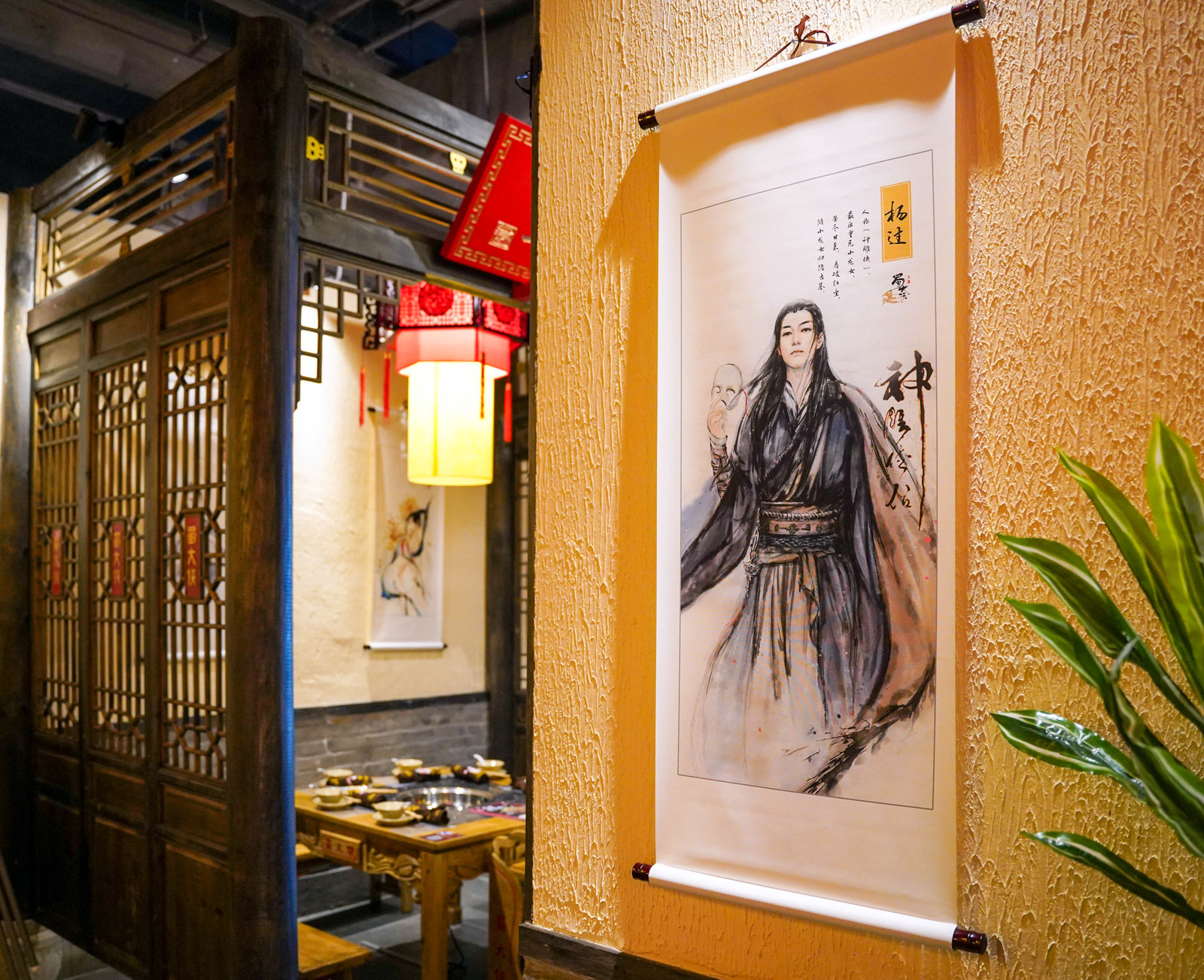 Inside, Shu DaXia Hot Pot transports patrons to an another realm, inspired by ancient Chinese inns and pavilions.
The details in this restaurant are magnificently intricate, brimming with pillars, signboards and floor tiles crafted in China.
The lantern-lit main hall evokes a communal gathering space, true to the spirit of hotpot, which brings families and friends together.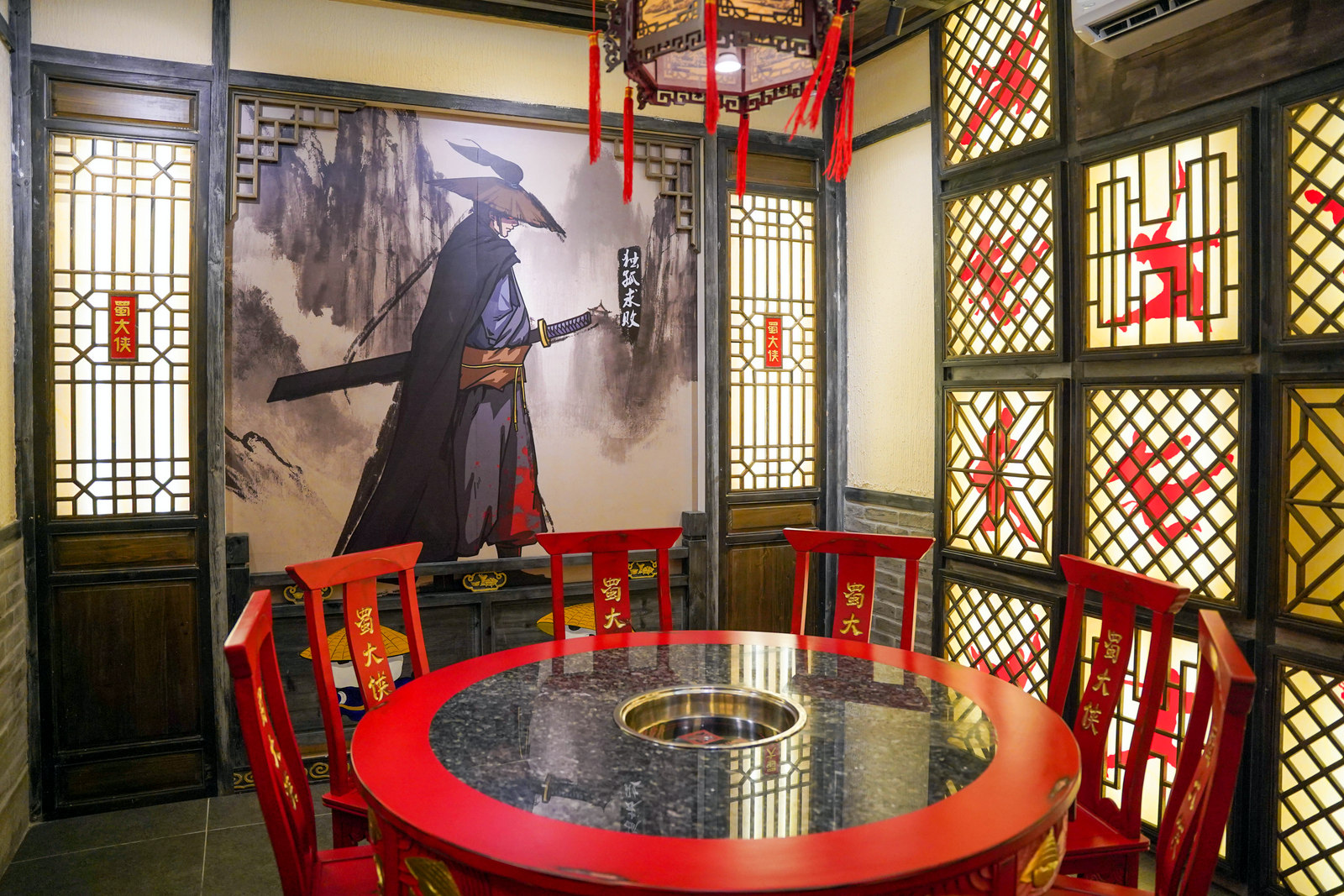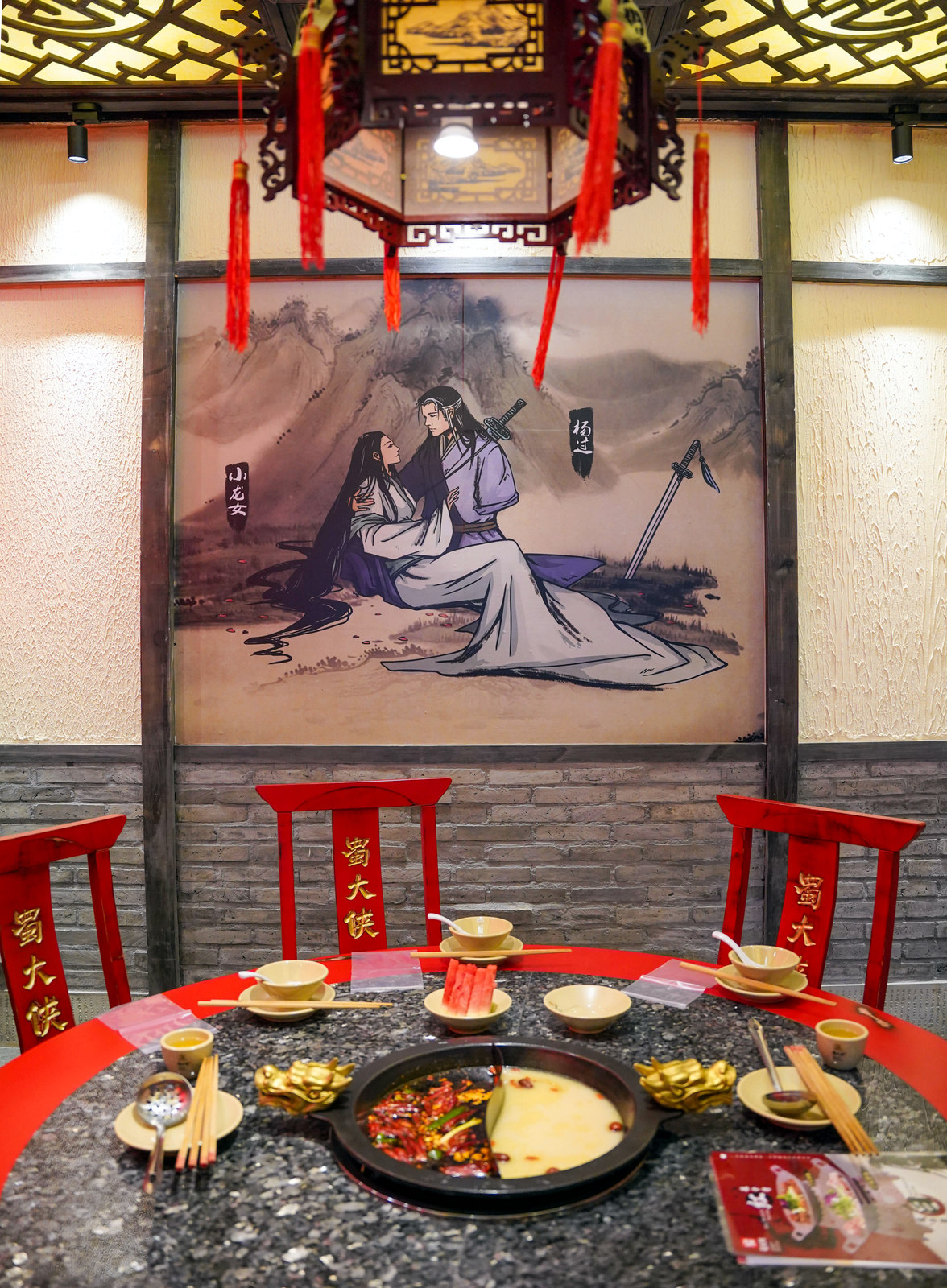 Three private rooms provide an intimate setting, lined with picturesque portraits of martial arts characters from the wuxia novels of Jin Yong - our favourite one features the lovers Yang Guo and Xiaolongnu in a romantic scene from The Return of the Condor Heroes.
The service team loudly and proudly greets each customer while taking them to their tables, attentive to their needs throughout the meal.
If you're celebrating Mother's Day soon or any other special occasion, reserve one of these VIP rooms - Shu Da Xia's team will be happy to prepare special activities to make the event extra-memorable. The restaurants even has costumes that customers can wear to emulate their wuxia heroes.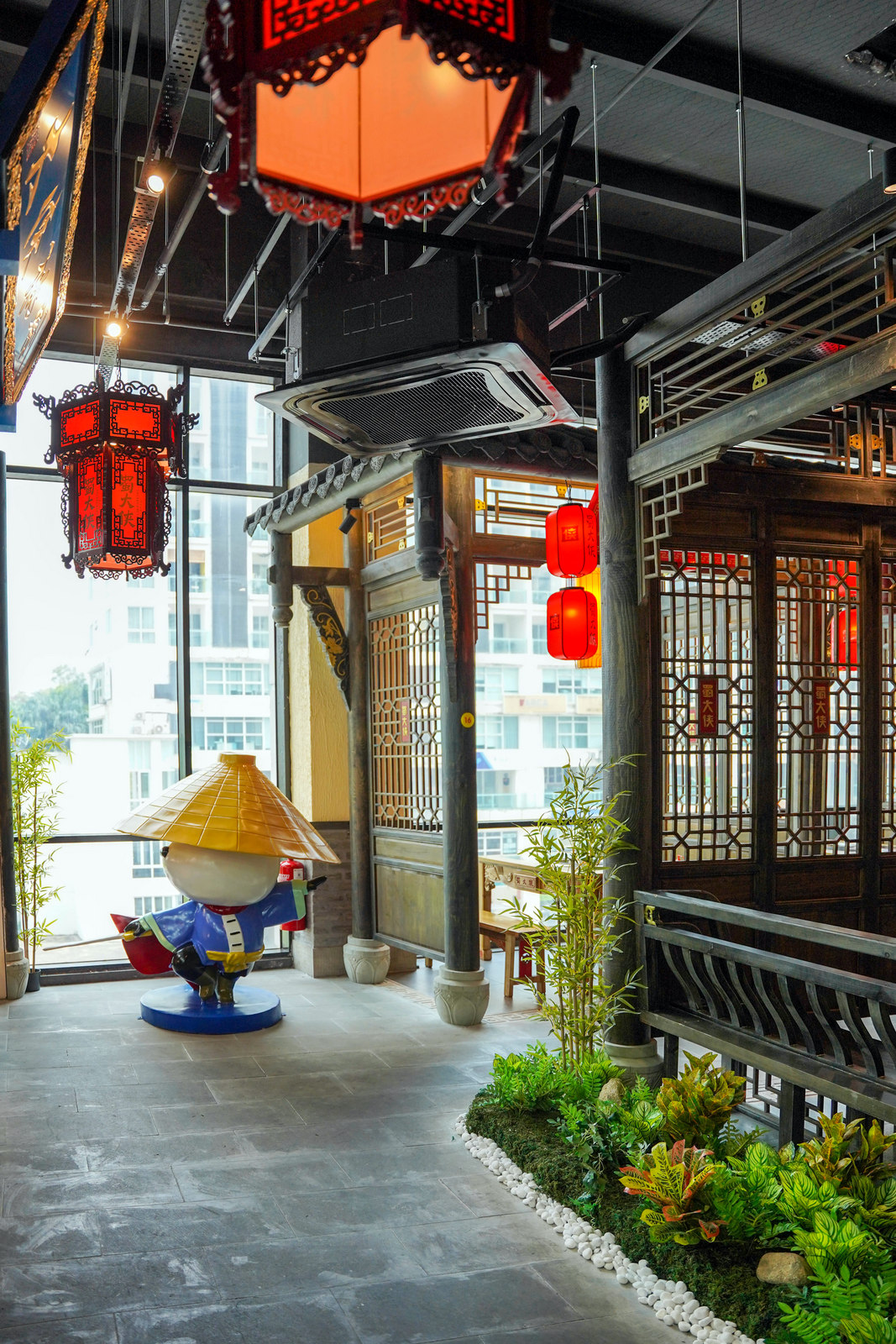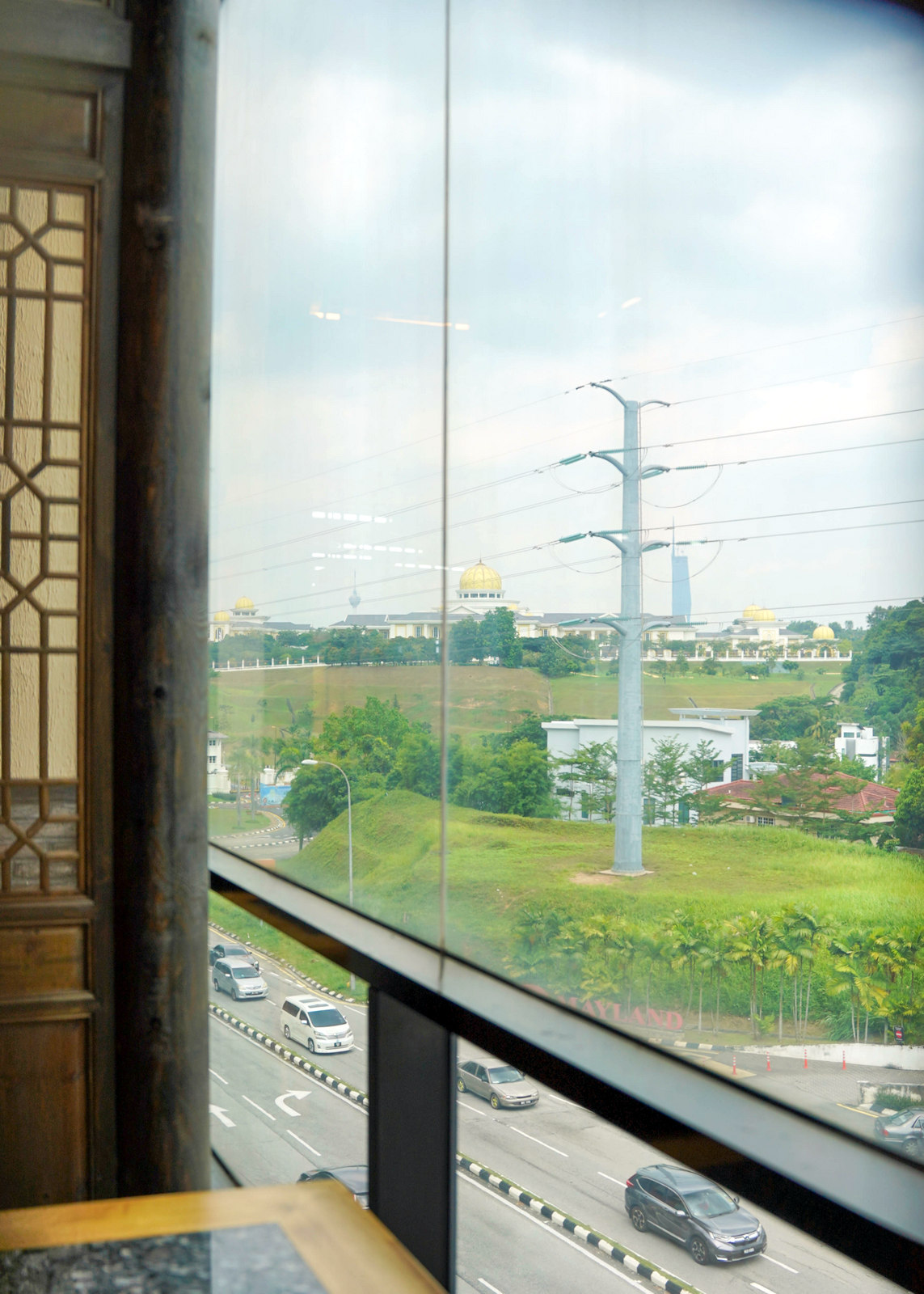 Other sections of Shu Da Xia in Hartamas Shopping Centre feel bright, leafy and airy - check out the tables by the window with a view of the national palace.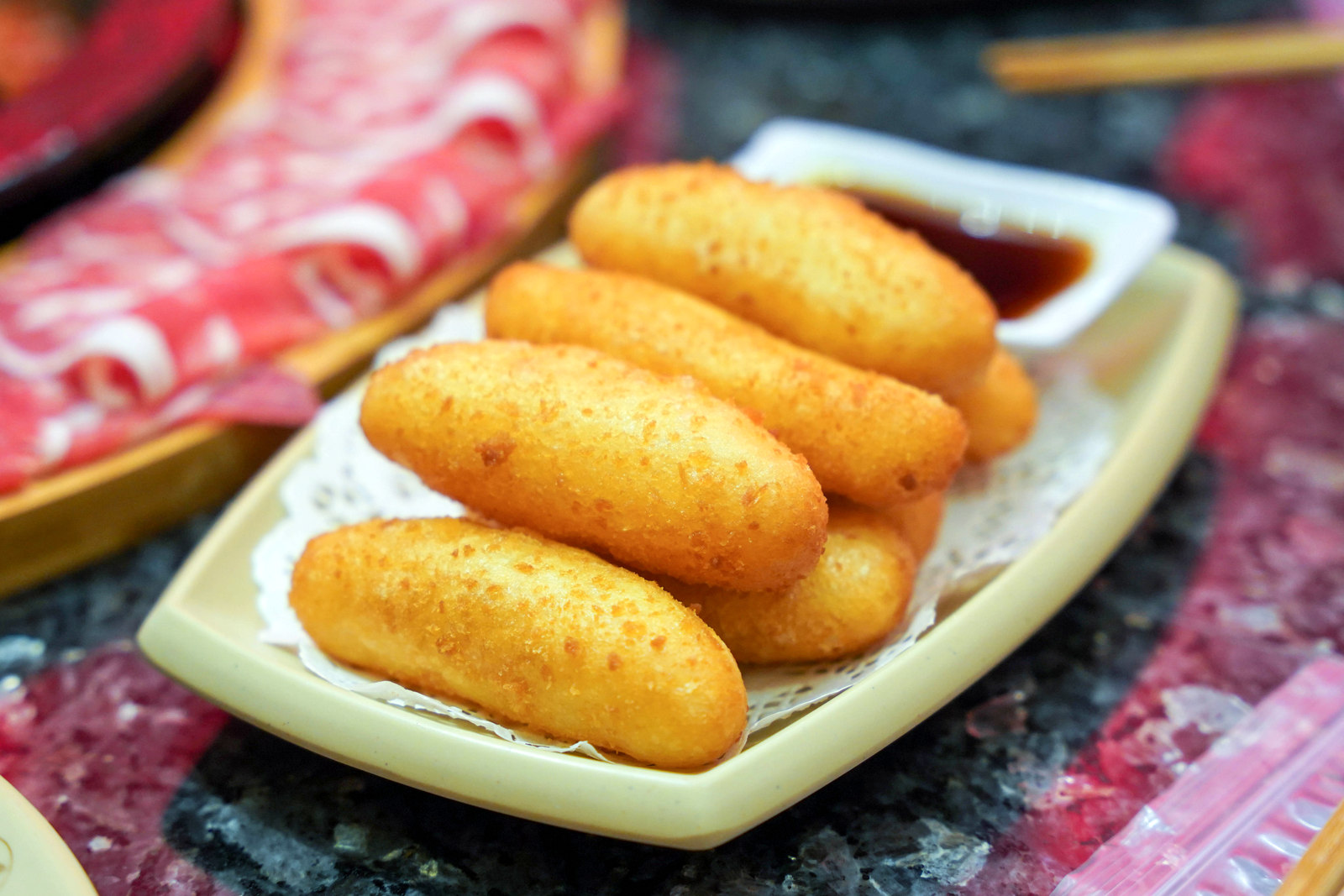 Before the main hotpot meal begins, customers are brought complimentary fruits like watermelon to refresh their palates. It's also worth ordering a starter like rice cakes with brown sugar syrup, served crisp and warm, an addictive street snack with a gentle sweetness.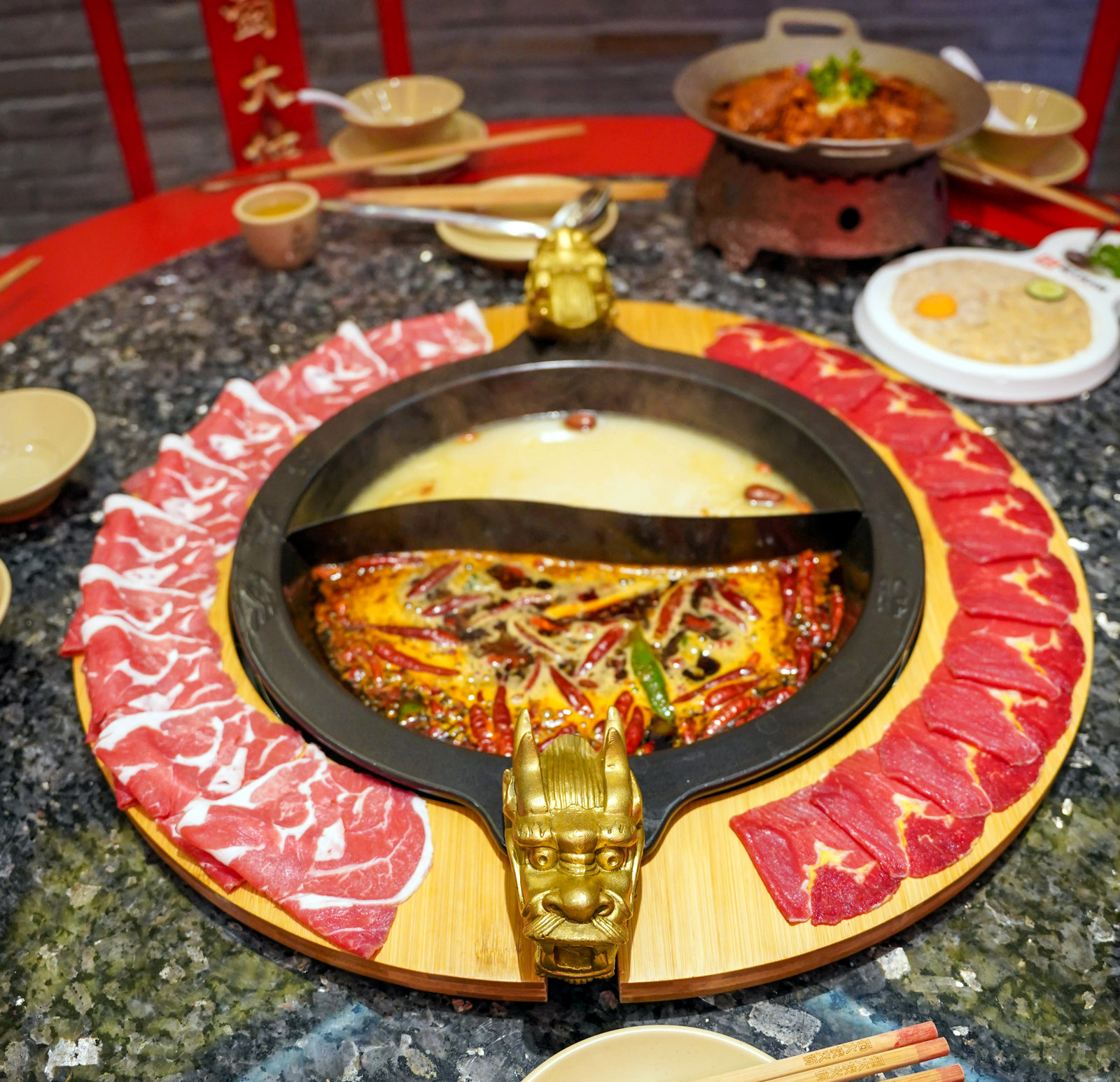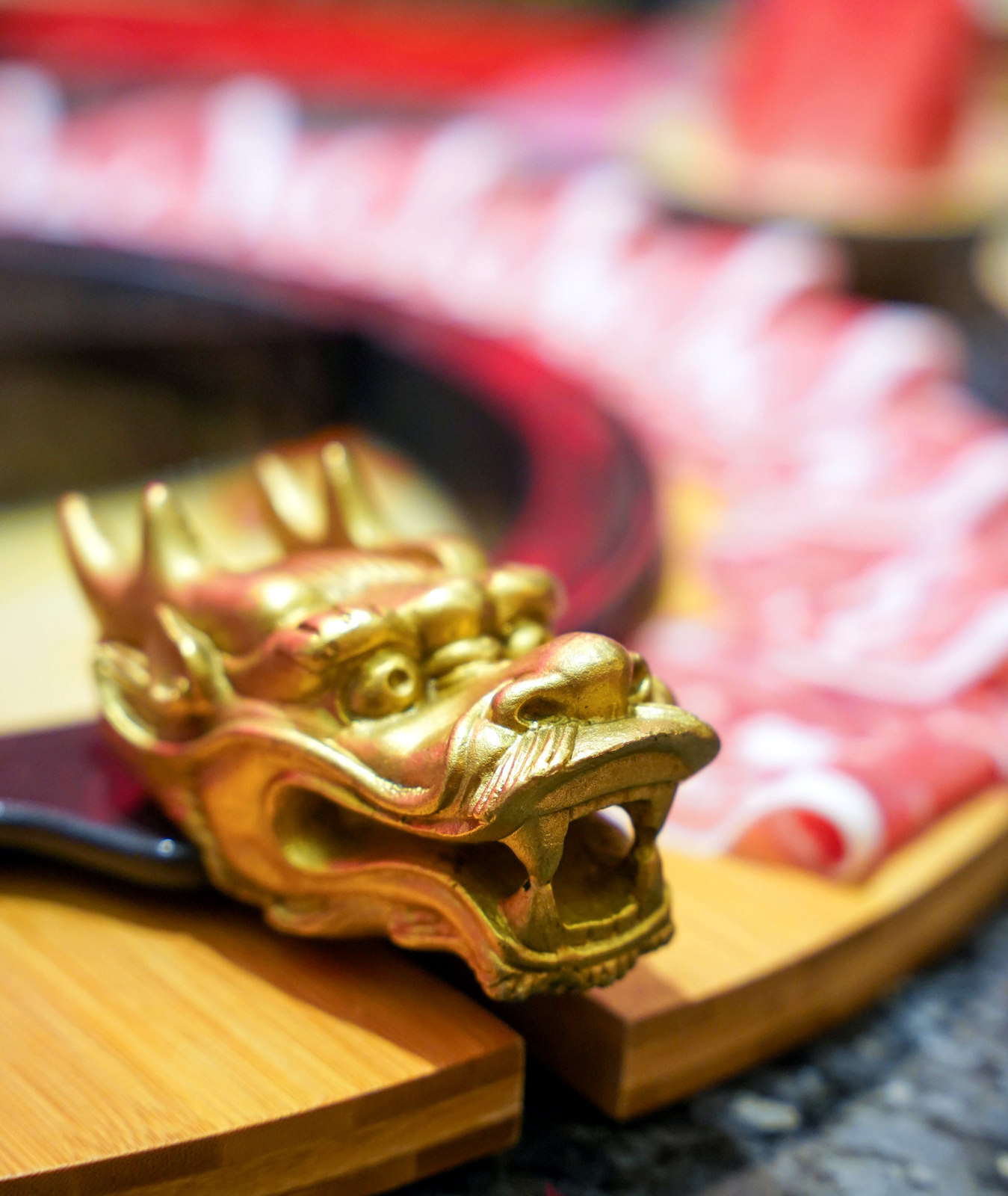 The soups are served in strikingly beautiful hotpots with gleaming, golden handles sculpted to resemble dragon heads.
Customers can choose two or three different soup bases. We selected the Traditional Sichuan Mala Soup with a butter base for a fiery kick and the Beauty Collagen Bone Soup for the tamer flavour. Other options include the Traditional Sichuan Mala Soup with vegetable oil, Tomato Soup, or Mushroom Soup; the Mala soups are available in mild spicy, medium spicy or extra spicy.
These are compellingly premium soups - the Mala conveys the numbing taste of Sichuan peppercorns, with a gorgeously mouthwatering aroma, while the Beauty Collagen Bone Soup is meticulously minimum-10-hour-boiled for a beautiful milkiness, immersed with the nourishment of pork bones, dates, wolfberries, peach gum and other time-honoured ingredients.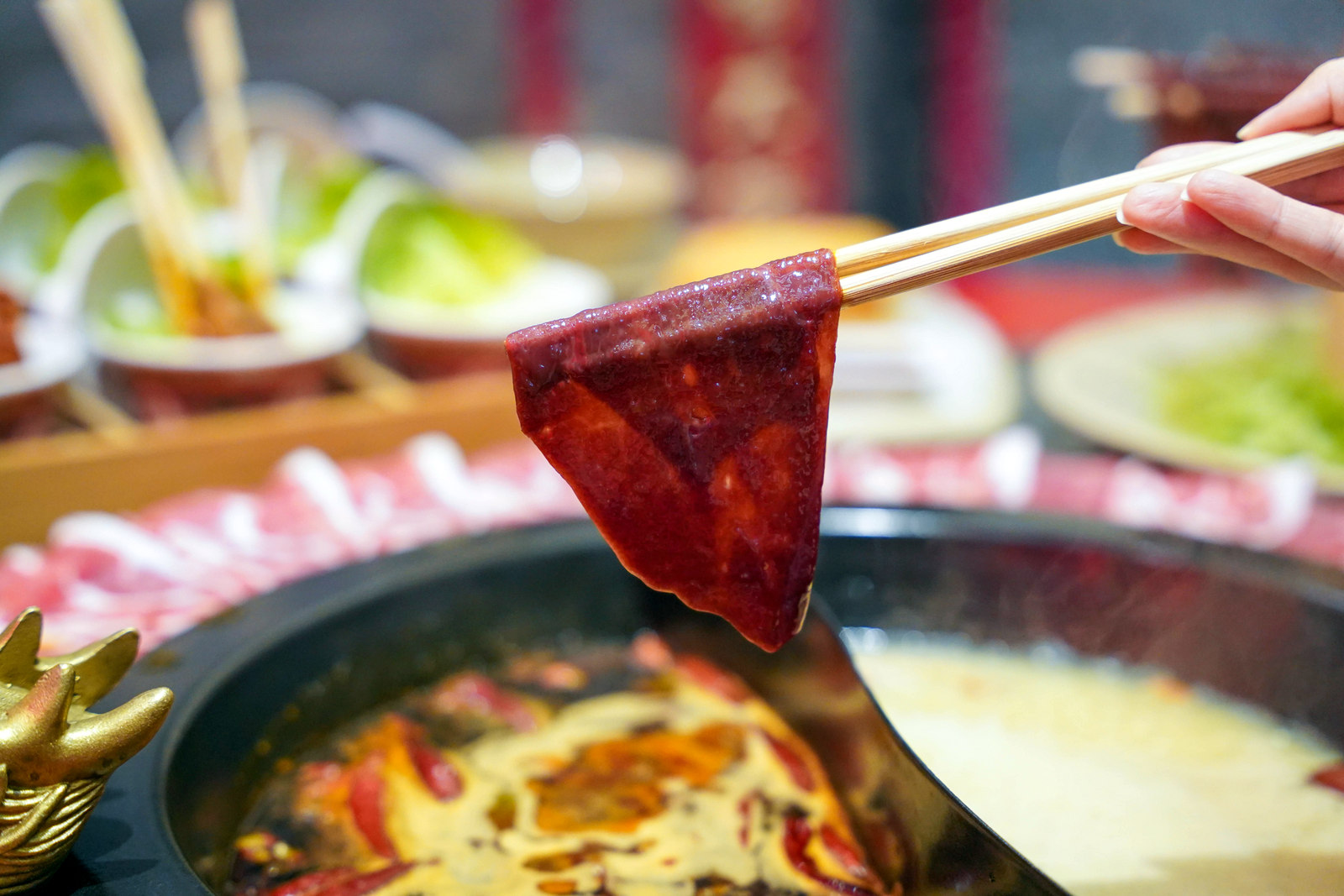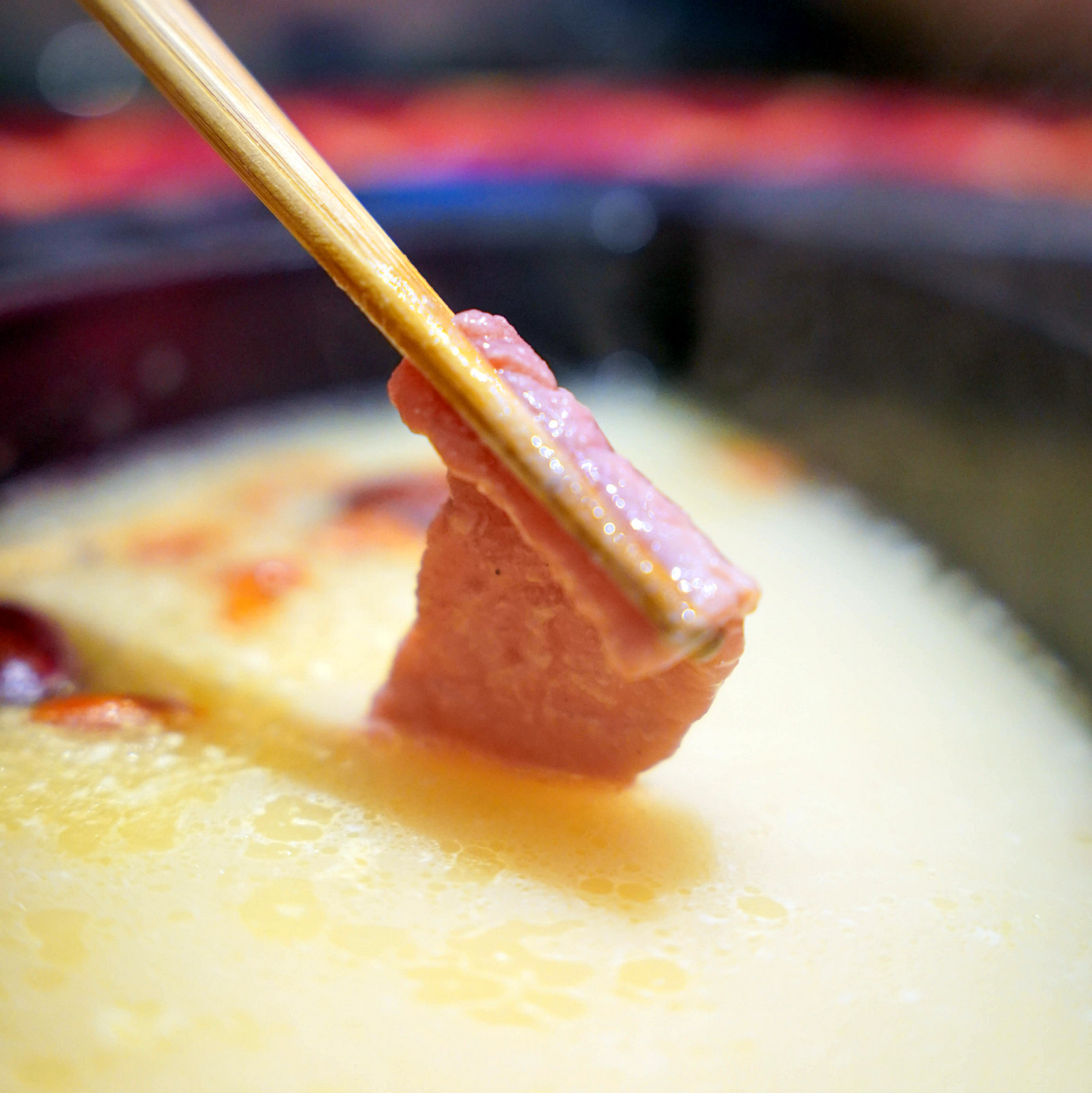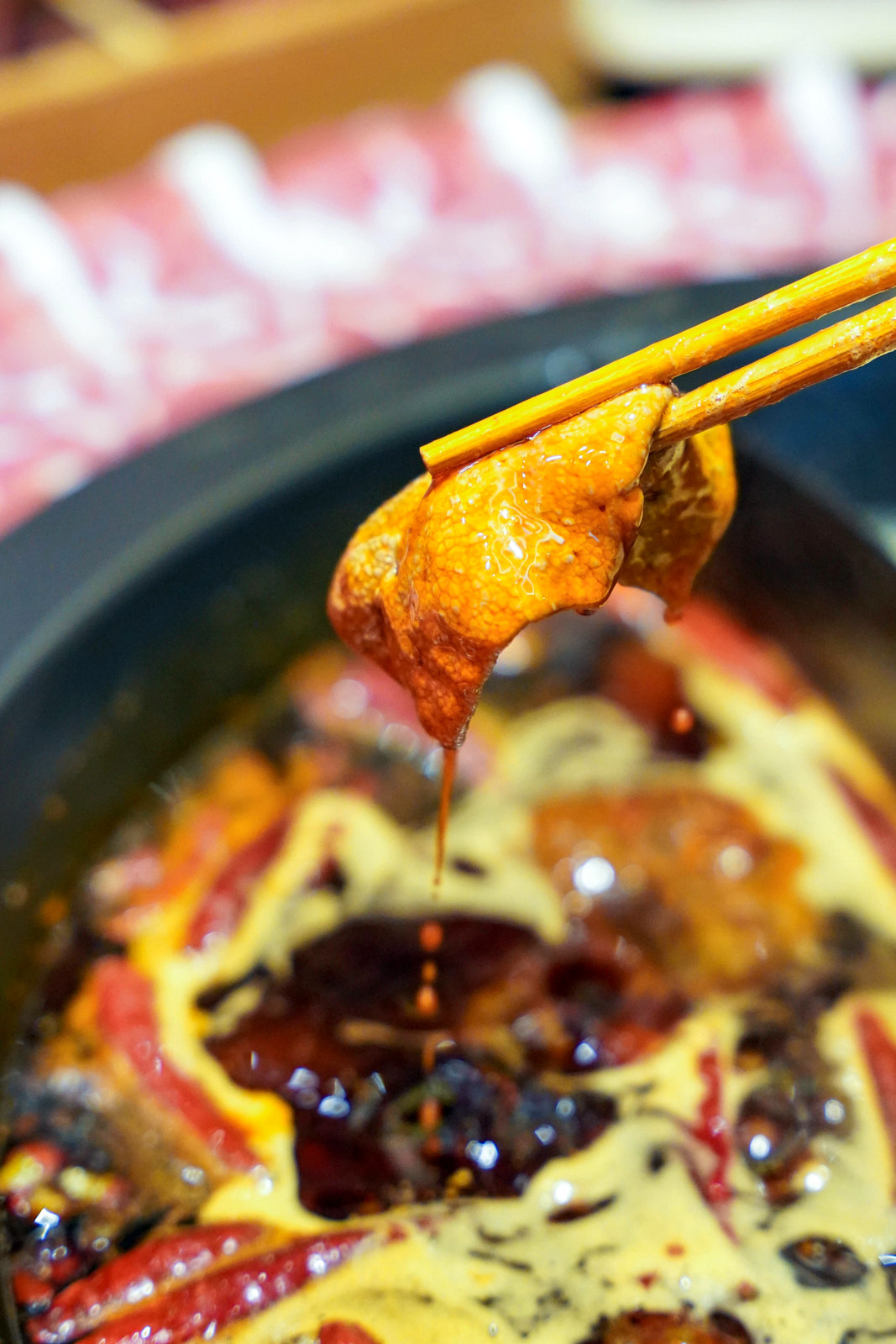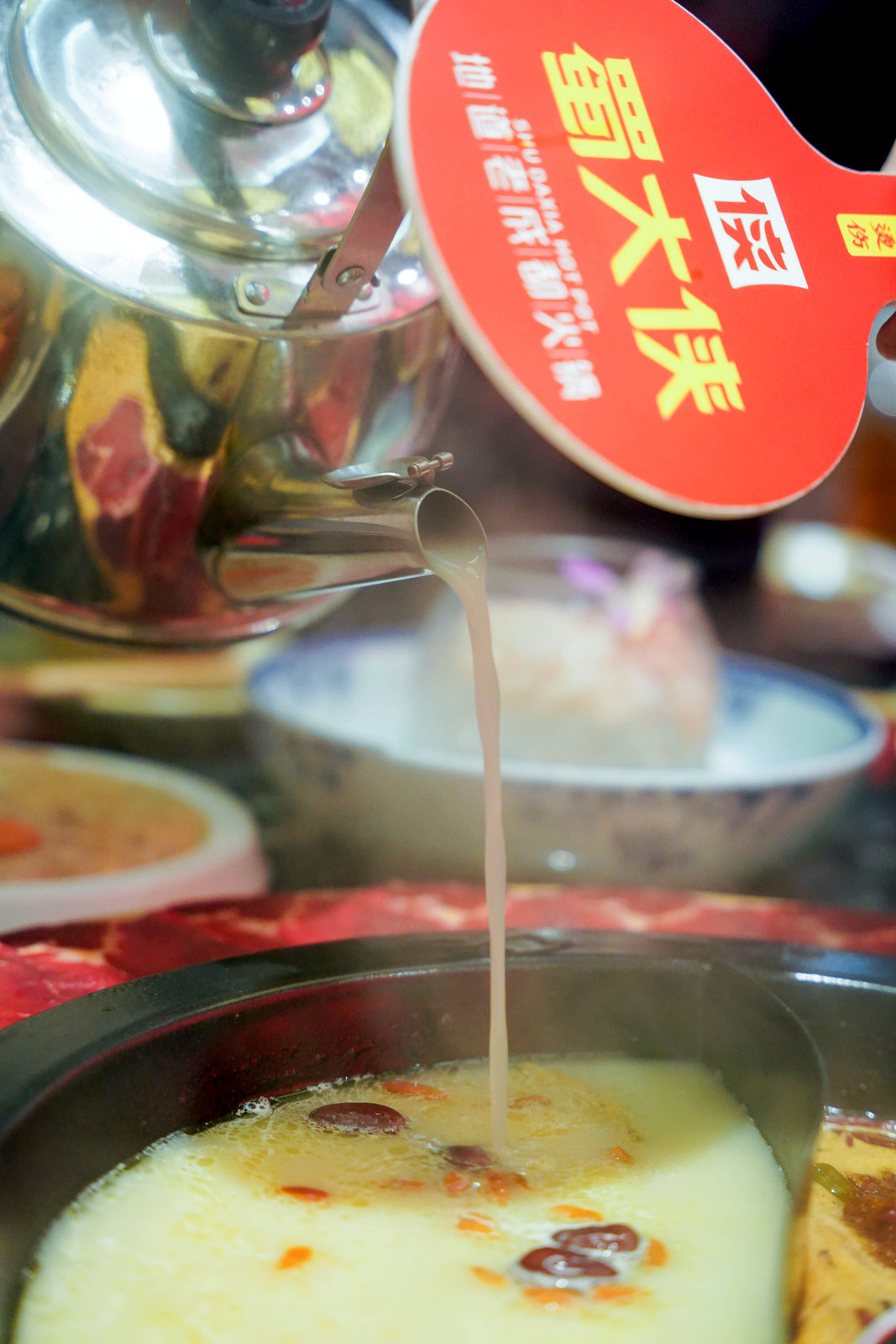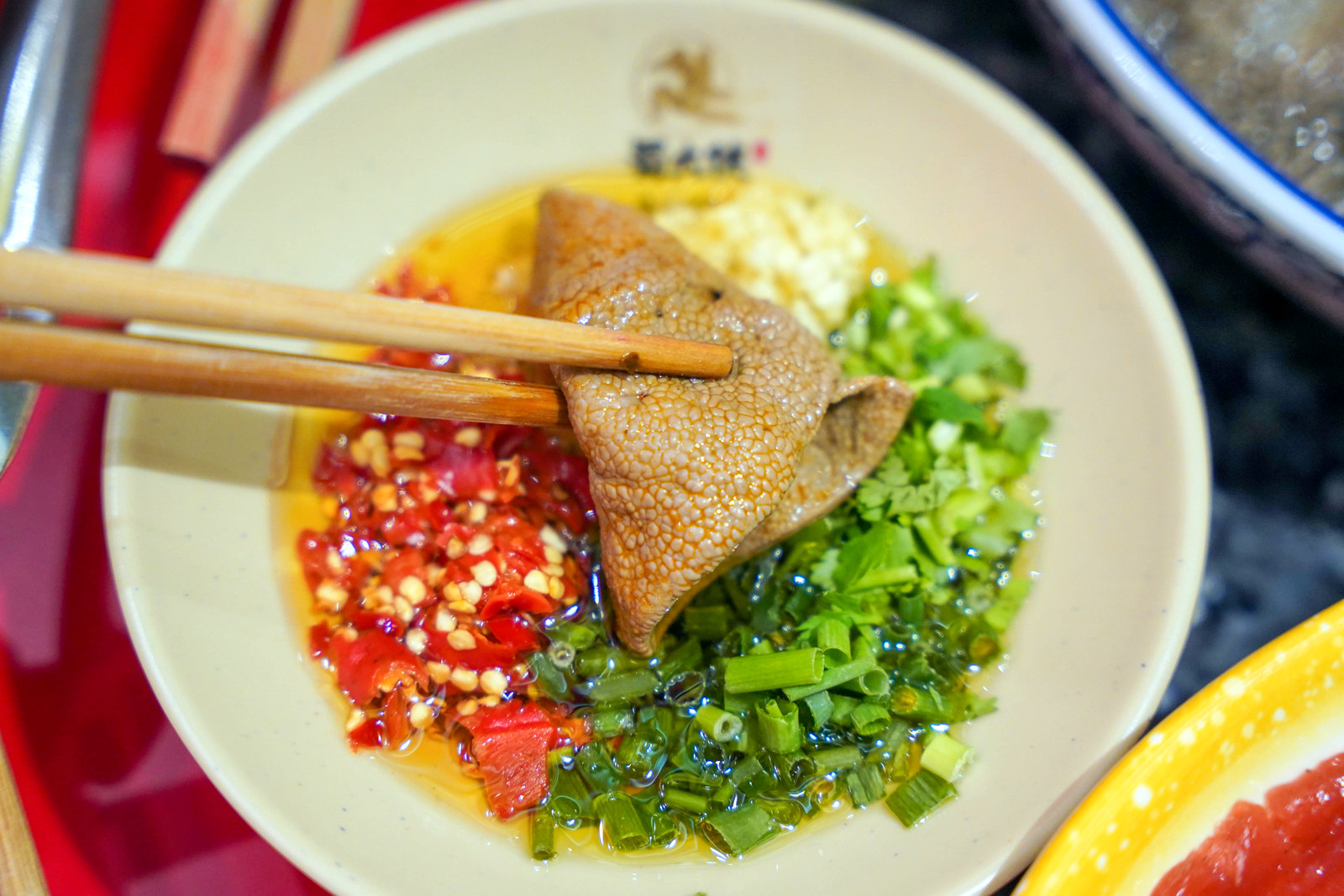 Shu DaXia Hot Pot's recommendation is to enjoy the offal ingredients, such as pork liver, beef tripe and duck intestines, mainly with the Mala soup. Customers can also dip them in the traditional Sichuan condiment mix of coriander, garlic, green onions and chilli in sesame oil to help moderate the spiciness and enhance the cooked ingredients with a uniquely reviving blend of flavours.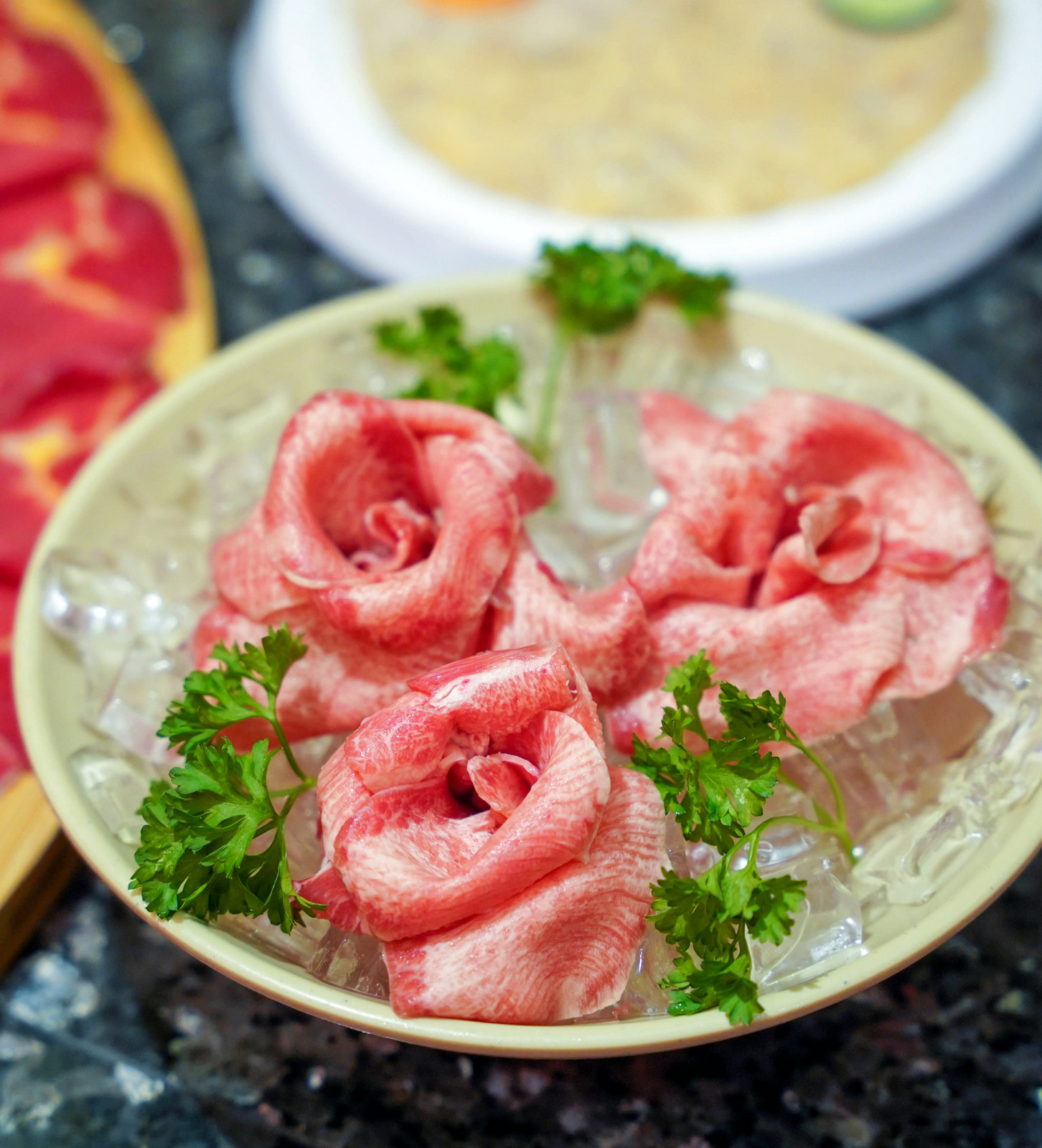 Shu DaXia Hot Pot's ingredient list is extensive, with nine evocatively named signature specials that first-time customers should commence with.
Our favourite is the Hero Beef Tongue, hugely popular, shaped as roses on ice - cook them for 40 seconds to relish their supple, full-bodied lusciousness. A definite must-try.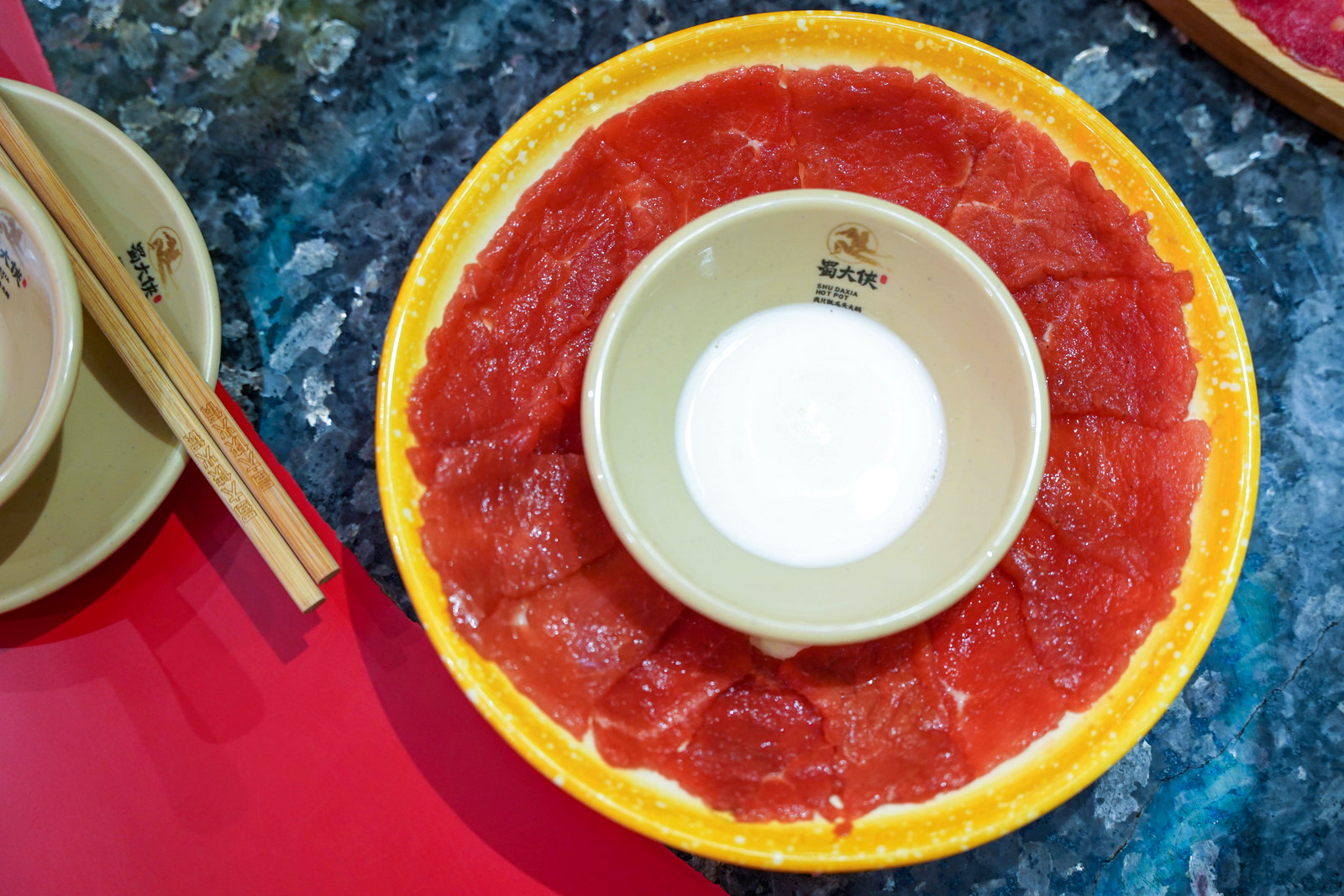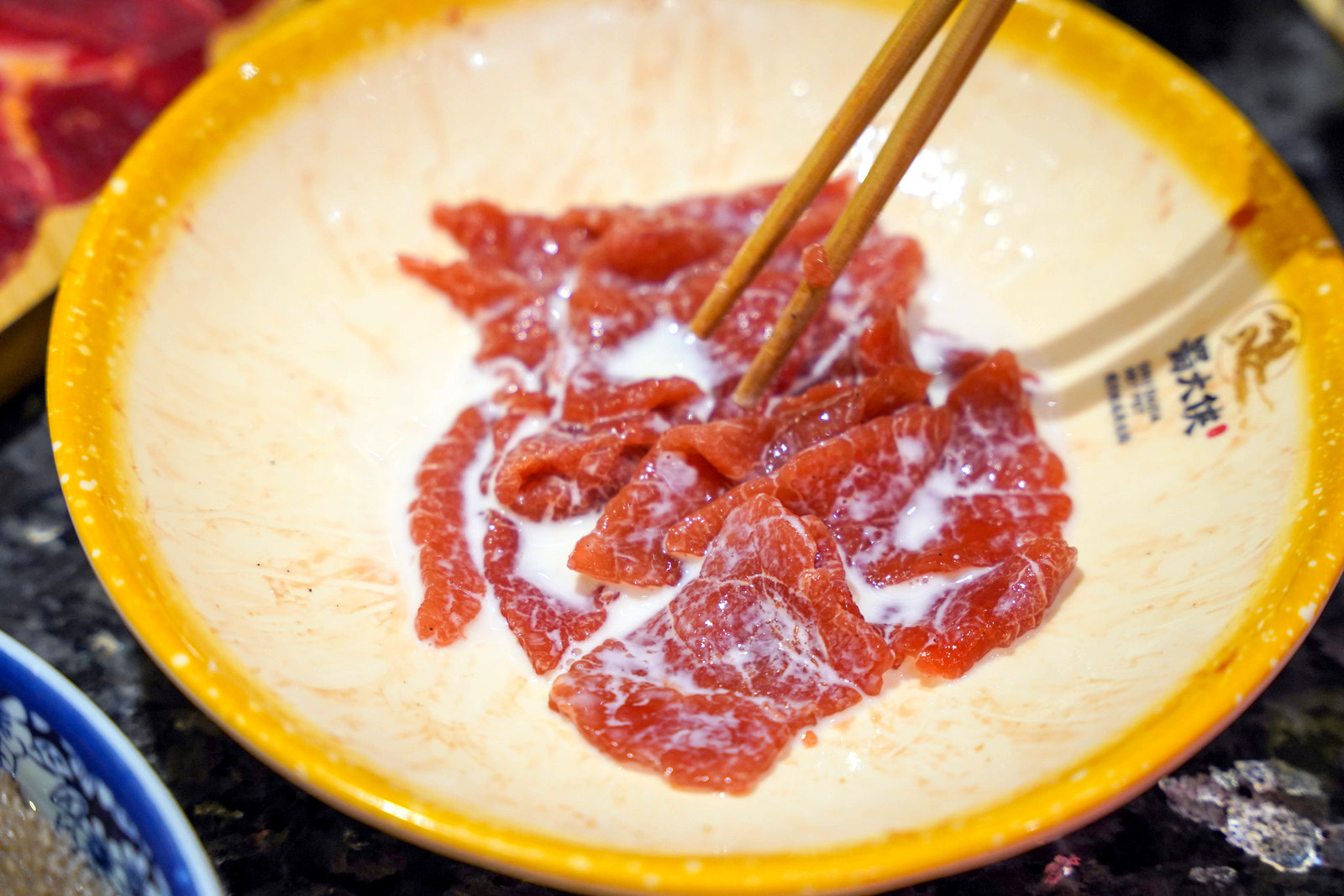 The Imperial Princess Beef is soaked in milk to accentuate its juiciness - these beef slices surface with a light, clean-tasting springiness after simmering, certainly fit for royalty.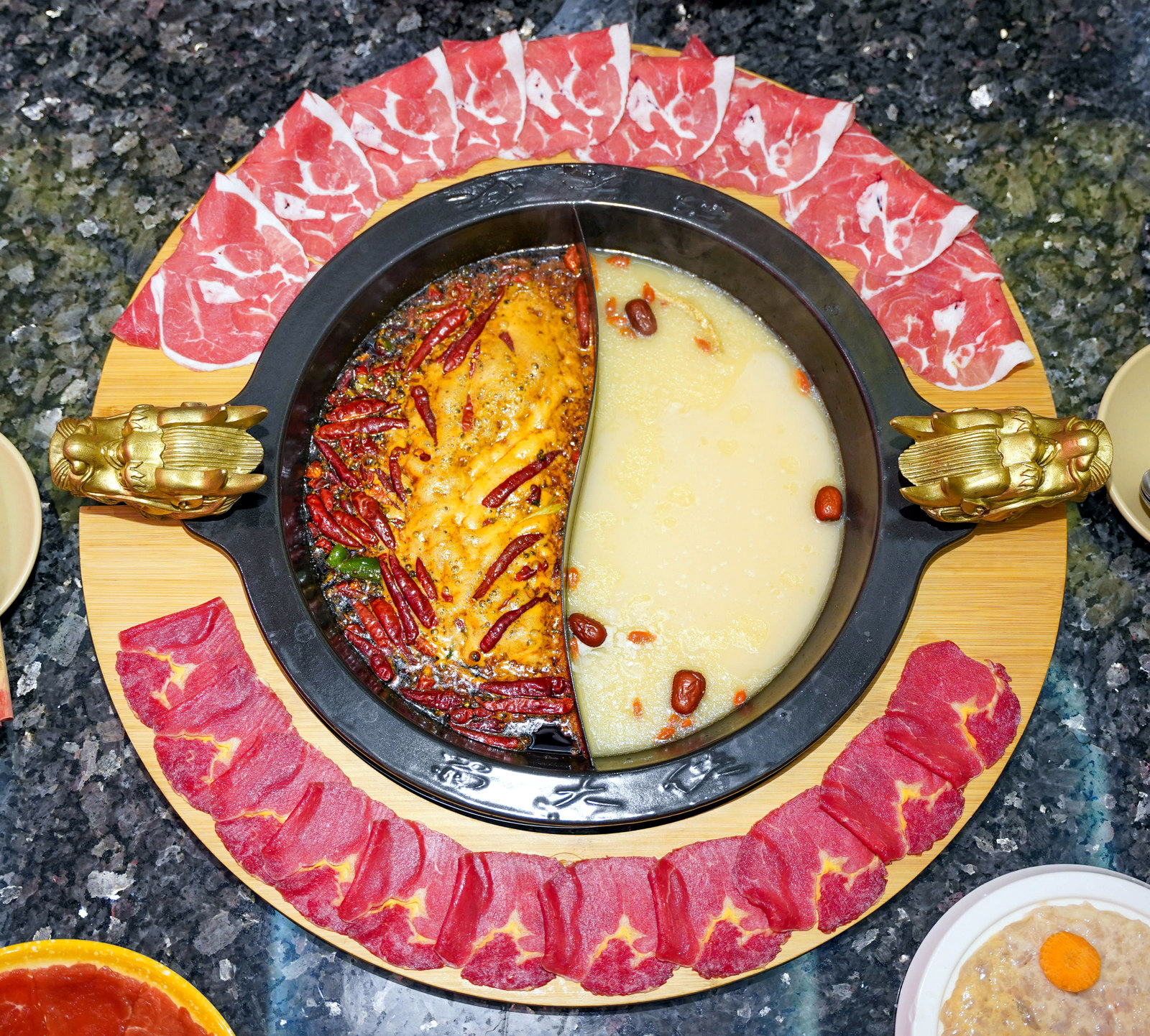 For fans of red meat, order the Sliced Lamb & Beef Platter for slices of your favourite lip-smacking protein to encircle the hotpot, perfect for sharing.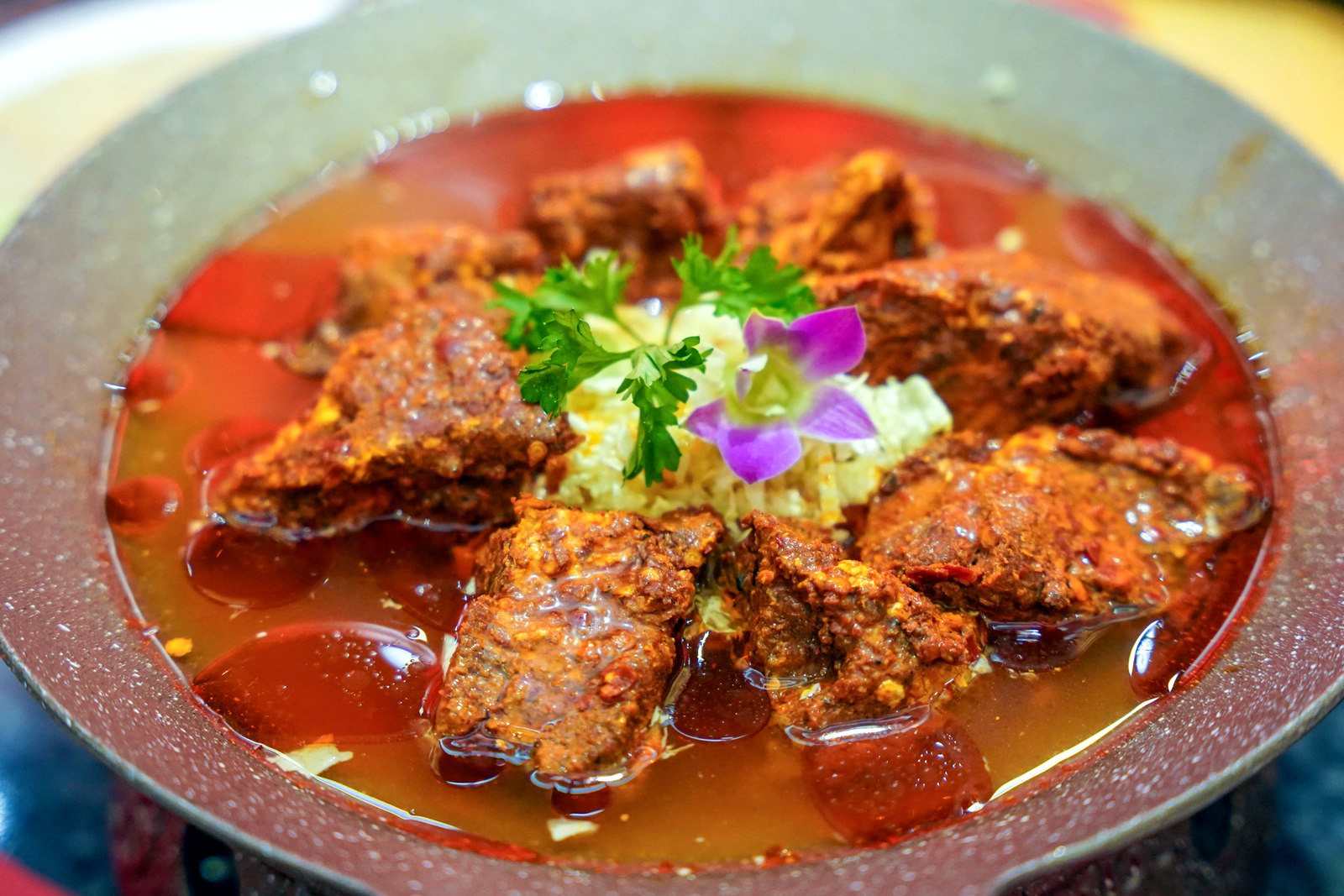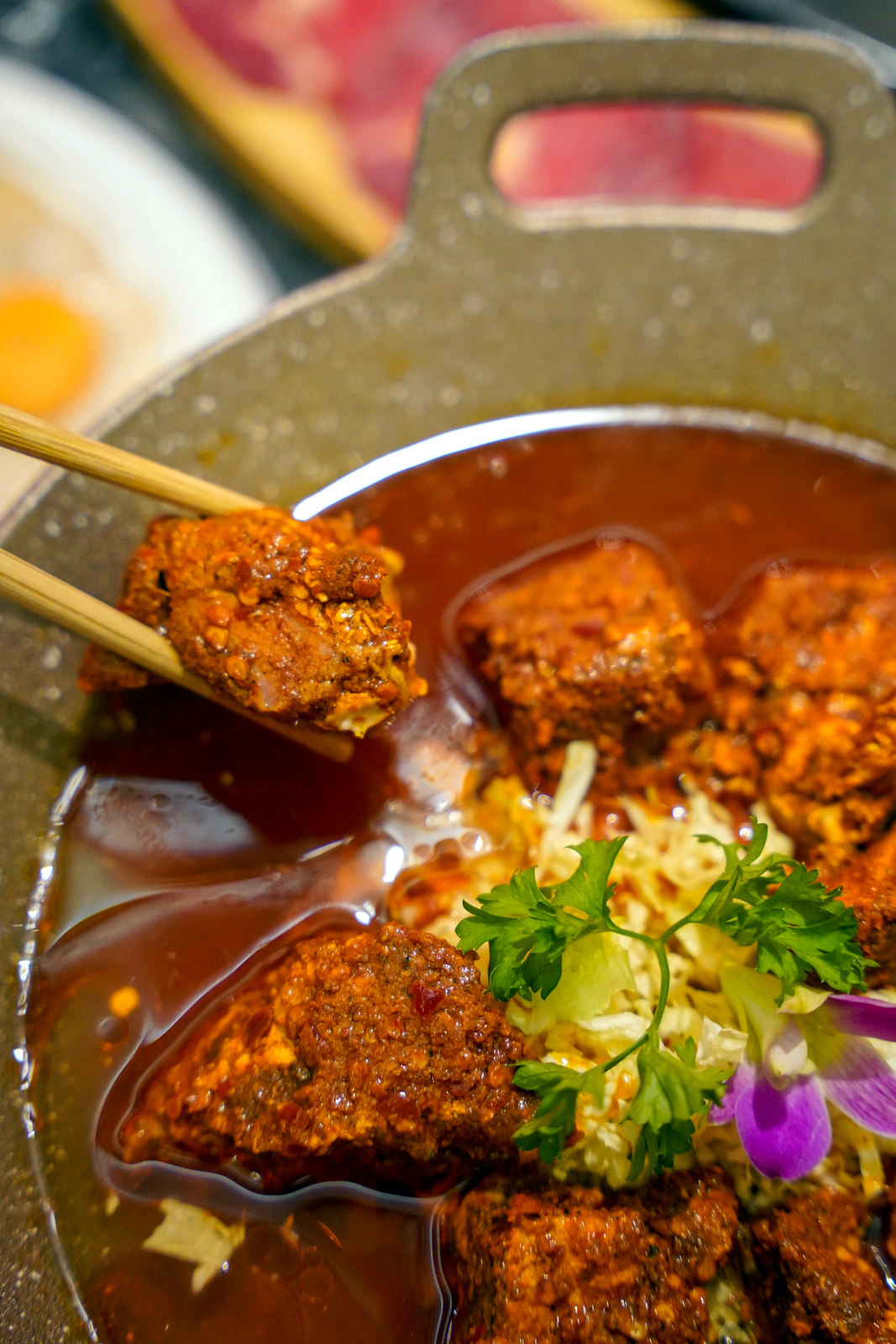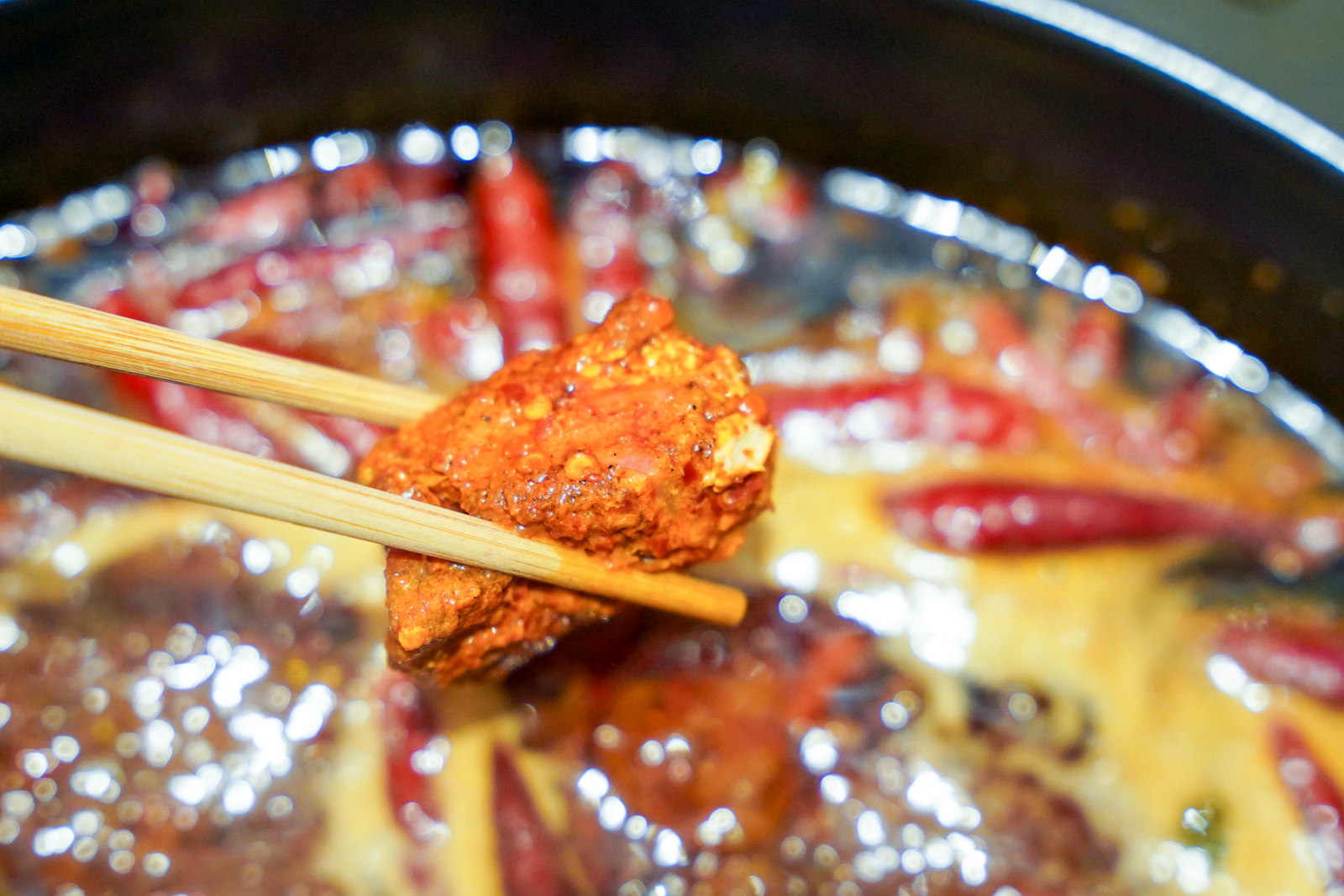 Prefer pork? Shu DaXia Hot Pot takes pride in its Marinated Pork Ribs, available in spicy or non-spicy eight-hour marinations, thoroughly infused with rich, robust flavours, cooked for 25 minutes in the hotpot to emerge with a confidently fleshy, fall-off-the-bone meatiness.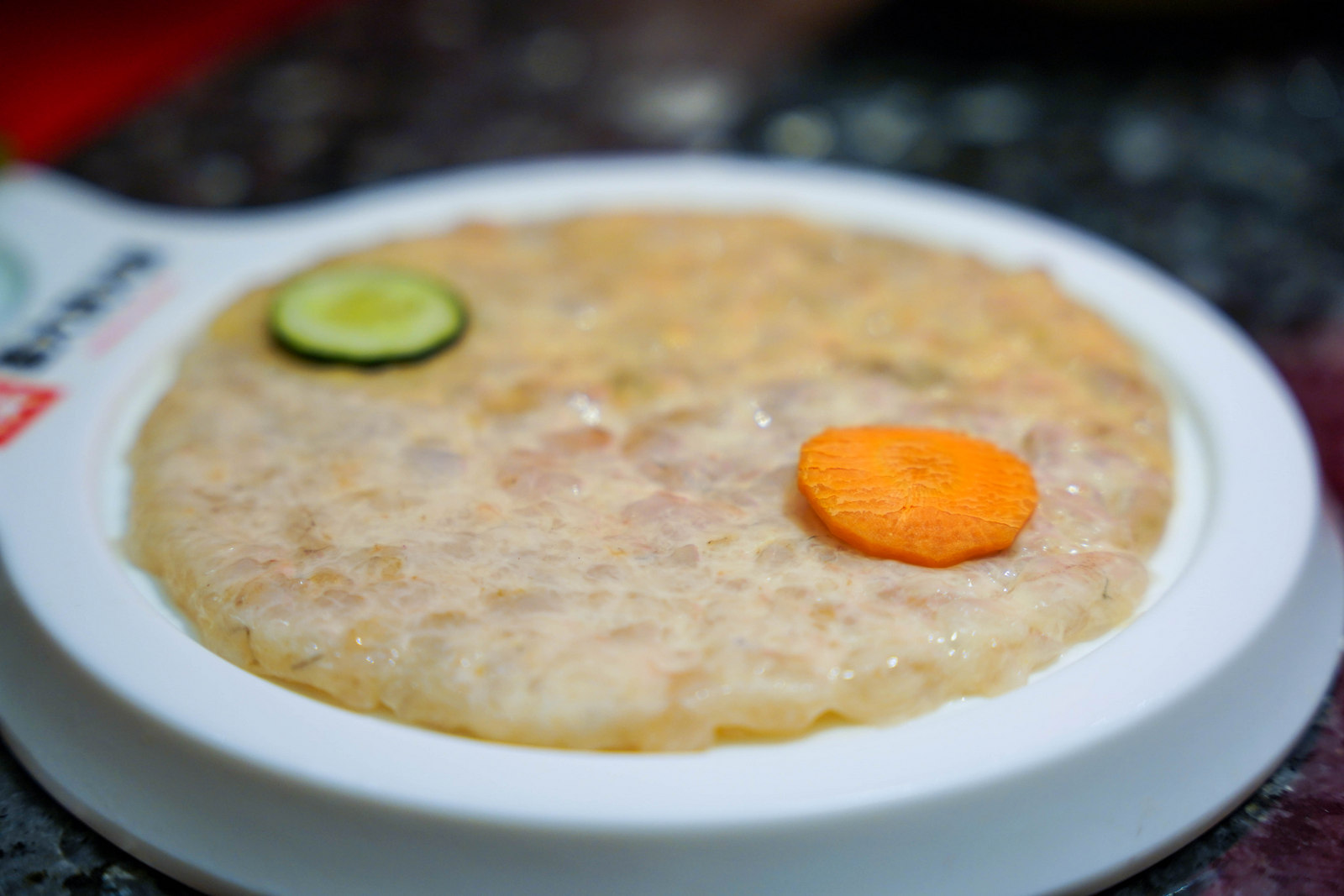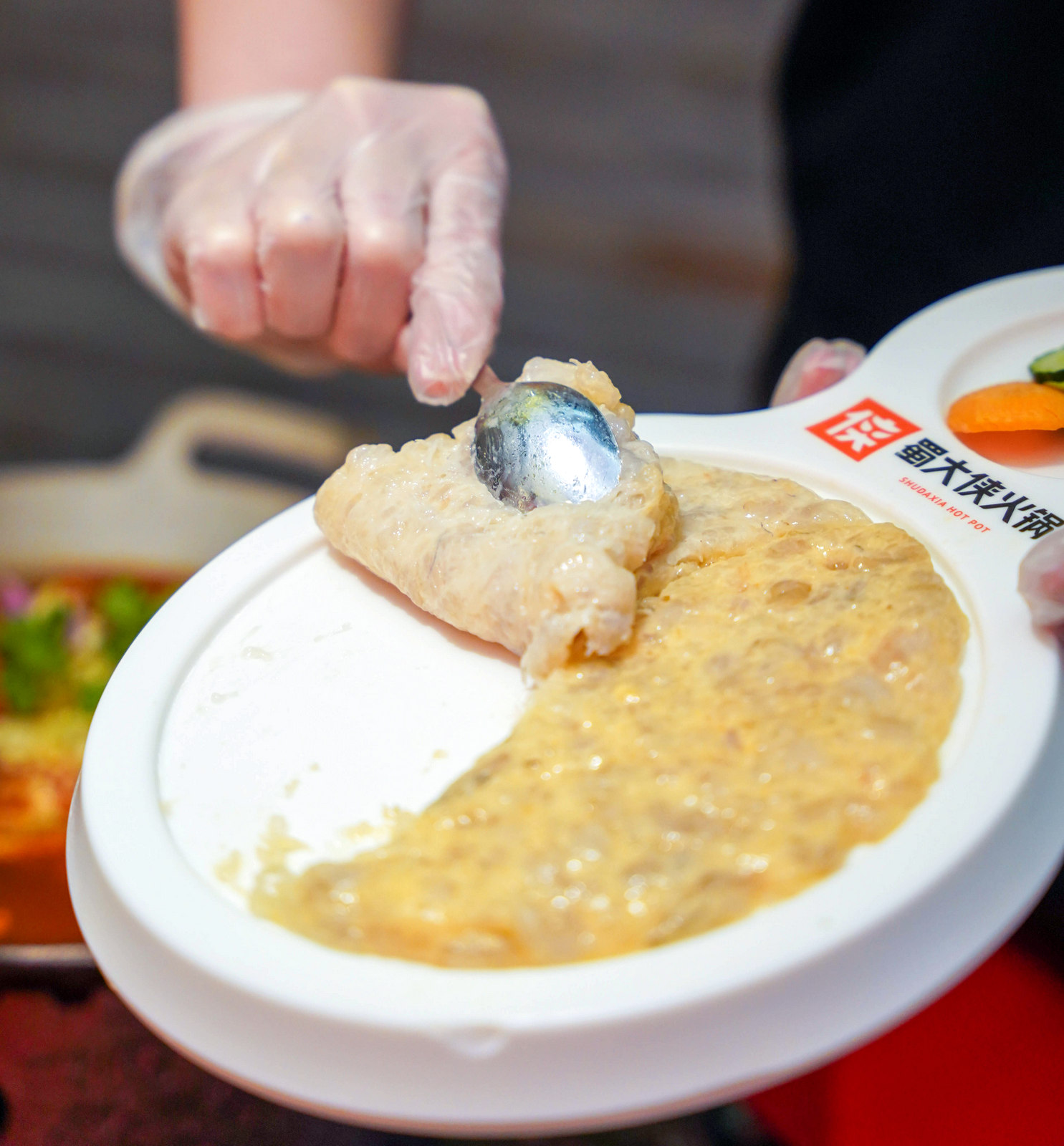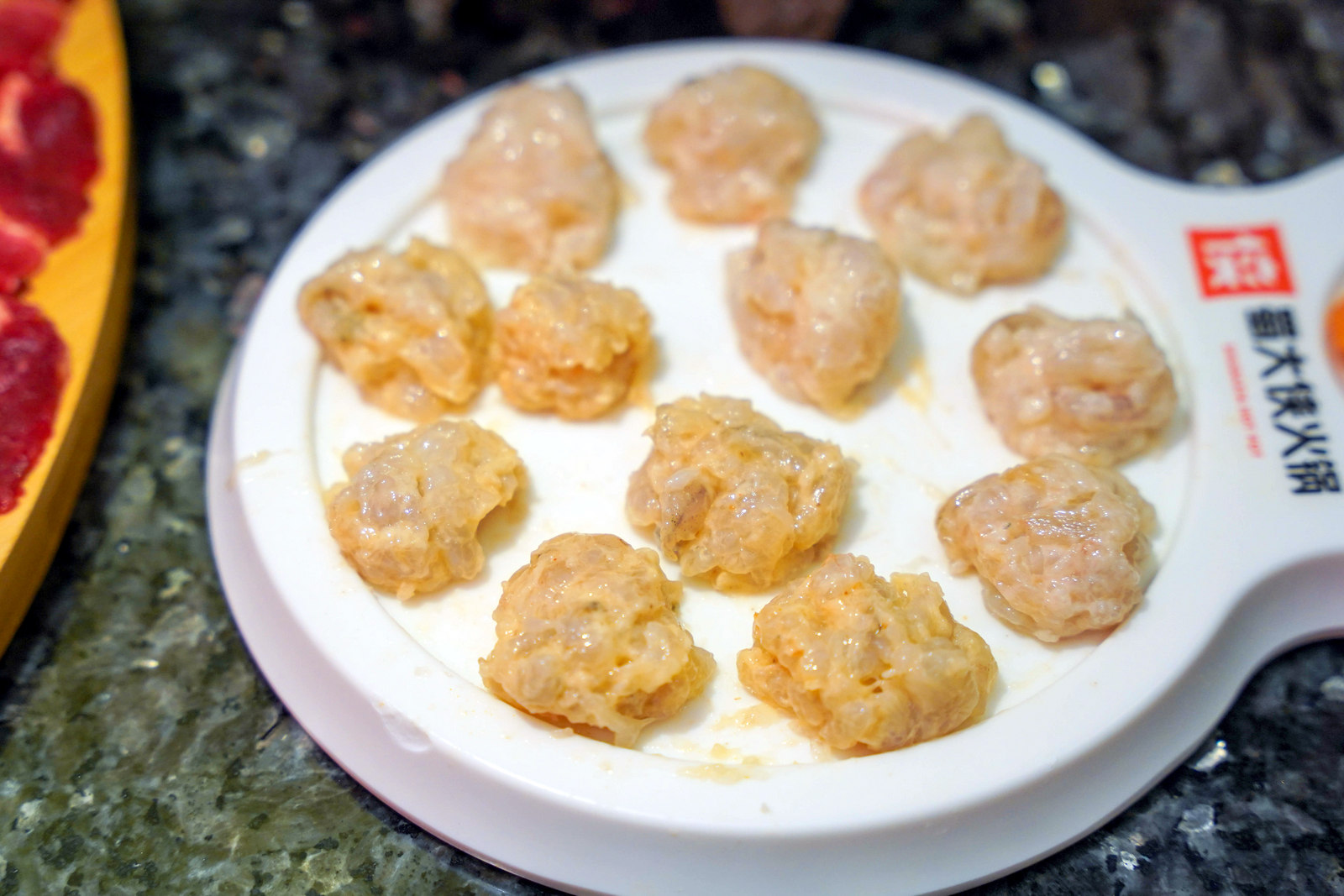 Crustacean lovers will be pleased with the Tai Chi Mashed Shrimp, featuring shrimp transformed into bouncy seafood balls of pure, pristine shrimp meat, also offered in spicy and non-spicy versions, imbued with the soft, naturally smooth sweetness of shrimp.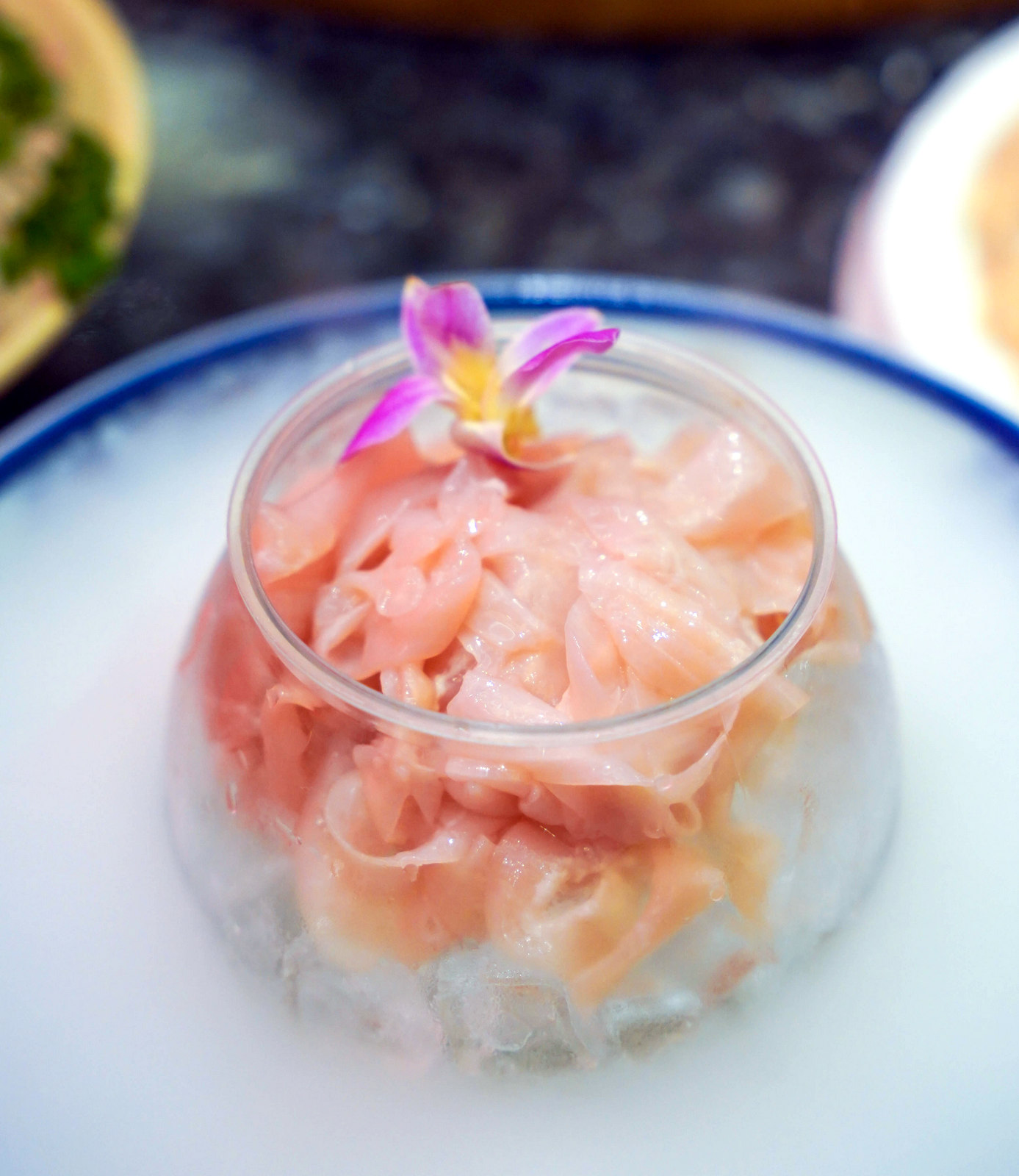 Organ meat is exceptional at Shu DaXia Hot Pot: the Iceberg Duck Intestines boast a lively bite and a lovely chew - we could enthusiastically munch on this throughout the entire meal.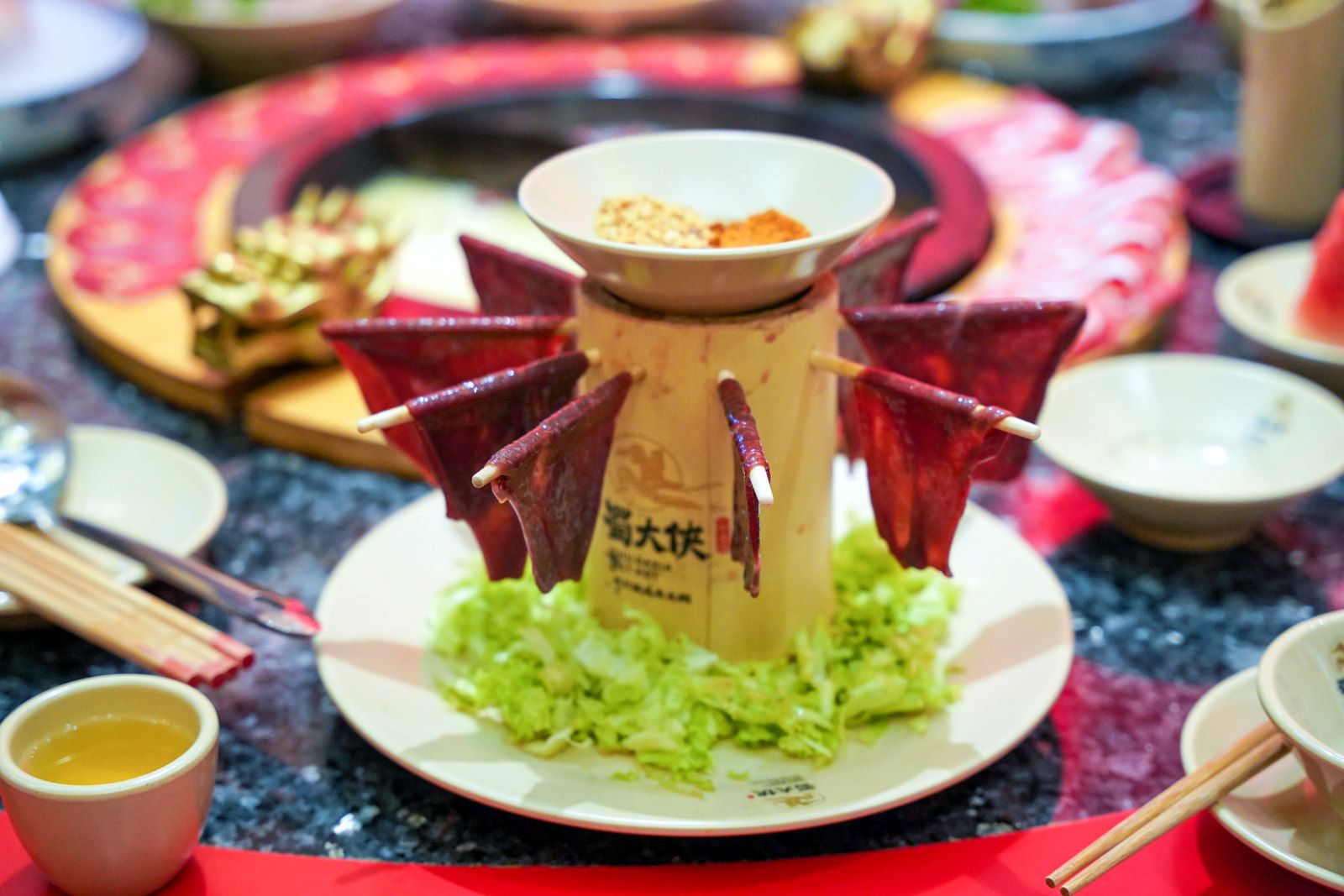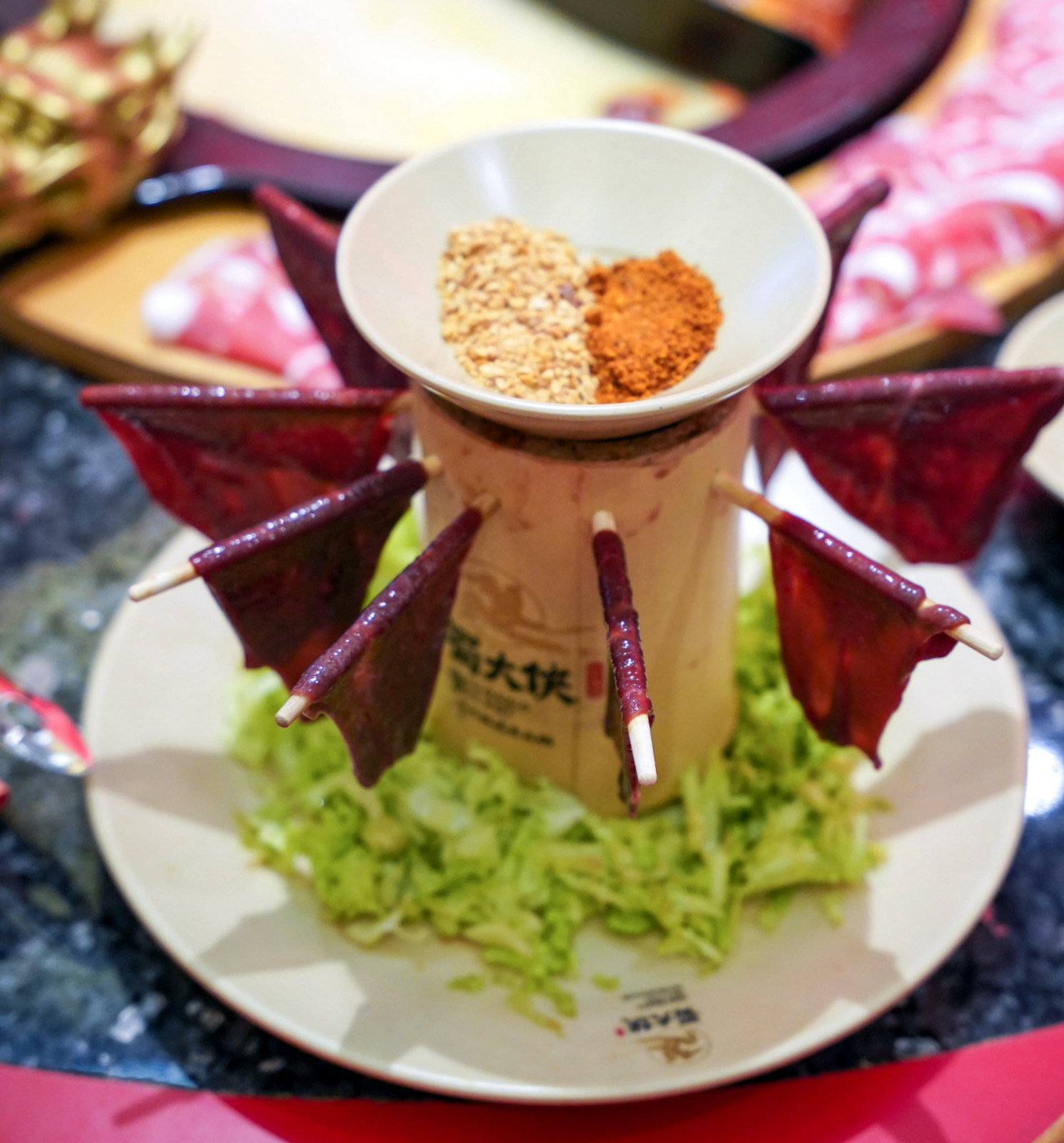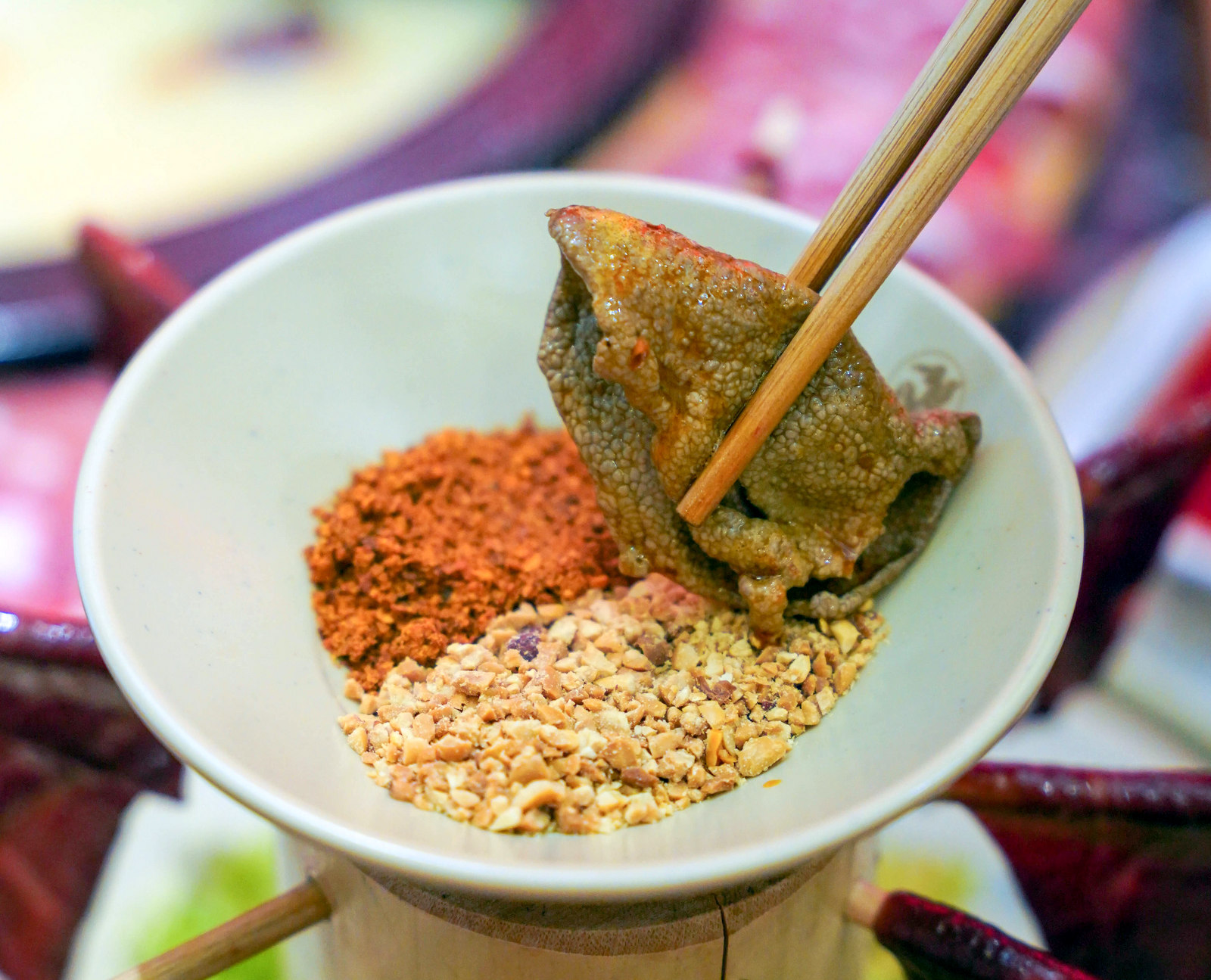 Also remarkably impressive: The Da Dao Sliced Pork Liver, cut incredibly thinly, resulting in the ideal taste and texture of liver at its prime, with a nutty dip that's delightful.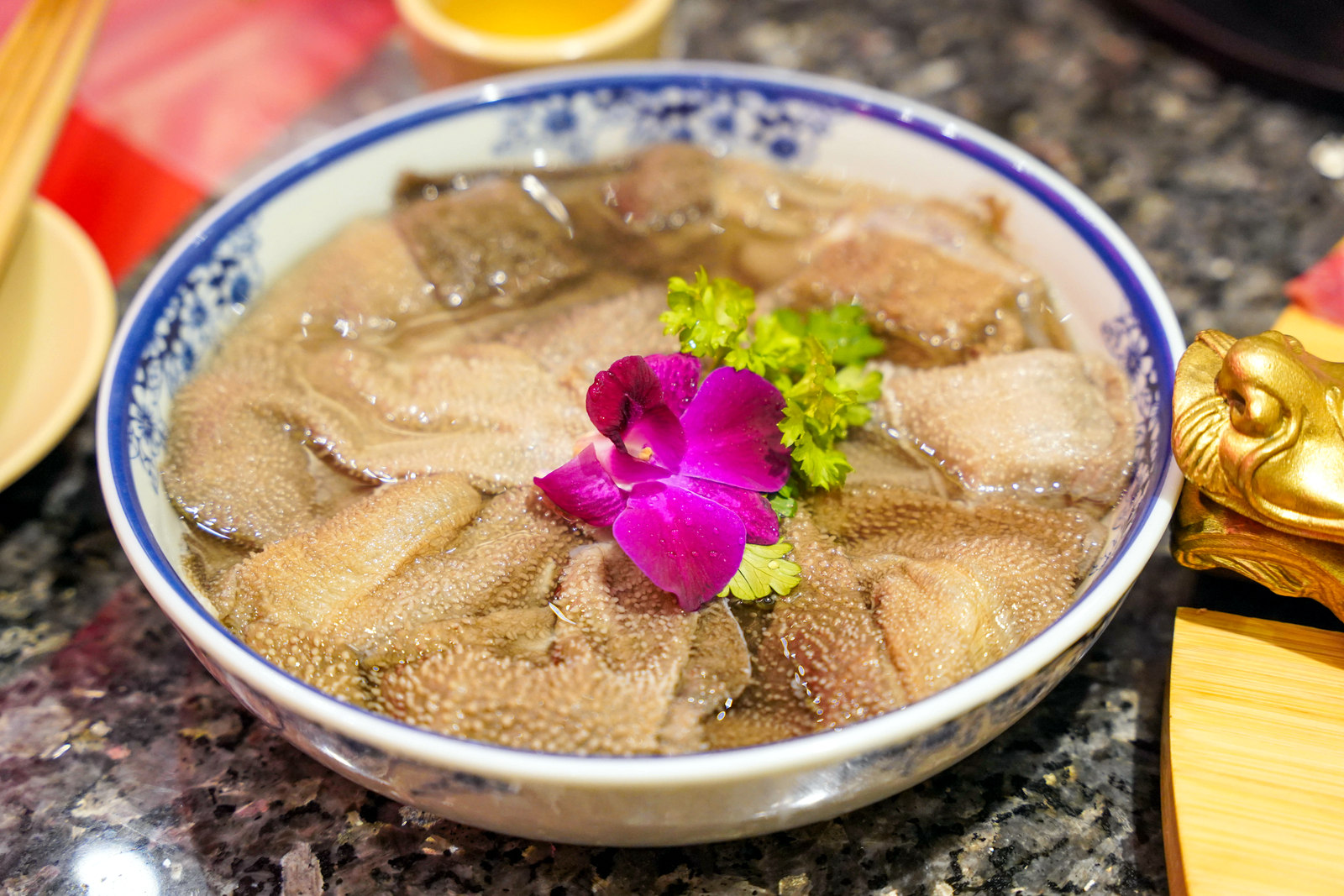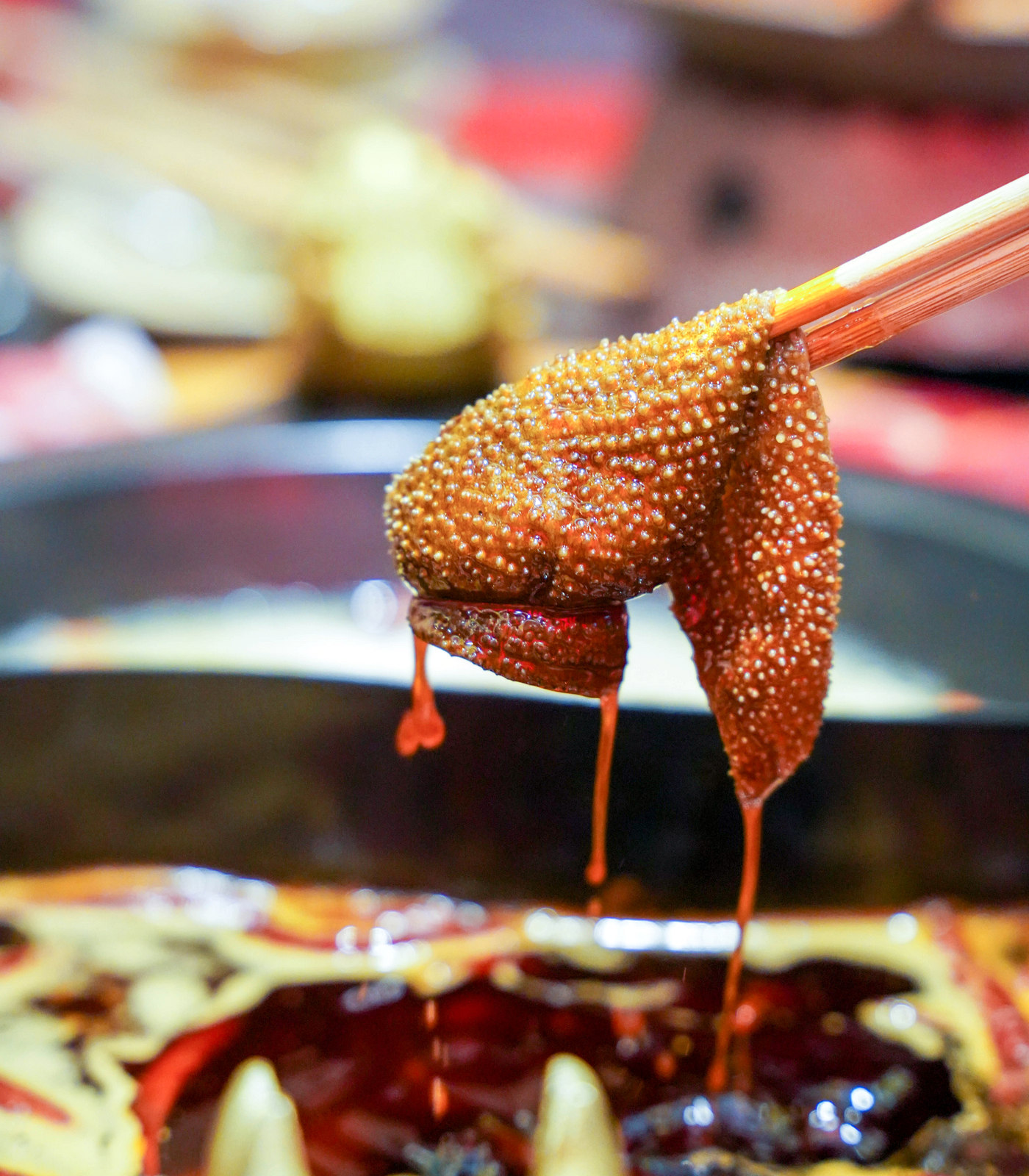 We're also instantly infatuated with the Hero Fresh Cattle Tripe - the tripe isn't tough at all, with a triumphant tenderness that reflects Shu DaXia Hot Pot's excellence in sourcing and preparing its produce. Pull the tripe up seven times and down seven times in the boiling Mala soup to savour it at its best.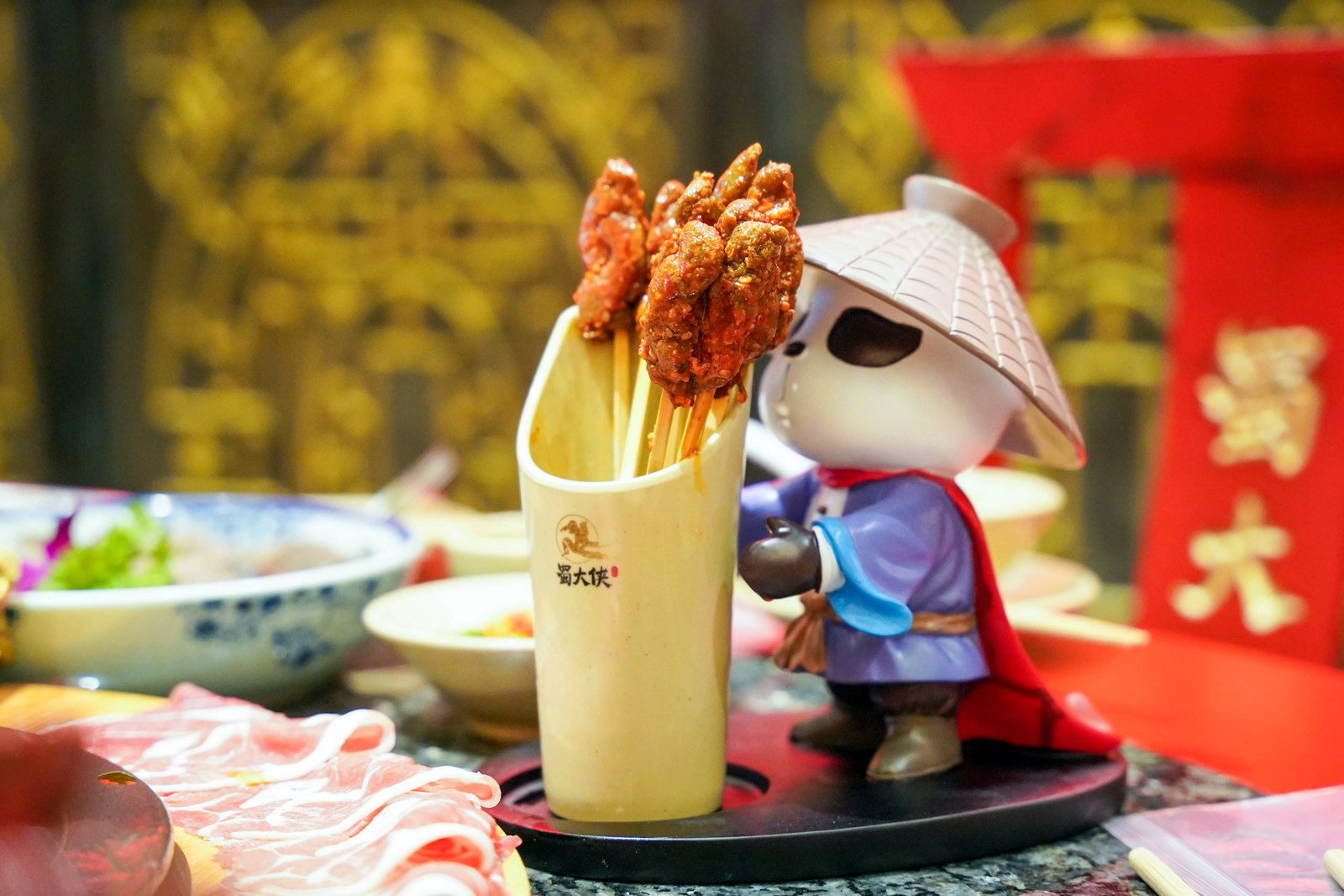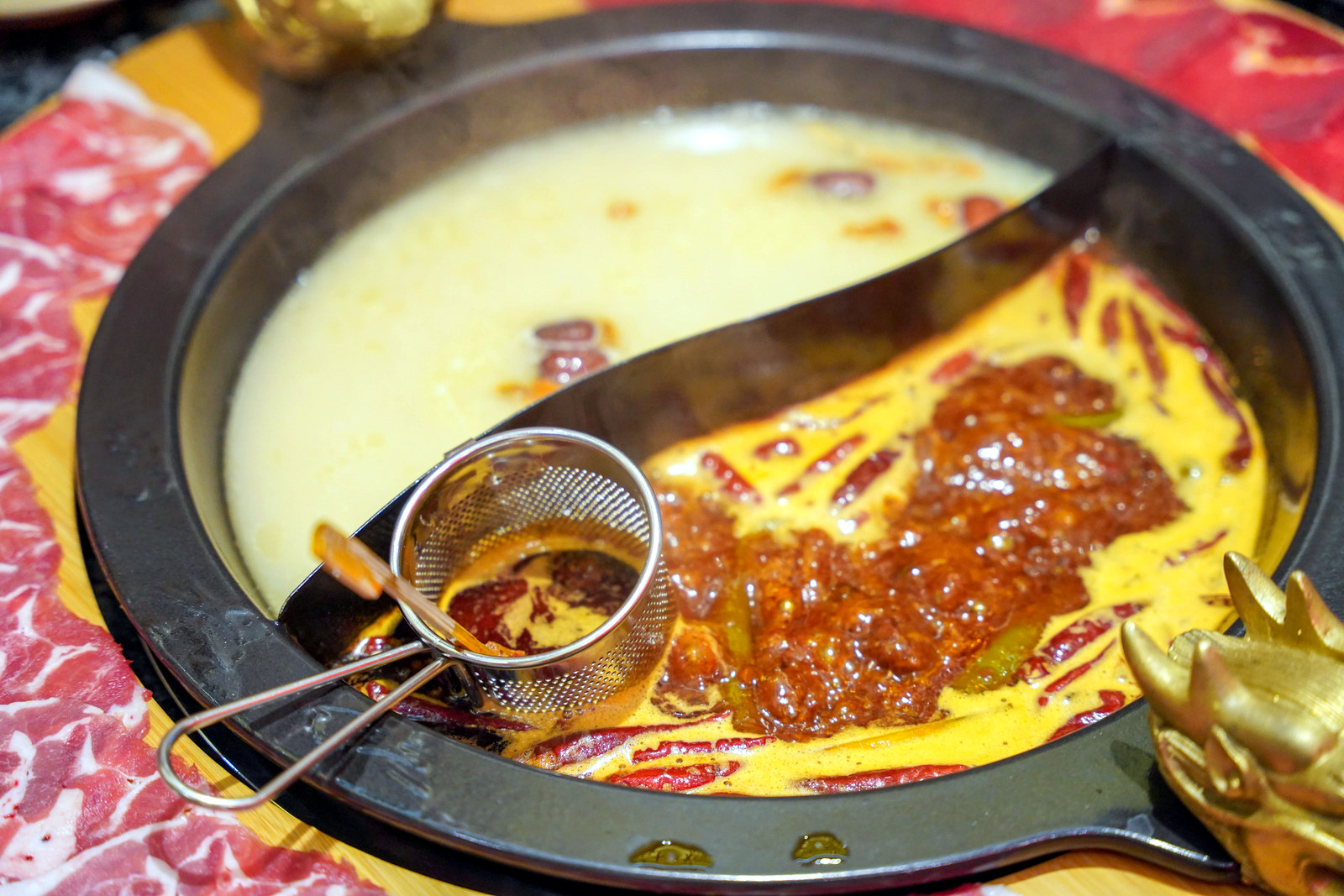 Care, consistency and quality are also underscored in the Hero Skewers, available in a choice of beef or lamb, for sticks of sheer savoury succulence.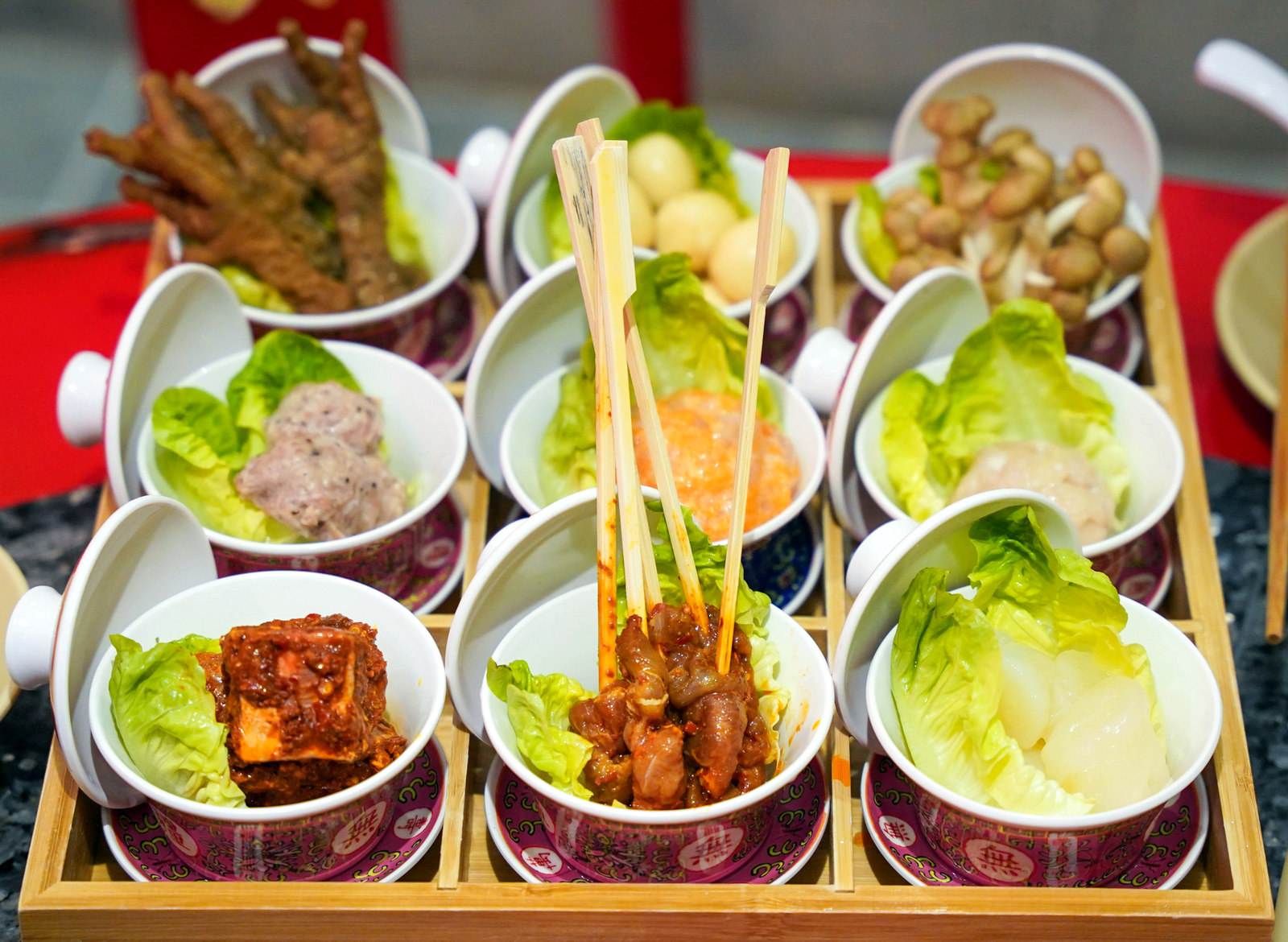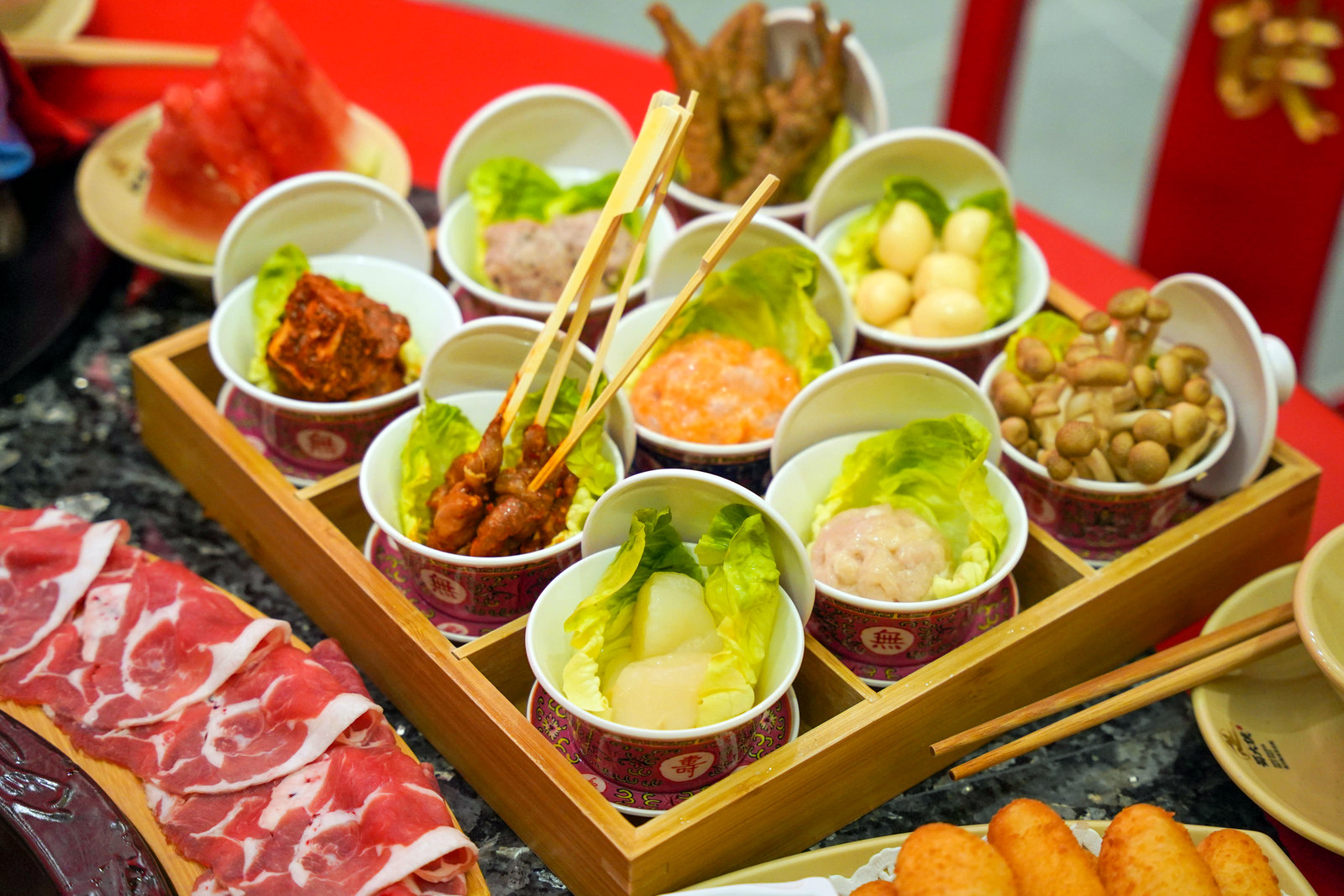 Shu DaXia Hot Pot's latest offering is its Da Xia Nine-Dish Platter, a sampler of nine cherished classics to cook in the hotpot, spanning Handmade Mushroom Pork Meatballs, Ebiko Shrimp Balls, Hokkaido Scallops, Marinated Pork Ribs, Stewed Chicken Feet, Hero Skewers, Hero Chicken Slices, Stewed Quail Eggs and Shimeji Brown Mushrooms. It's a convenient way to try an abundant variety of ingredients in one sitting.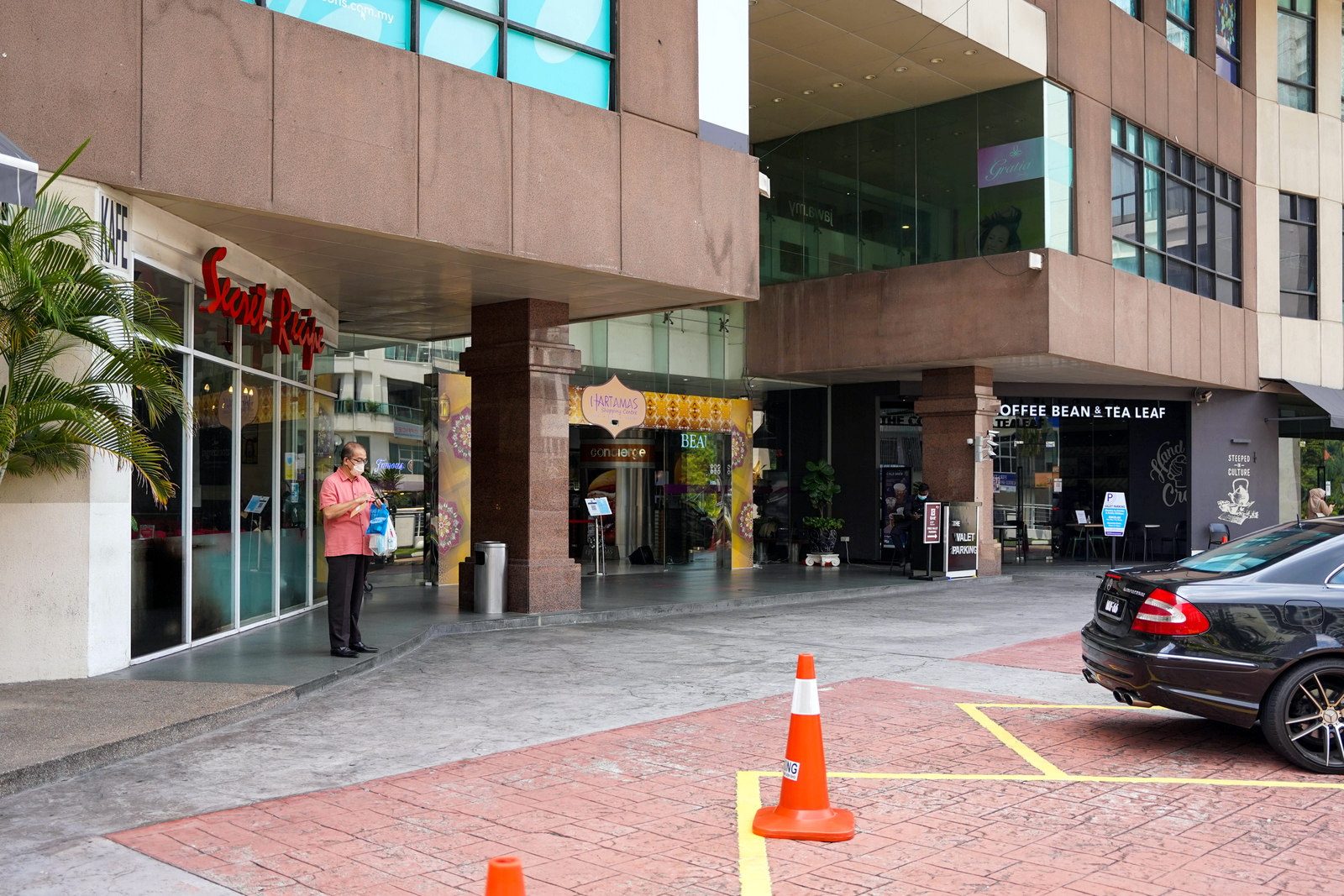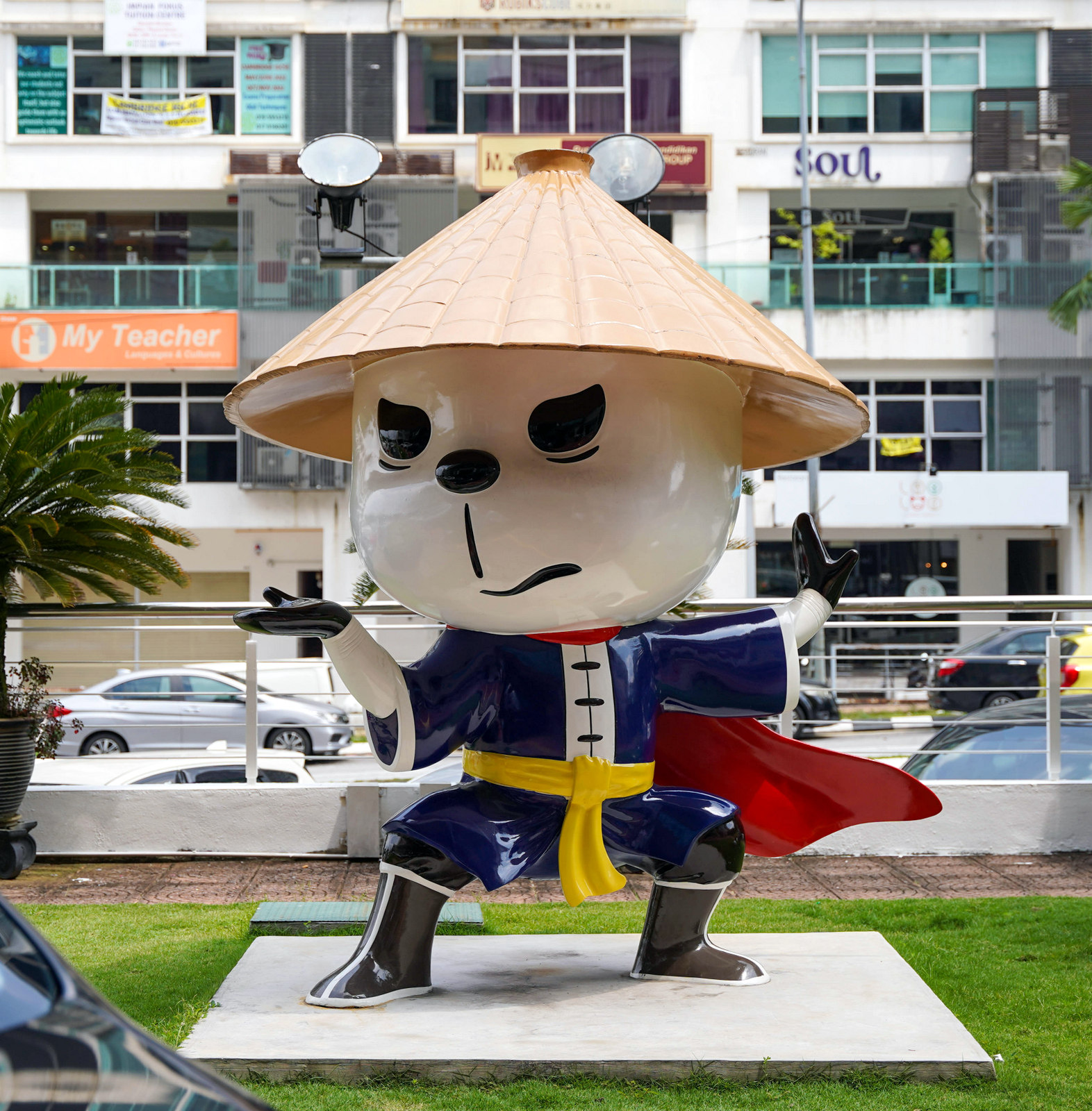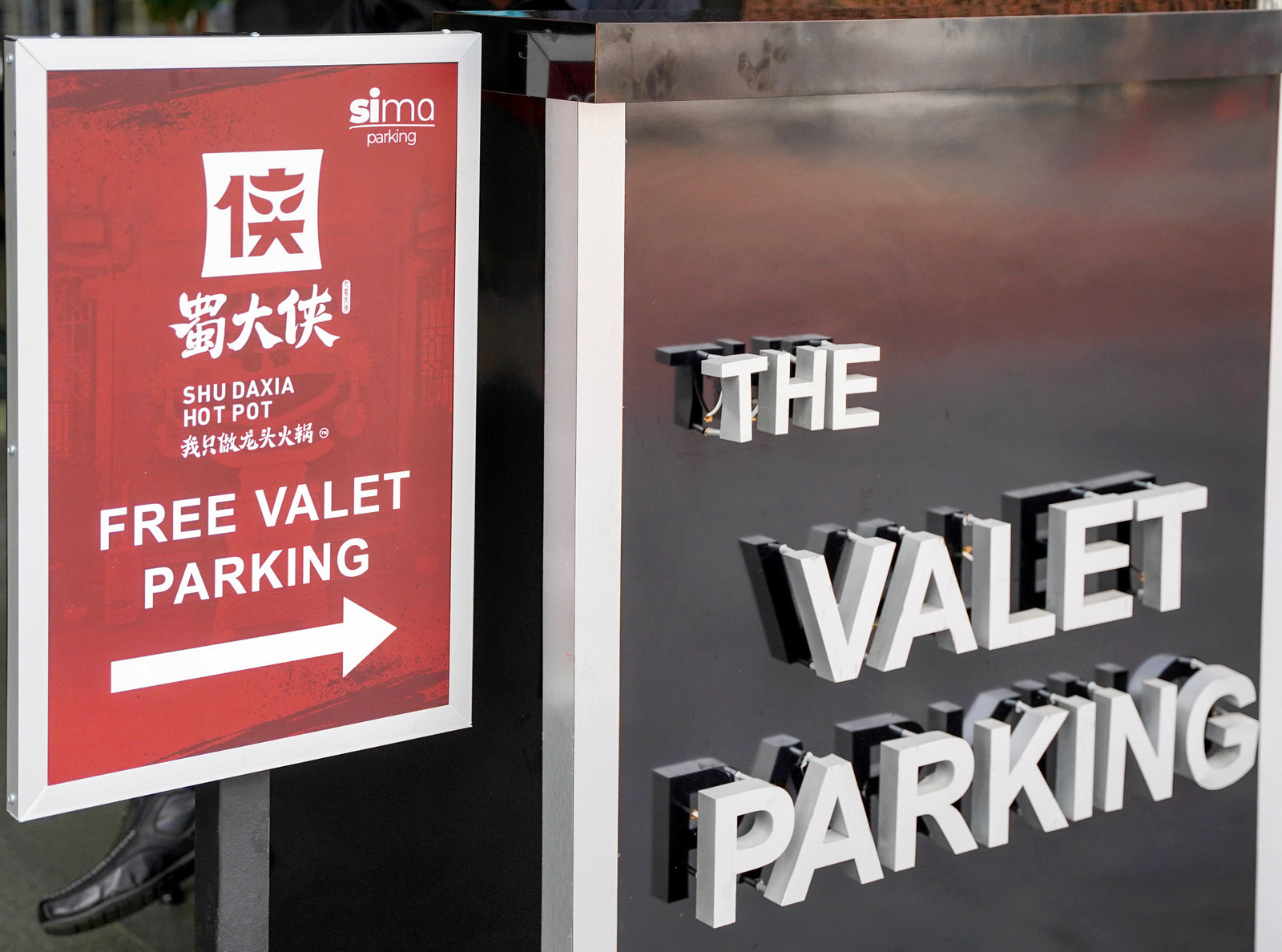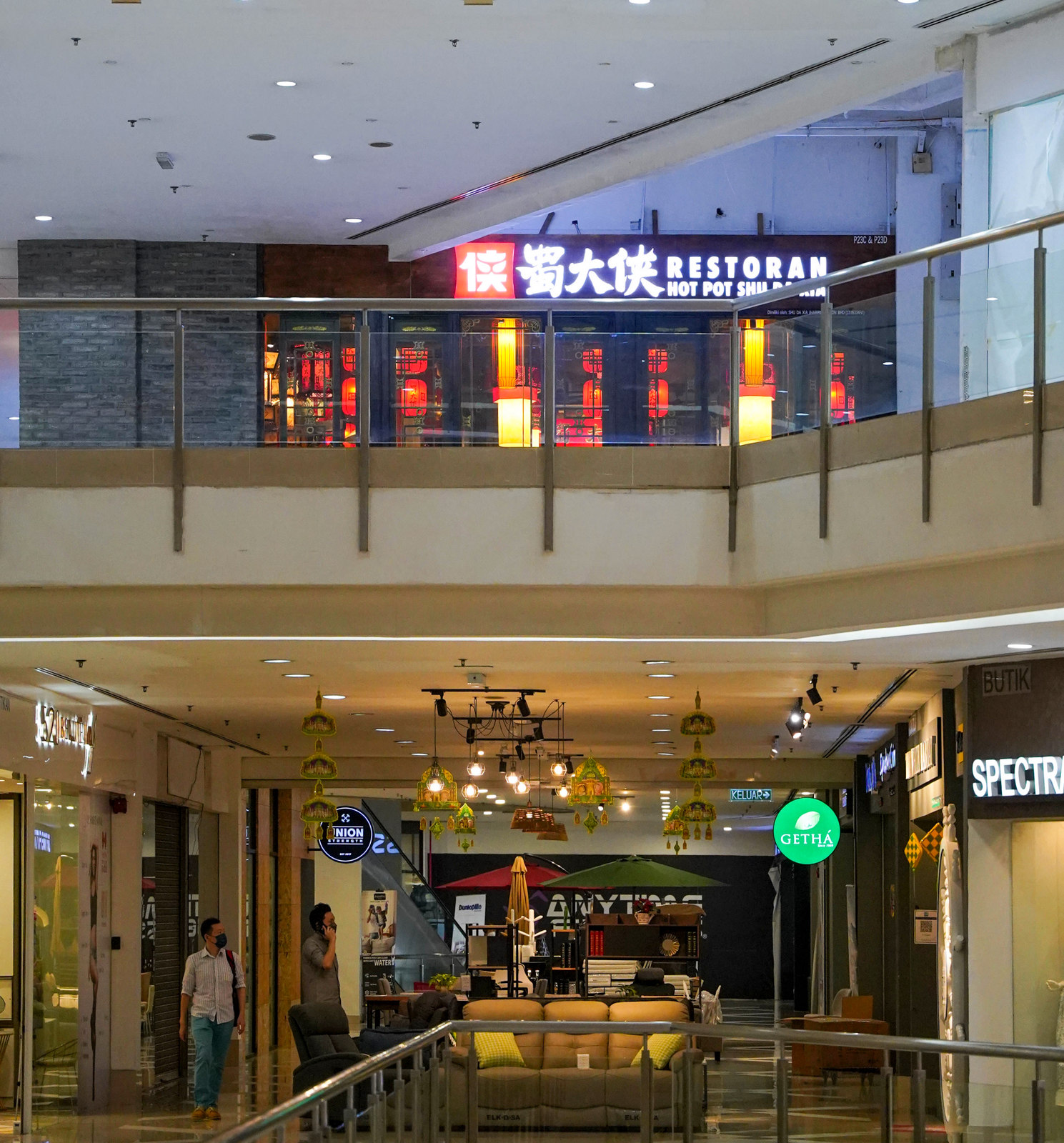 If you're driving to Hartamas Shopping Centre, take advantage of the free valet parking for all Shu DaXia Hot Pot customers. Just drive up to the valet at the front entrance, drop off your car and head to the restaurant inside. Shu DaXia Hot Pot will arrange for completely complimentary parking.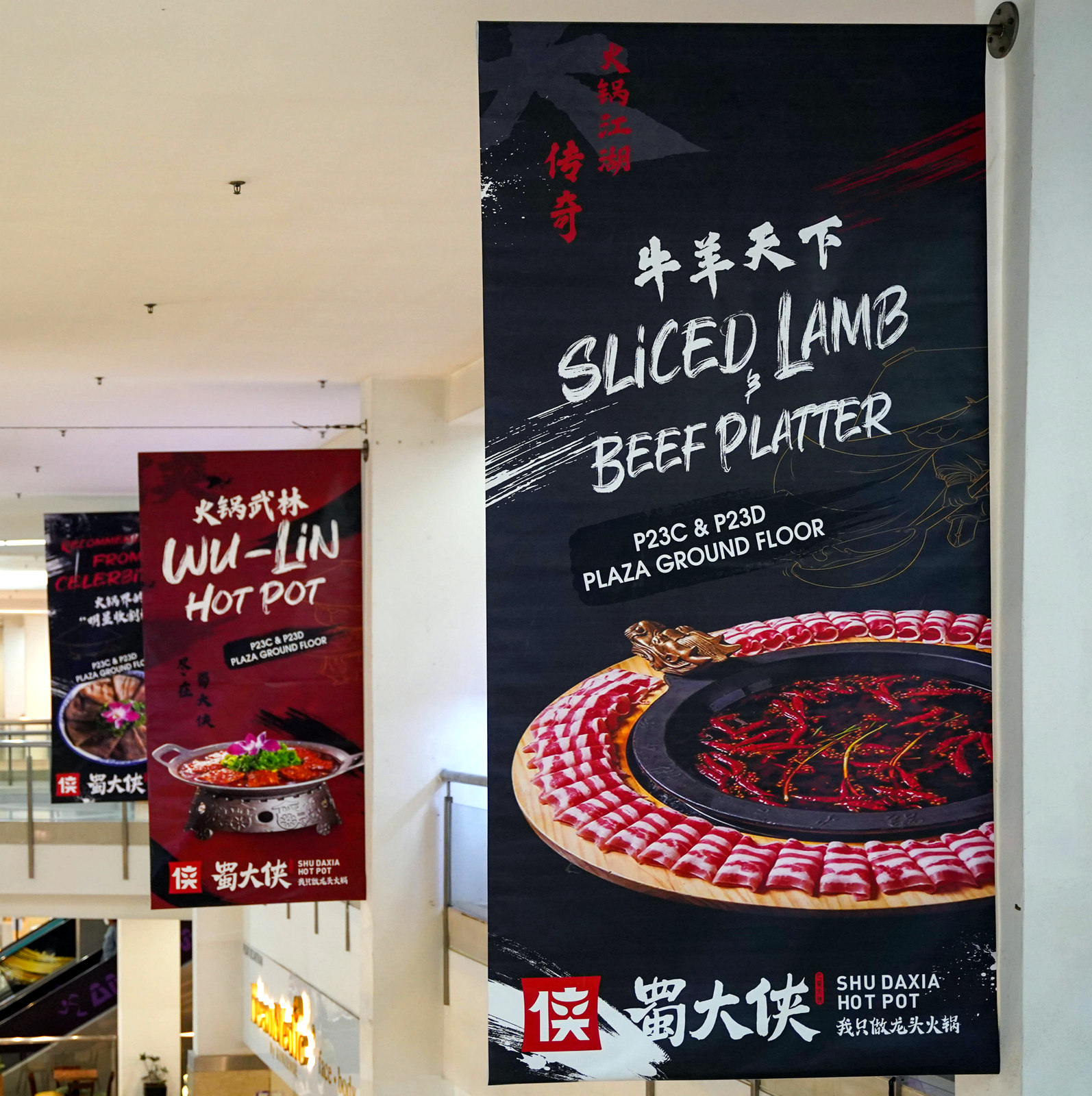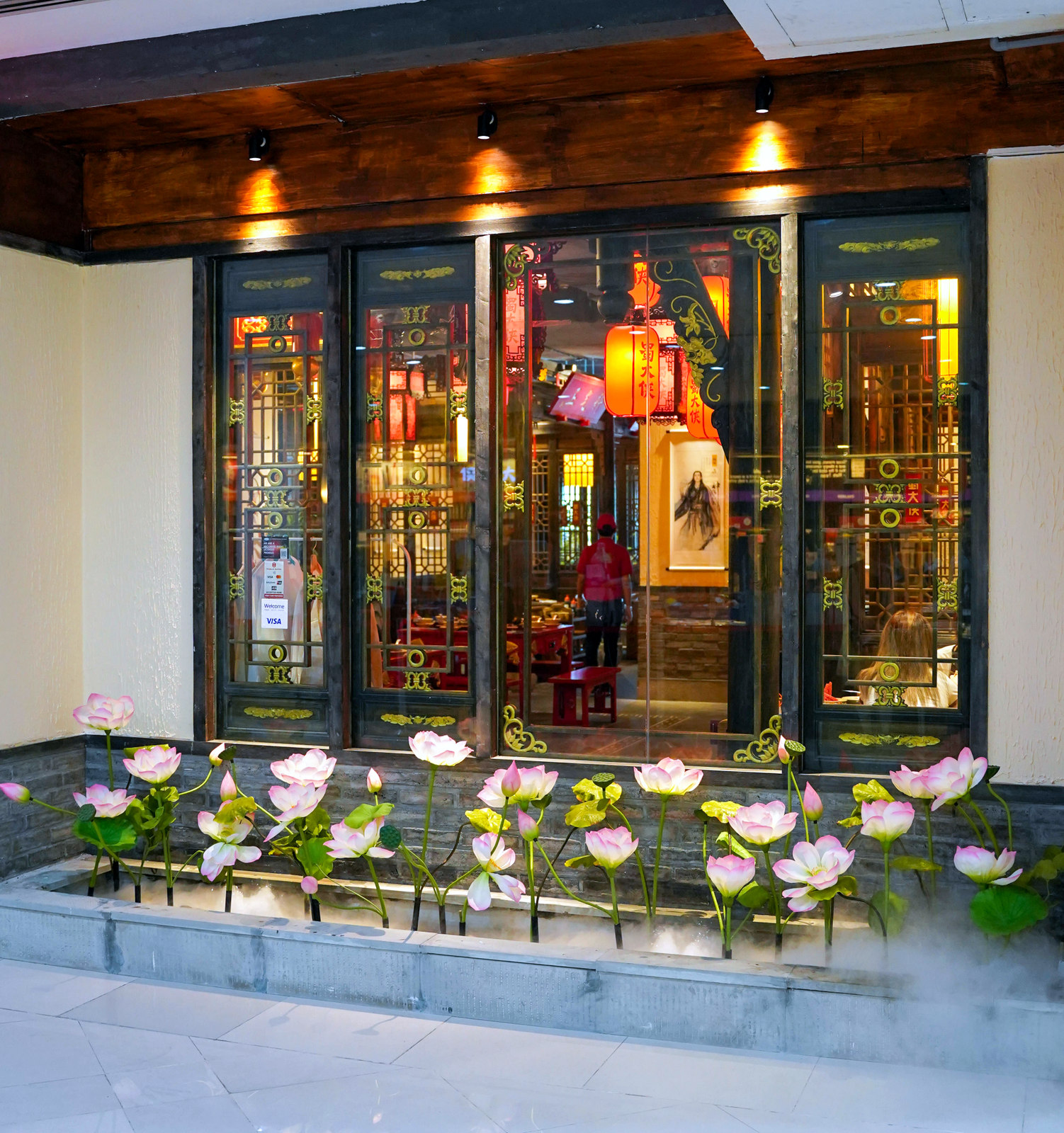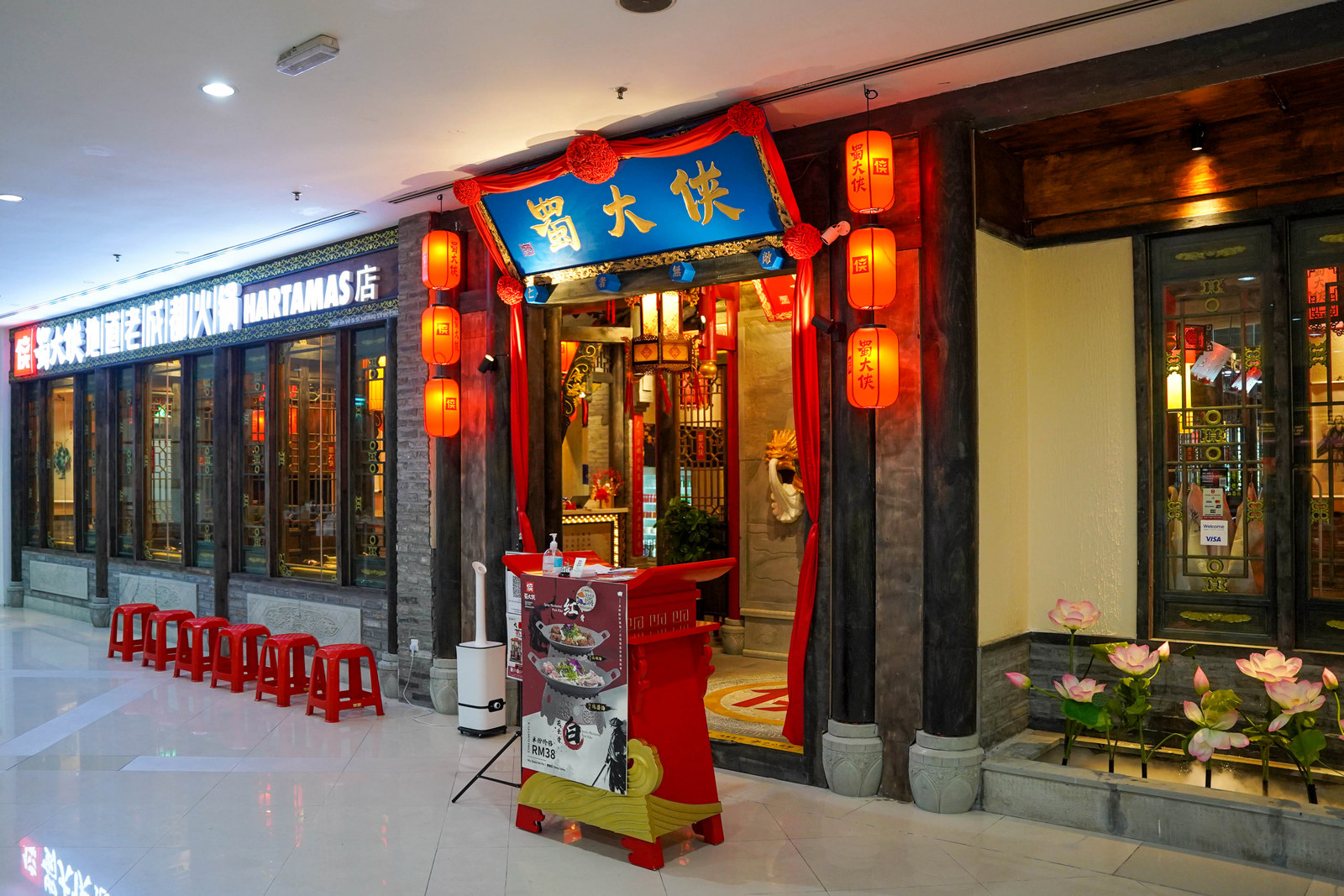 Shu DaXia Hot Pot
Hartamas Shopping Centre, P23C & P23D, Plaza Ground Floor, 50480 Kuala Lumpur.
Daily, 12pm-10pm. Tel: 010-426-3796
Shu DaXia Hot Pot can also be found at Vista Damai Condominium on Jalan Tun Razak; Bandar Sunway; and Genting Highlands.
For bookings, WhatsApp below:
@𝐓𝐮𝐧 𝐑𝐚𝐳𝐚𝐤
Customer Service: http://www.wasap.my/601112041268
@𝐒𝐮𝐧𝐰𝐚𝐲 𝐒𝐮𝐛𝐚𝐧𝐠
Customer Service: http://www.wasap.my/60172474157
@𝐇𝐚𝐫𝐭𝐚𝐦𝐚𝐬
Customer Service: http://www.wasap.my/0104263796
@𝗚𝗲𝗻𝘁𝗶𝗻𝗴 𝗛𝗶𝗴𝗵𝗹𝗮𝗻𝗱
Customer Service: http://www.wasap.my/601112965059
More Info :
Website: shudaxiamalaysia.com
Facebook: facebook.com/shudaxiahotpotklangvalley
Instagram: instagram.com/shudaxiahotpot_klangvalley