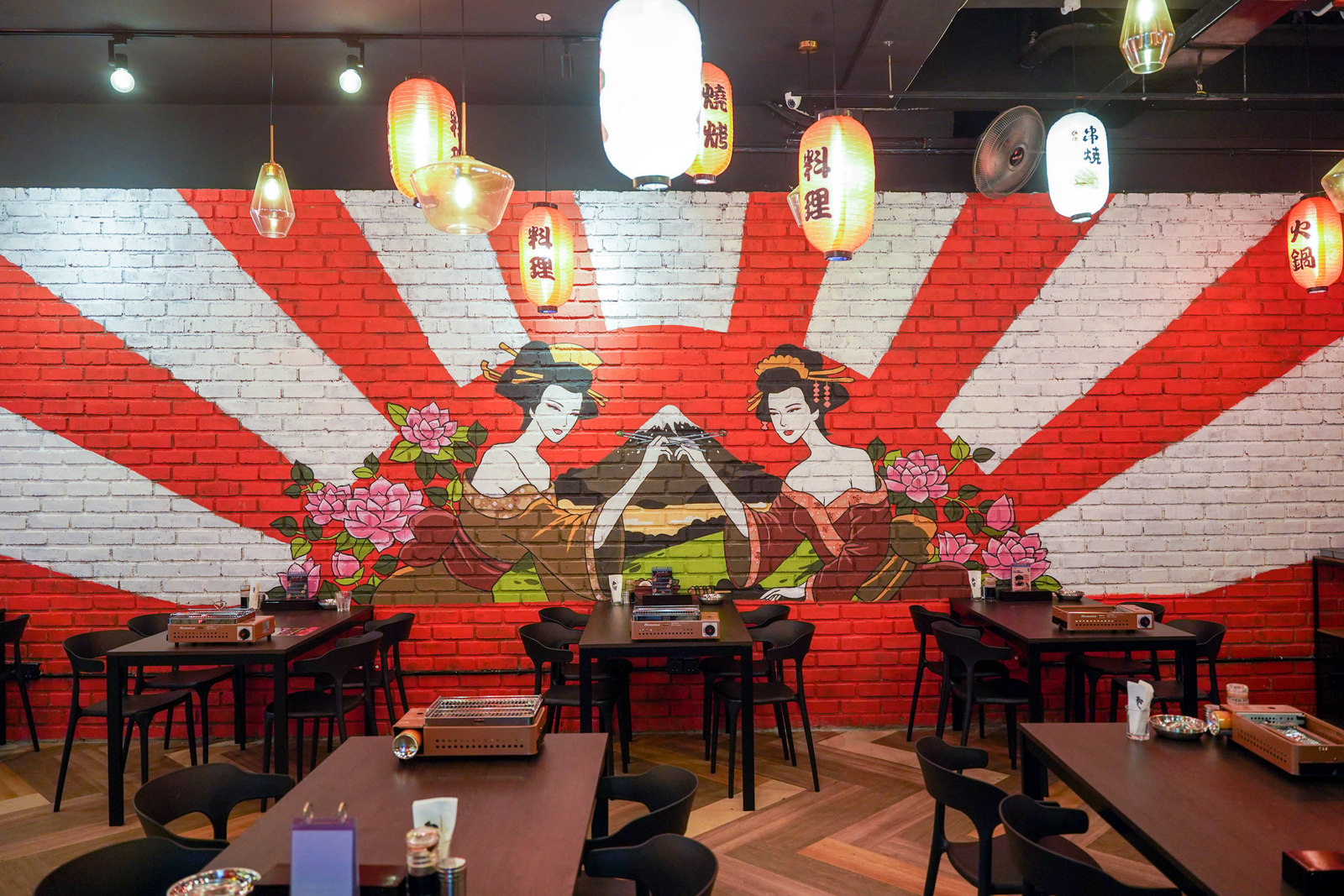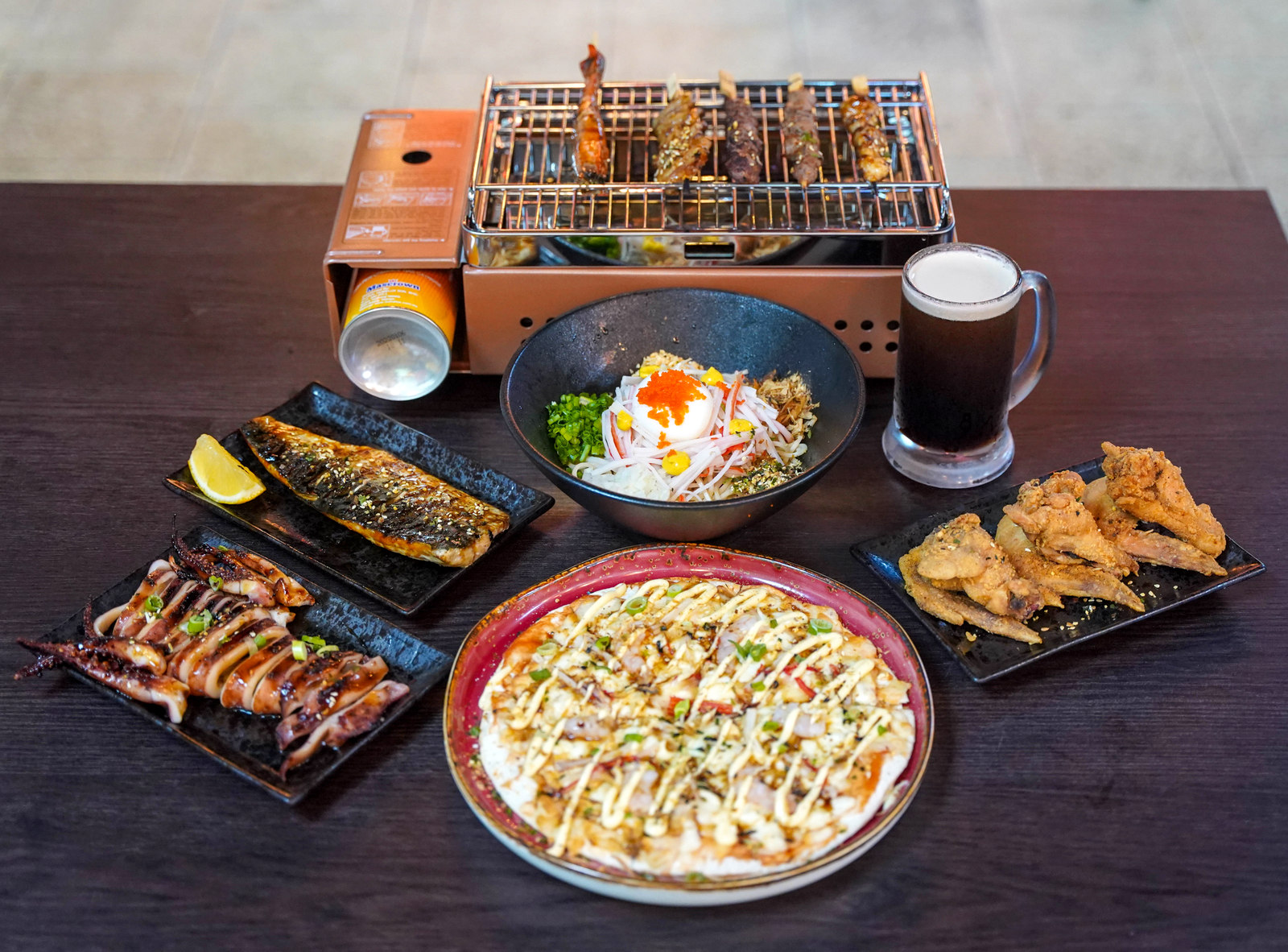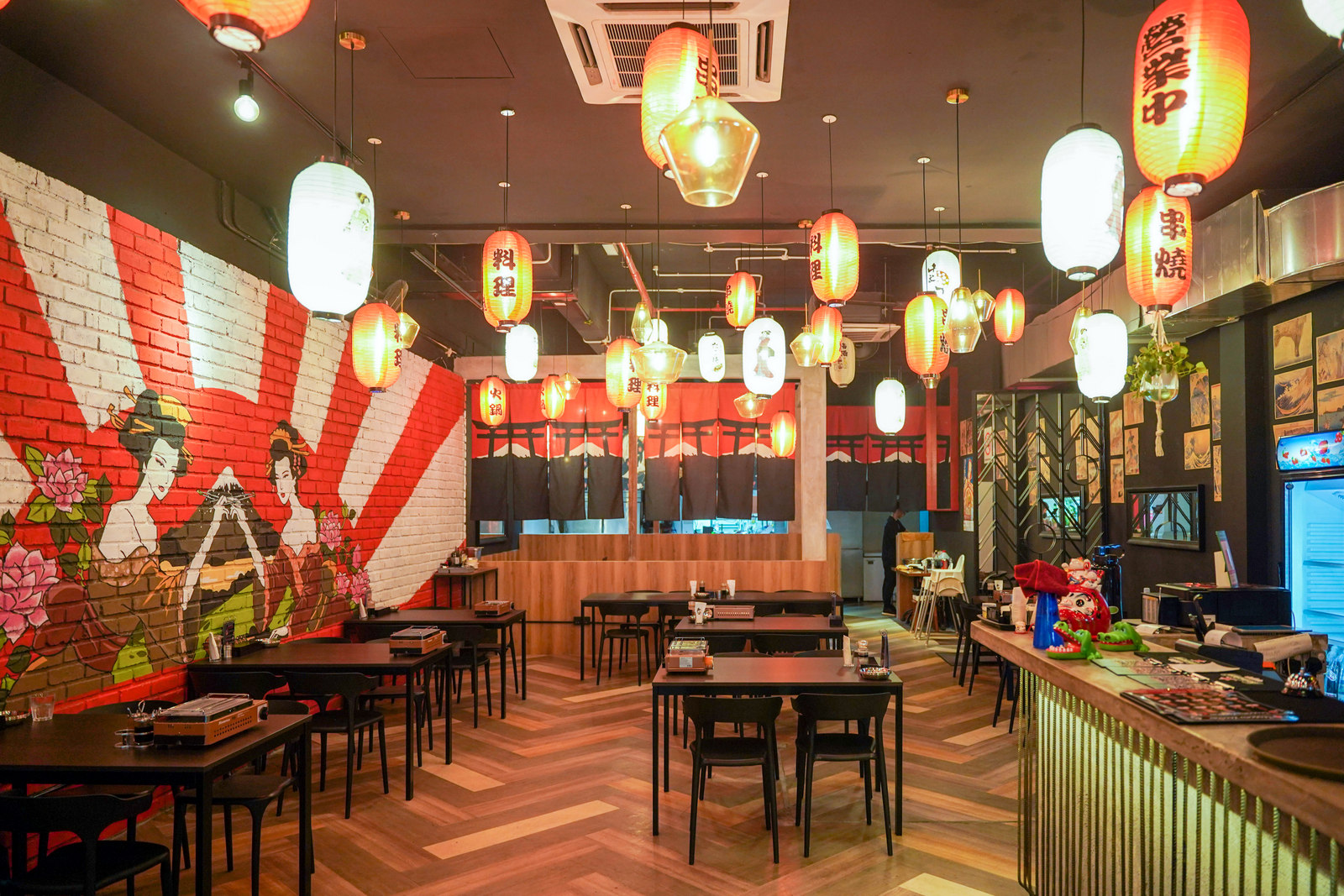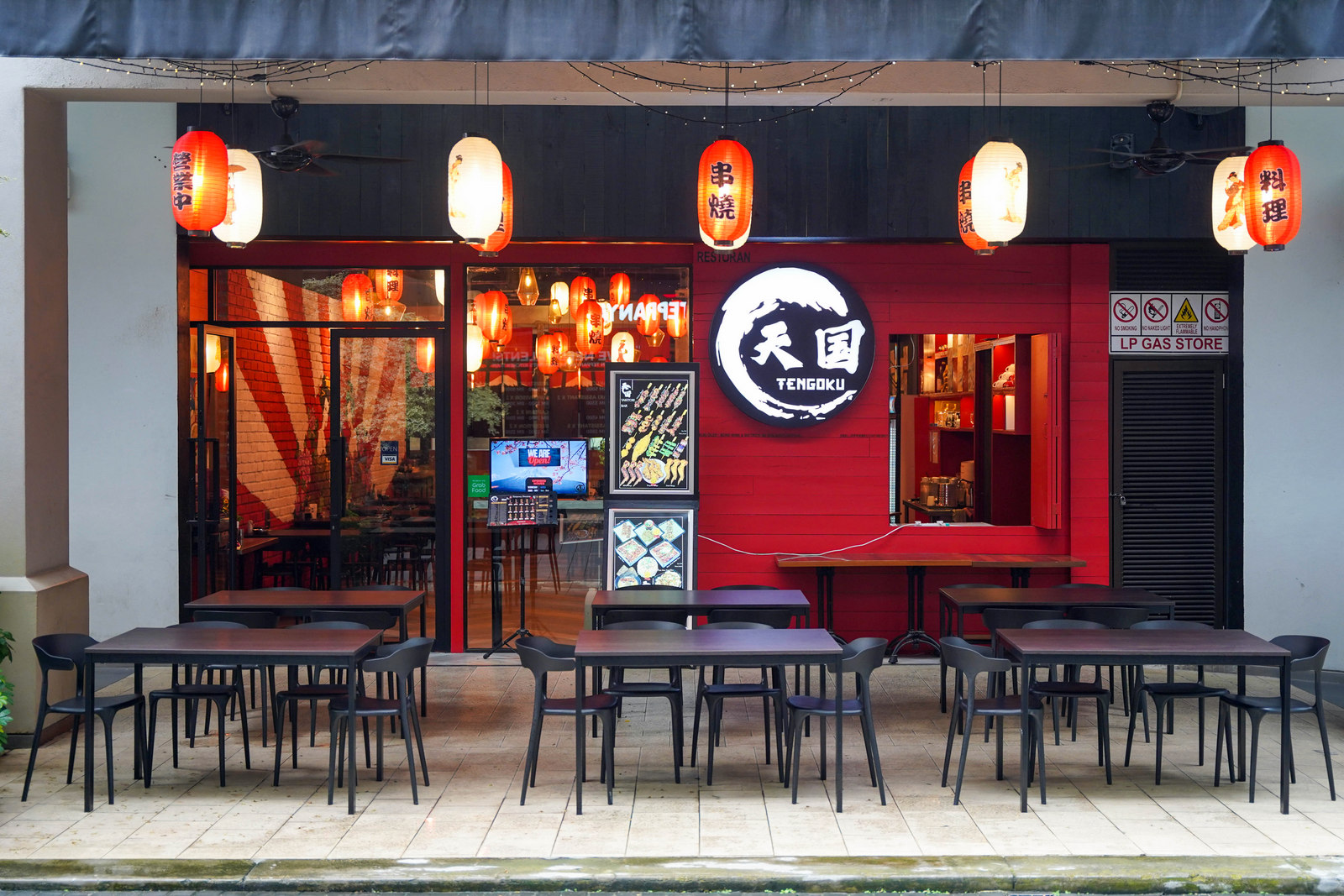 Follow the sultry scent and sizzling sound of Japanese grilled delights to Tengoku Yakitori Bar, a playful place not only for skewered sensations but a diversity of delectable delights.
From the signature Nagoya-inspired tebasaki chicken wings to a pizza-style reinvention of okonomiyaki and a modern take on hiyashi chuka, find fun flavours at one of Plaza Arkadia's latest Japanese joints.
If you're a fan of vibrant Japanese vibes, Tengoku's crimson, lantern-lit ambiance is also an attraction, decorated with themes that embrace Japanese elements, from the Rising Sun Flag to Mount Fuji, spiriting us away to the alleyways of Tokyo.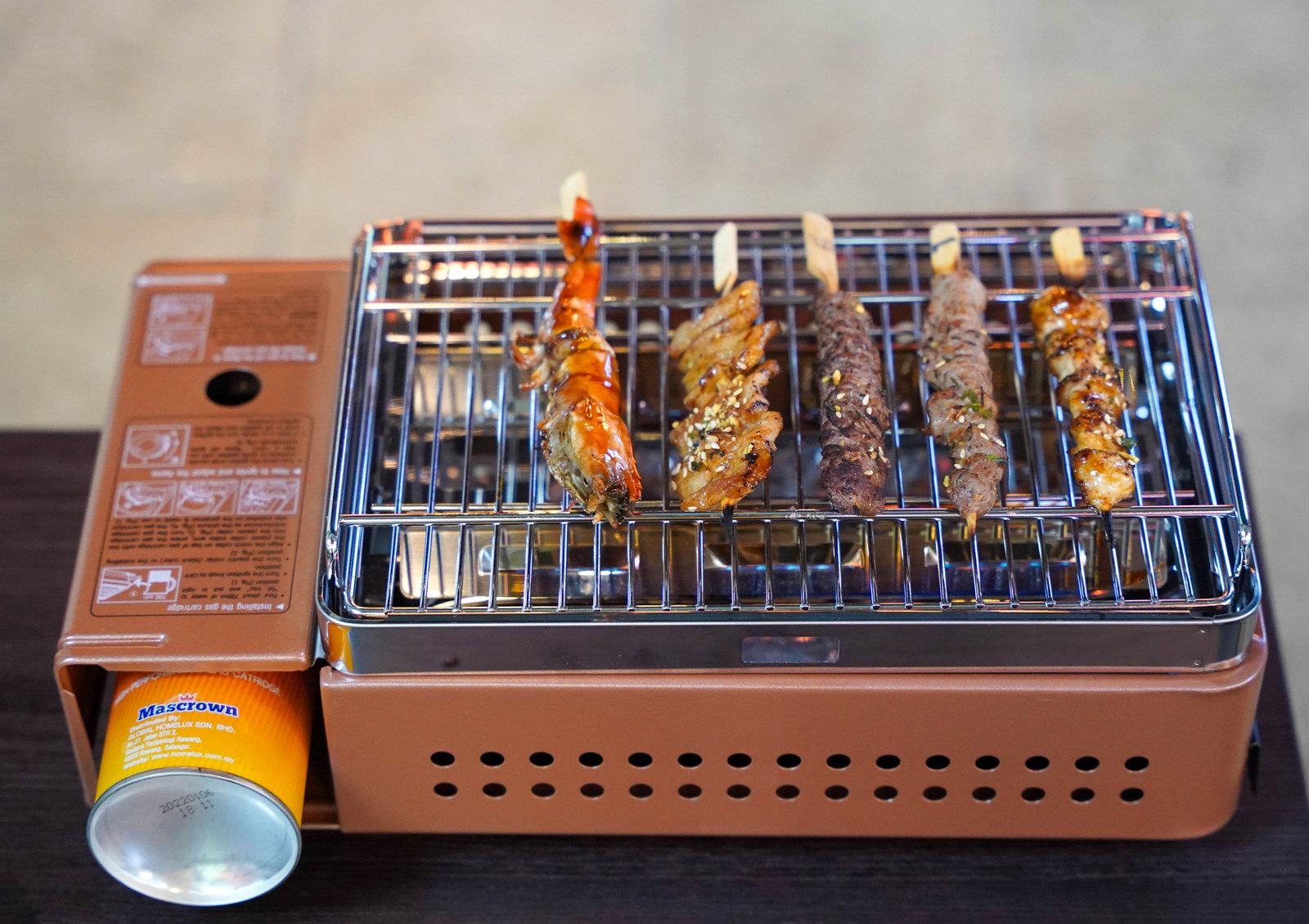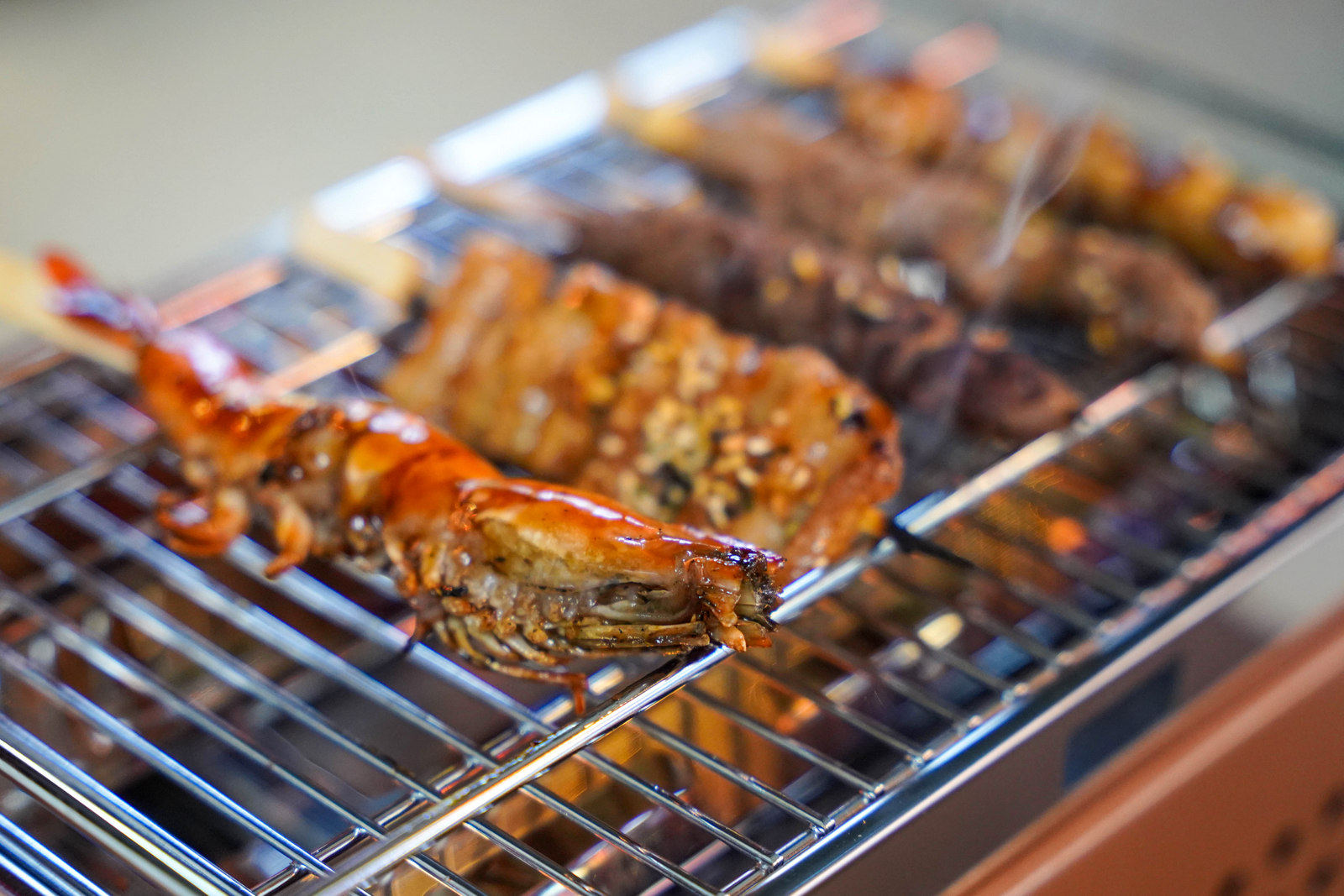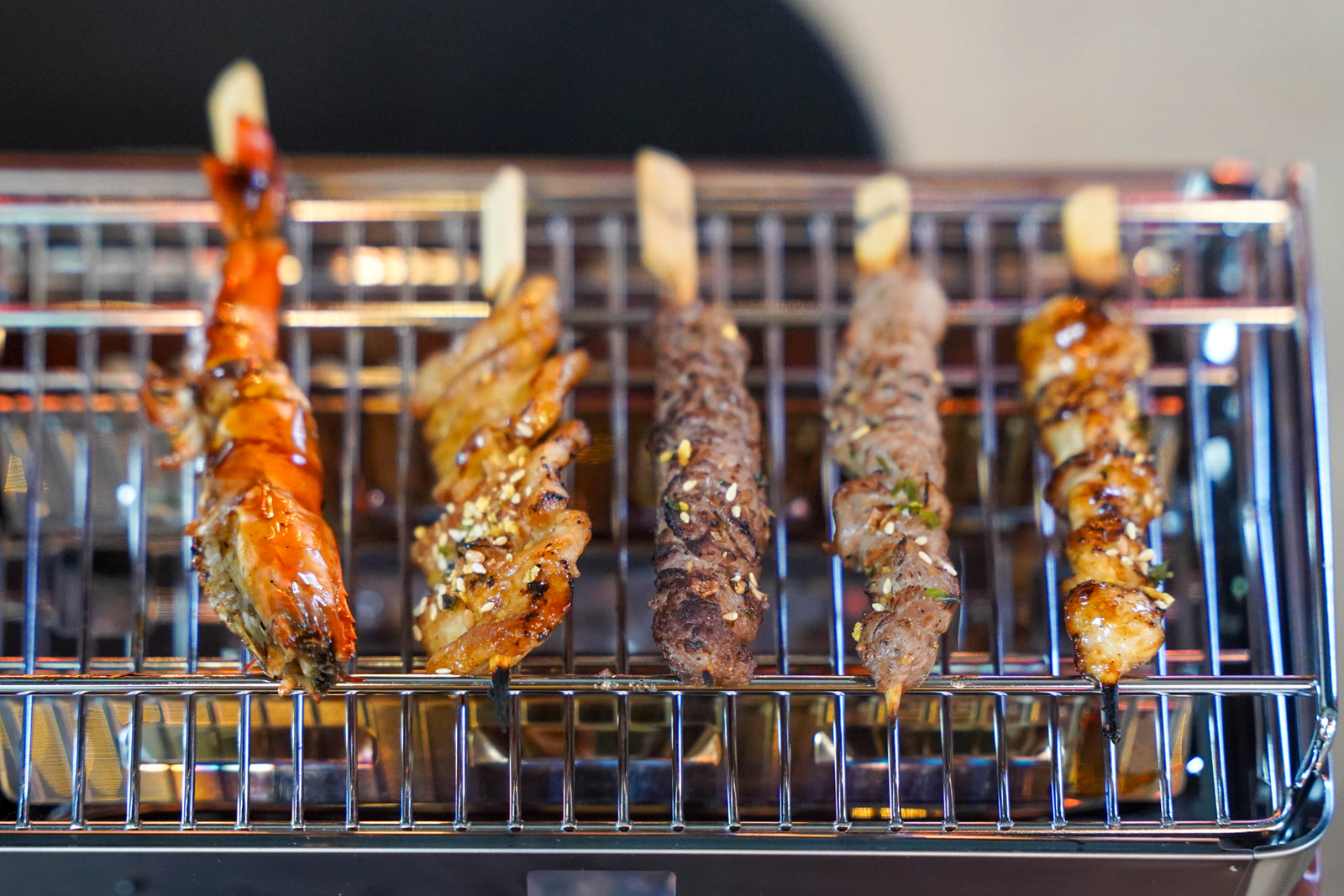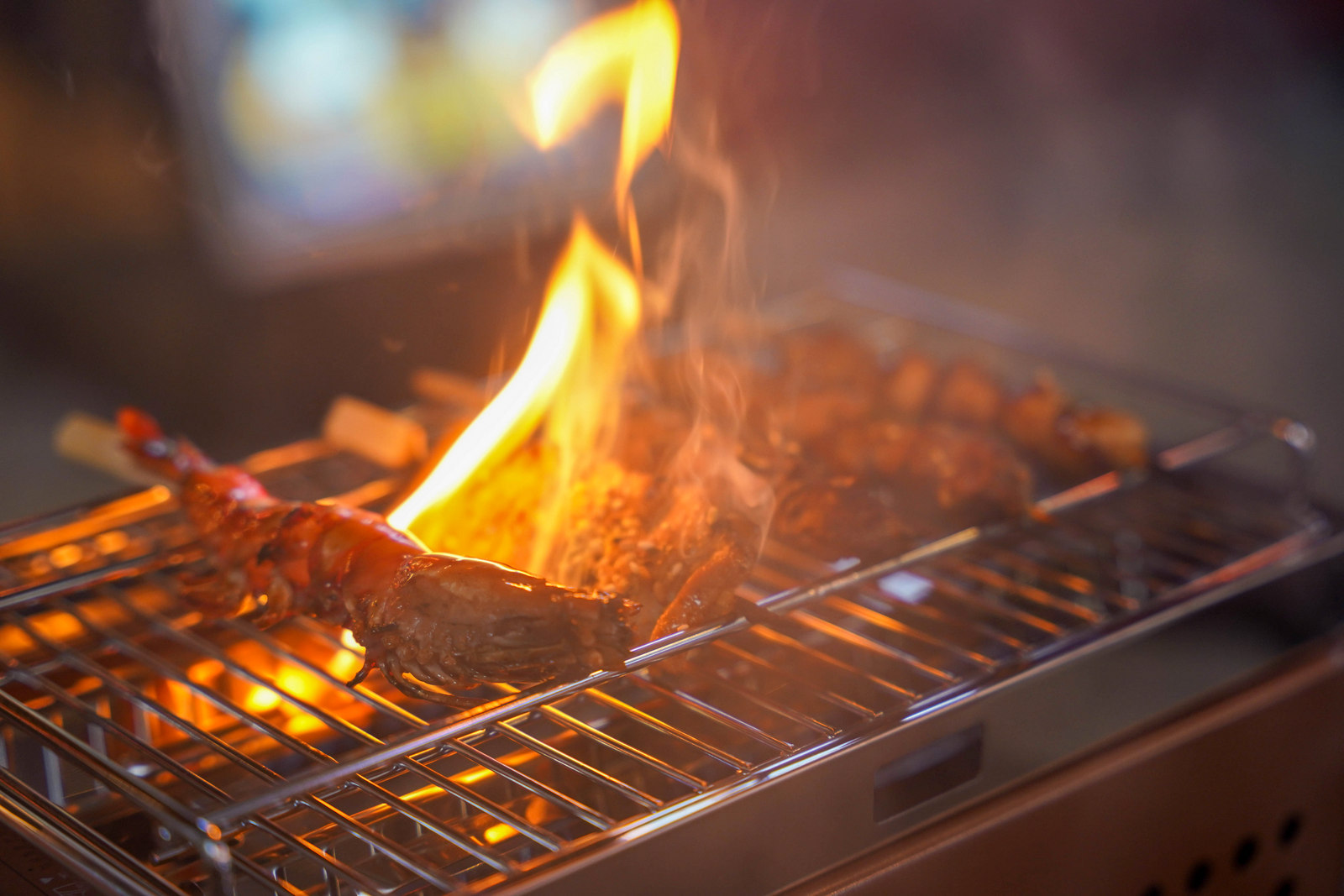 True to its name, which translates to 'heaven' in Japanese, Tengoku is pure paradise for fans of kushiyaki. Its repertoire represents not only chicken-based yakitori but everything from beef to lamb, pork to prawns.
A distinctive highlight of the Tengoku experience: The skewers kept warm at your table, for hot-and-fiery enjoyment.
Popular flame-licked choices include Chicken Thigh or Breast (RM5 each), Beef Skewer (RM7) and Lamb Skewer (RM7) for red meat carnivores, Pork Belly Skewer for porcine pleasure (RM6) and Prawn Skewer for seafood satisfaction (RM6).
The selection hits all the crowd-pleasers, from succulent chicken skin skewers to pork neck and shoulder, smoked duck to baby hotate, salmon and unagi, plus a vast variety of vegetables like asparagus, broccoli, okra, eggplant, zucchini and a medley of mushrooms.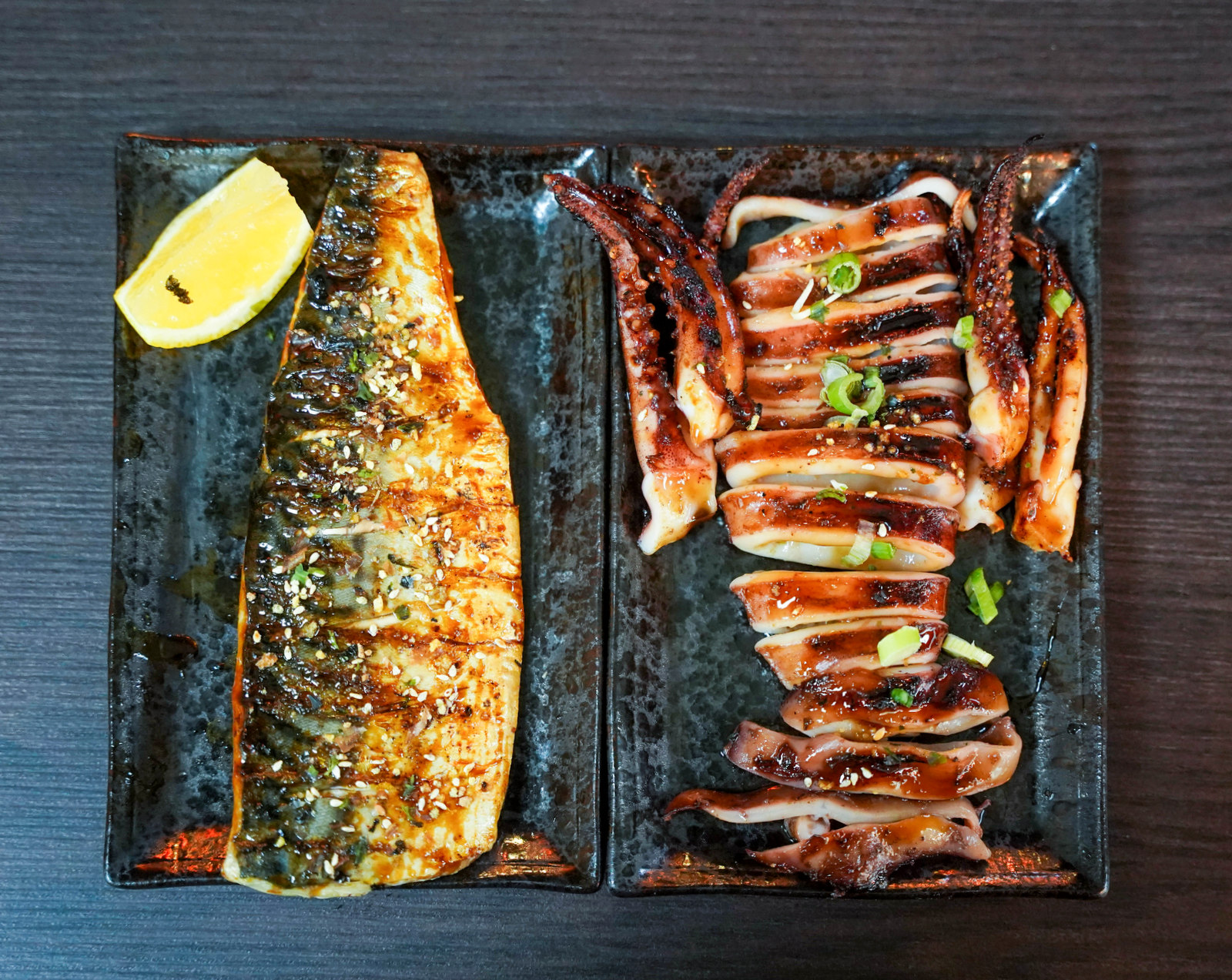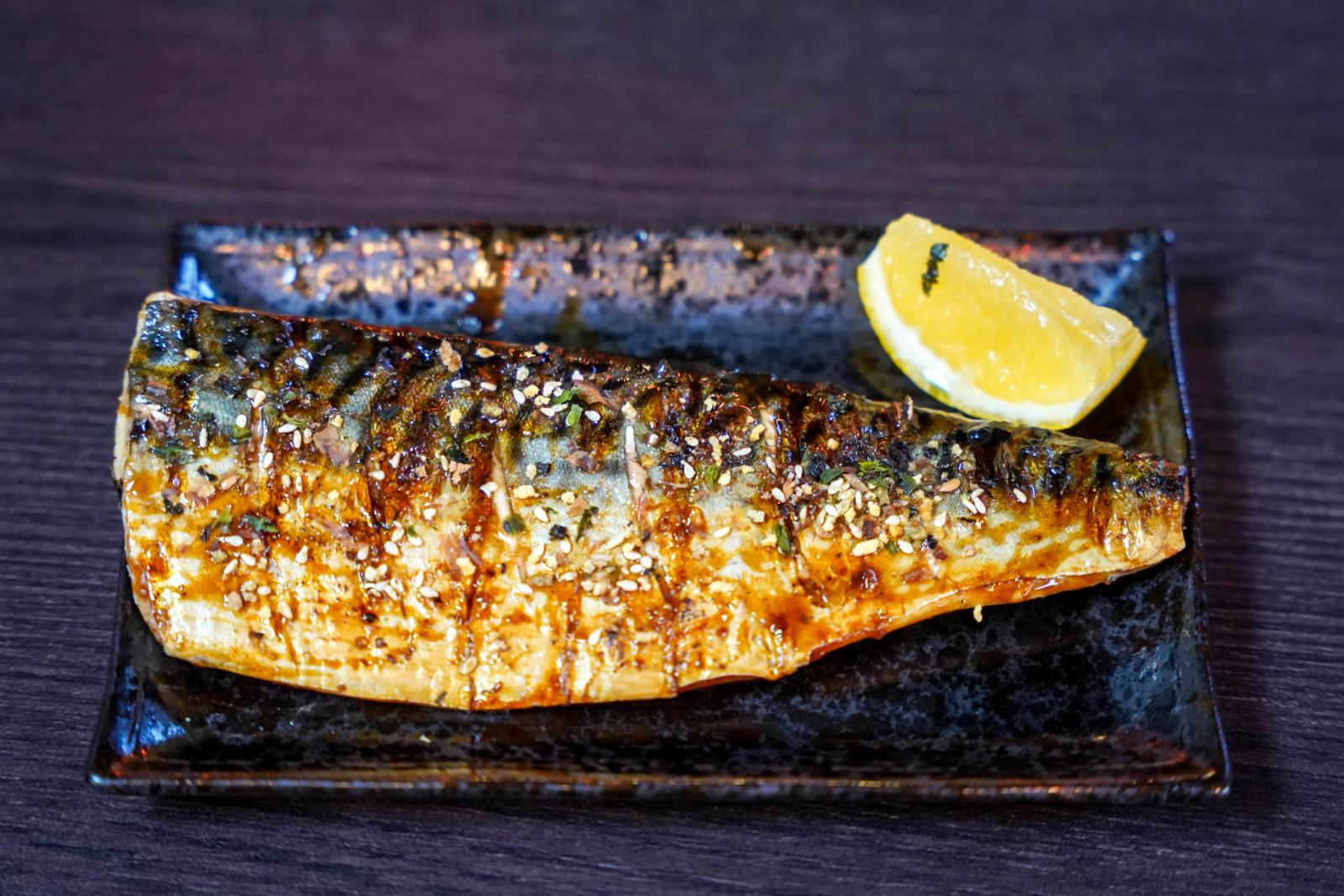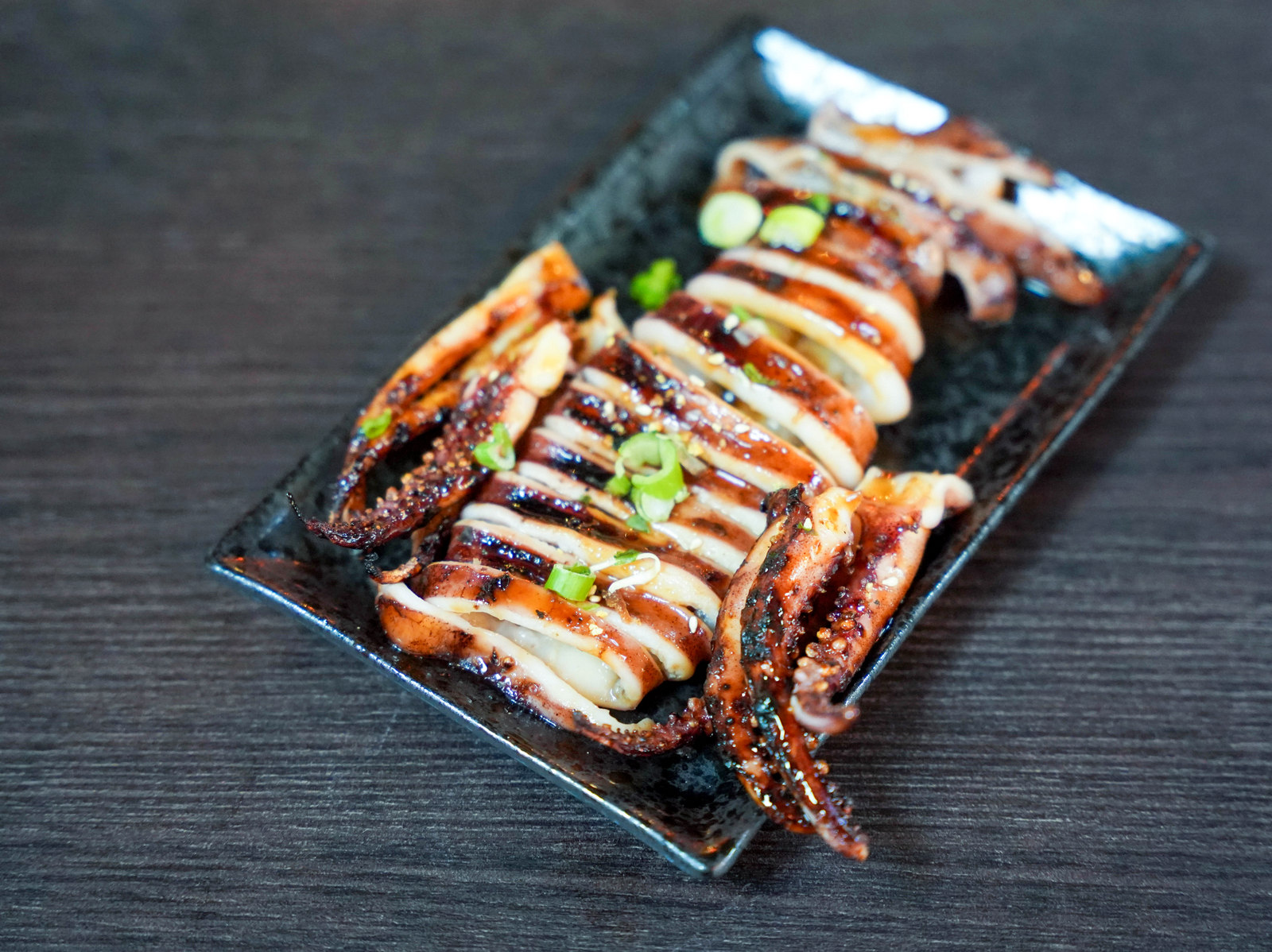 If you can't get enough of the grill, go also for the Saba Fillet, the meatiest of mackerel (RM20), and the Grilled Squid, scorchingly prepared with salt and pepper (RM20). Shishamo and unagi kabayaki are also available.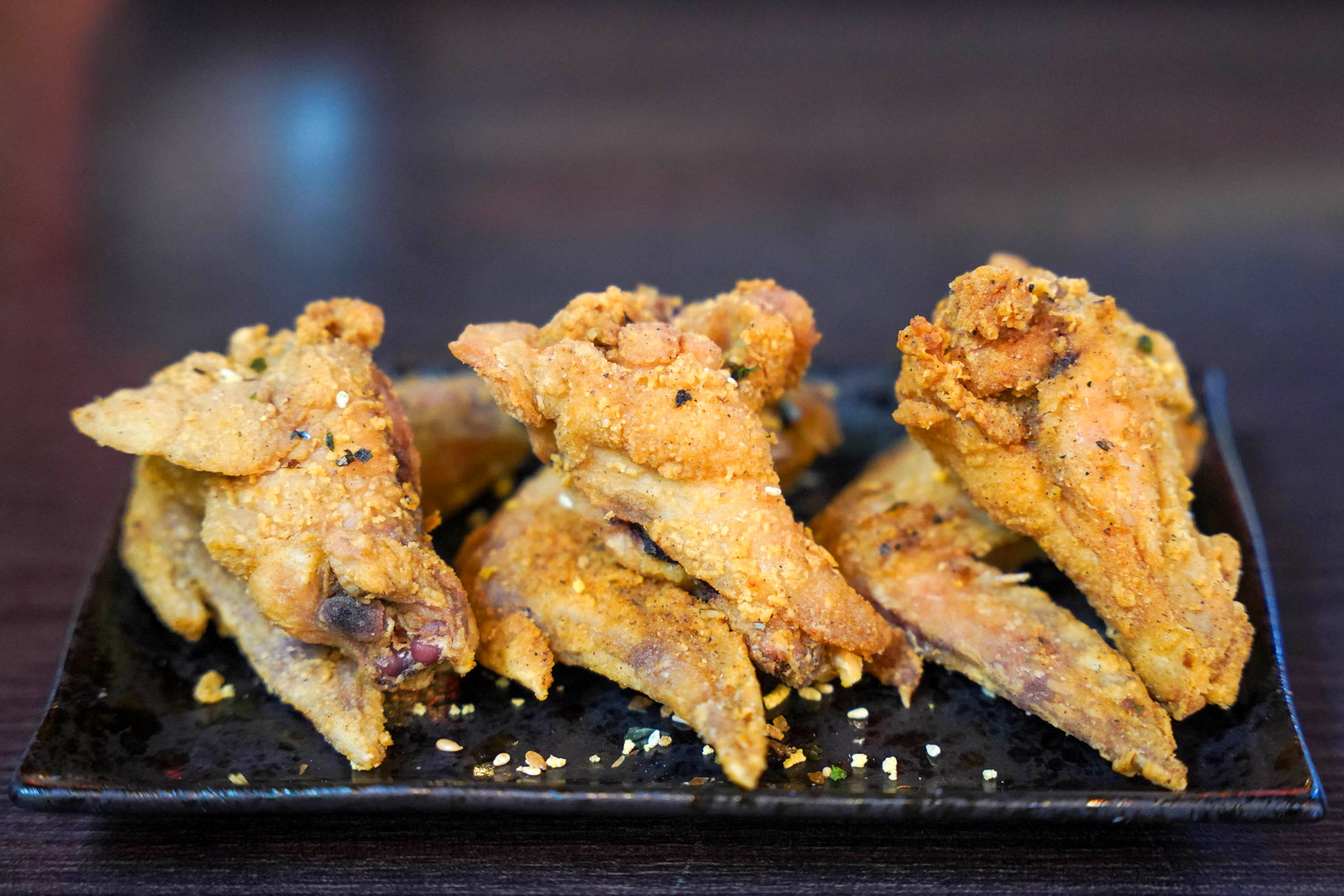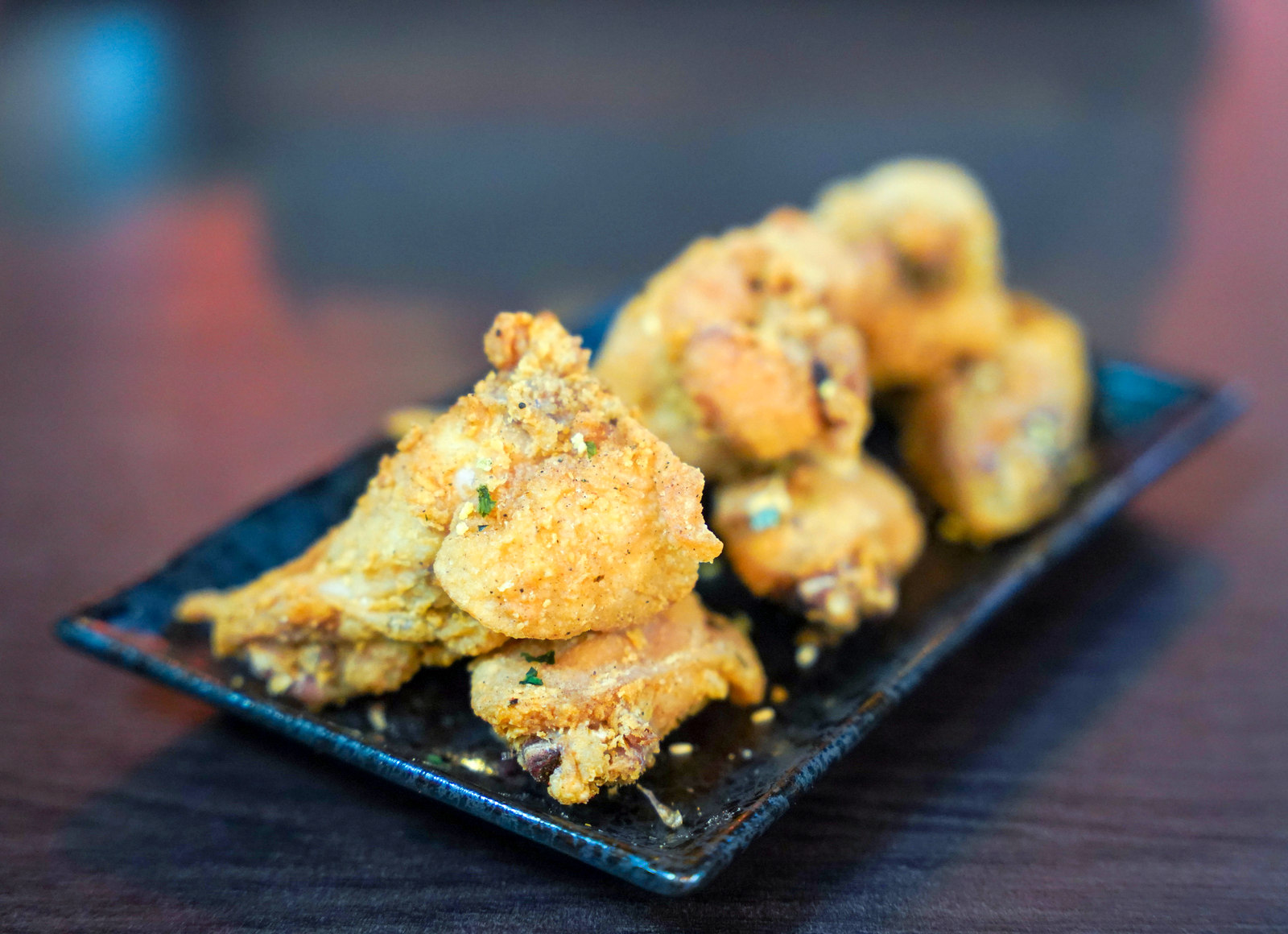 Terrific for pairing with a beer, the Signature Tengoku Wings (RM15) are as delicious as deep-fried chicken get, crisp-skinned with tantalising hints of spice in its Nagoya-influenced seasoning, lip-smacking all the way to its juicy flesh. Every table should order a plate.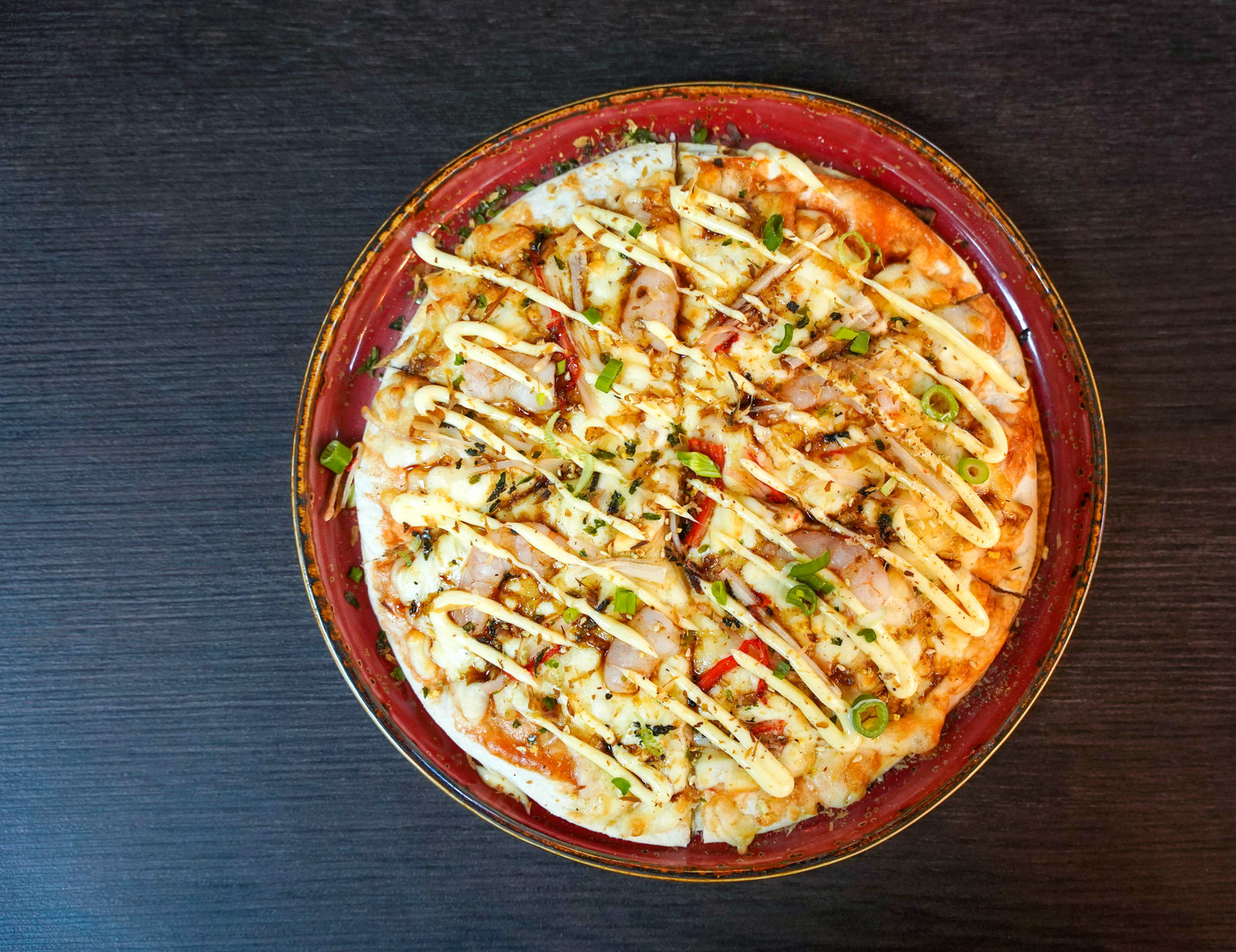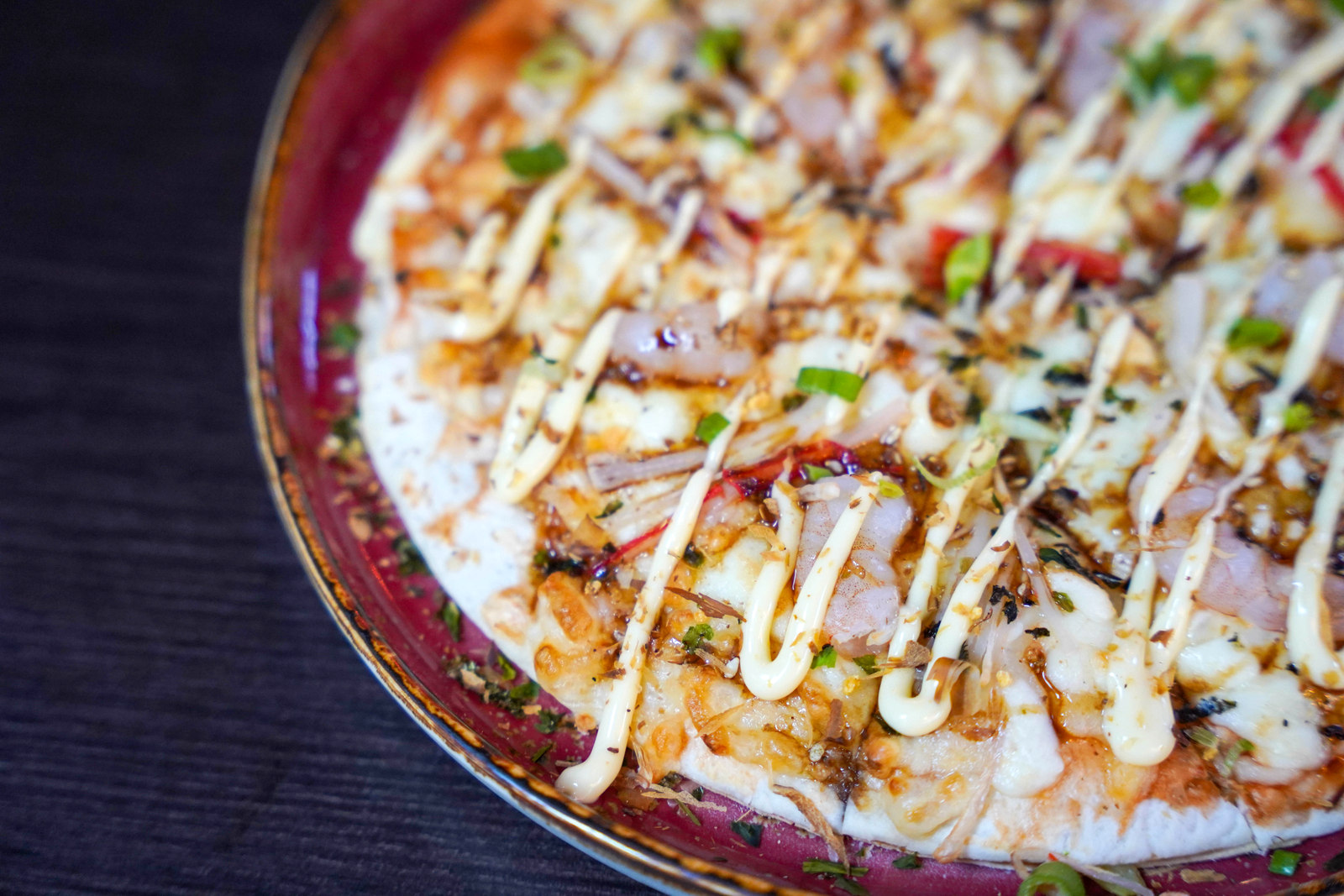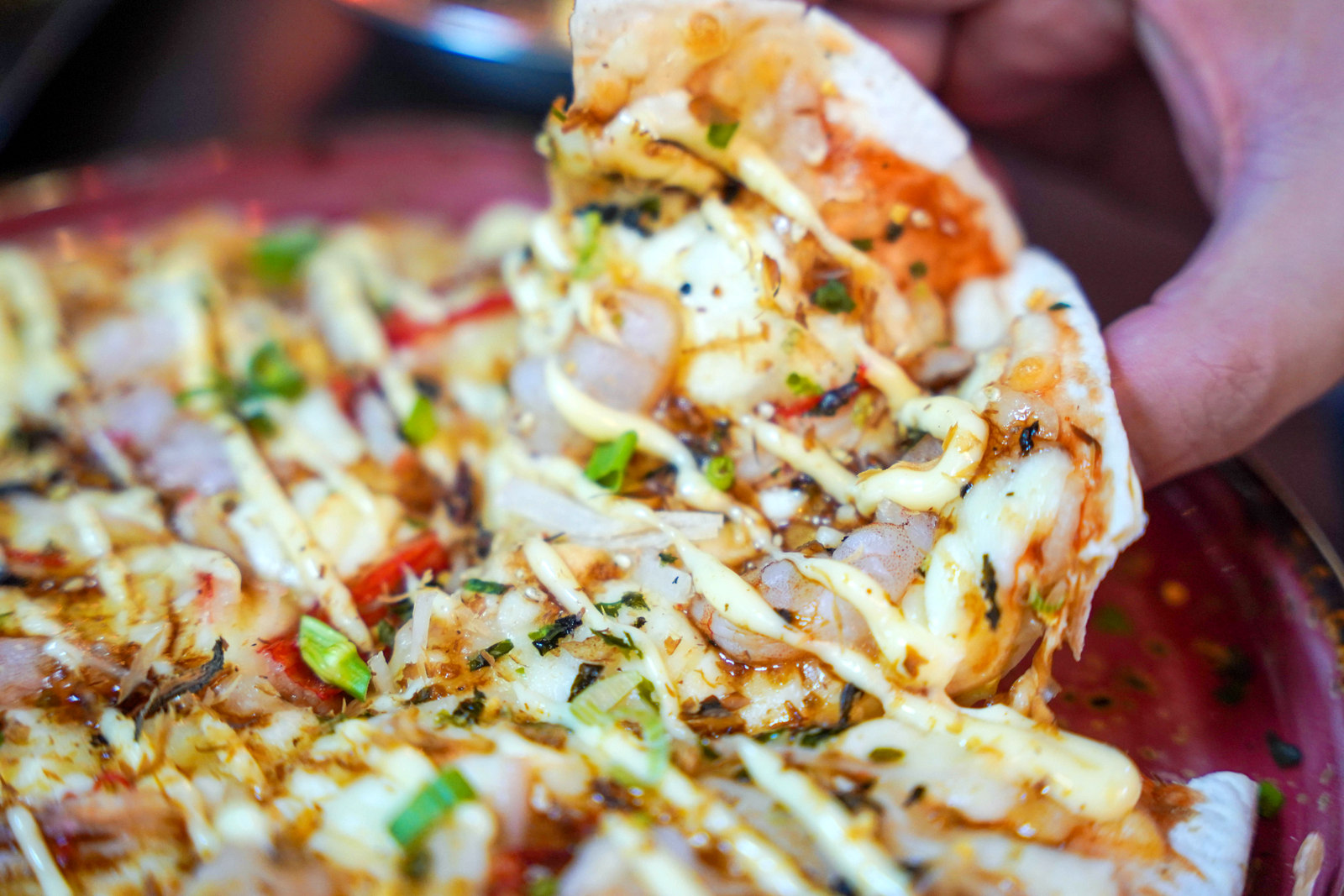 Also stellar for sharing, Tengoku's unique Okonomiyaki Pizza is built on a thin-crust base but layered with katsuobushi, cabbage, Worcestershire-laced okonomiyaki sauce and mayonnaise - an imaginative hybrid of Italian and Japanese staples, coming together in tasty harmony.
Toppings for the Okonomiyaki Pizza can include the Seafood Deluxe (RM33), blanketed with an assortment of shrimp and squid, punched up with Parmesan cheese for a rich, savoury treat. Even purists might relish this, a well-executed twist on traditional pizzas.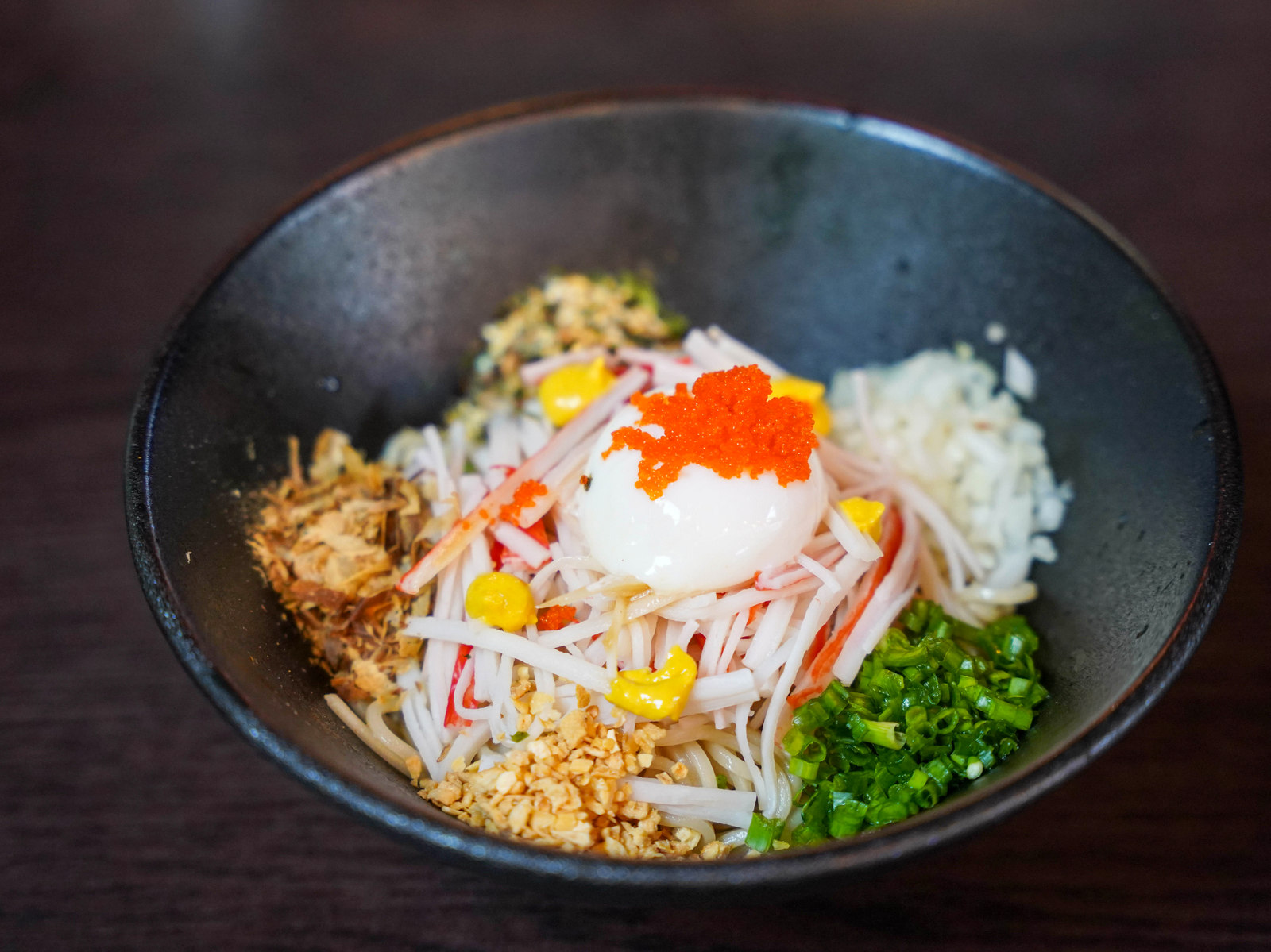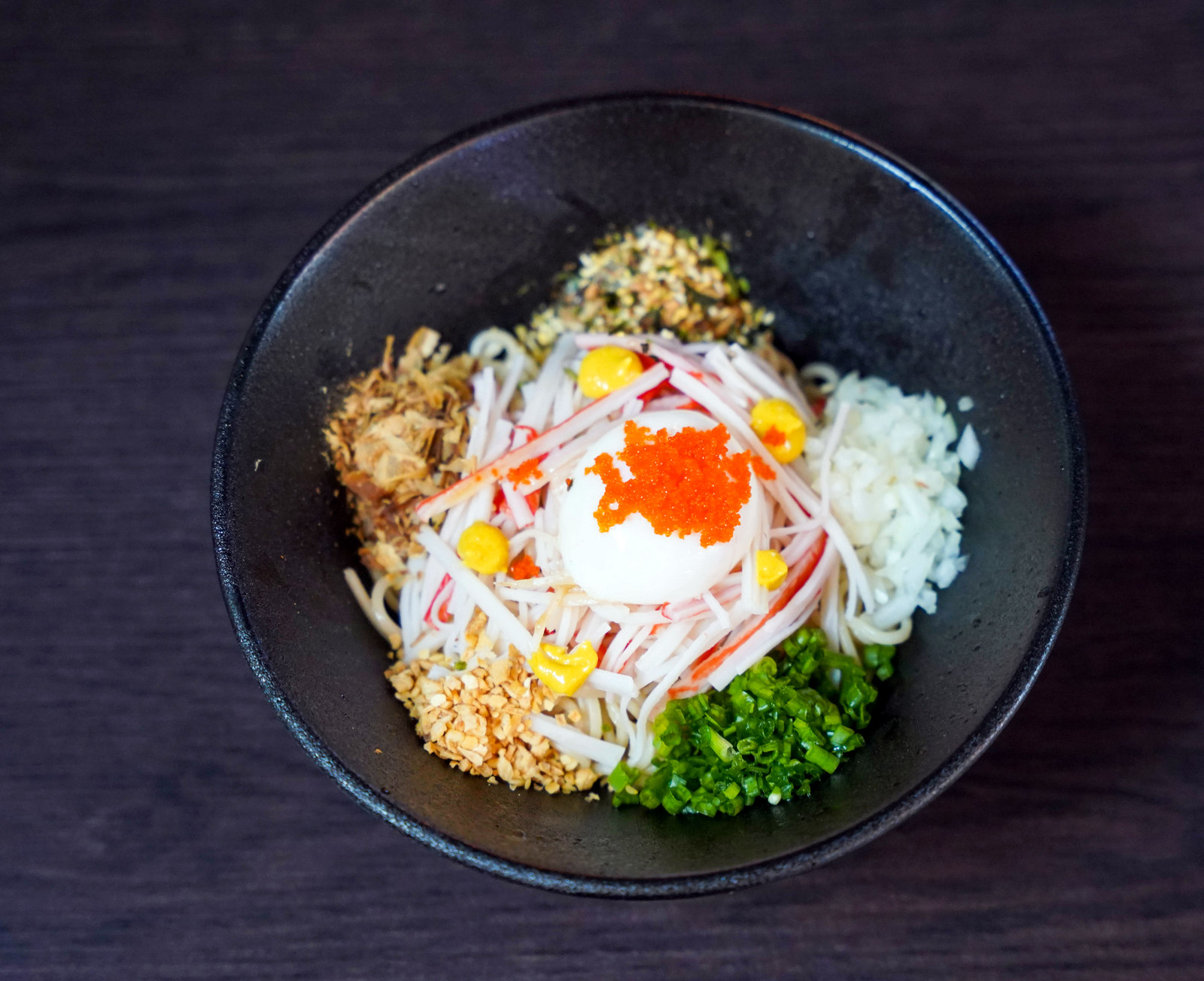 Speaking of twists, Tengoku showcases its capable range with its hiyashi chuka - this cold noodle bowl is a confident counterpoint to all the other hot fare, a Japanese summertime specialty heaped with protein, vegetables, nuts and seeds galore. Tengoku makes it extra-luscious, swapping out the conventional kinshi tamago shredded egg strips for a plump poached egg on top, bursting open to enhance the ensemble with runny-yolked creaminess.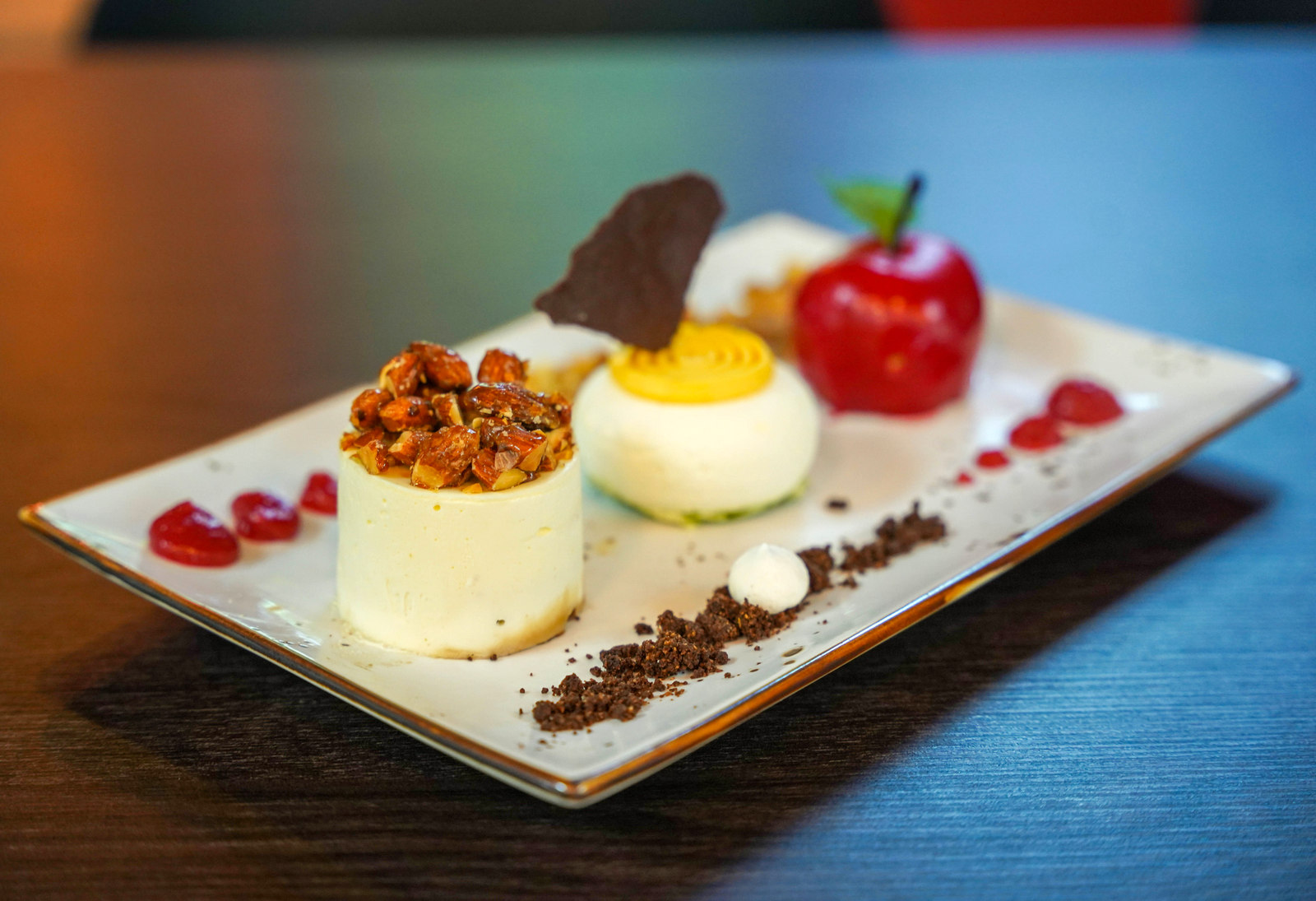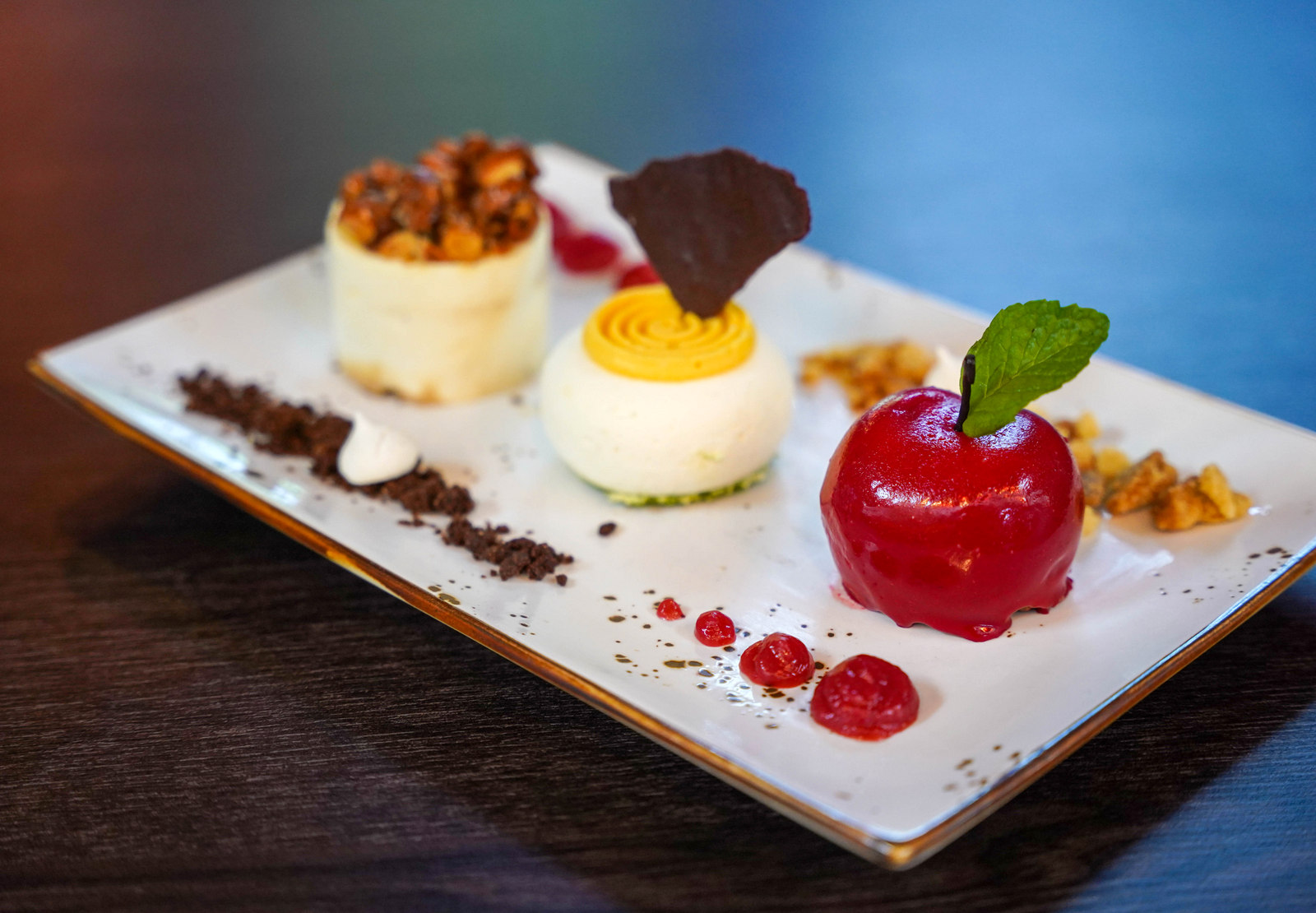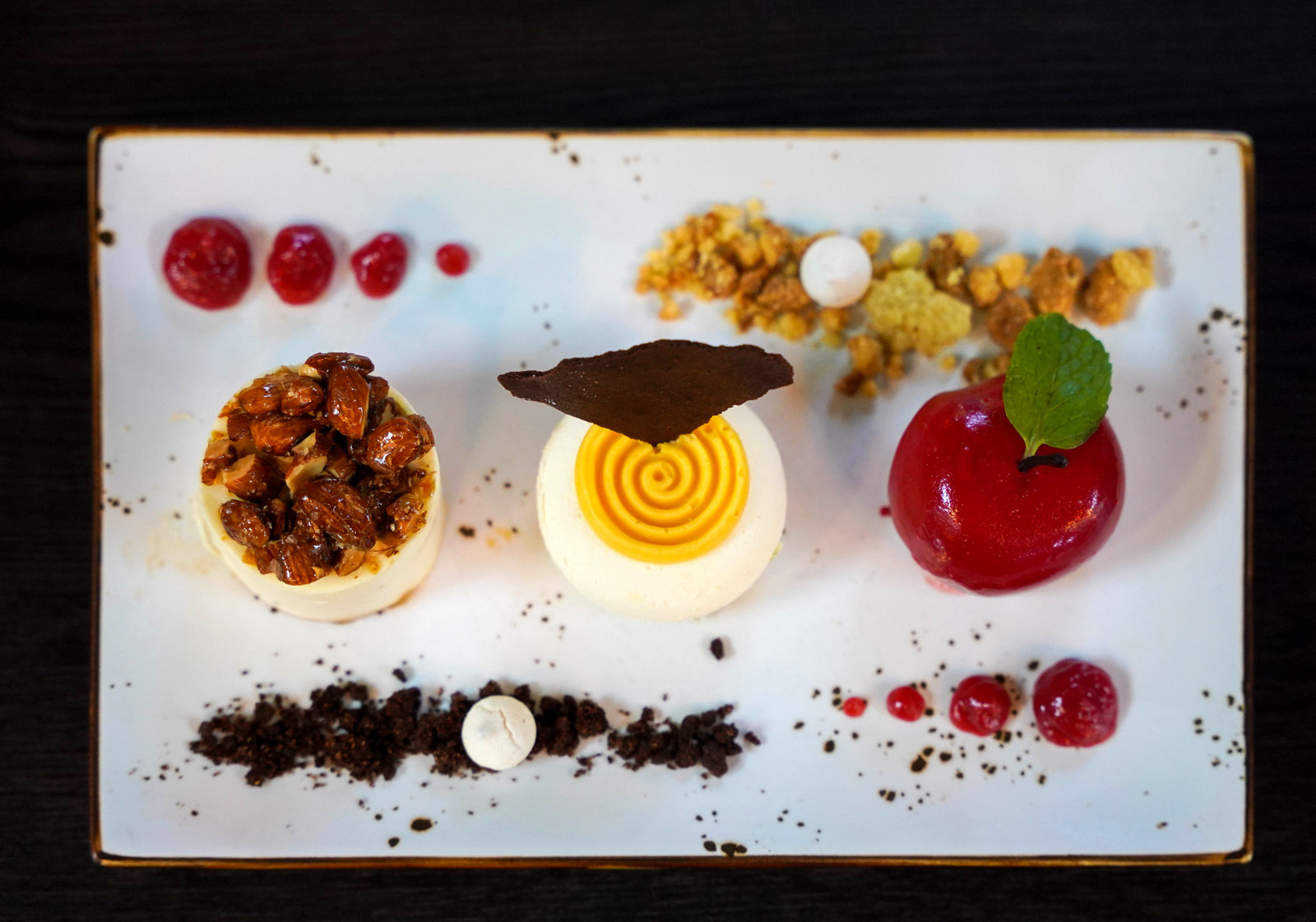 Dessert also springs a surprise - instead of, say, matcha ice cream, Tengoku thrills with elaborate European-inflected plated treats like Tiramisu, buoyed by a coffee liquor kick to complement the chocolate sponge and mascarpone, crowned with caramelised almonds for crunch (RM20), Green Tea White Choc and Passionfruit, smooth white chocolate mousse with green tea and passionfruit cream (RM20) and Black Forest, its crimson cherry surface concealing a deep, dark secret of Valrhona chocolate mousses with vanilla cream (RM20).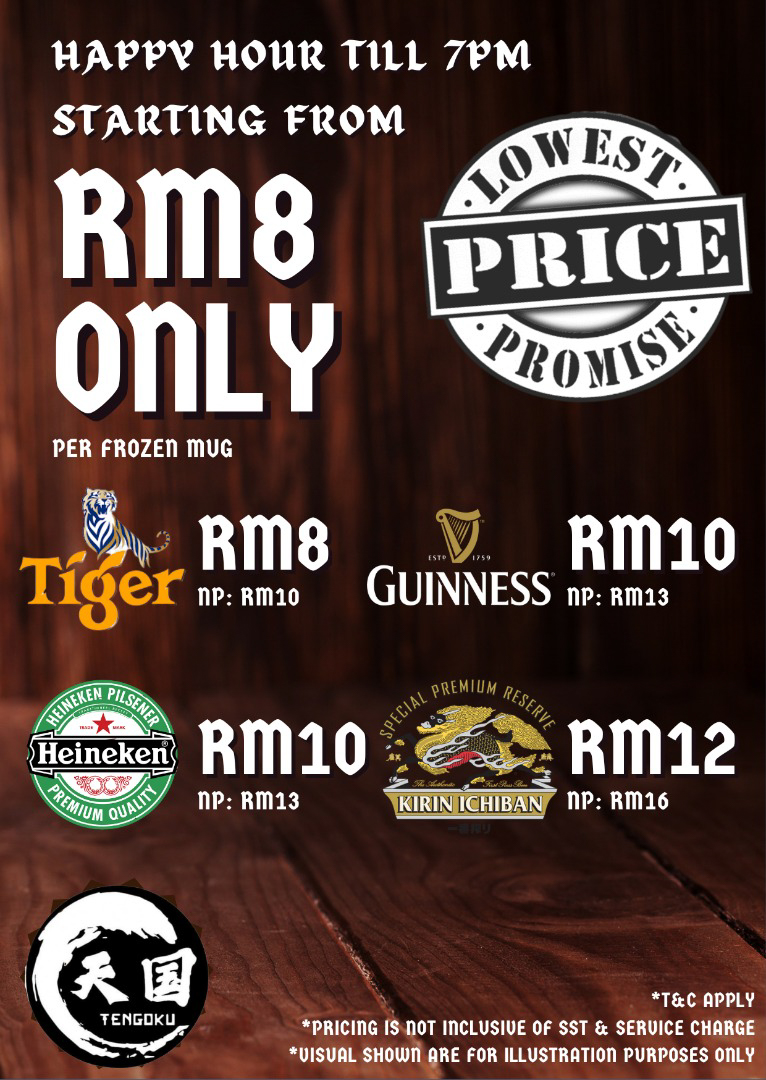 With Happy Hours lasting through 7pm, Tengoku is a terrific stop immediately after work, with a range of beers that start at only RM8 per frozen mug, aiming to be one of the best beer bargains in town.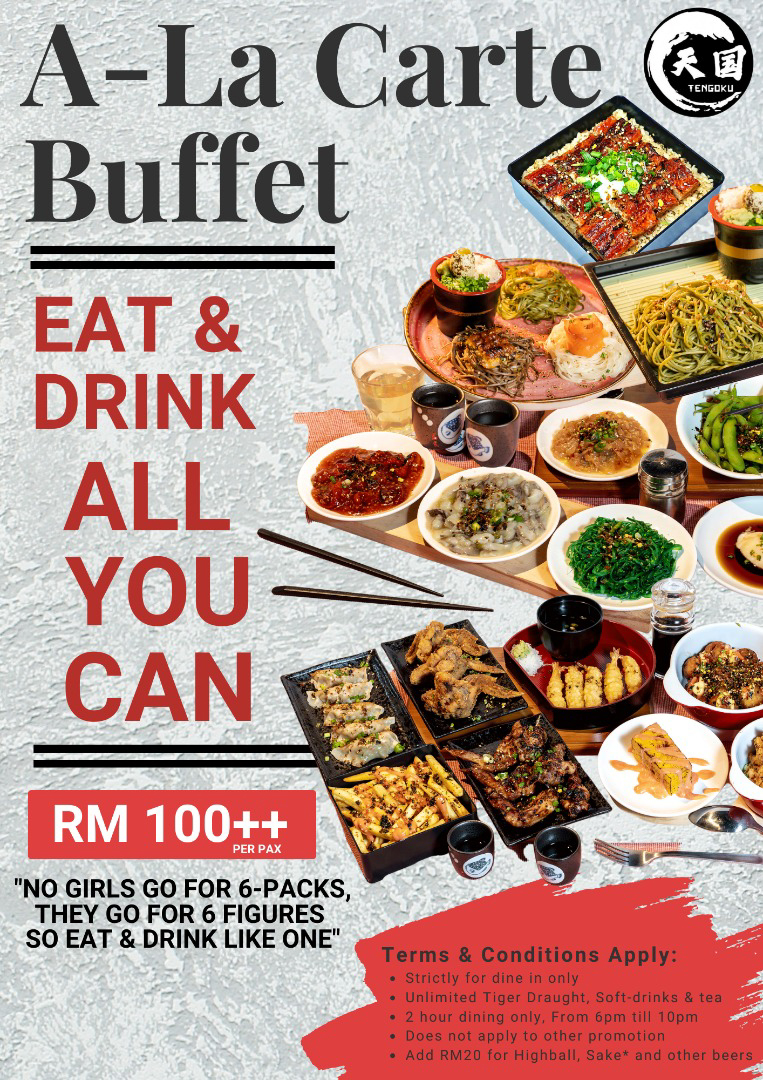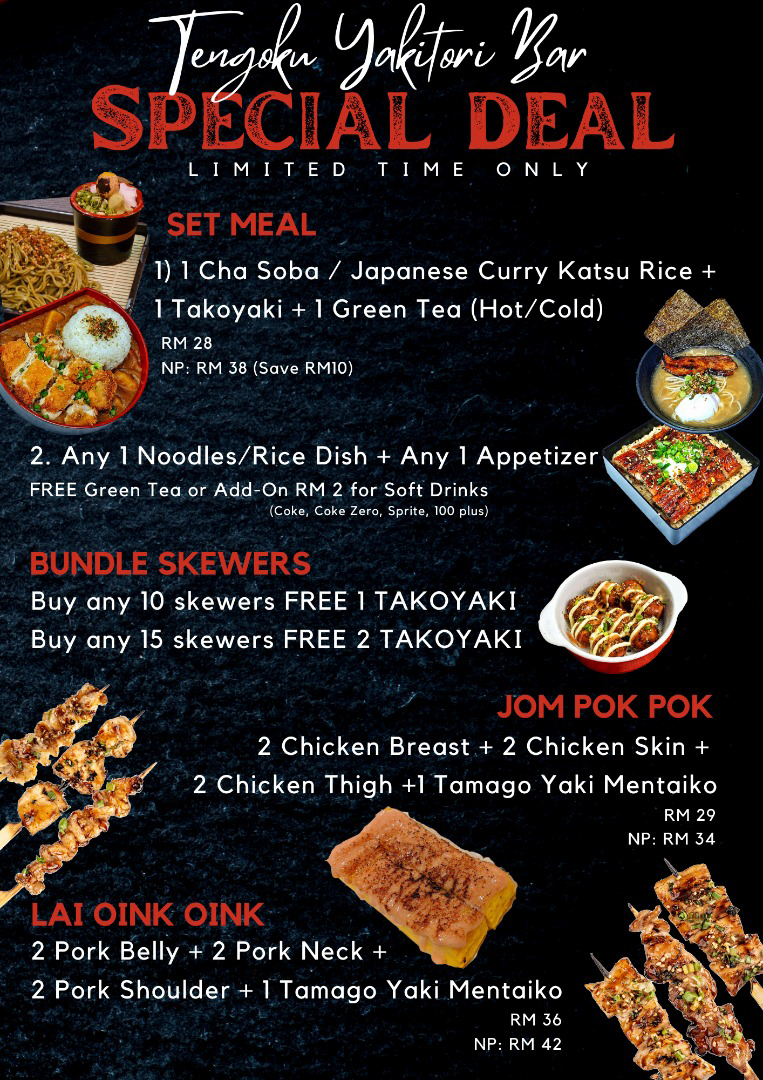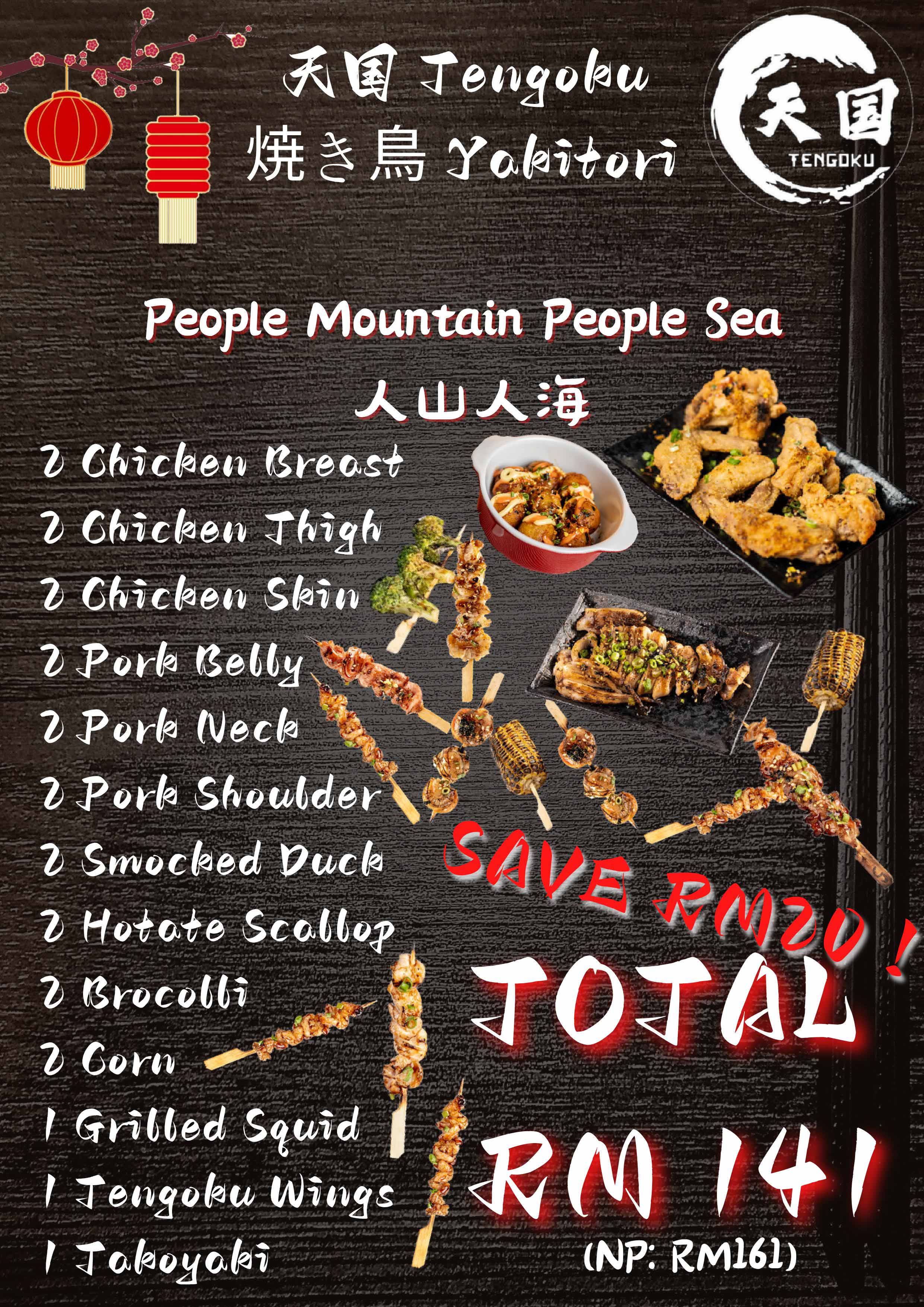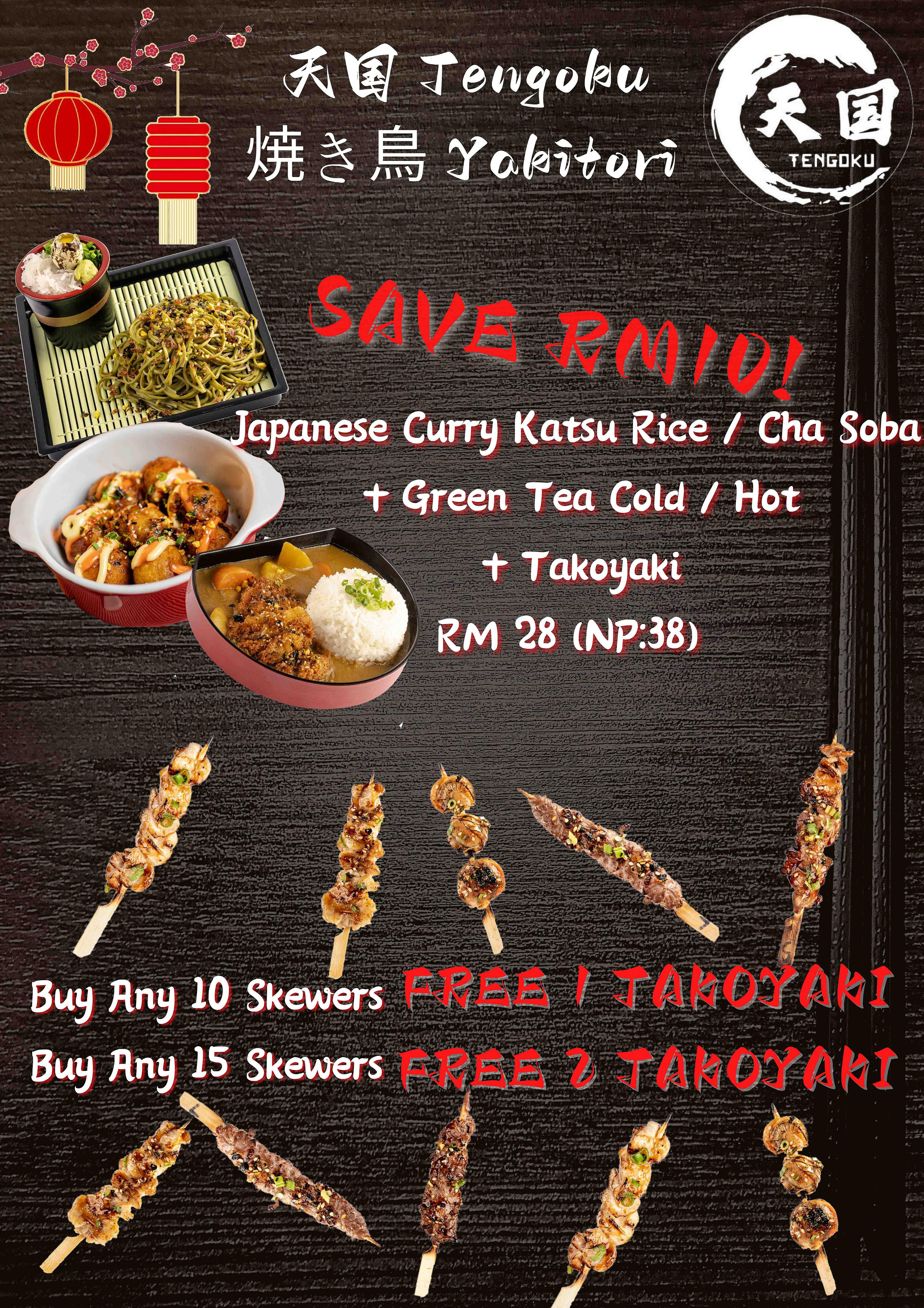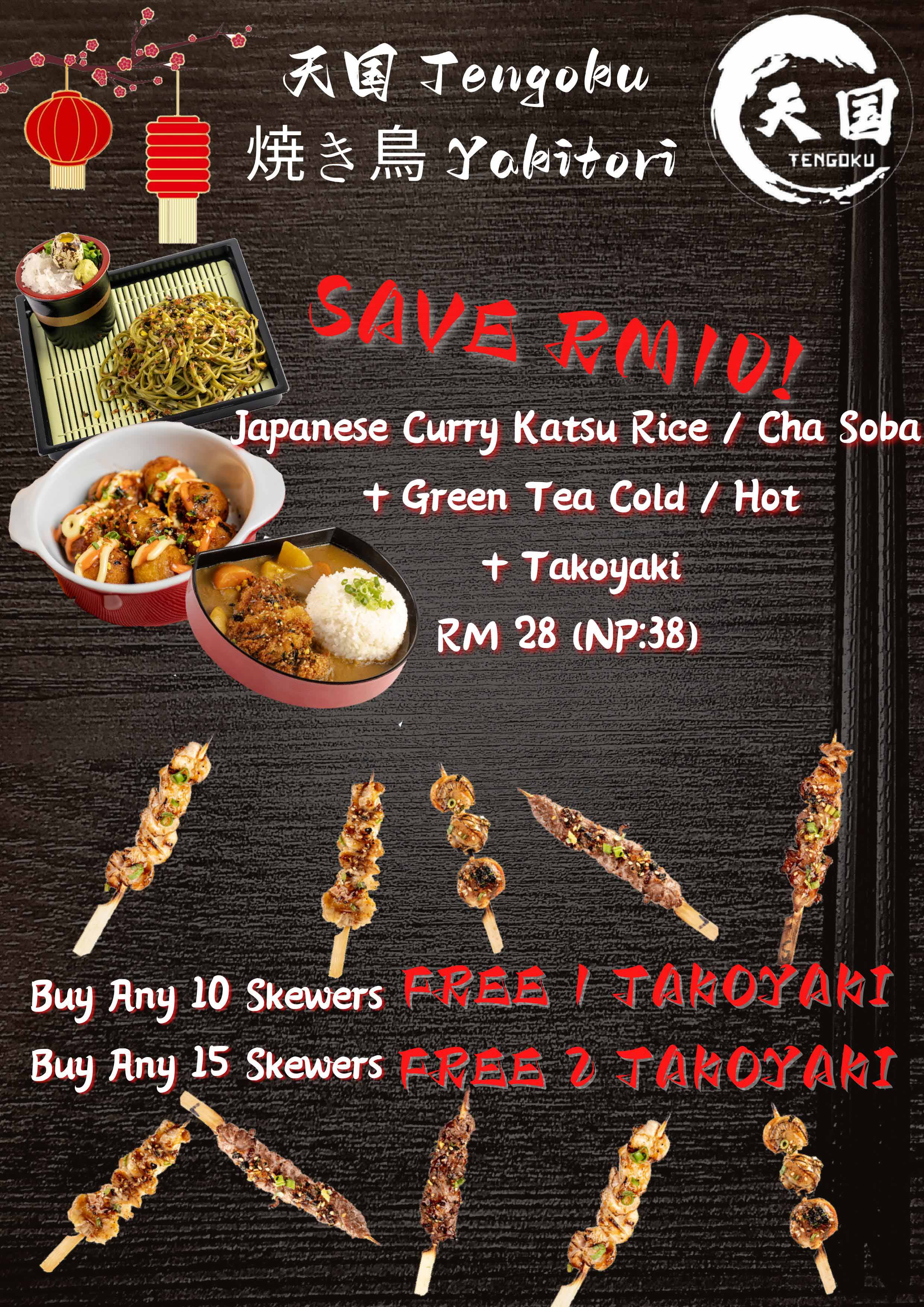 Other ongoing food promotions should also please deal-seekers - follow Tengoku Yakitori Bar at instagram.com/tengoku.arkadia and facebook.com/tengoku.izakaya for exciting offers like its eat-all-you-can A La Carte Buffet, set meals and bundles.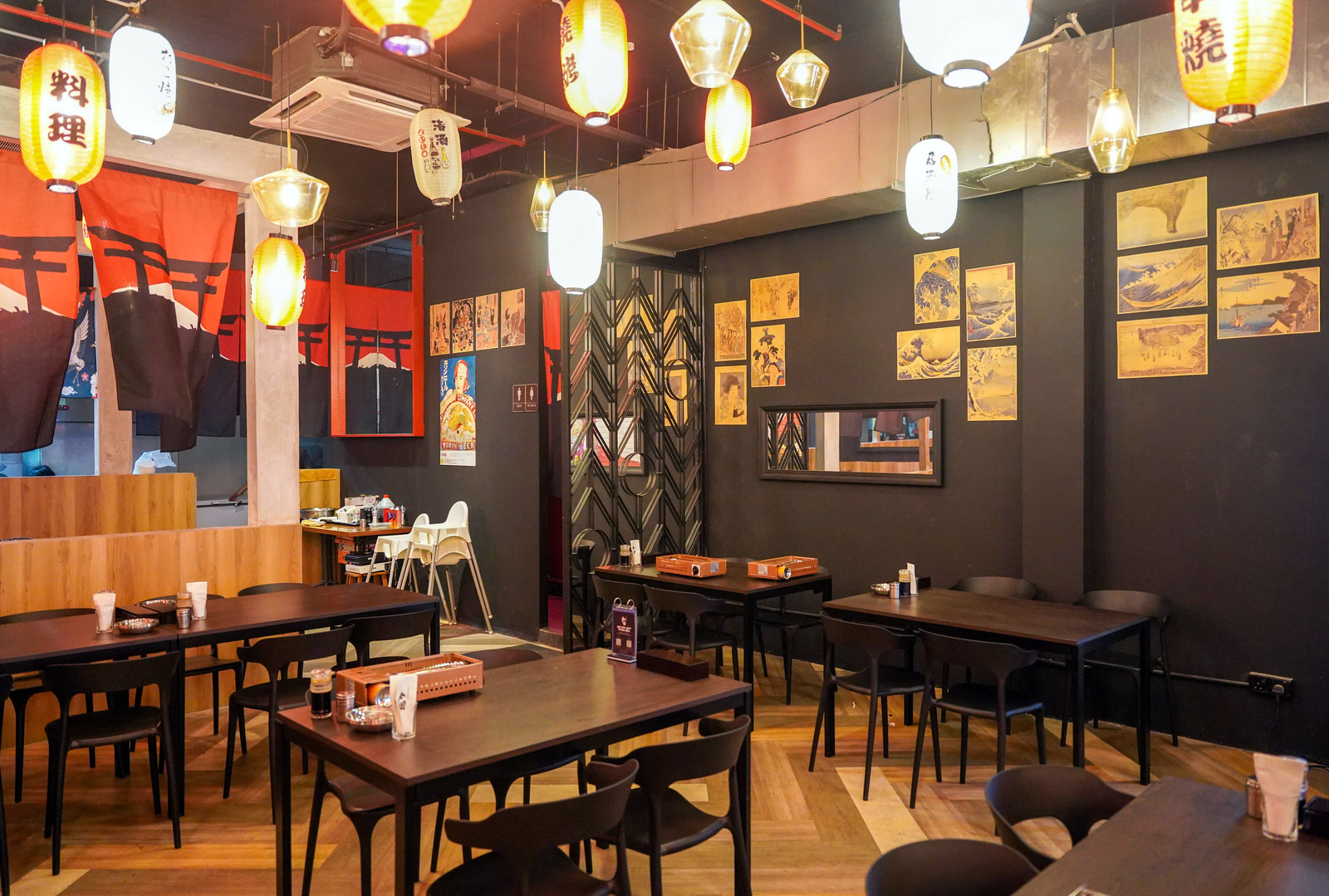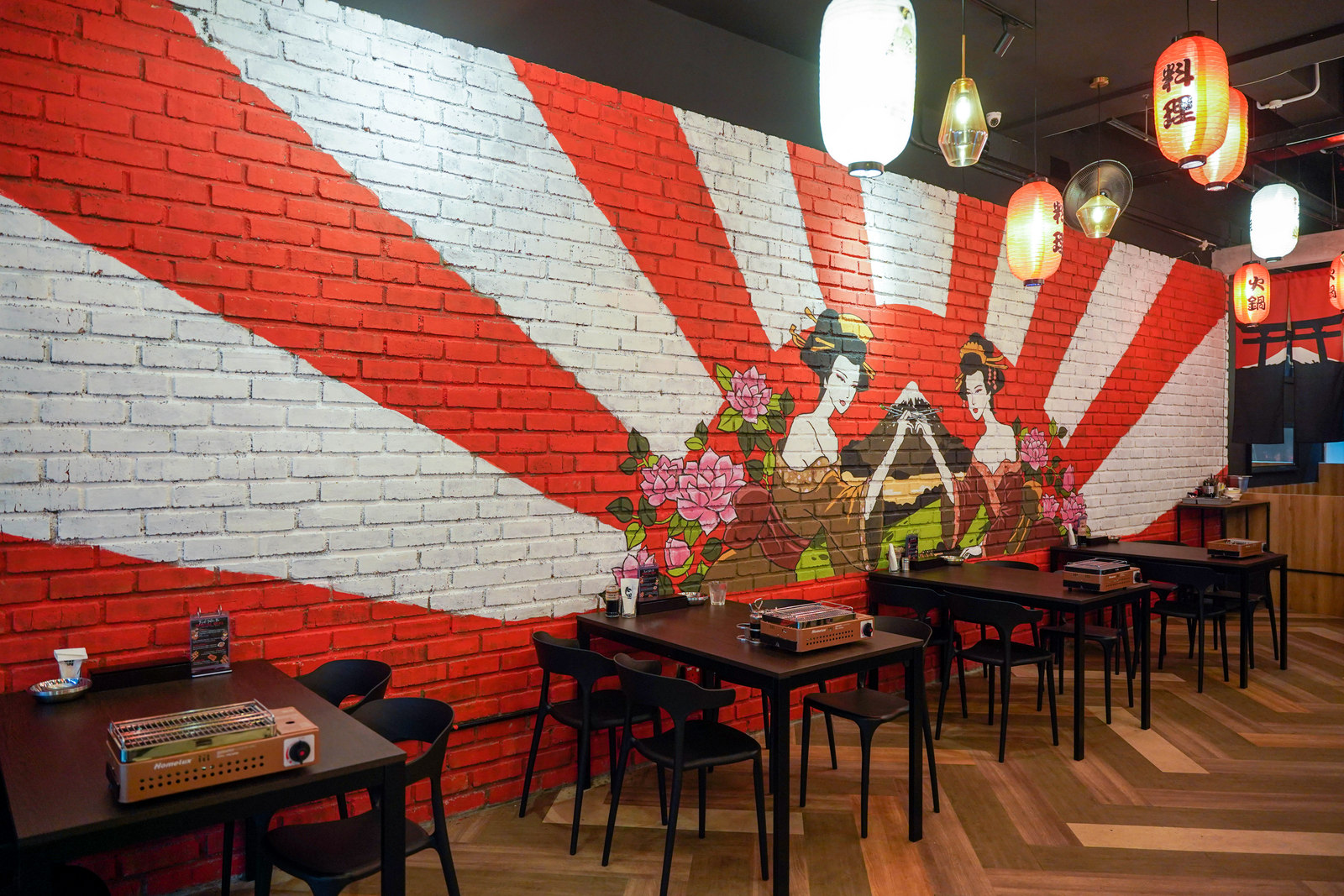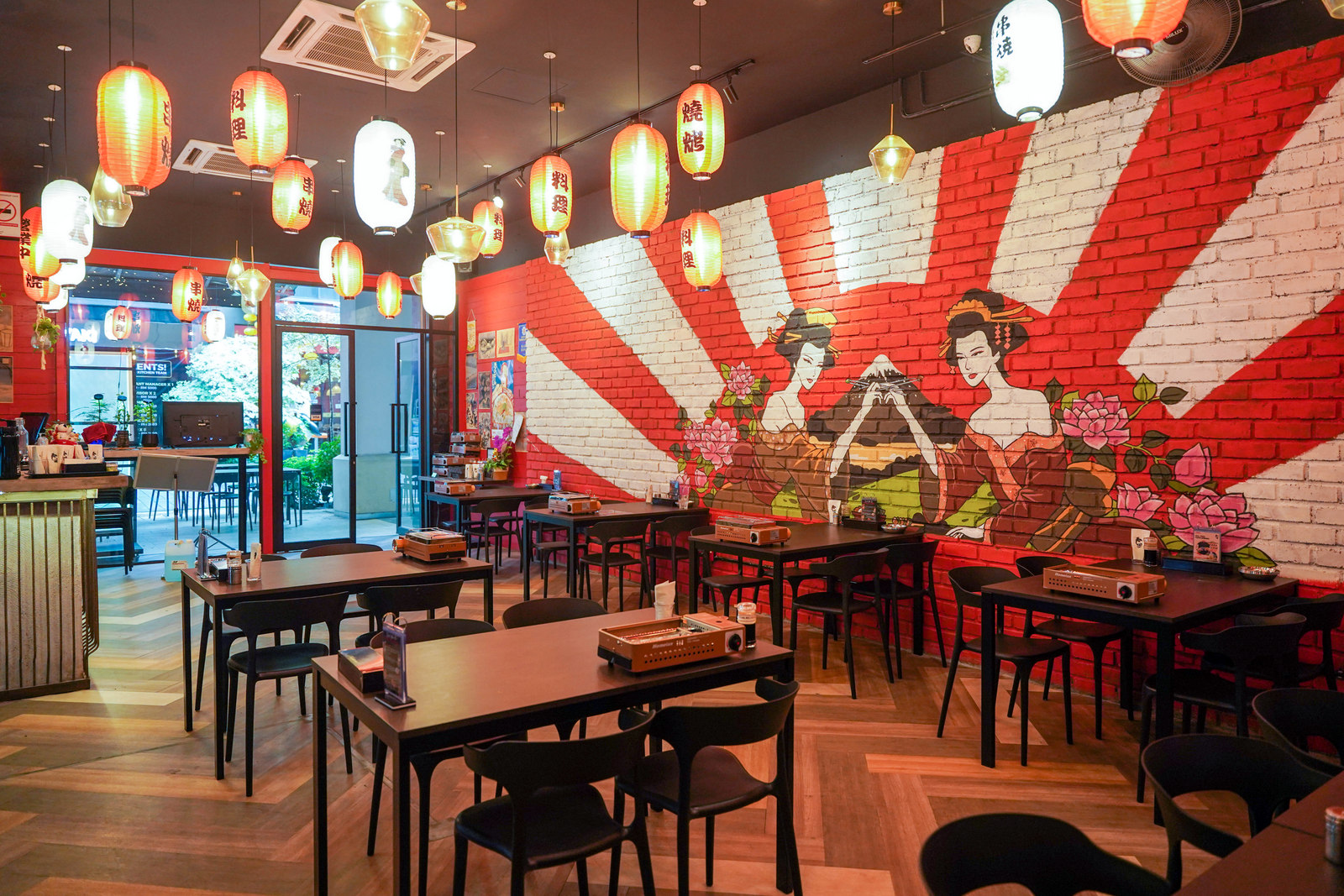 Tengoku Yakitori Bar
B-G-11, Plaza Arkadia, Persiaran Perdana, Desa Parkcity, 52200 Kuala Lumpur.
Open Thursday-Tuesday, 3pm-11pm. Closed Wednesday. Tel: 018-321-0143