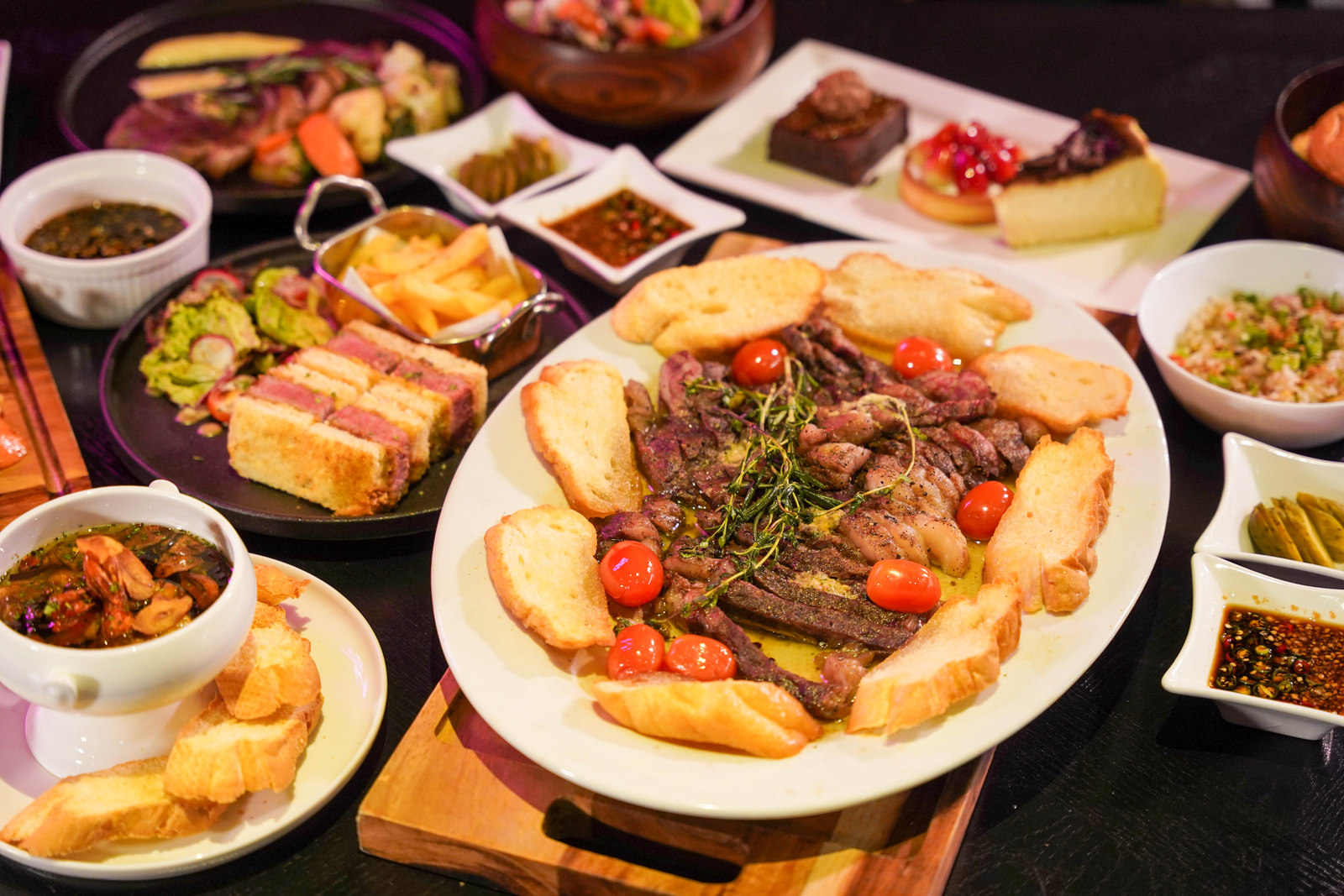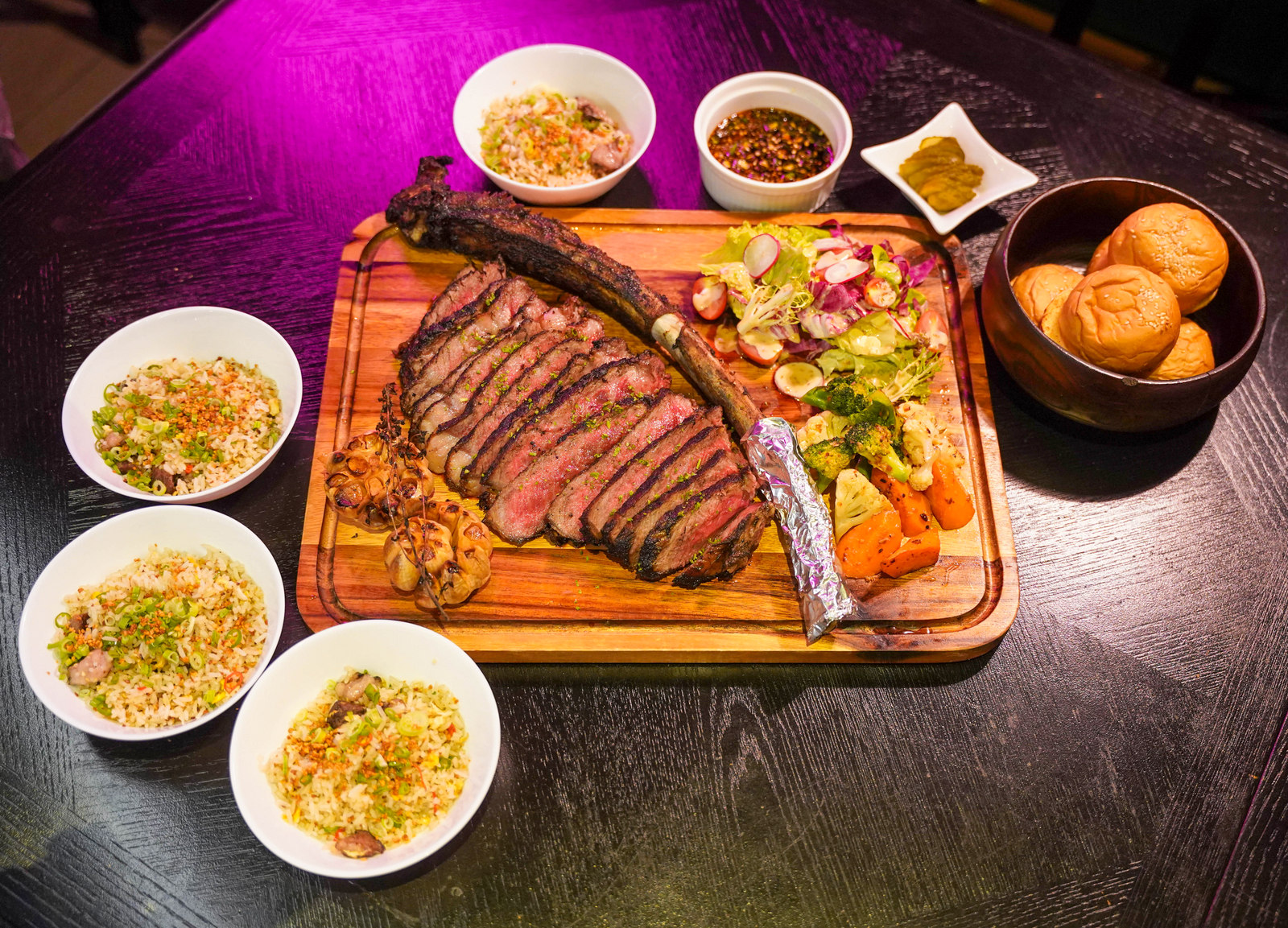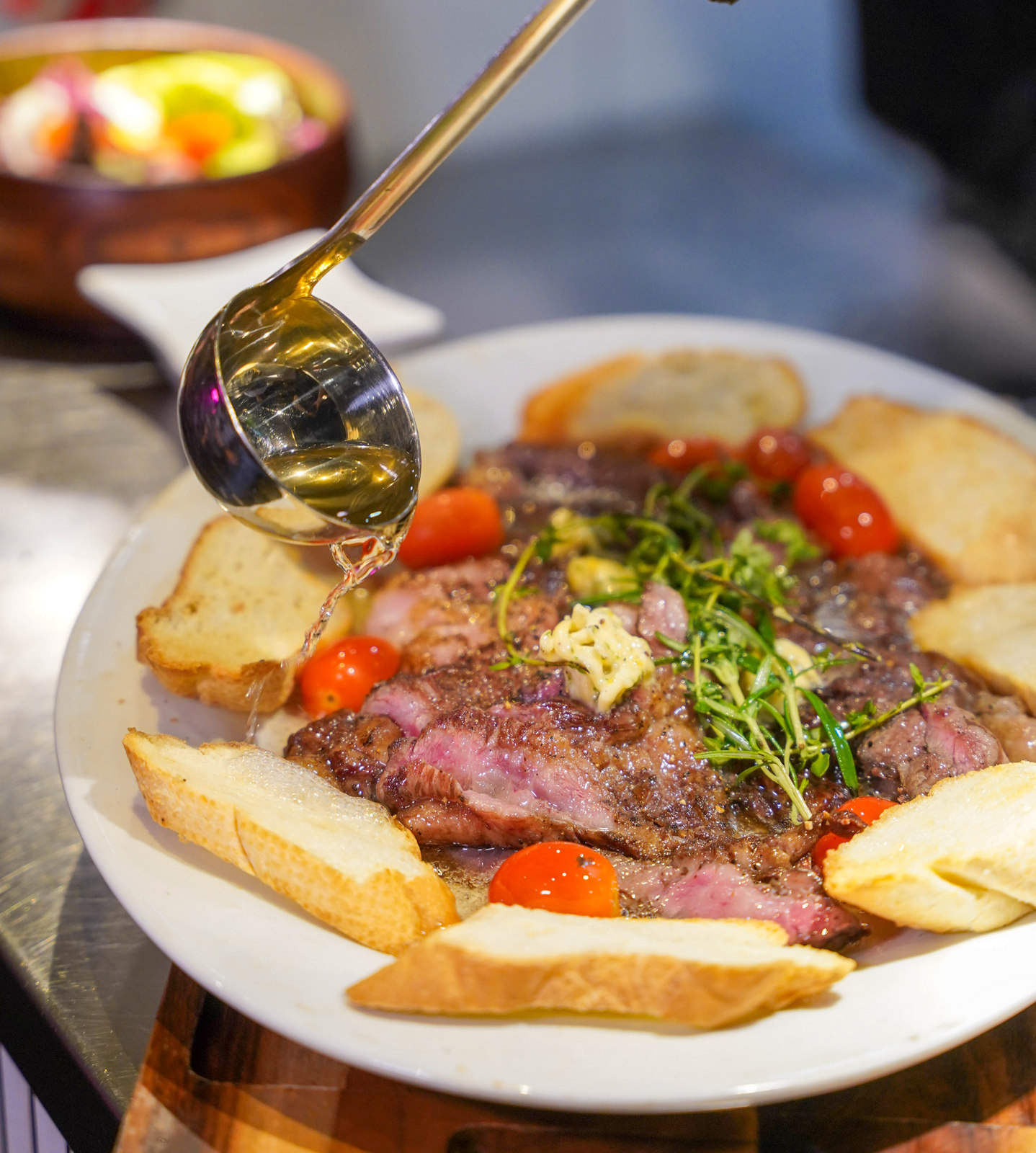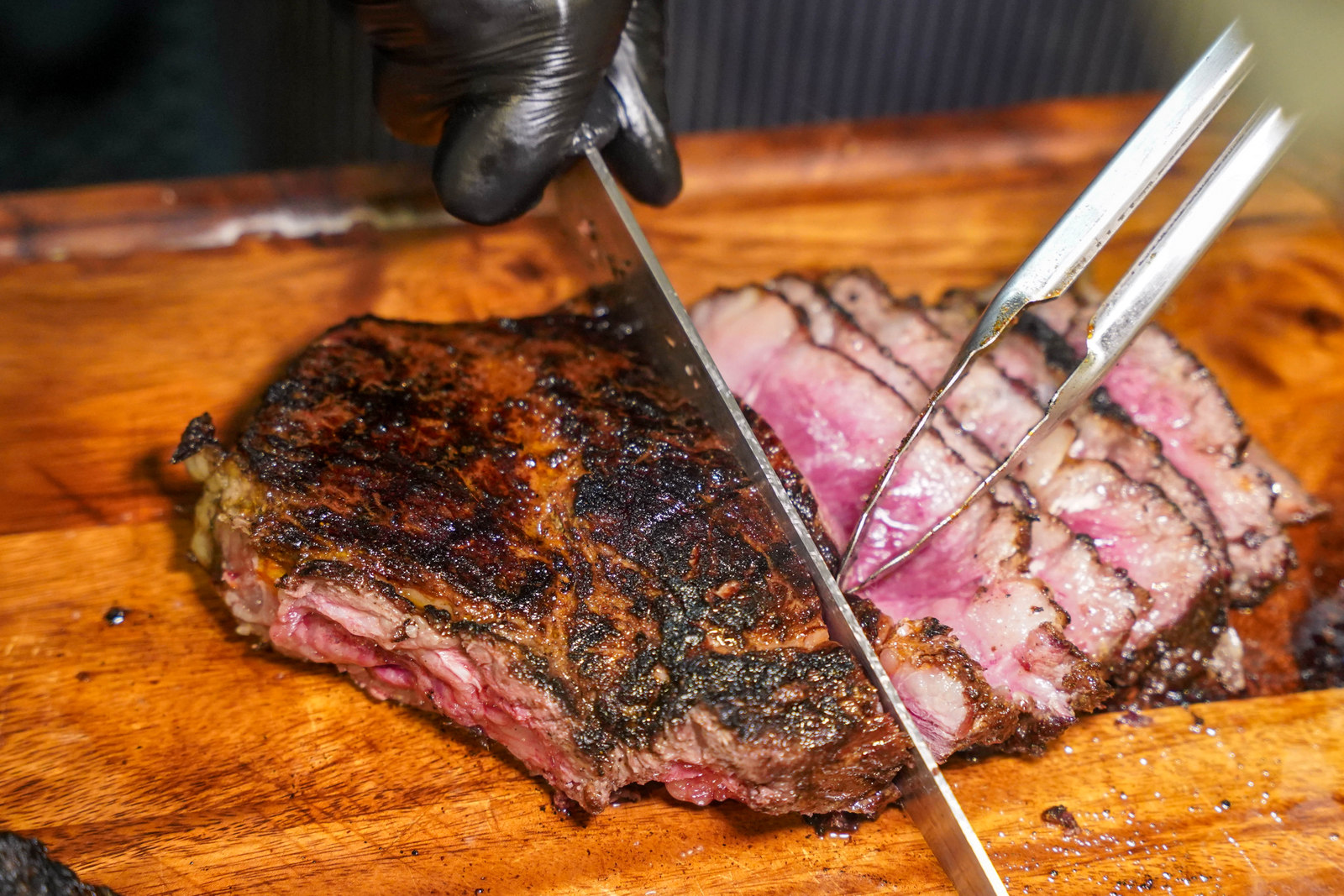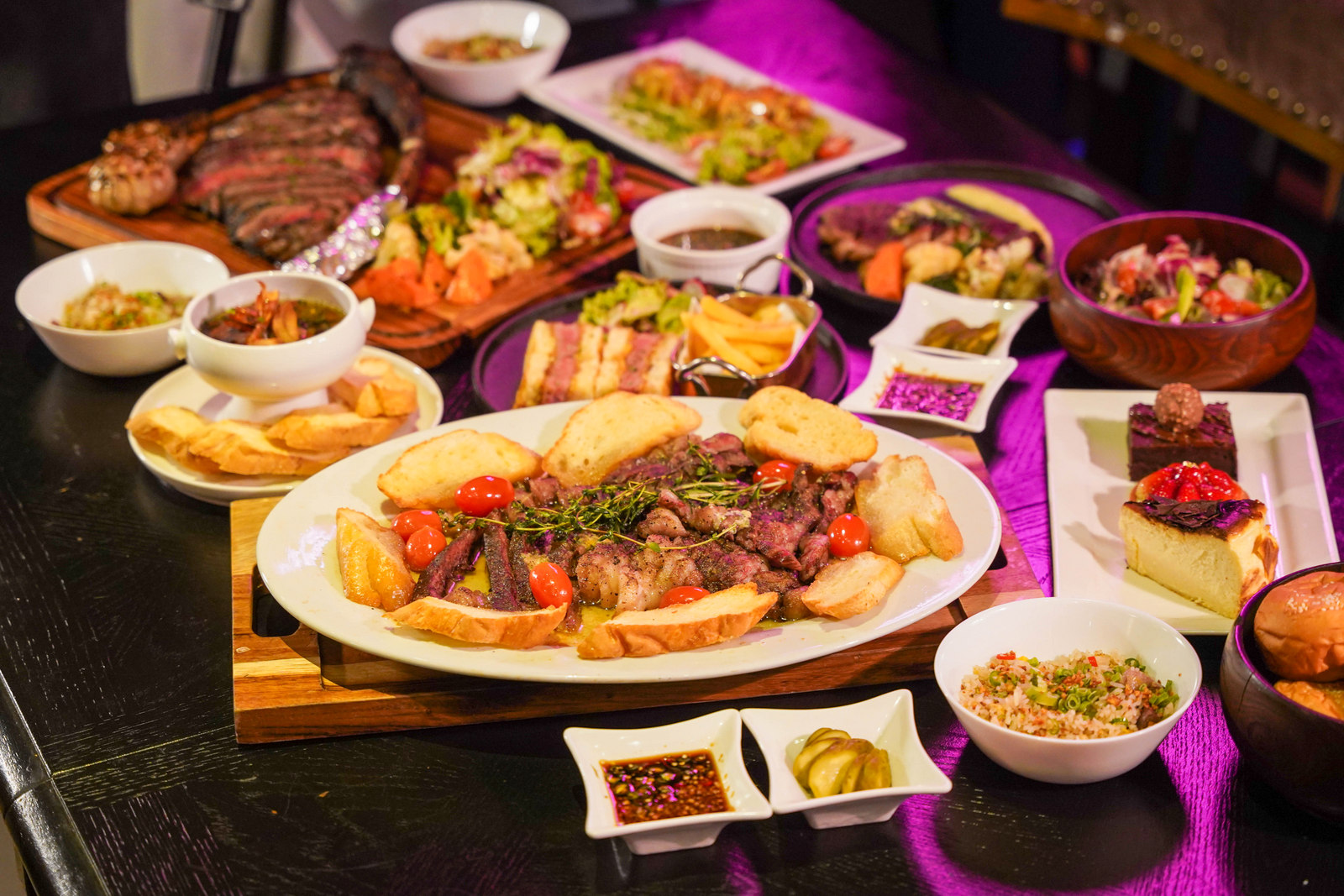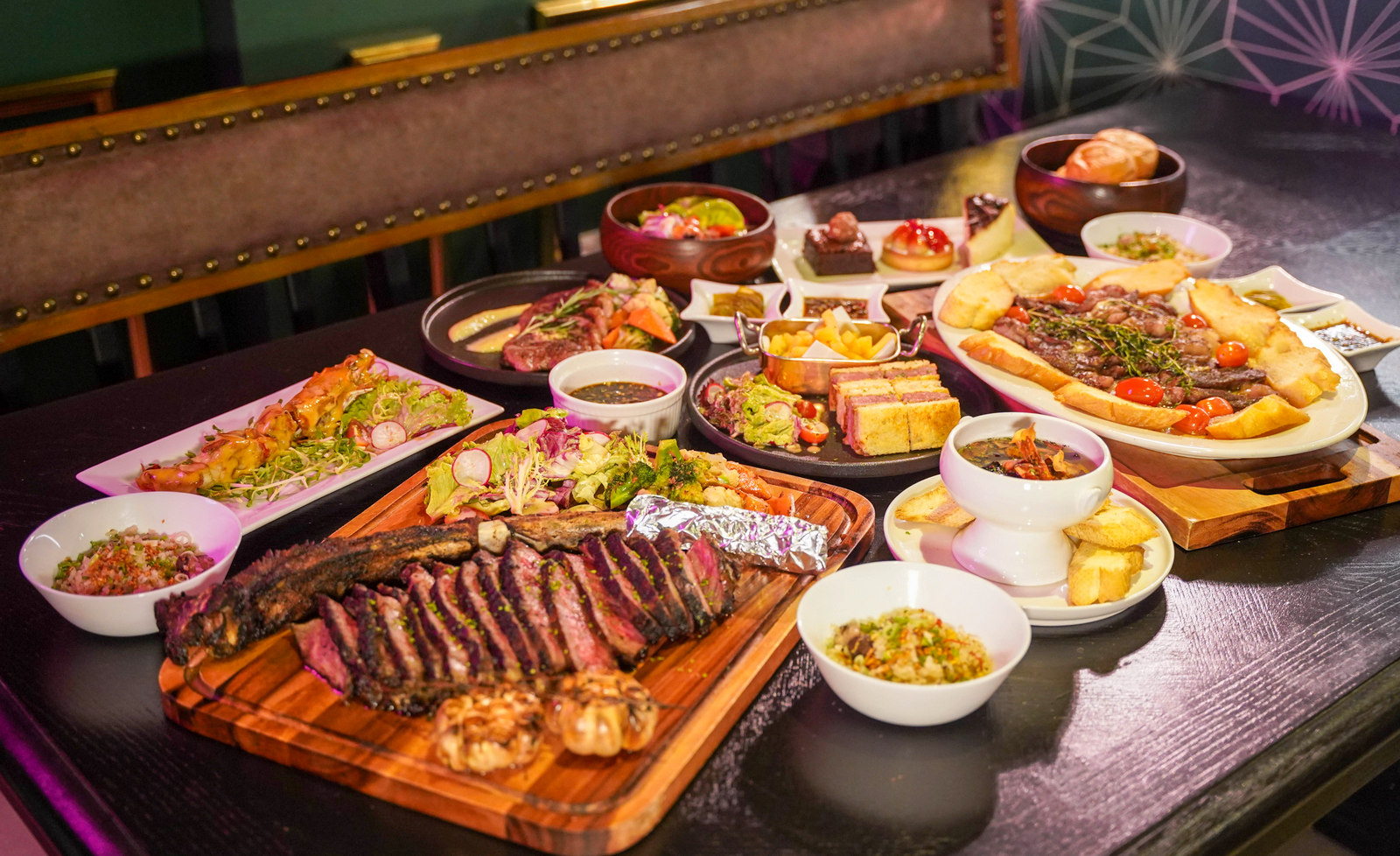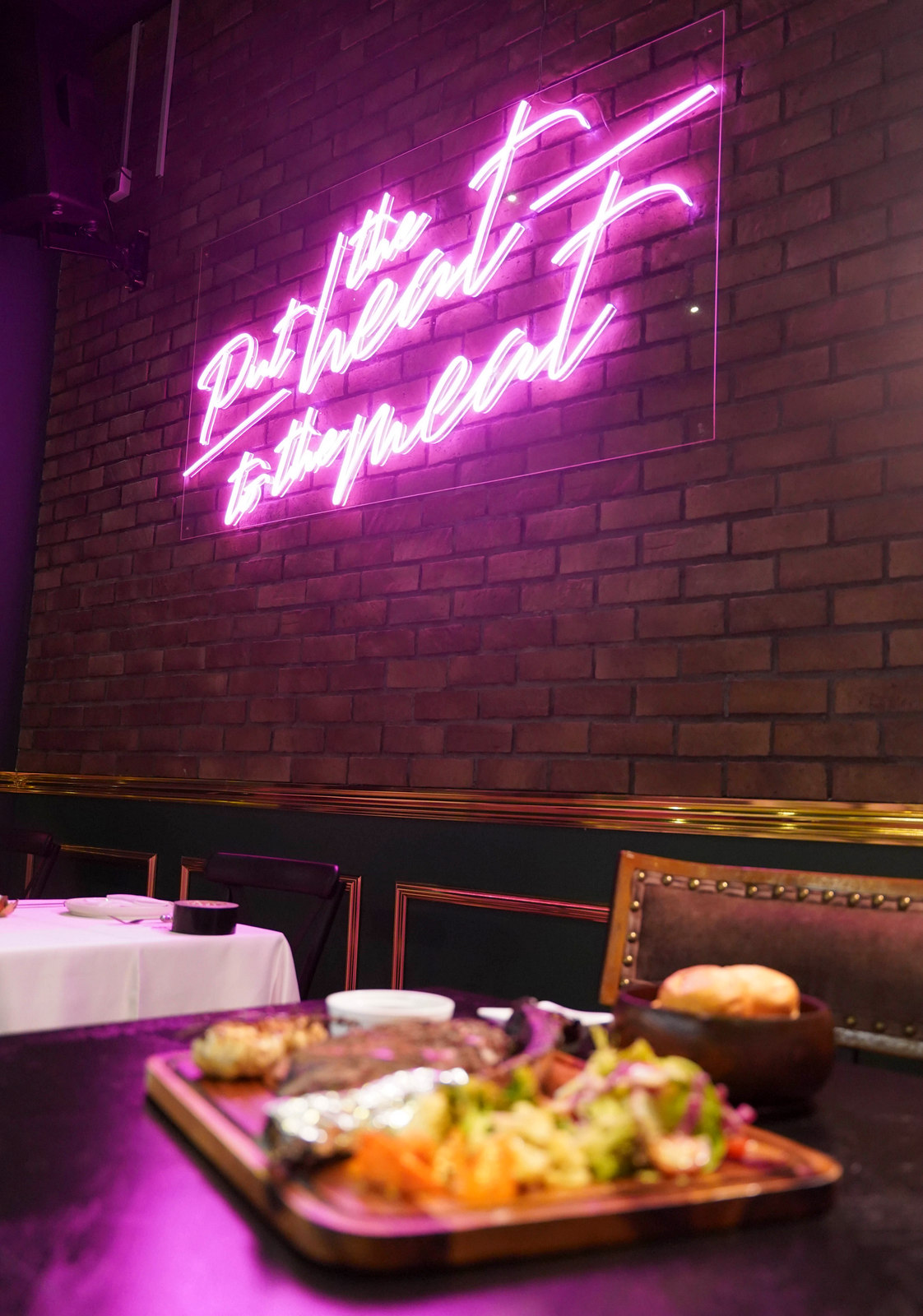 Mighty, marvellously marbled wagyu tomahawks; porterhouse steaks, poured and seared with buttery brilliance; paired with playful sauces like teriyaki cili padi: Flipp flips the script for what to expect from a steak-loving restaurant, bringing fun and flair to KL's beef enthusiasts.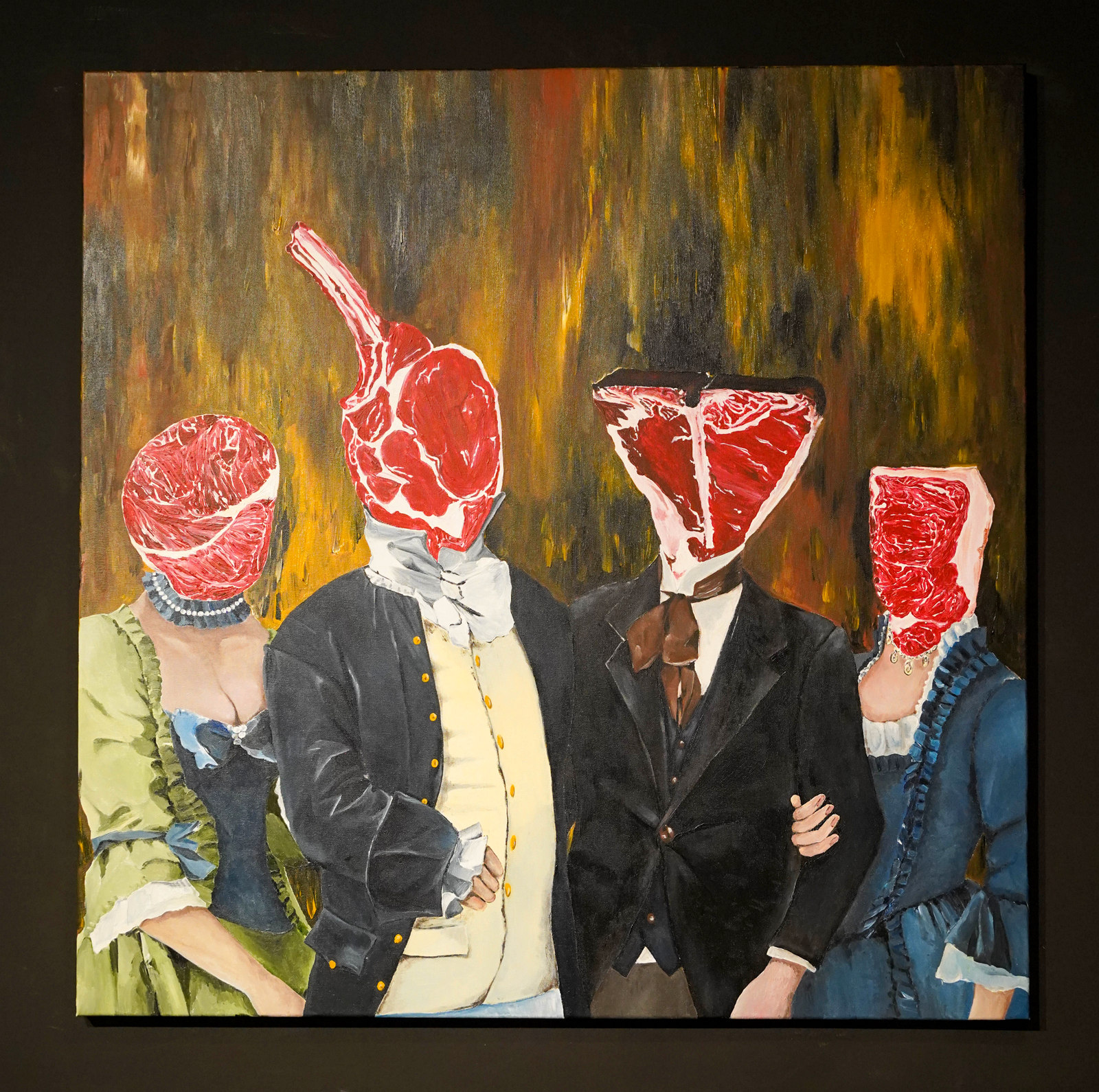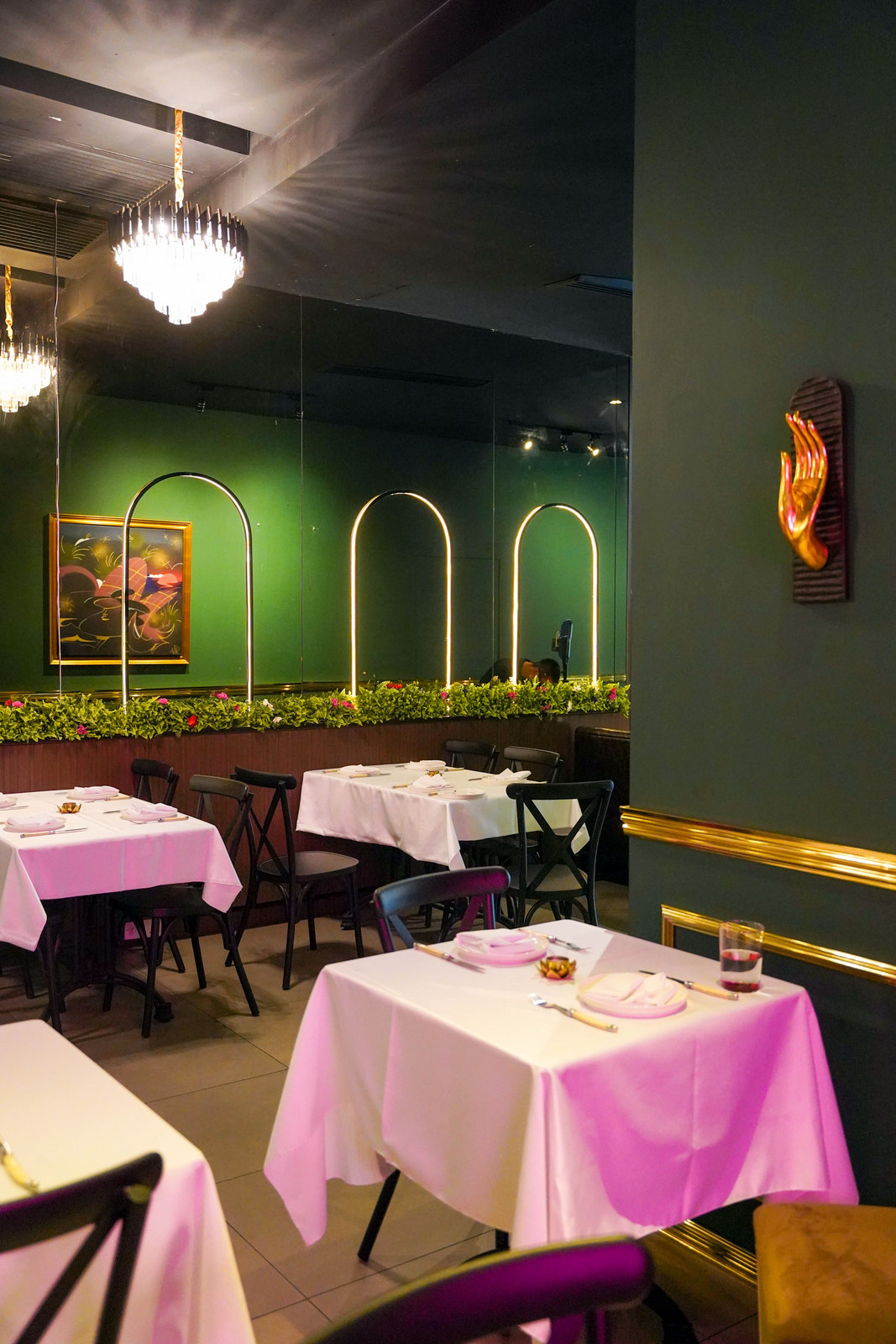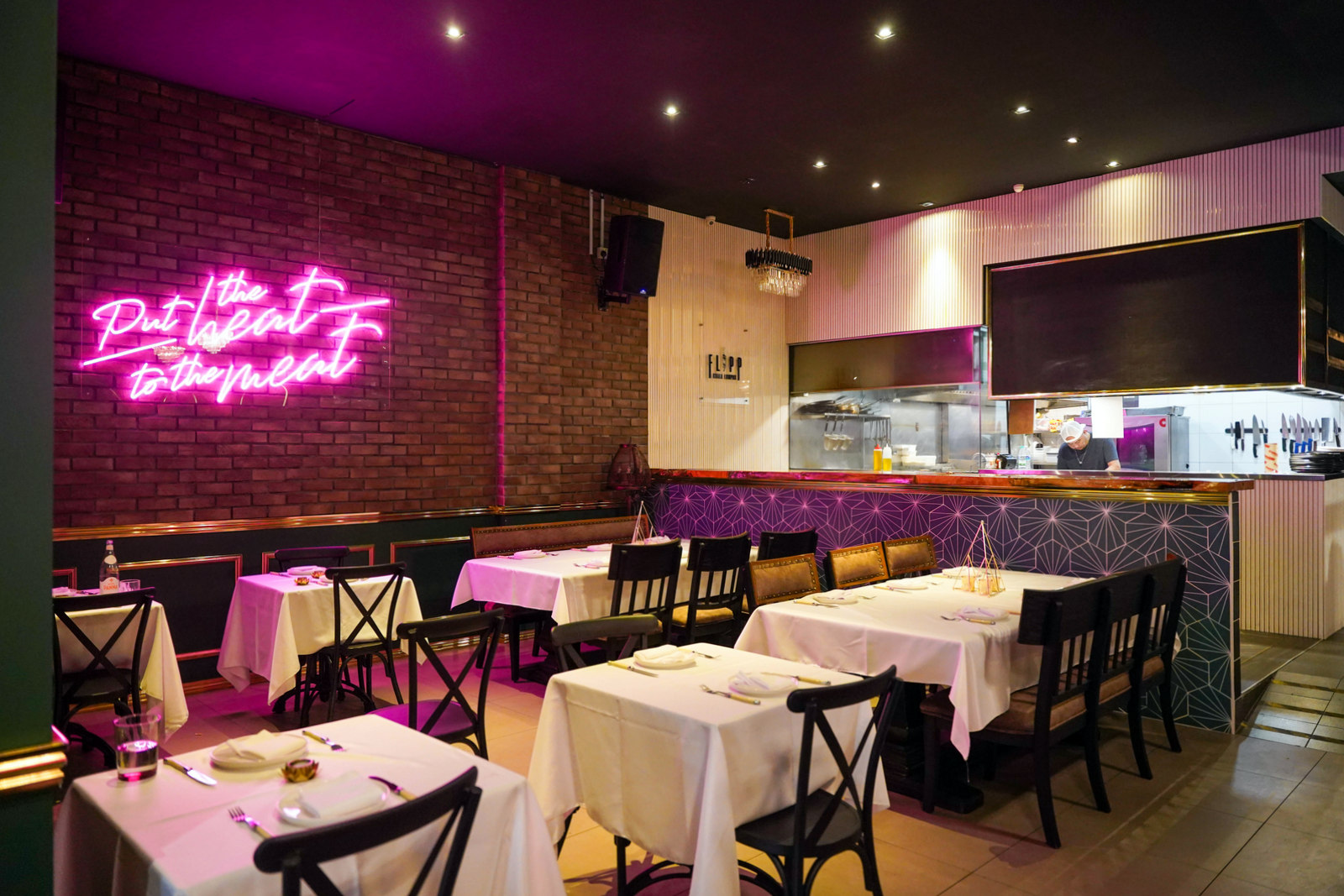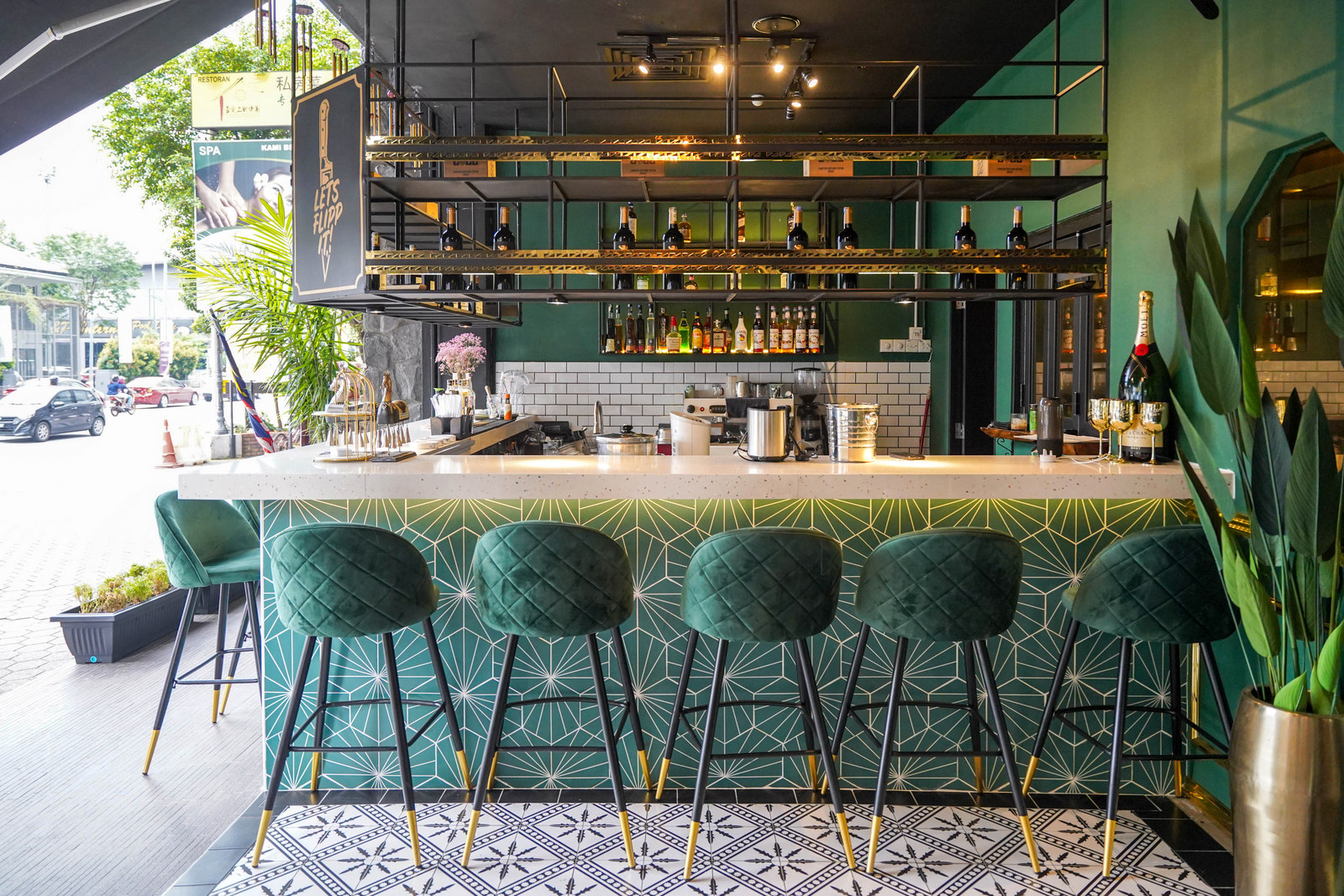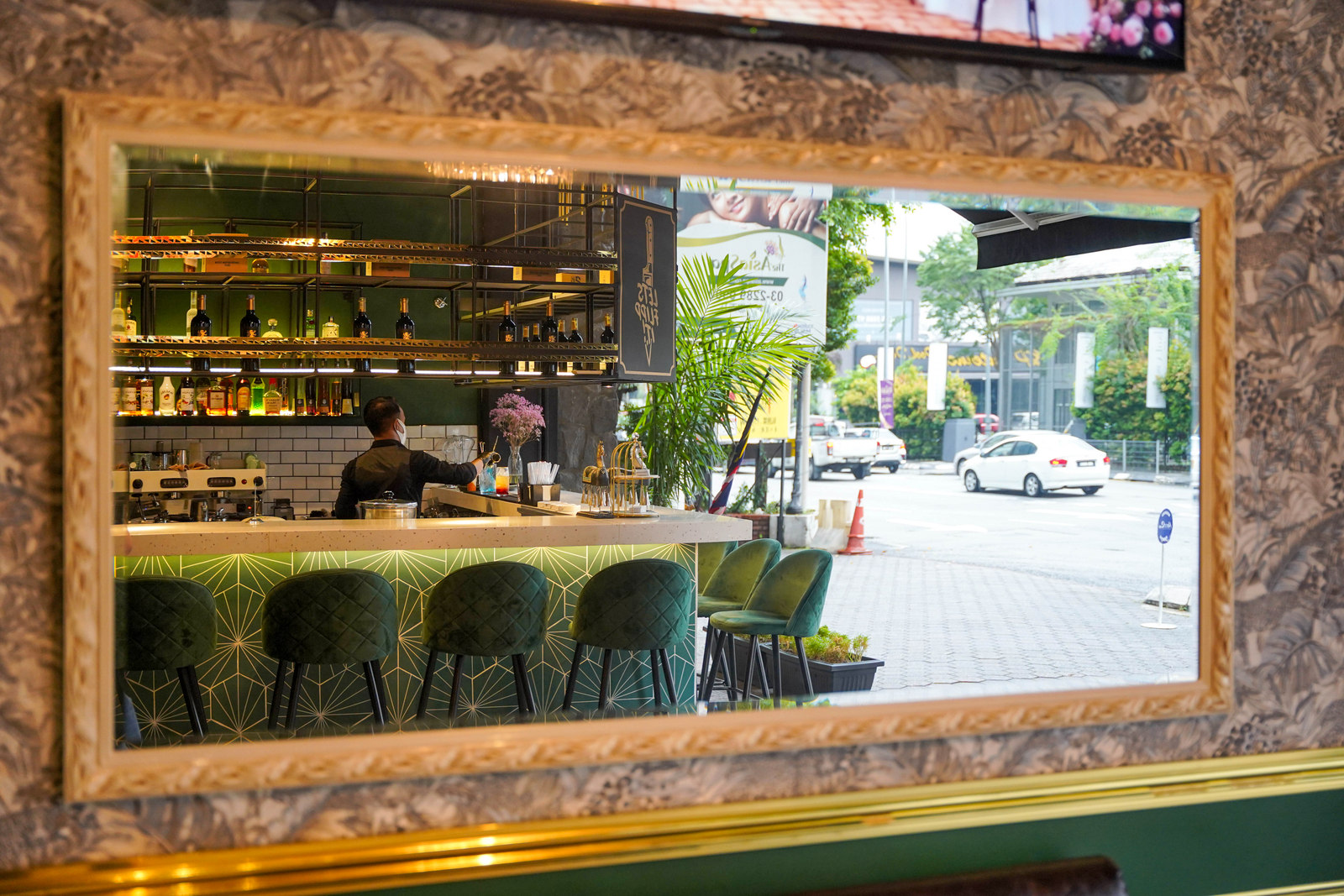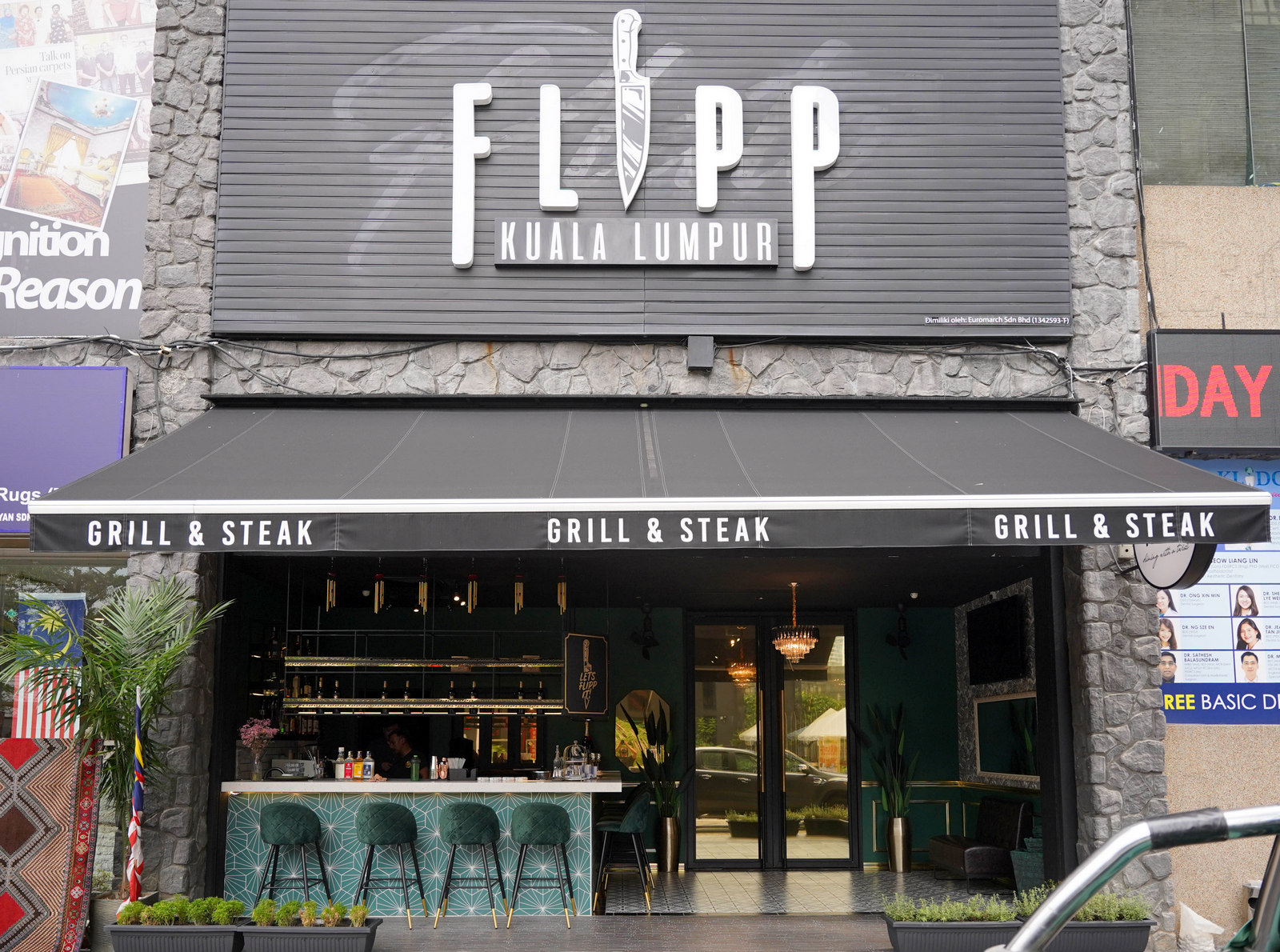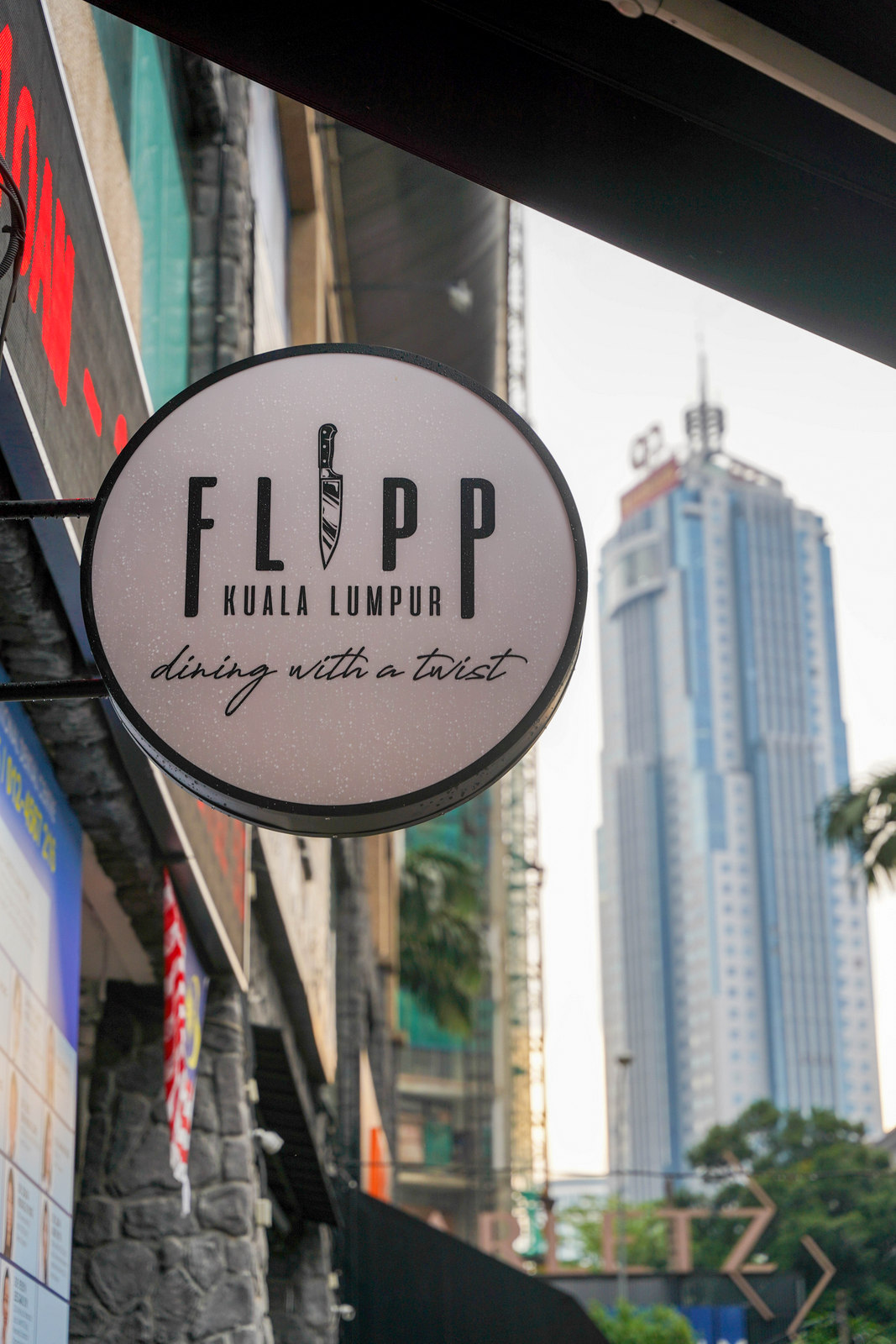 Step into Flipp's new location on Yap Kwan Seng Road to discover a charismatic venue with beautiful accents - its white tablecloths might channel a fine-dining feel, but its vibes are ultimately casual and cool, underscored by an illustration of literal steakheads, charmingly hand-painted for Flipp. It's a friendly, fabulously fresh-faced entry to the city centre.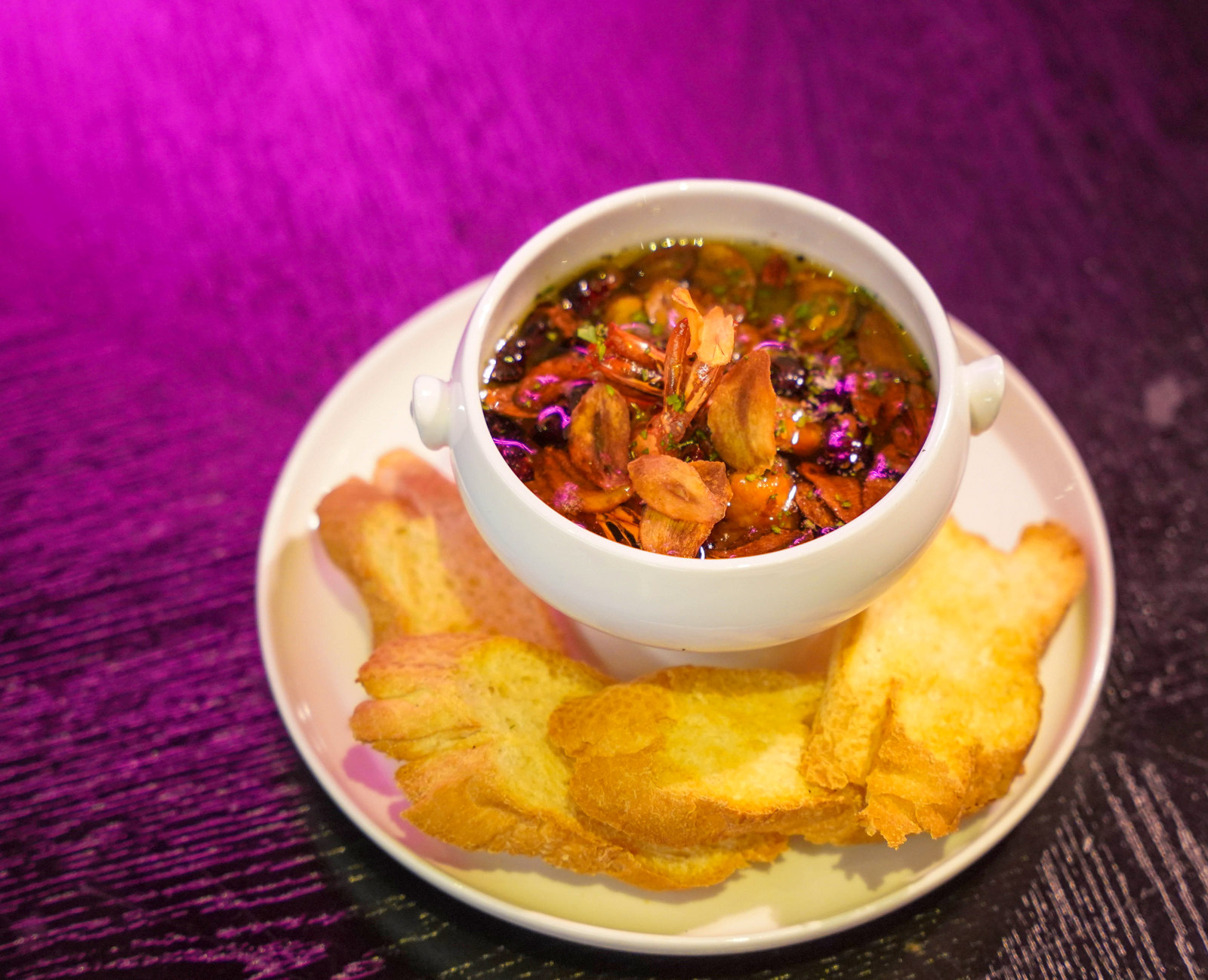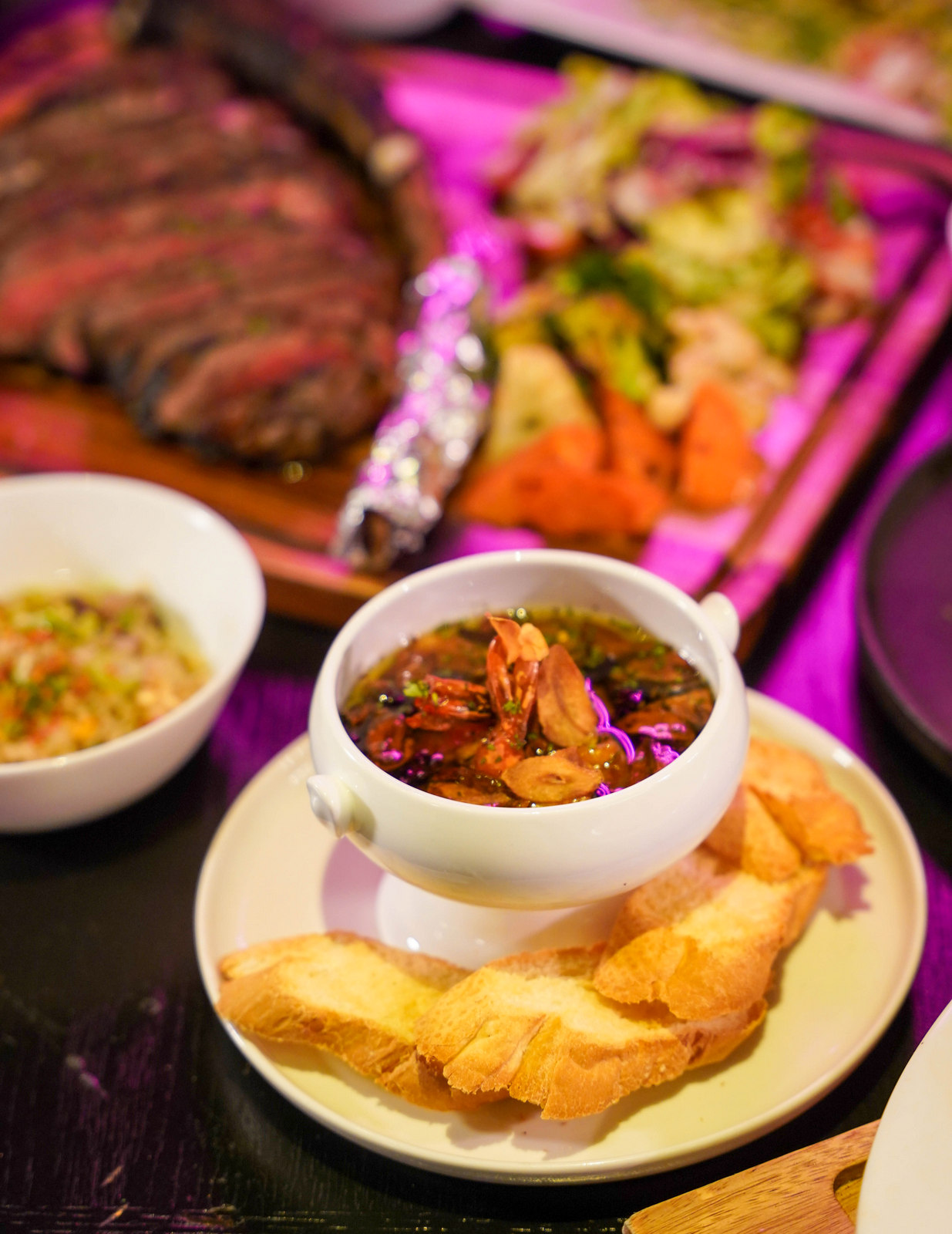 While beef is Flipp's main event, the opening acts deserve a round of applause too.
Start with tapas-style starters to share like the Gambas Ajilo (RM59), brimming with tiger prawn with olive oil, sea salt, pepper, garlic slices and dried chillies, packing a gently spicy heat, complete with garlicky bread that's delightful for dipping and dunking in the olive oil.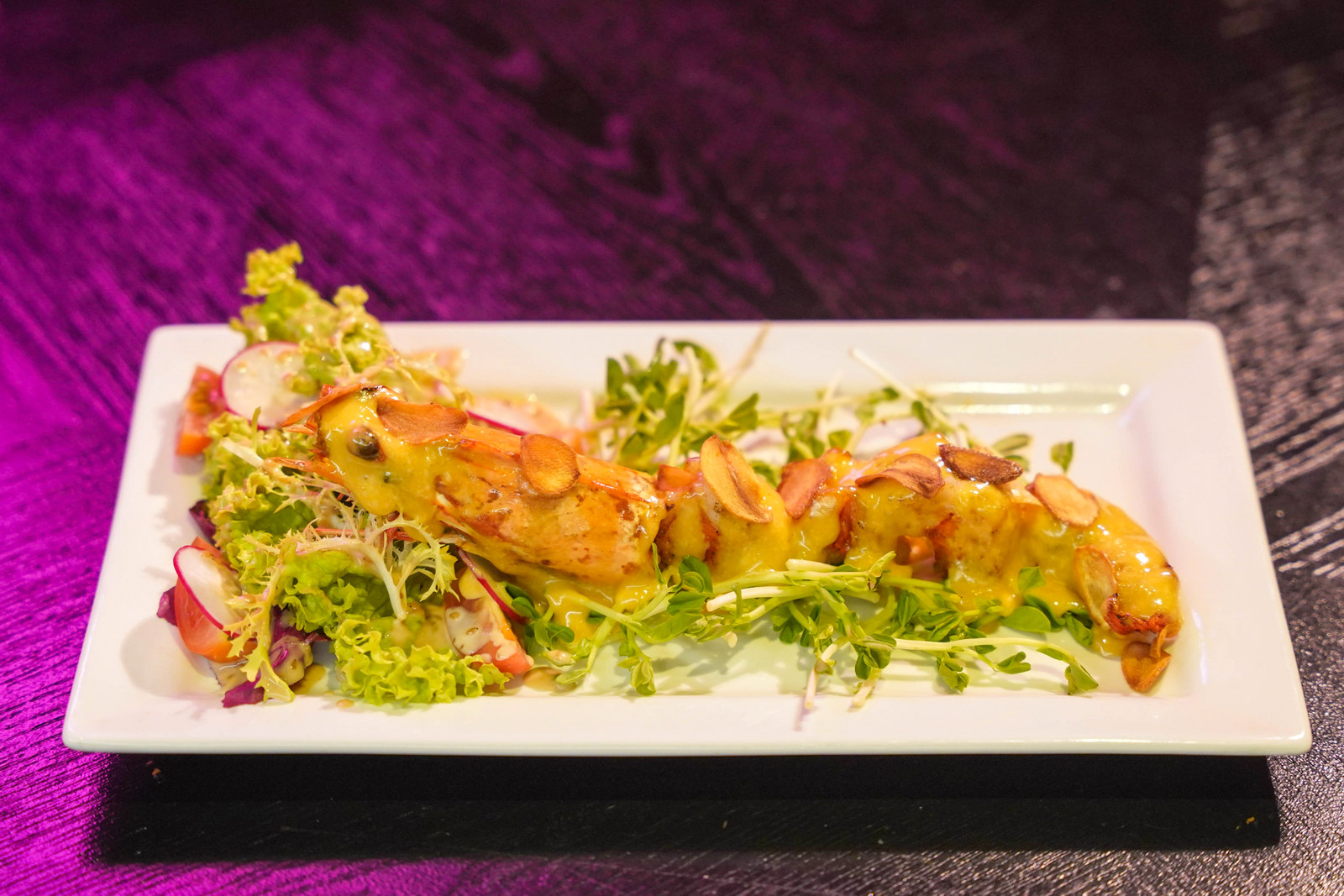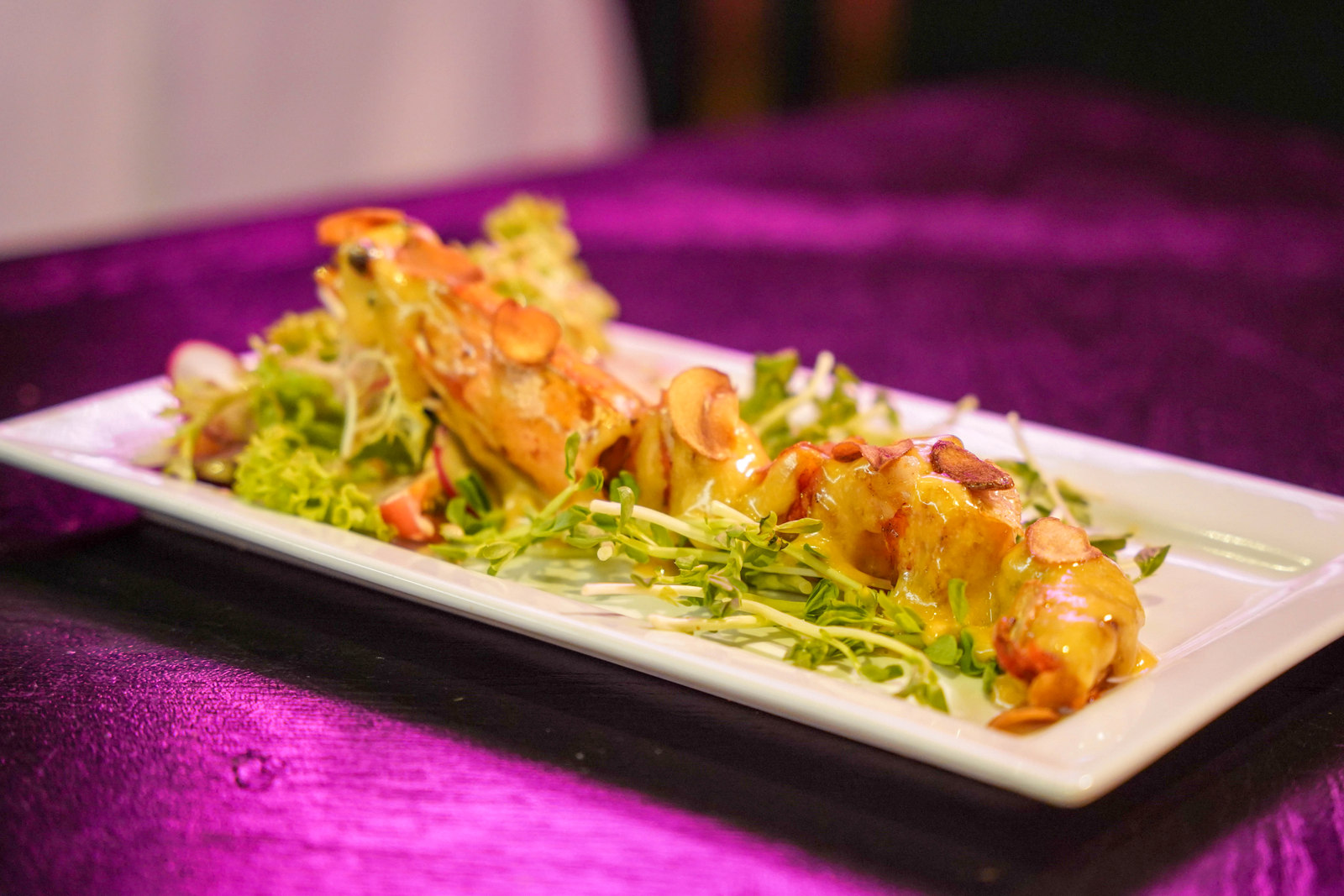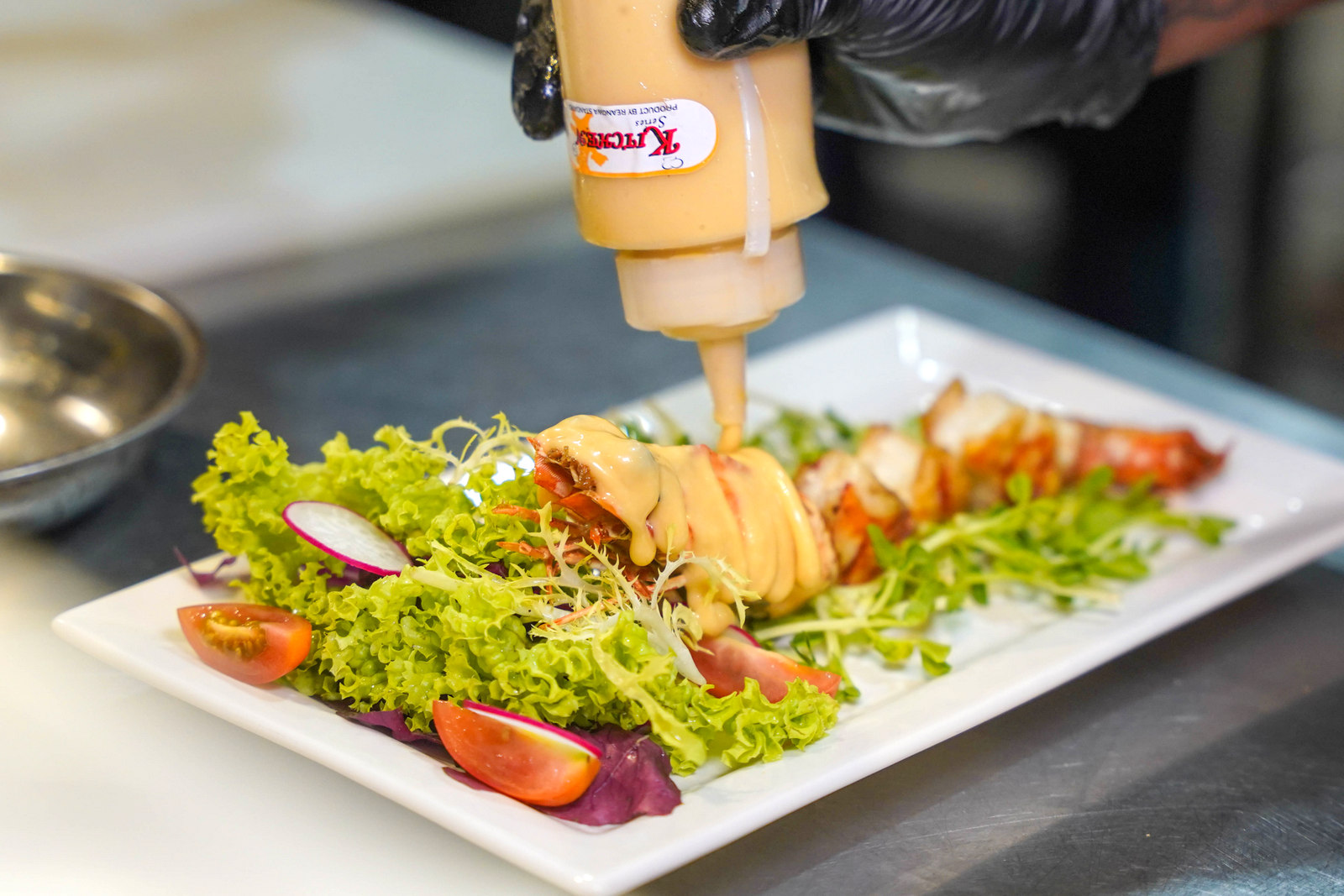 The King Prawn (RM45) showcases a large sea tiger prawn with special house-blended mayo, made with bonito stock and gourmet soy sauce - the mayo's luscious creaminess makes the chunky, springy prawn even more decadent, with enjoyable hints of smoky-savoury sweetness.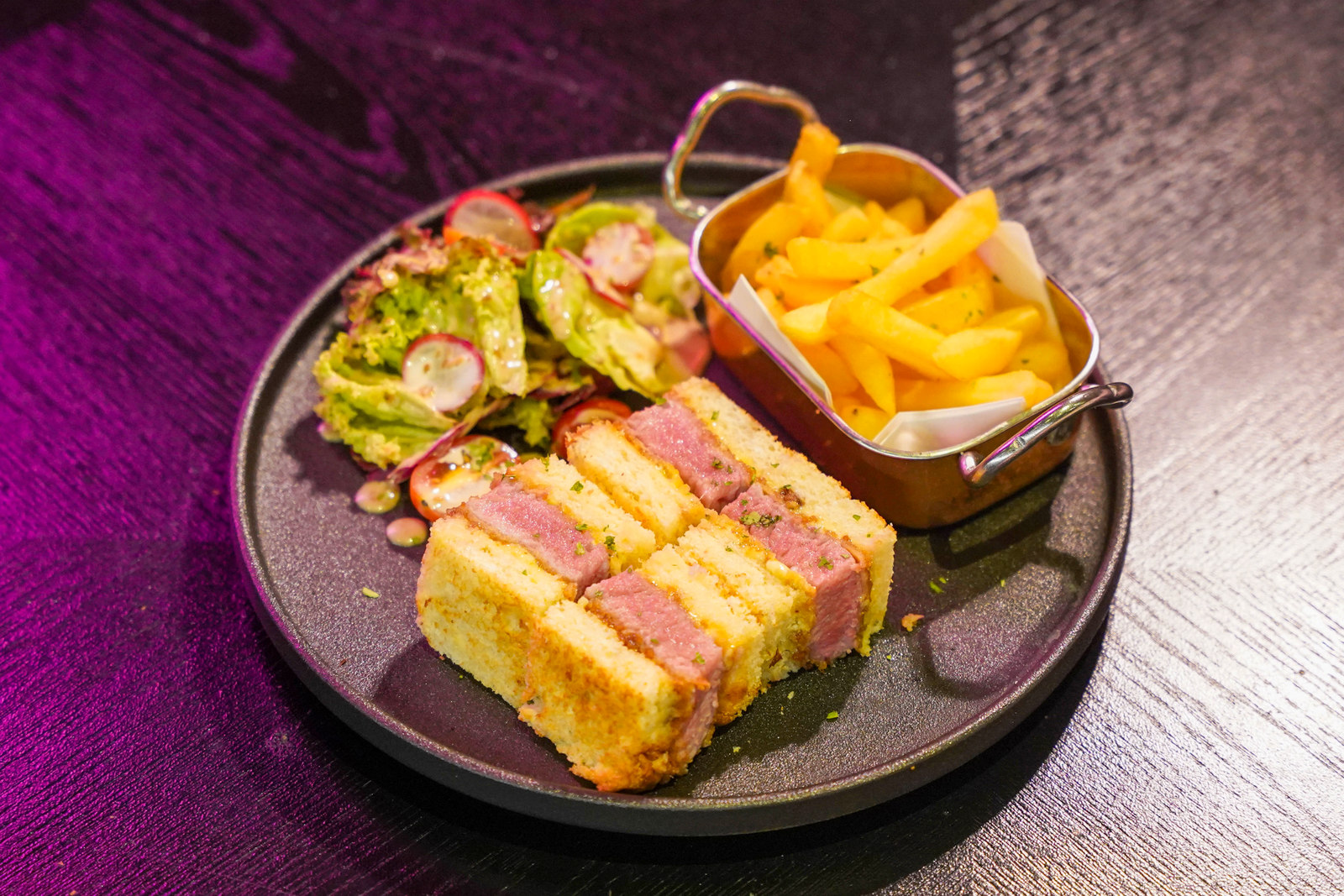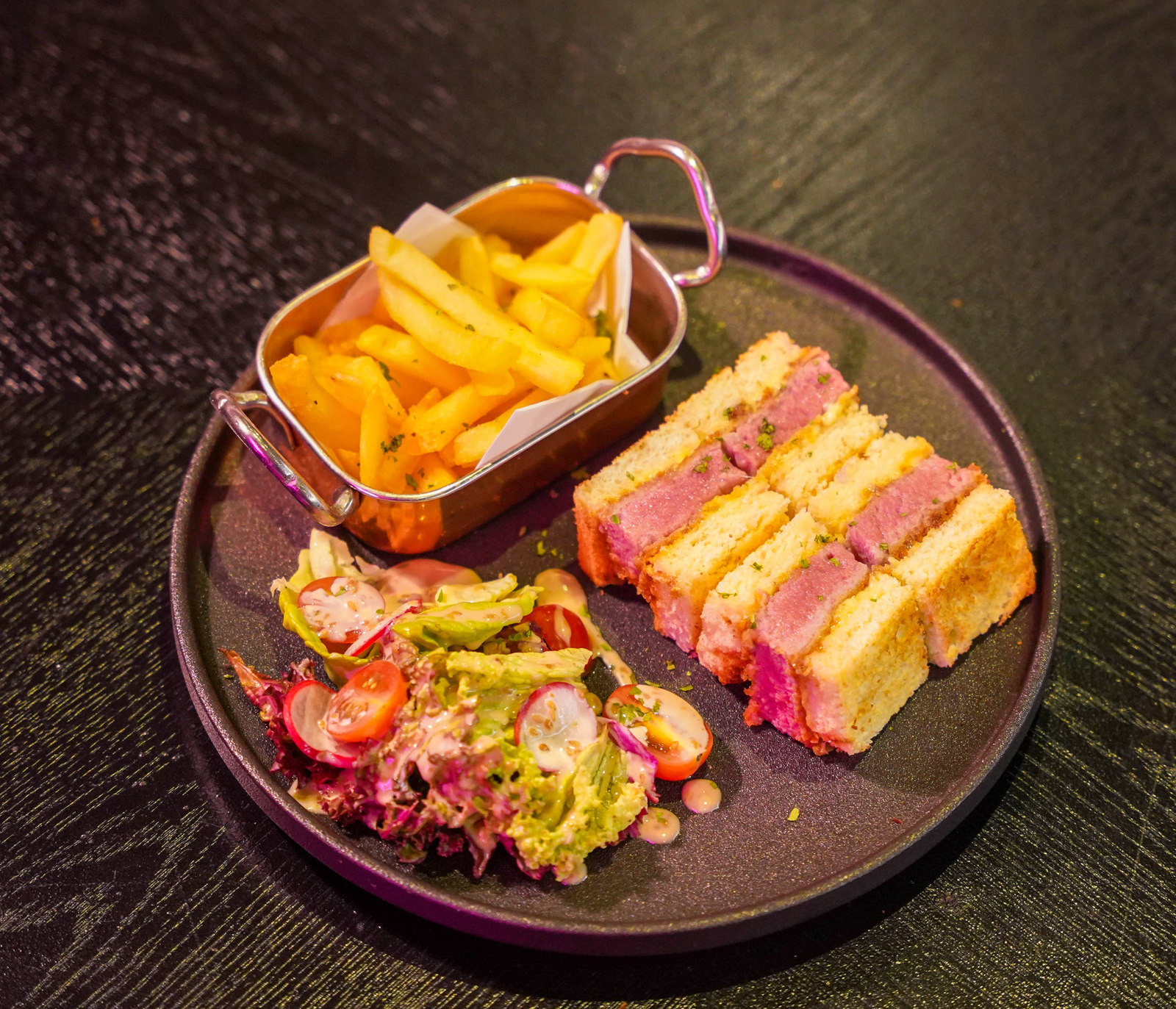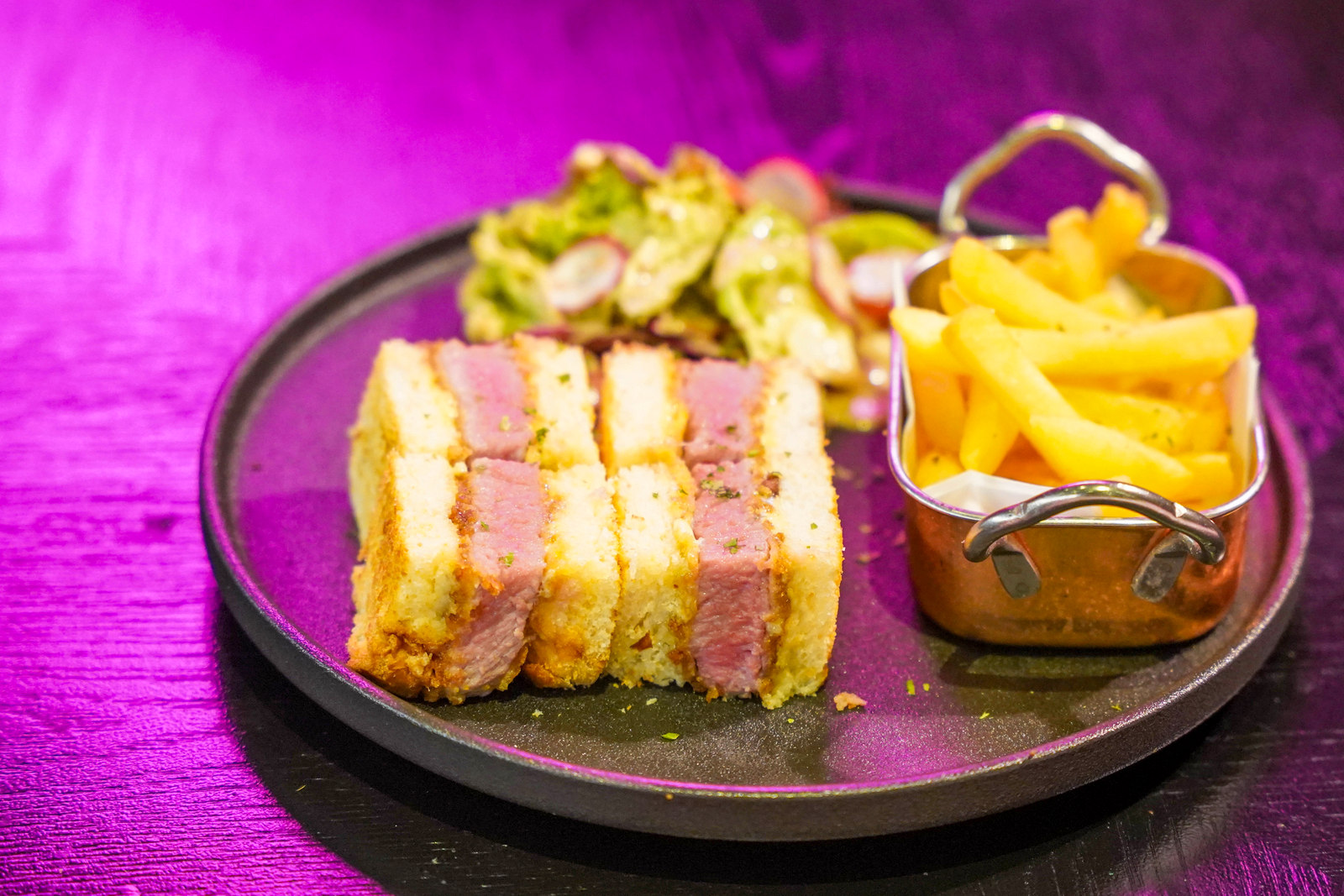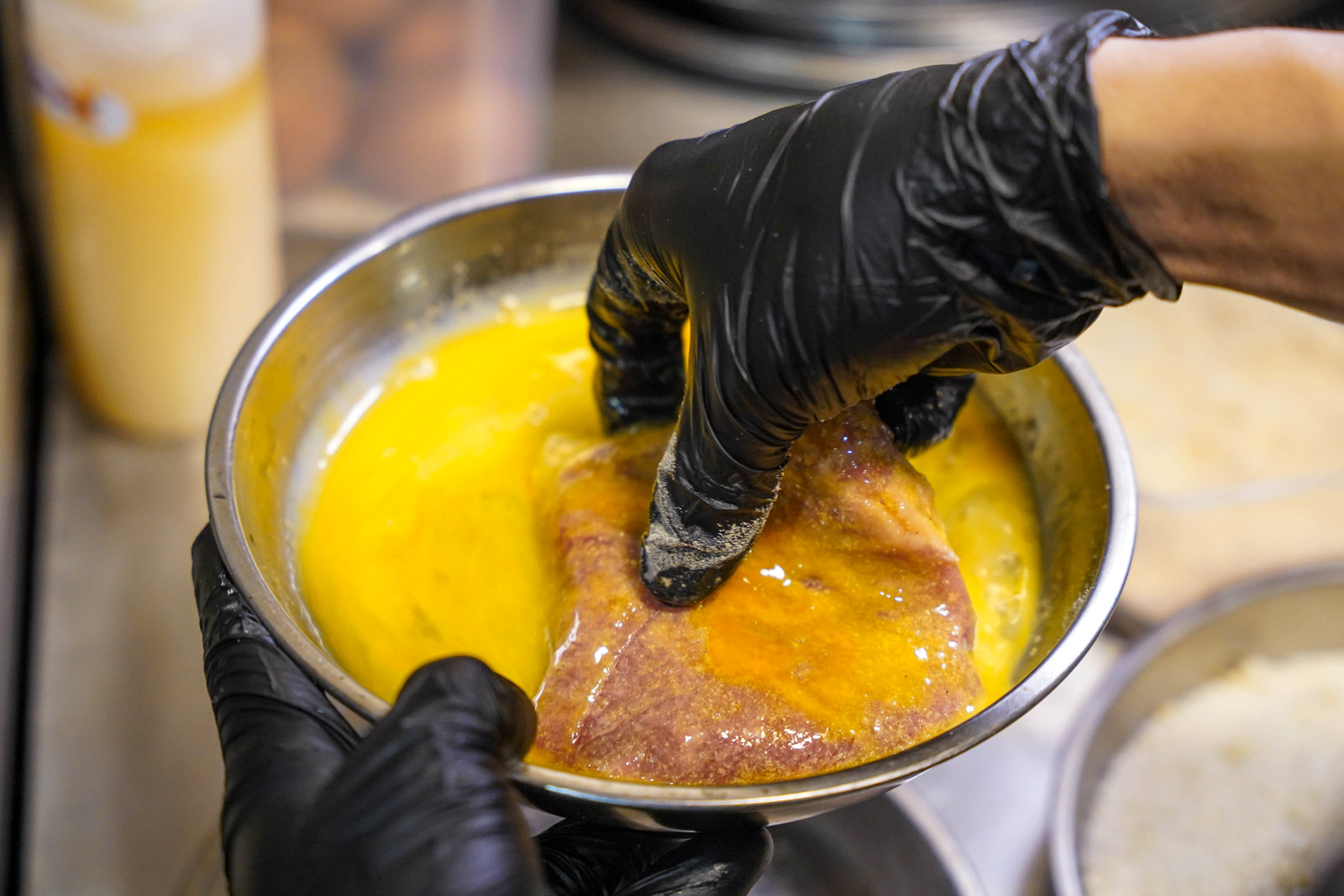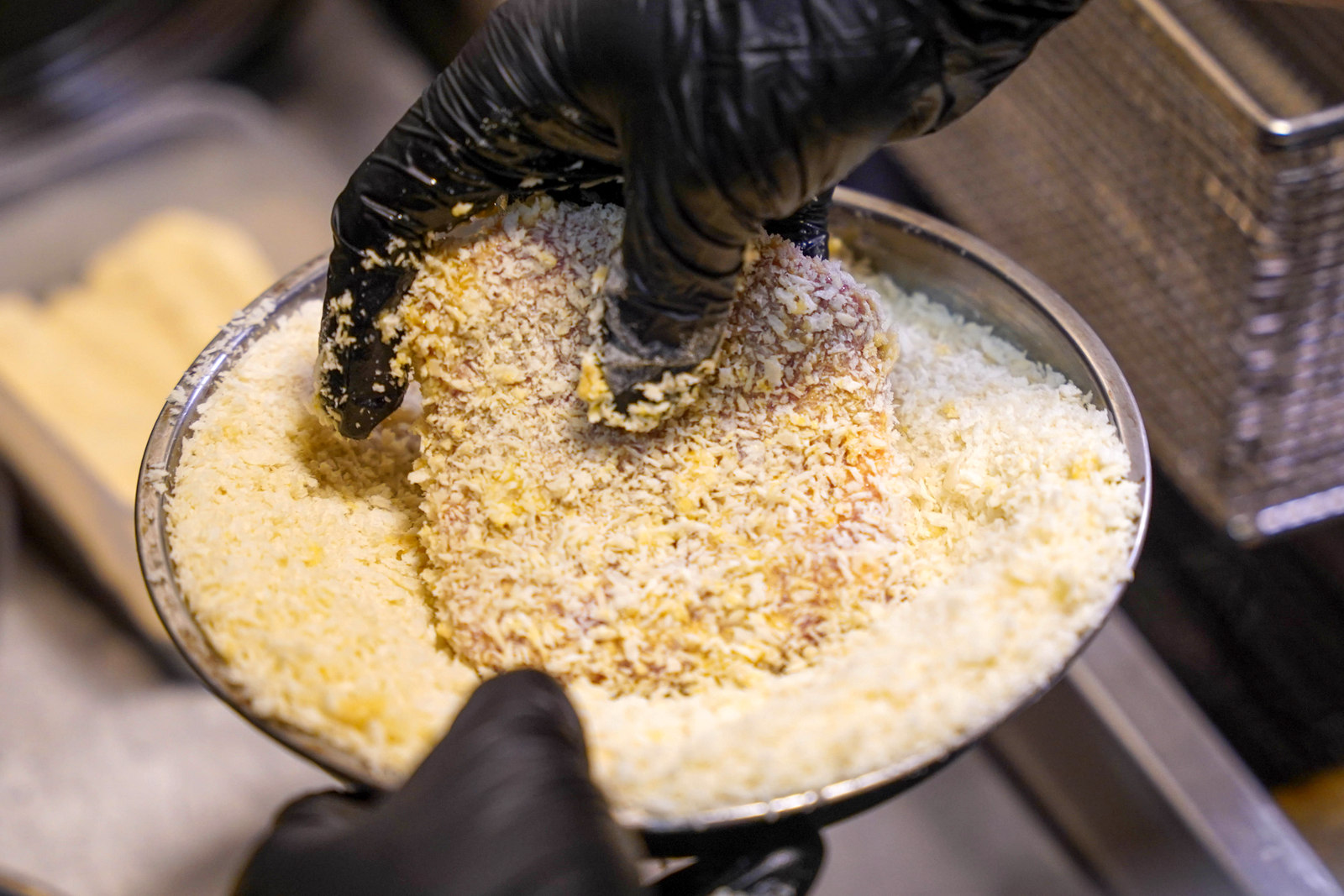 Also try the Wagyu Katsu Sando (RM129), with breaded wagyu beef sandwiched in fresh-baked brioche, layered with chilli aioli and wasabi mayo, rounded out with fries and salad.
This wagyu sando - thickly stuffed with Australian MB6/7 beef - is a wonderful way to experience full-bodied, full-flavoured wagyu at a reasonable cost.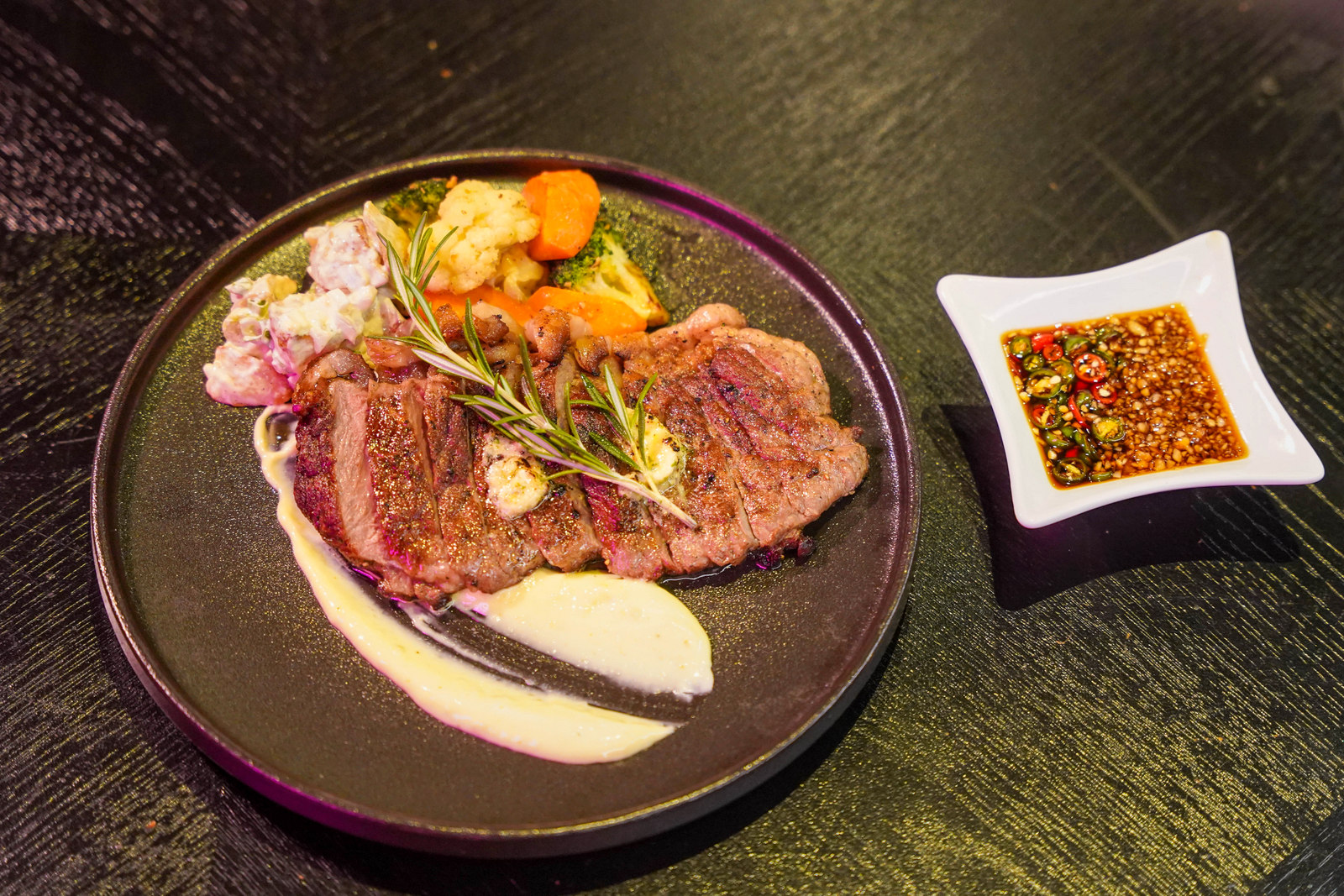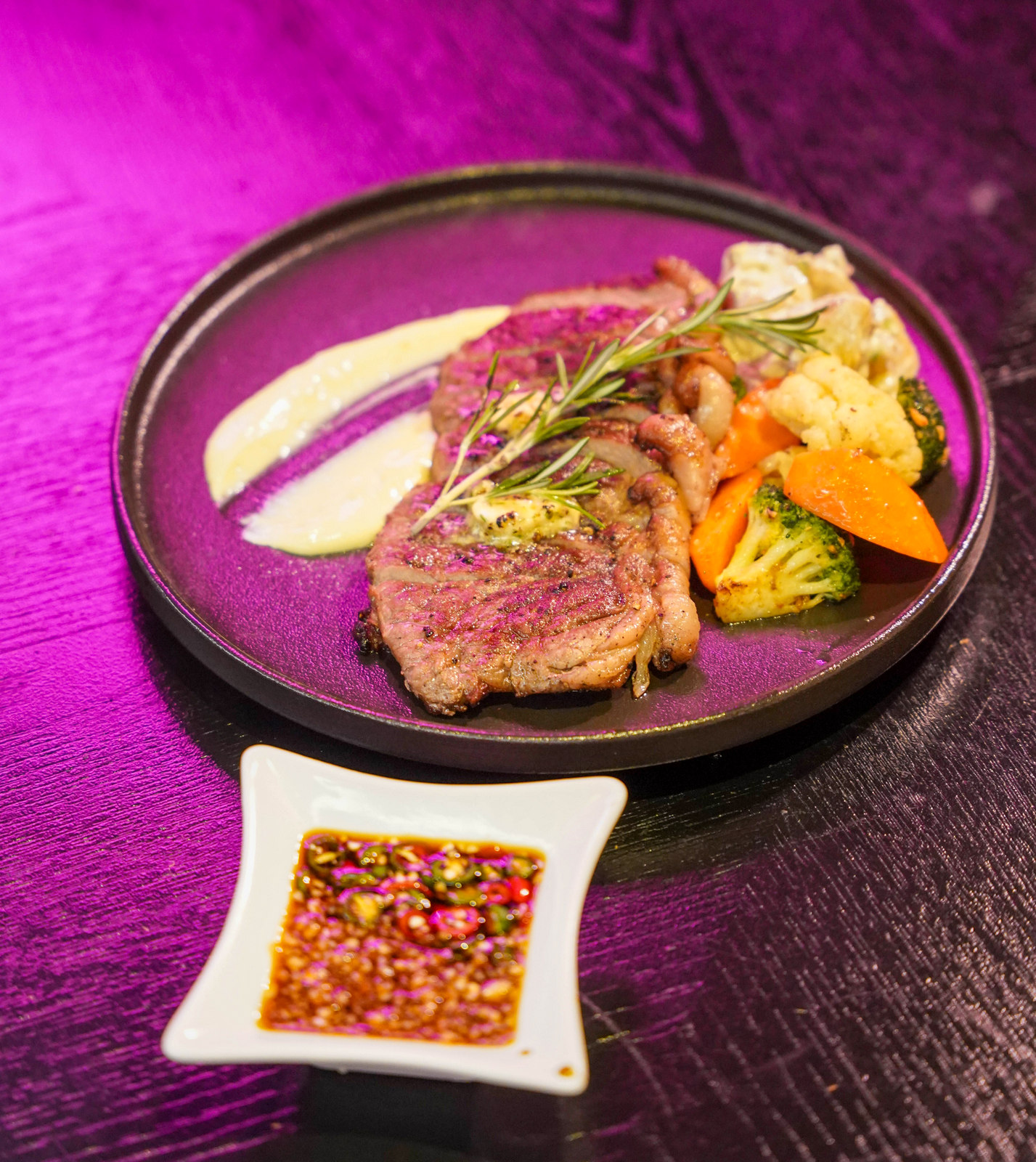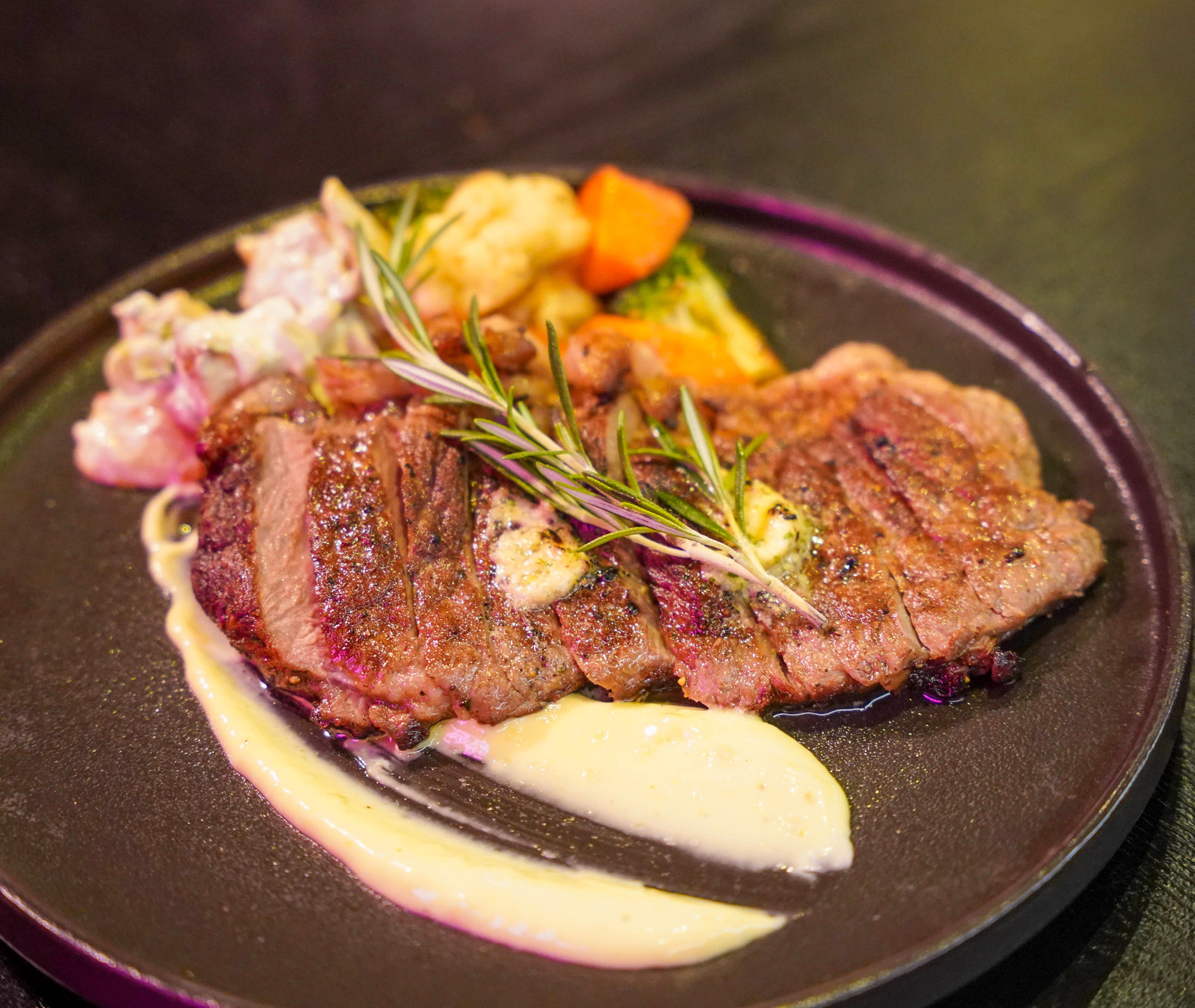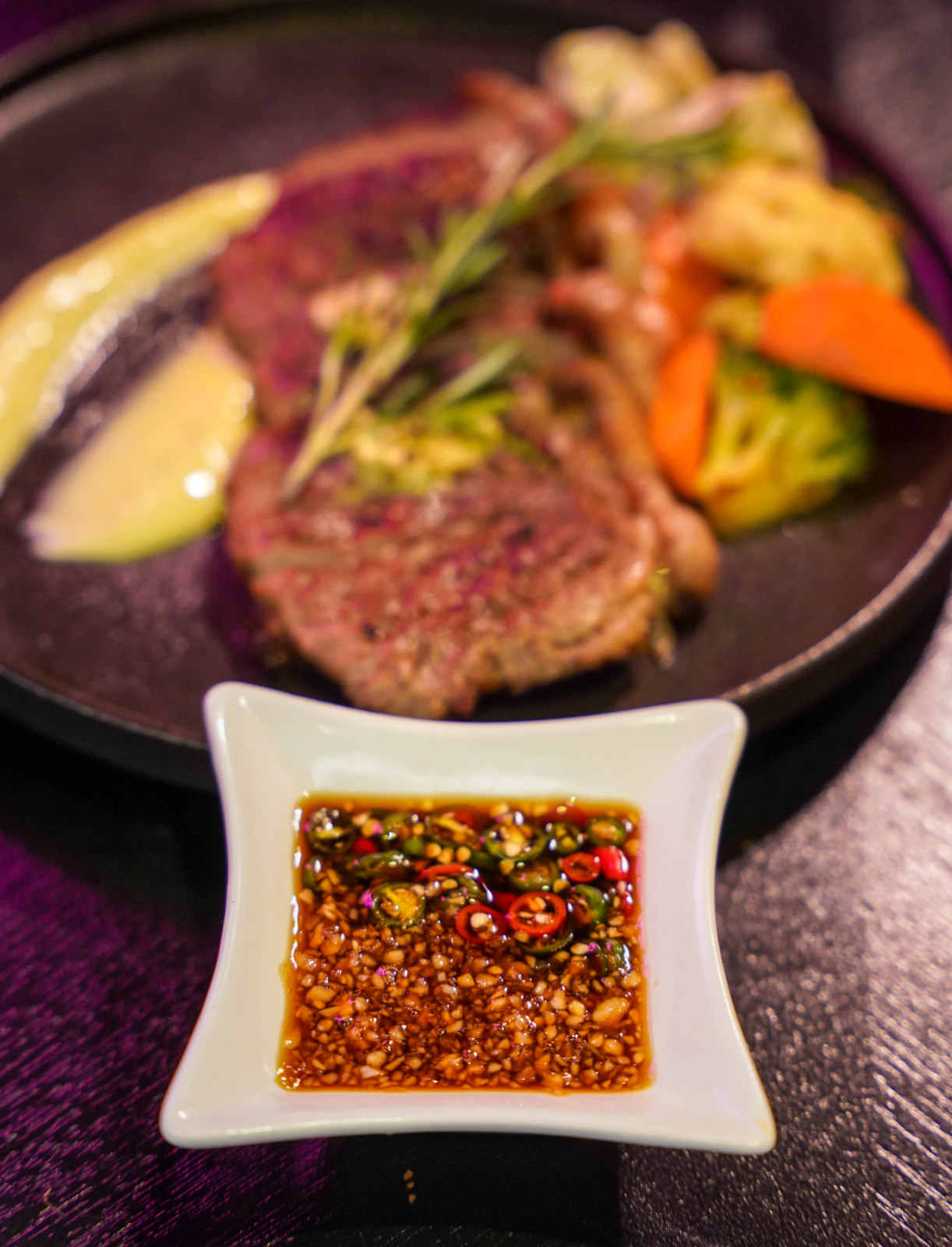 For a single-plate steak sensation, Flipp recommends the Signature Australian Wagyu Sirloin MB6/7 (RM249 for 220 grams), promising a hearty bite and satisfying chew.

Along with a selection of sautéed vegetables or mixed salad, the steak is distinctively spiced up by its accompaniments: Wasabi mayo and wasabi potato, plus Flipp's one-of-a-kind teriyaki cili padi. The sauce is made from scratch, sweet with the kick of cili padi heat - it might sound like an unconventional sauce for steaks, but Flipp's customers love it!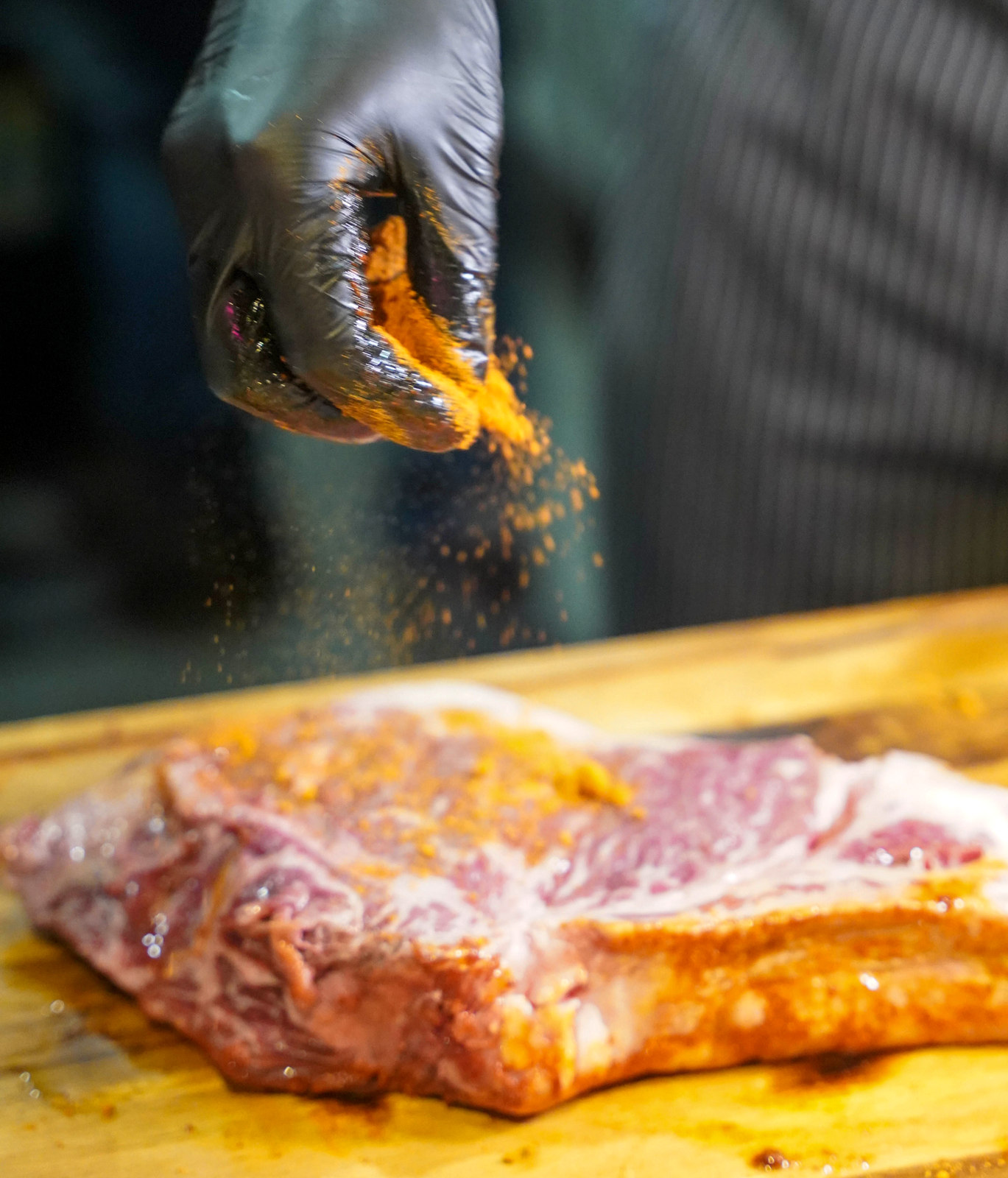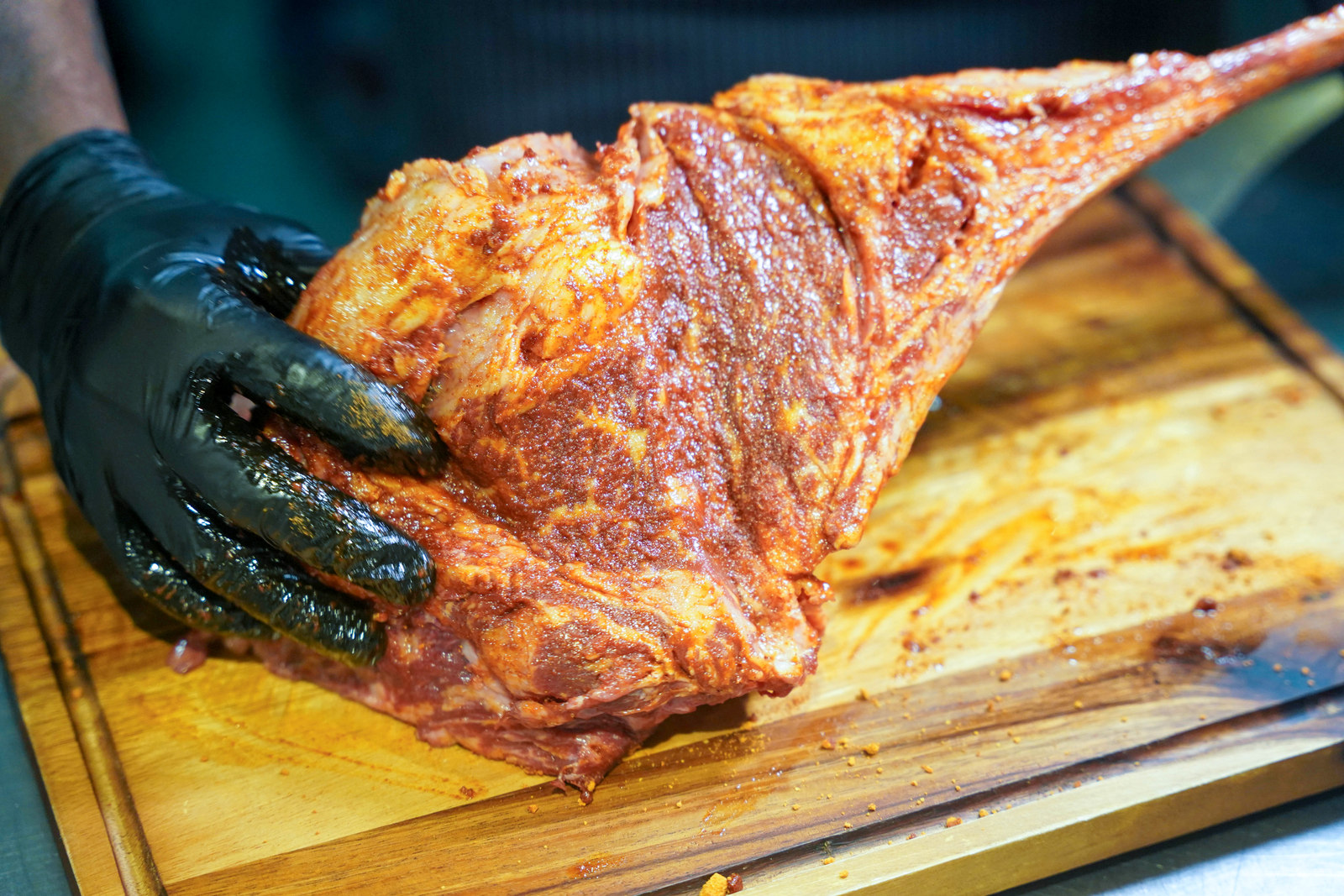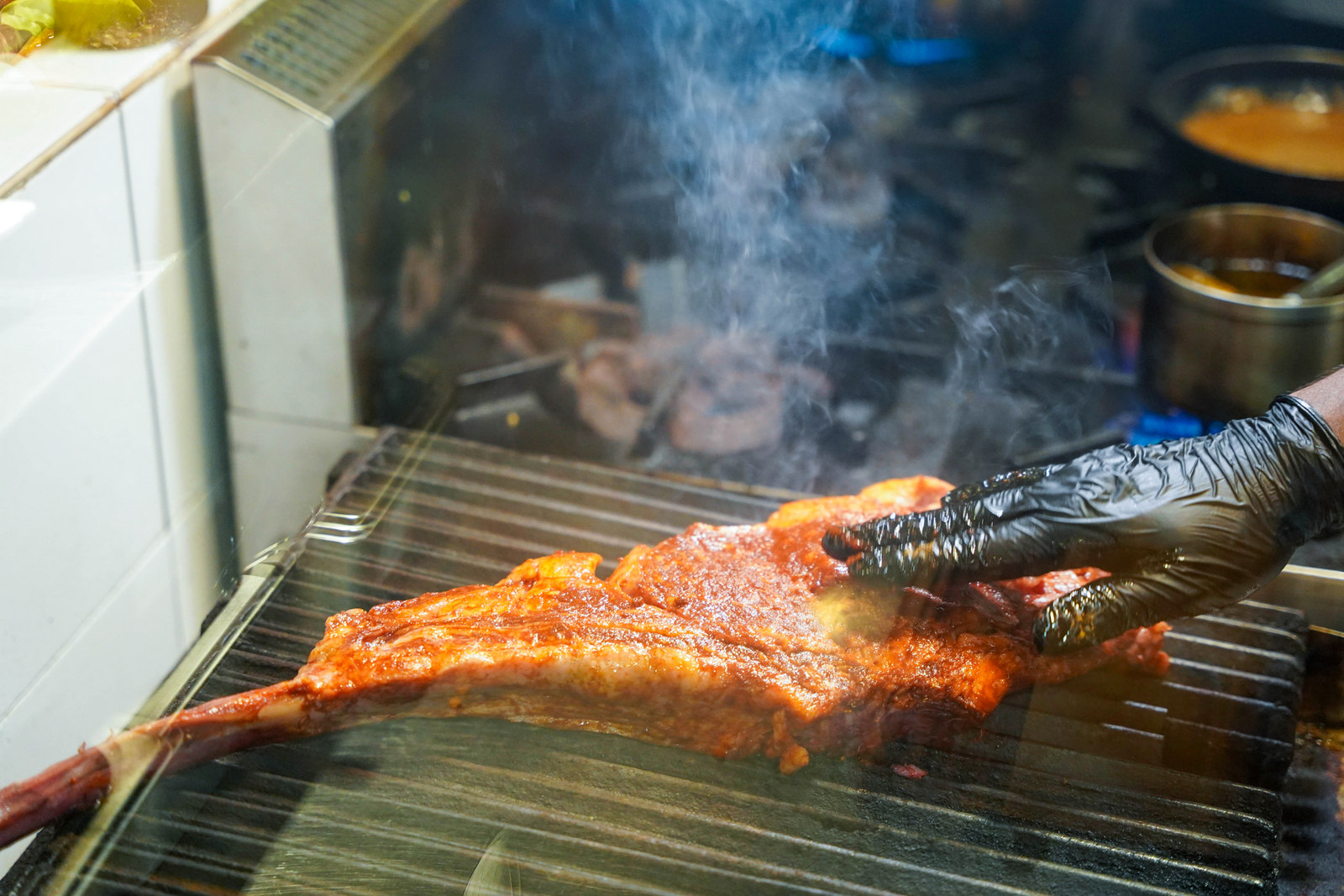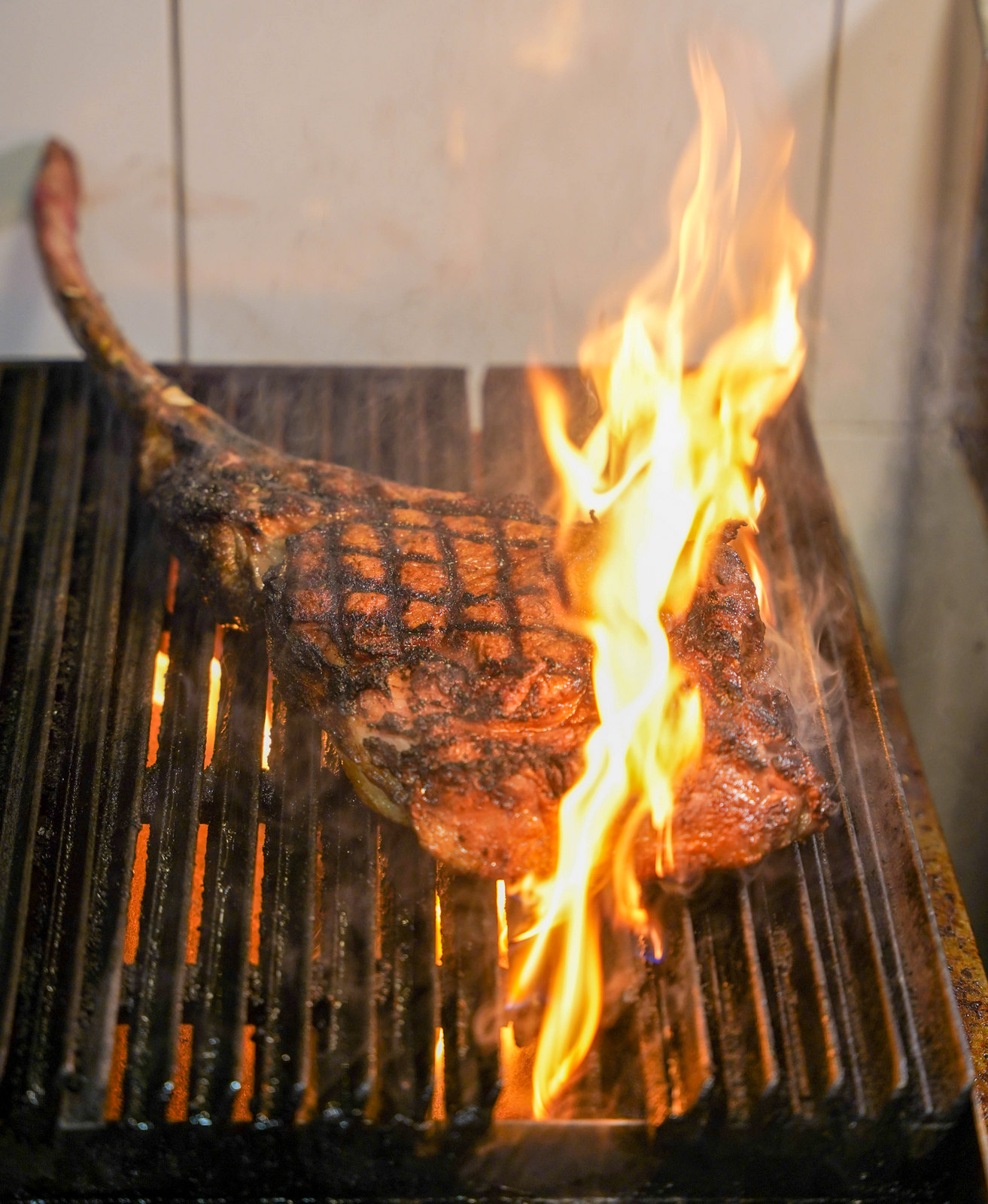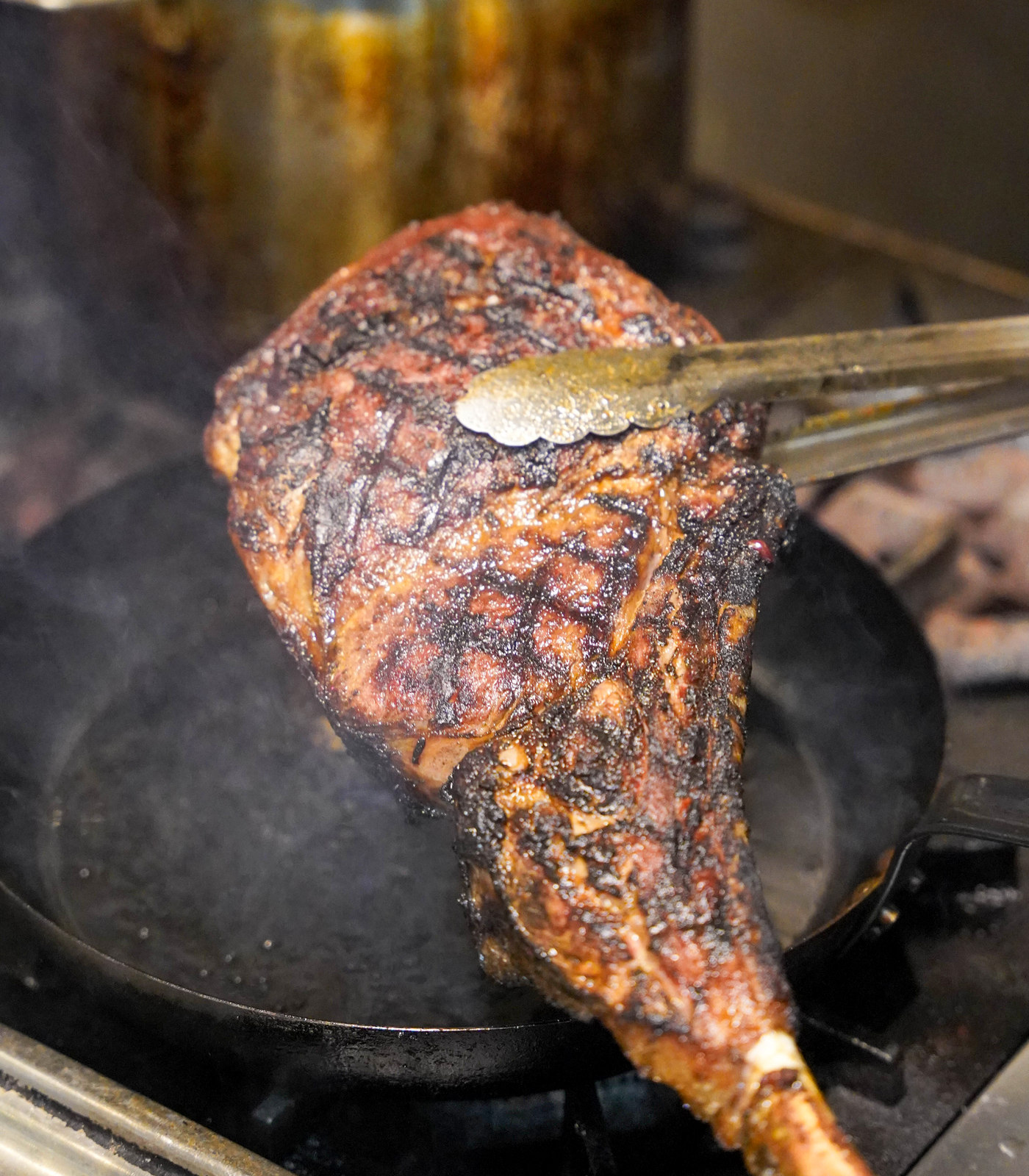 If you're here with family or friends, indulge in a humongous, caveman-worthy tomahawk steak with your favourite people! It's initially pan-seared, then cooked on the grill to emerge with gorgeous char lines before being finished in the oven to lock the juices in the meat.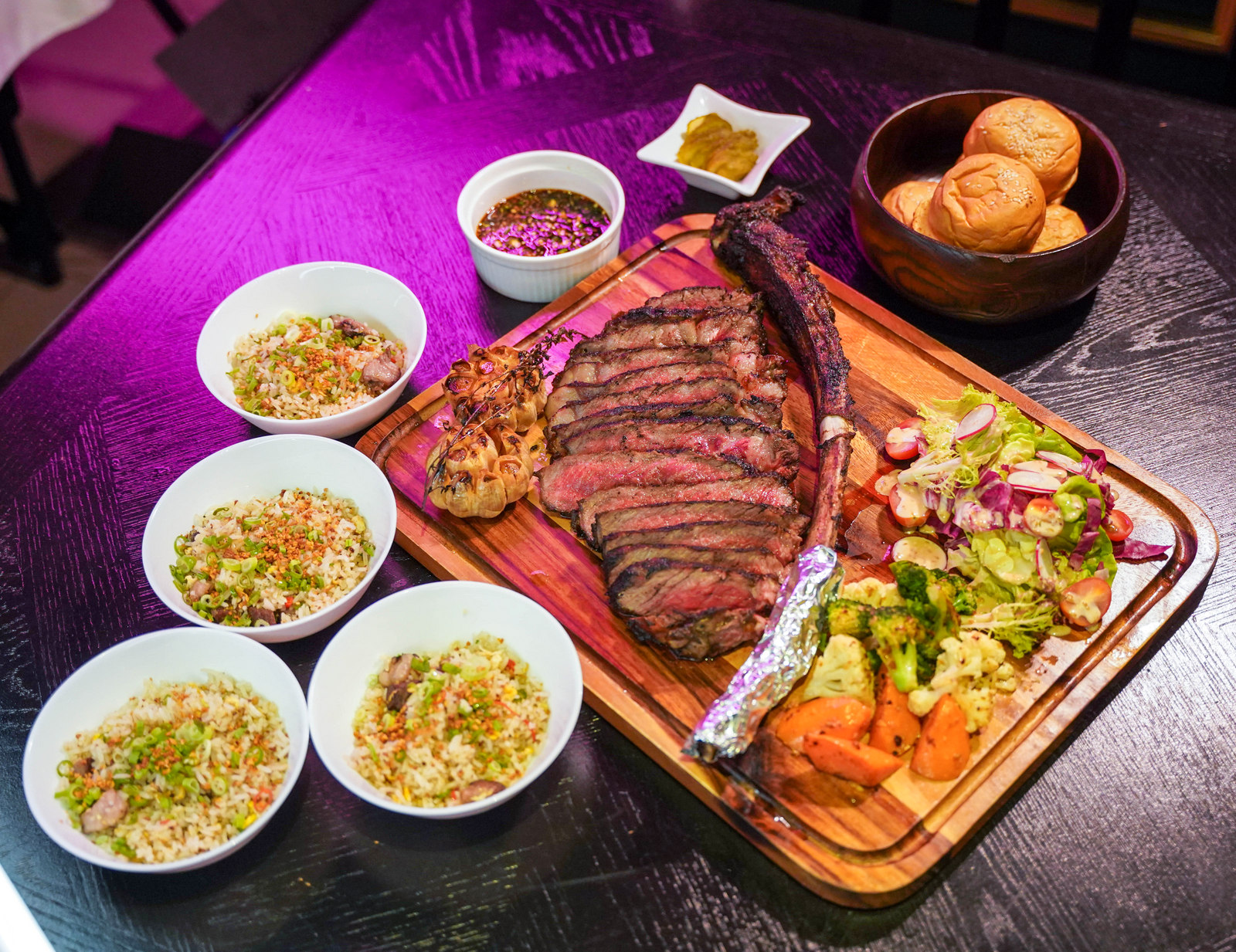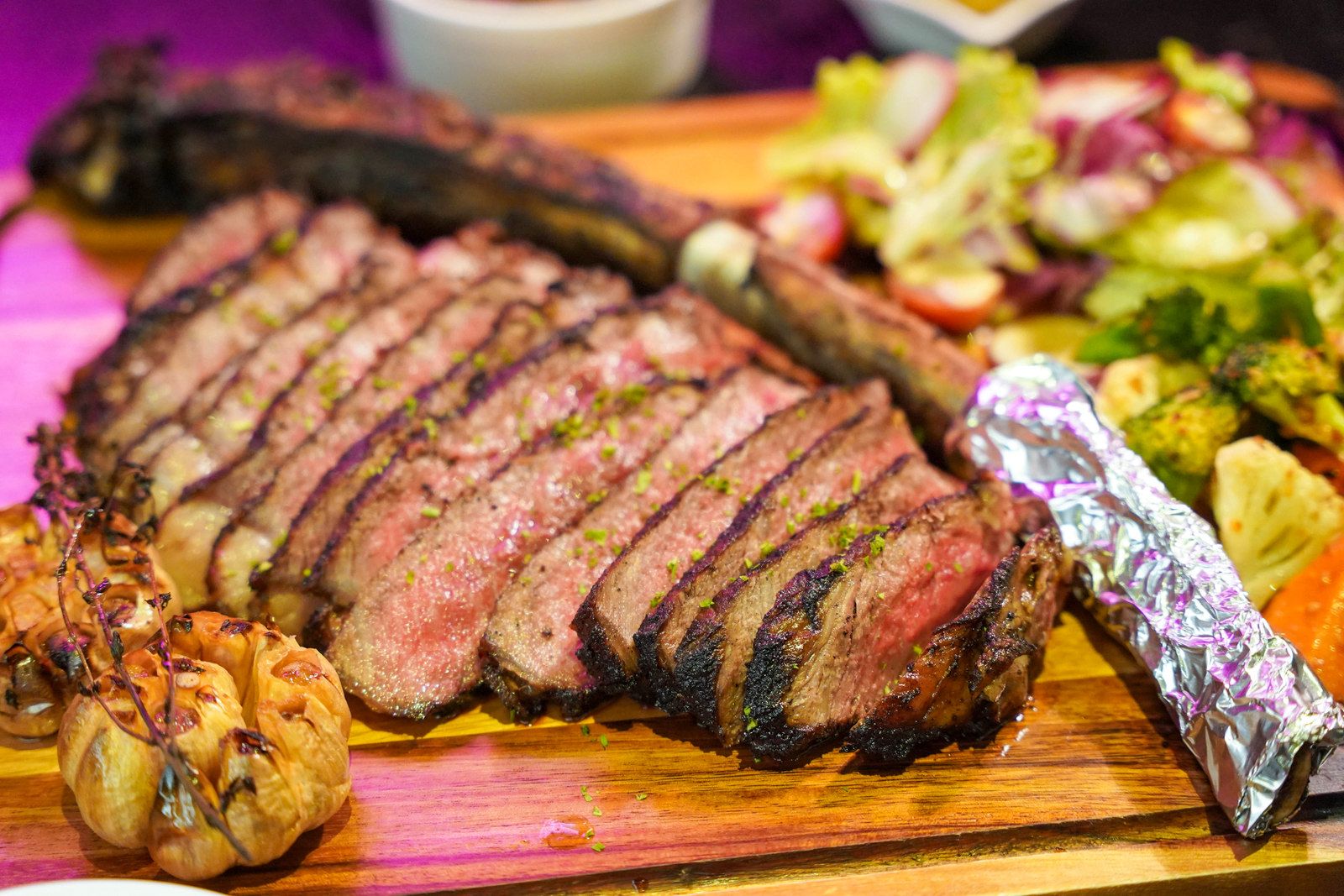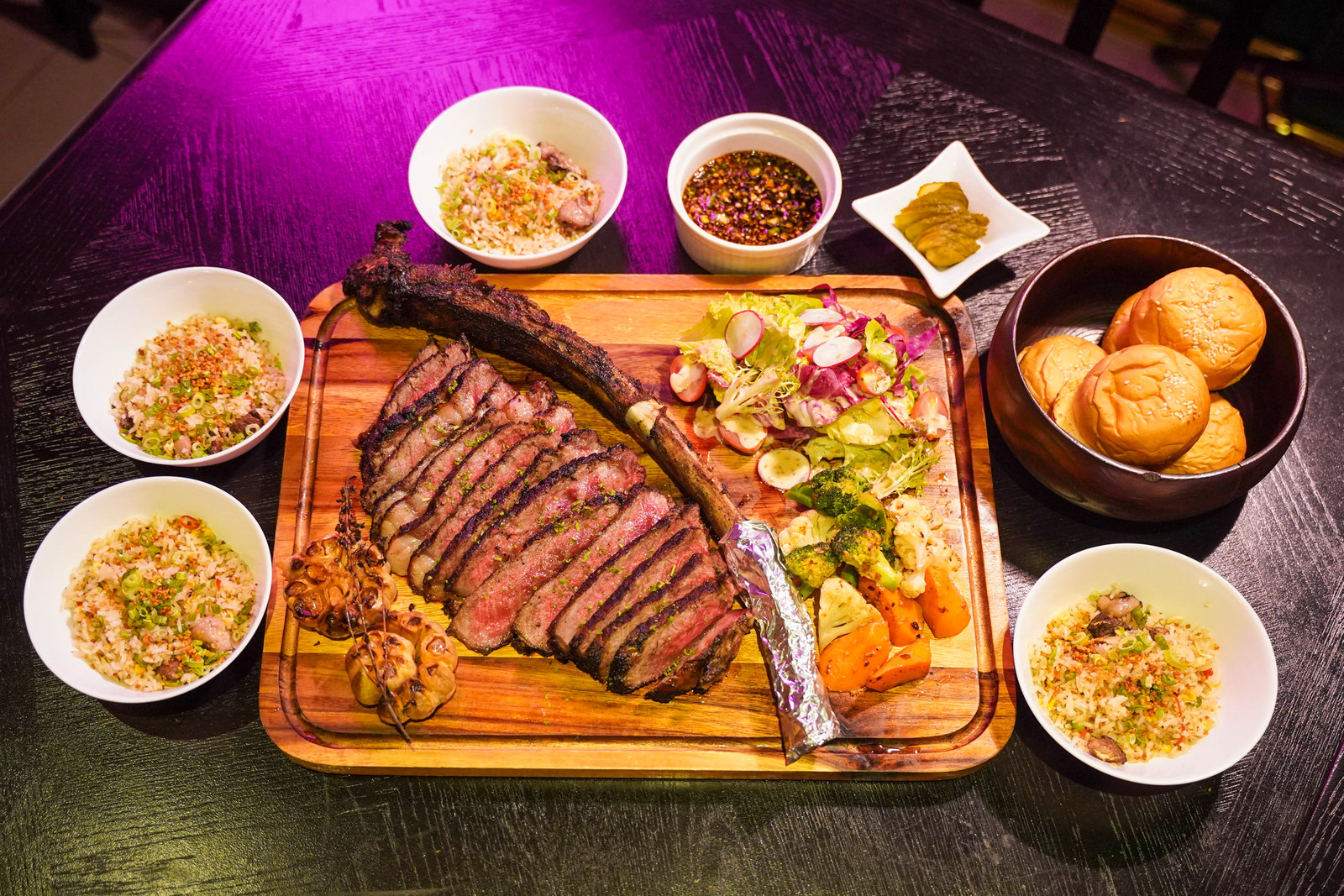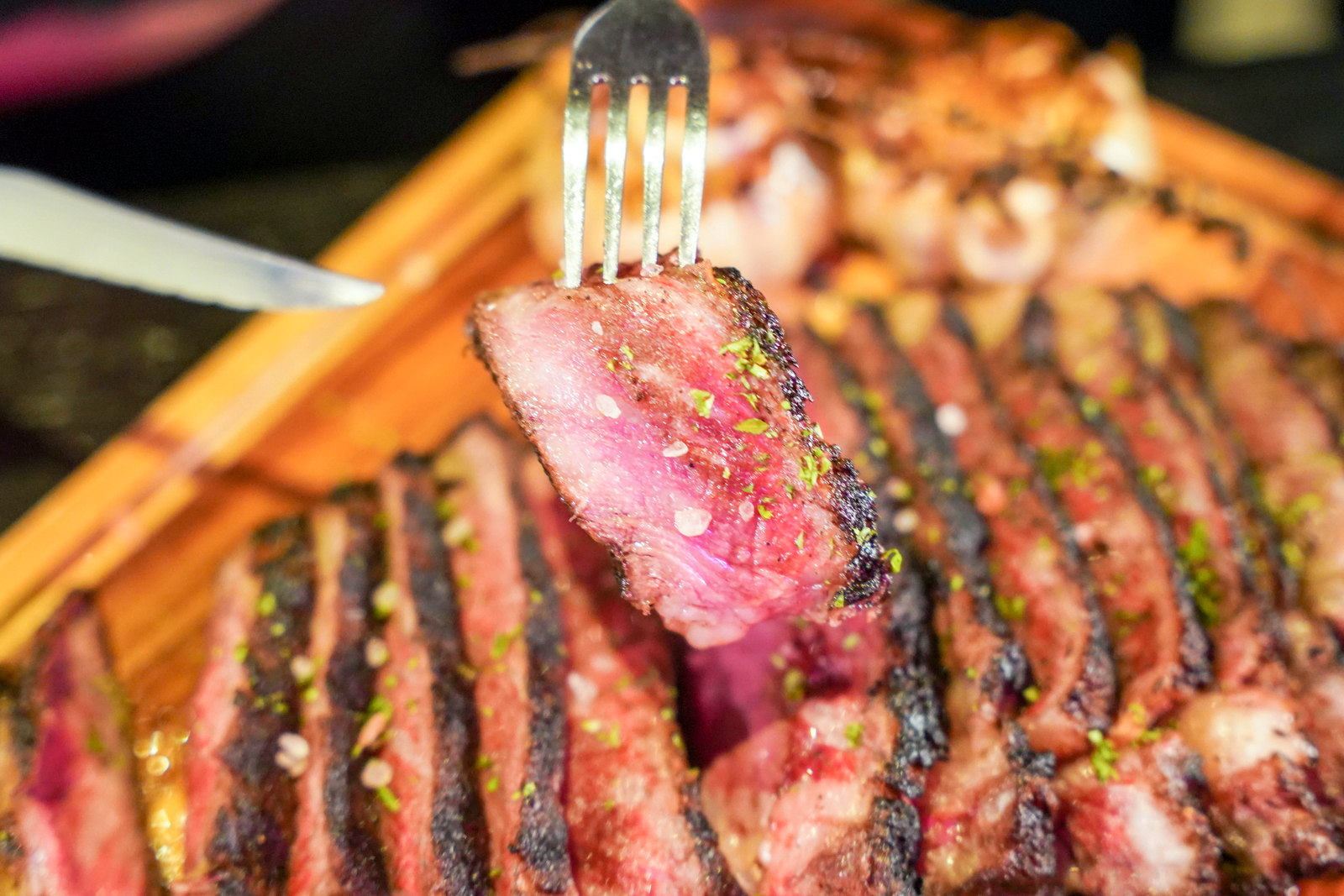 This Australian Wagyu Tomahawk is irresistible for hot-blooded carnivores (RM65 per 100g for MB6/7, RM89 per 100g for MB8/9), with a marbling that's nearly comparable to Japanese A4 or A5 wagyu.
This isn't just any tomahawk - Flipp puts thought and meticulous preparation into its recipes. The beef is flavoured with a house-made Cajun rub that channels paprika, cayenne, cumin, garlic and onions, lending a sultry heat to the meat.
The tomahawk is succulently well-balanced in flesh and fat, with a crisp, captivating caramelisation that conceals perfectly medium-rare meat.
It would be terrific even on its own, but it comes with a bonus: Wagyu fried rice, fragrantly cooked with ribeye fat, serving as starch for the meal. Alternatively, there are also buns that you could use to make sliders with the beef slices.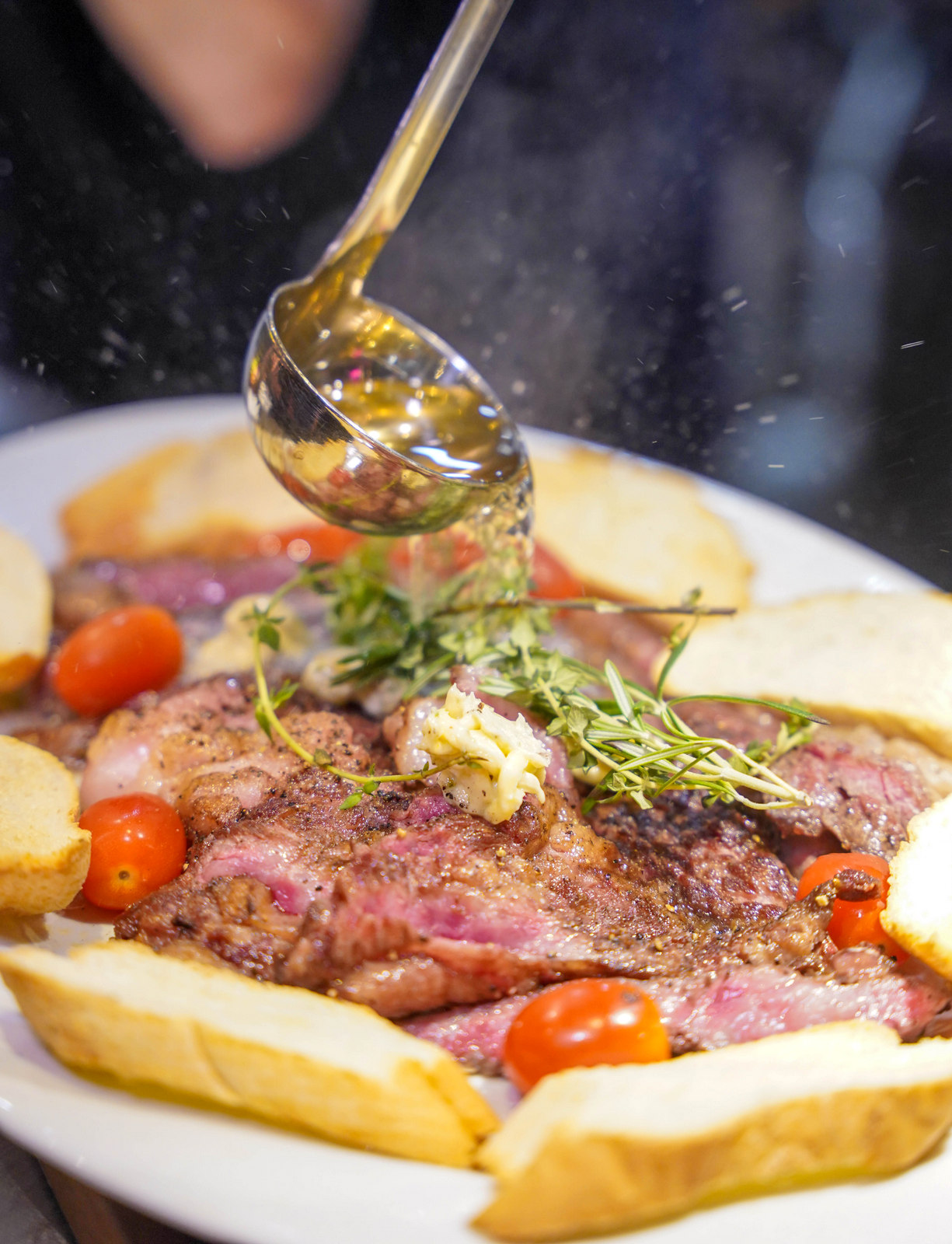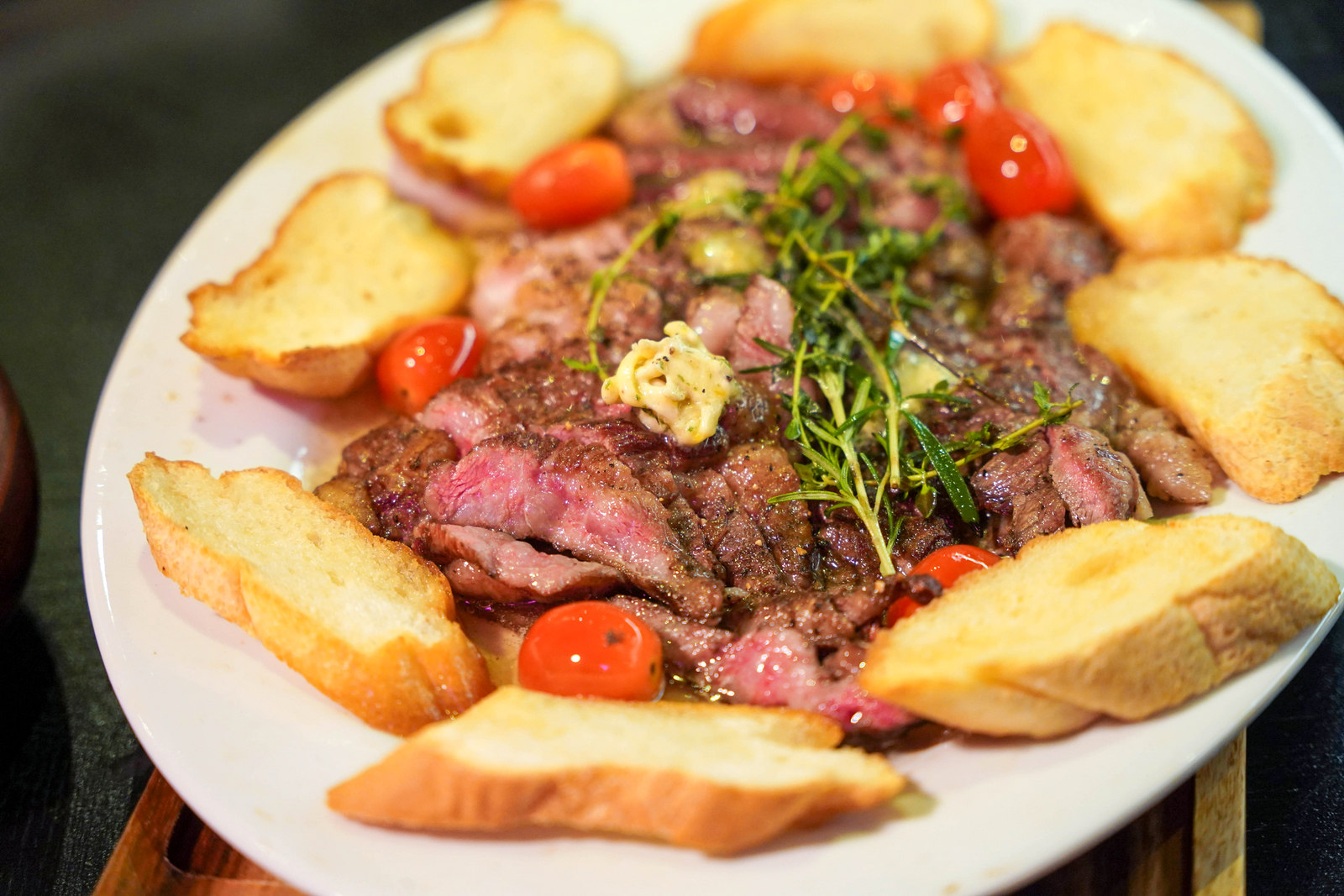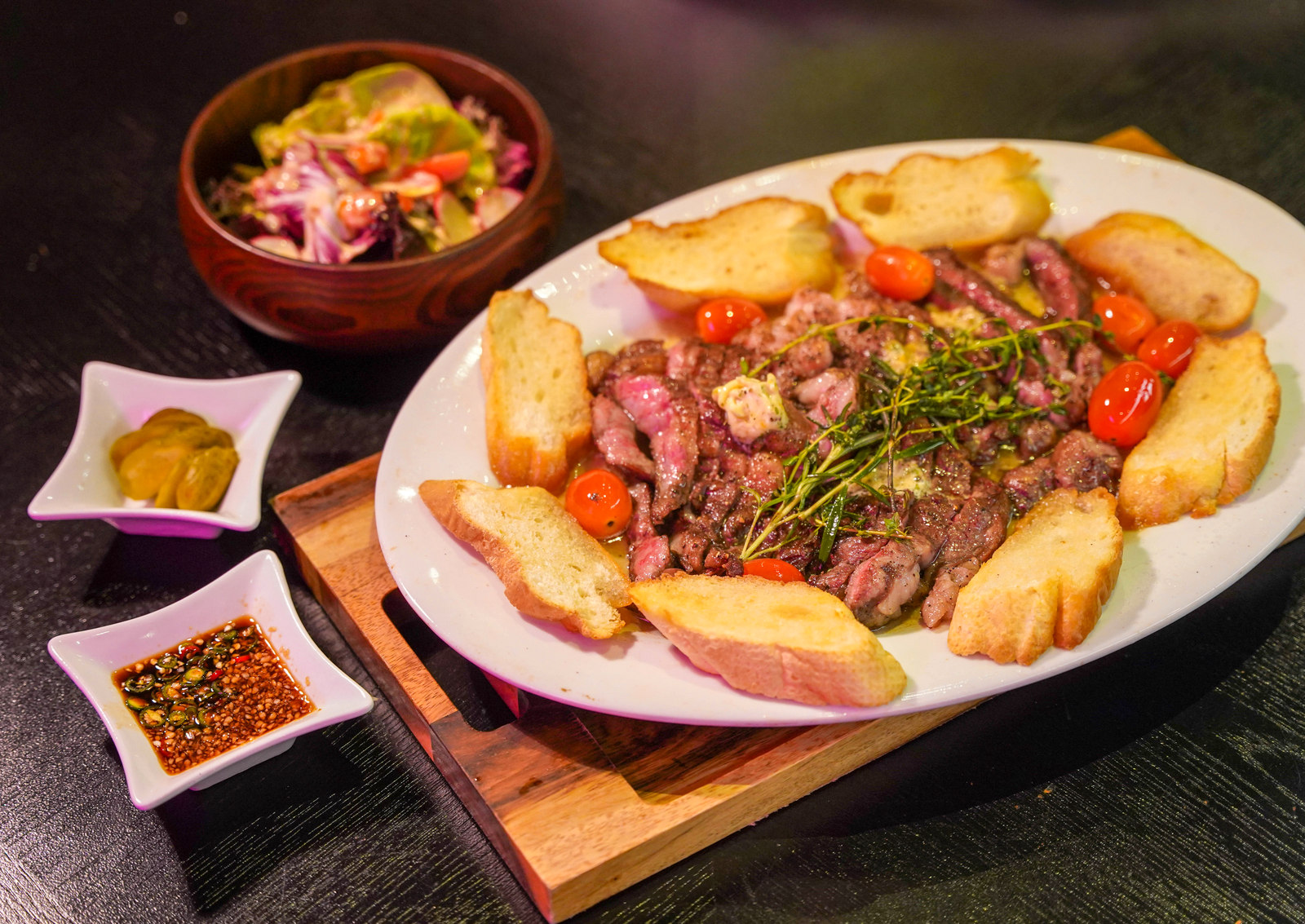 If you're craving a steak with a lovely serving presentation, Flipp's Porterhouse will hit the spot (RM350 for 500g, RM600 for 1kg, with Japanese house salad and teriyaki cili padi).
The premium Black Angus porterhouse is boiled with saturated butter, then poured with melted clarified butter at the table, enhancing the memorable richness of the meat. Come with an open mind and embrace this exceptional experience.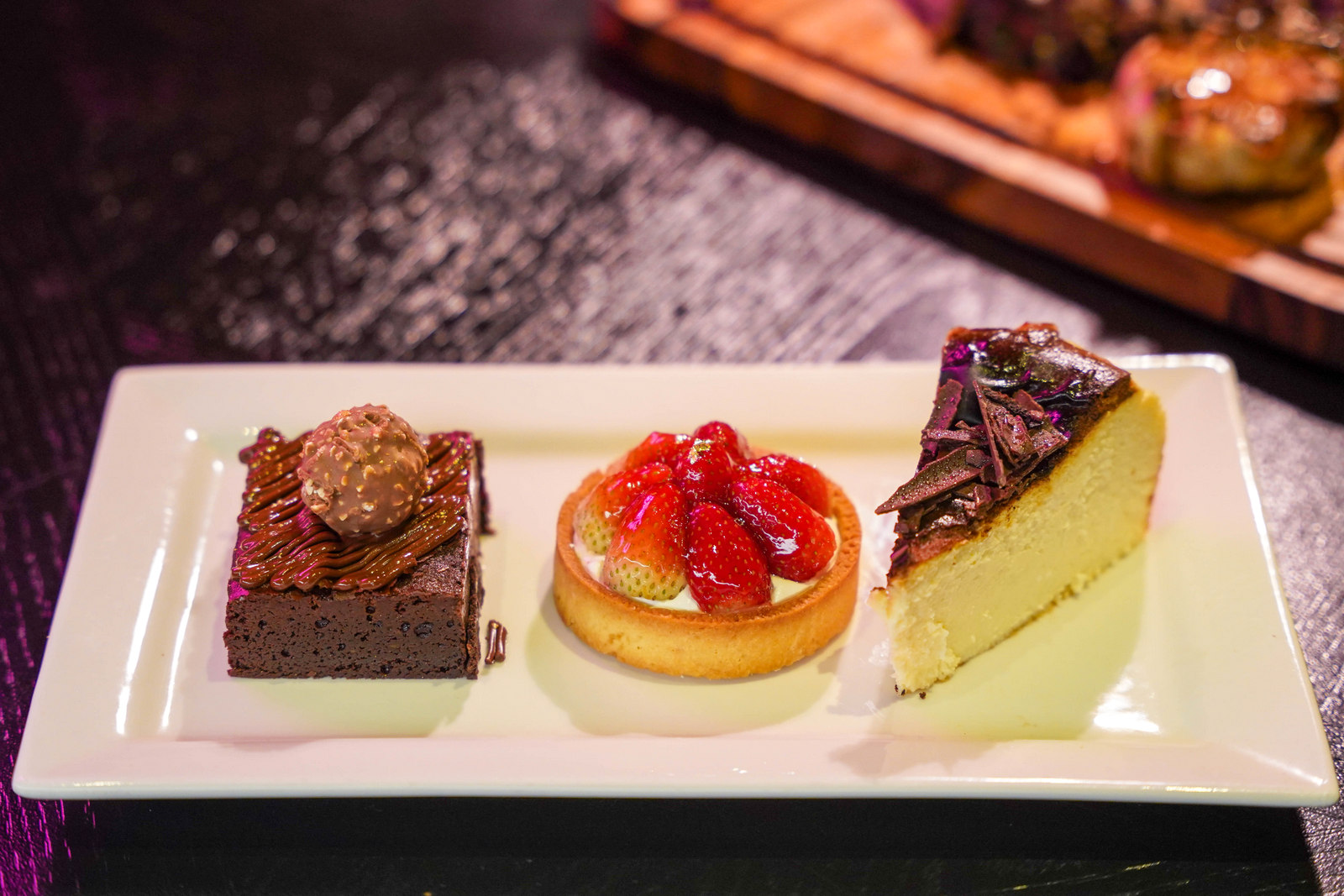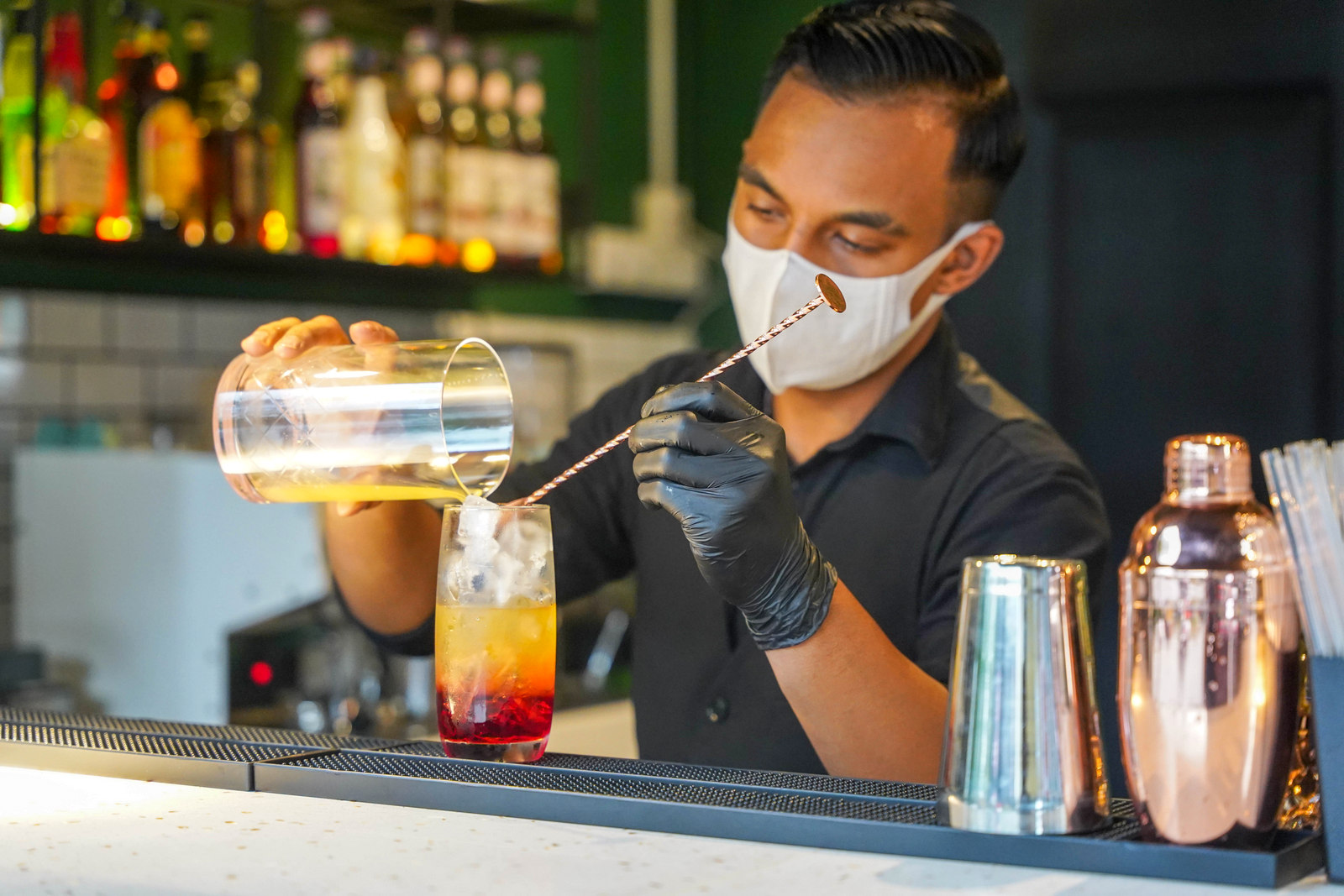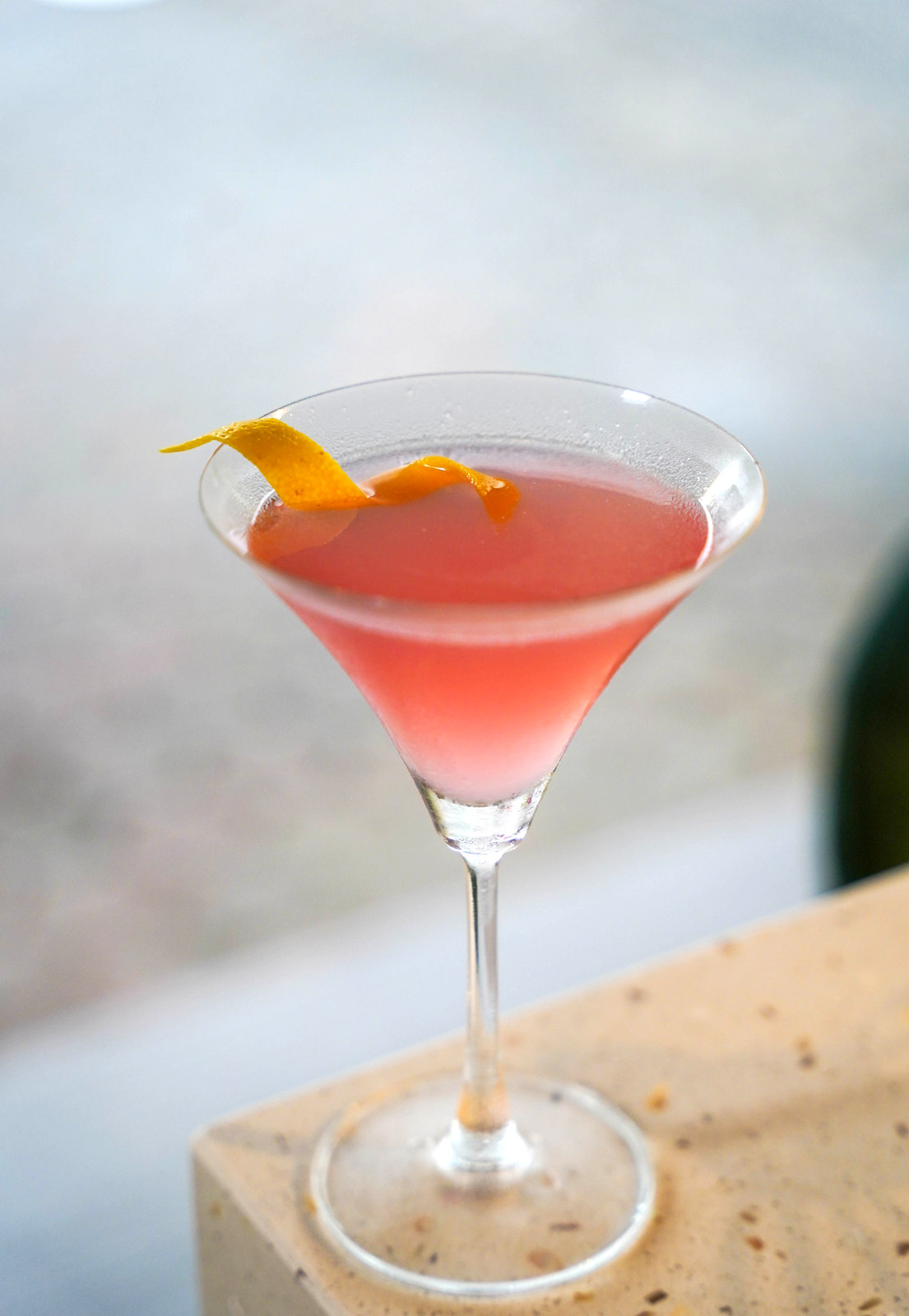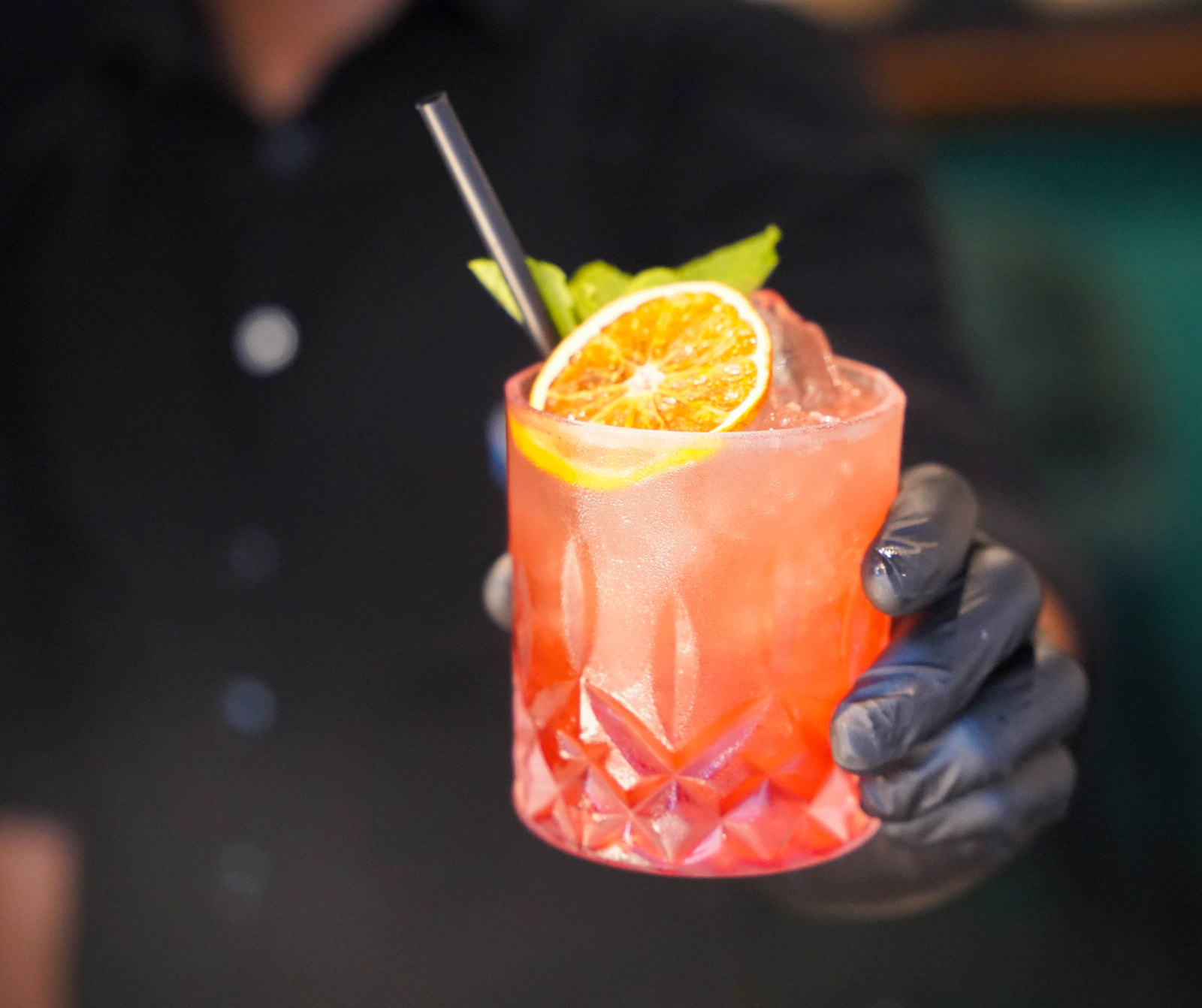 Desserts and drinks ensure we have everything we need at Flipp.
Sweet treats are sourced from independent bakers, including the Nutella Brownie Fudge (RM35; super fudgy, crowned with a Ferrero Rocher), Mixed Fruit Tart (RM35) and Basque Burnt Cheesecake (RM35; boasting a luxurious, melt-in-the-mouth softness).
The bar is capable of whopping up a confident cocktail or mocktail - potential highlights include the Bramble (RM45; gin with lemon juice and grenadine syrup), classic Cosmopolitan (RM45; vodka with lime, triple sec, cranberry juice and lemon peel) and Paradise (RM45; bright and easy-drinking with pineapple juice, blue curacao and grenadine syrup).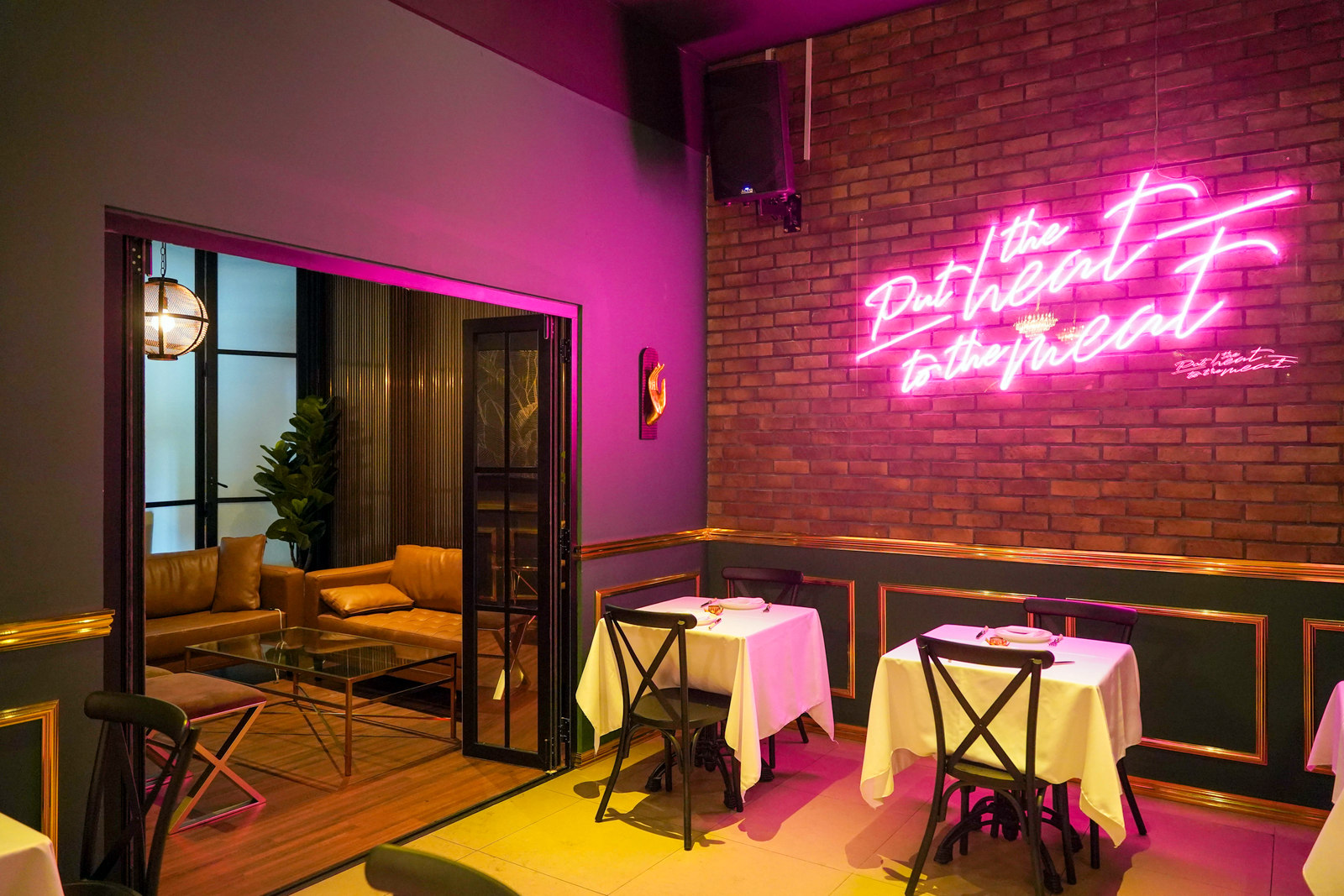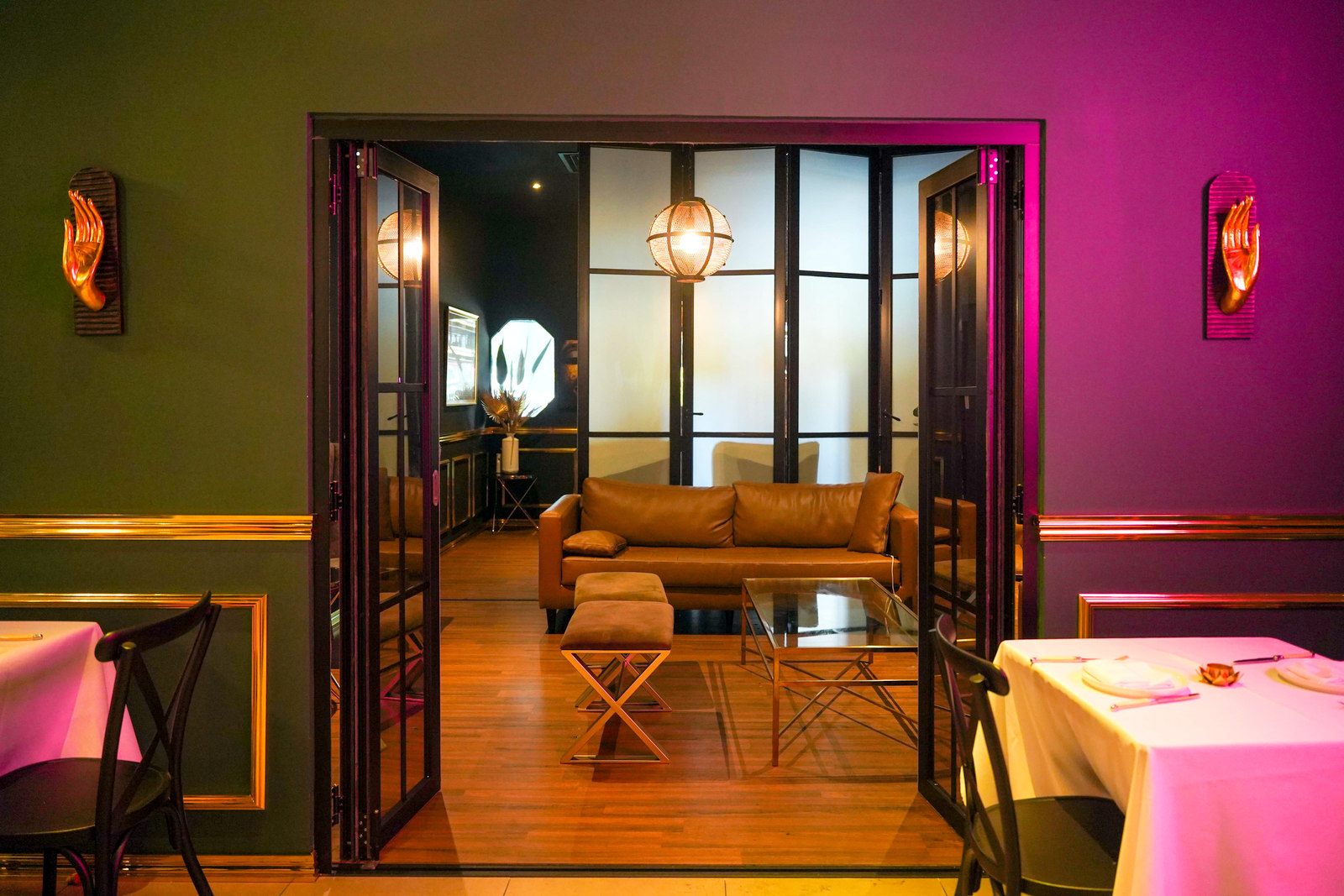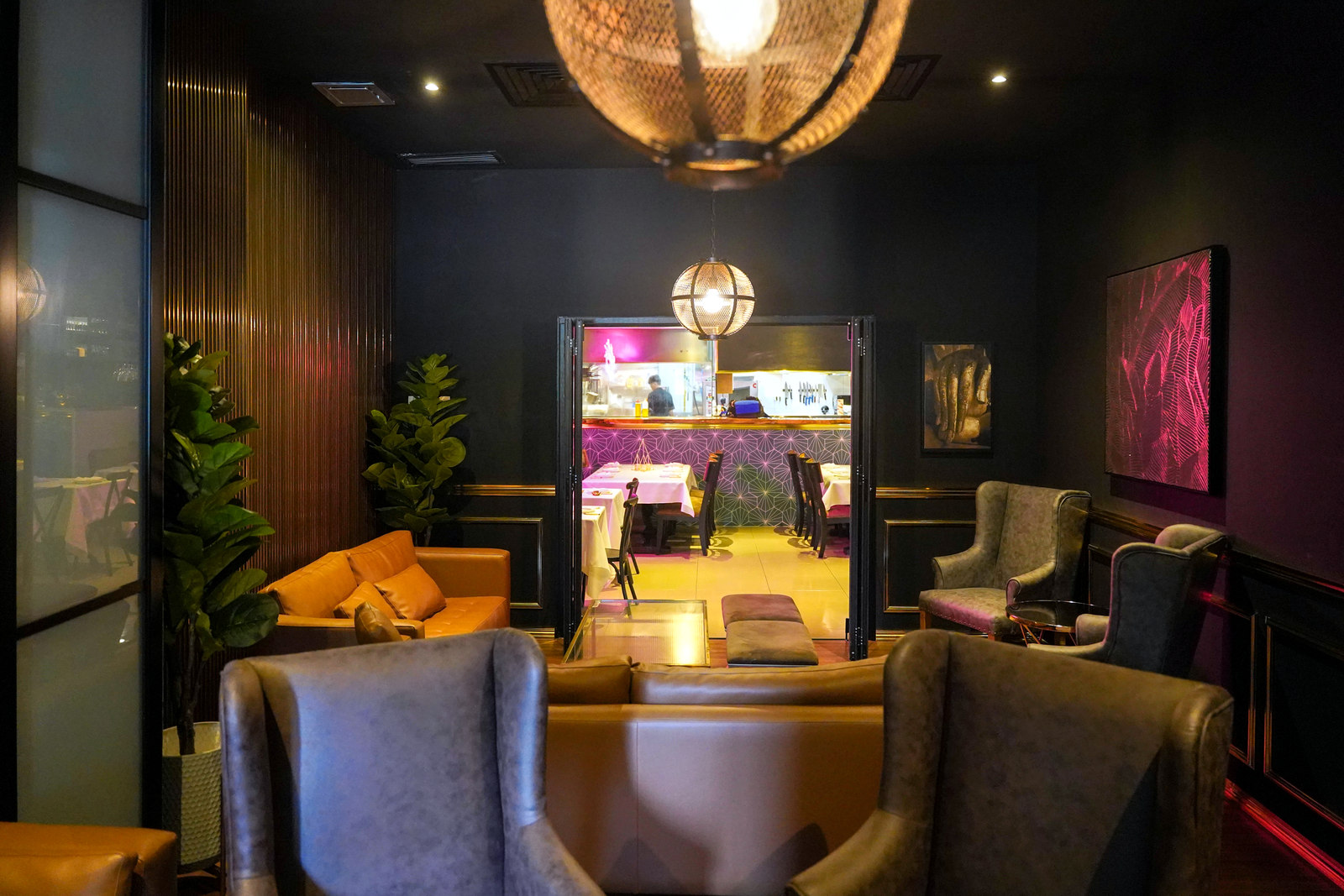 Flipp wants patrons to not only relish the food but the dining atmosphere too. For more intimate occasions, a private room is available, catering to about 20 people,
Check out our video to see more of Flipp!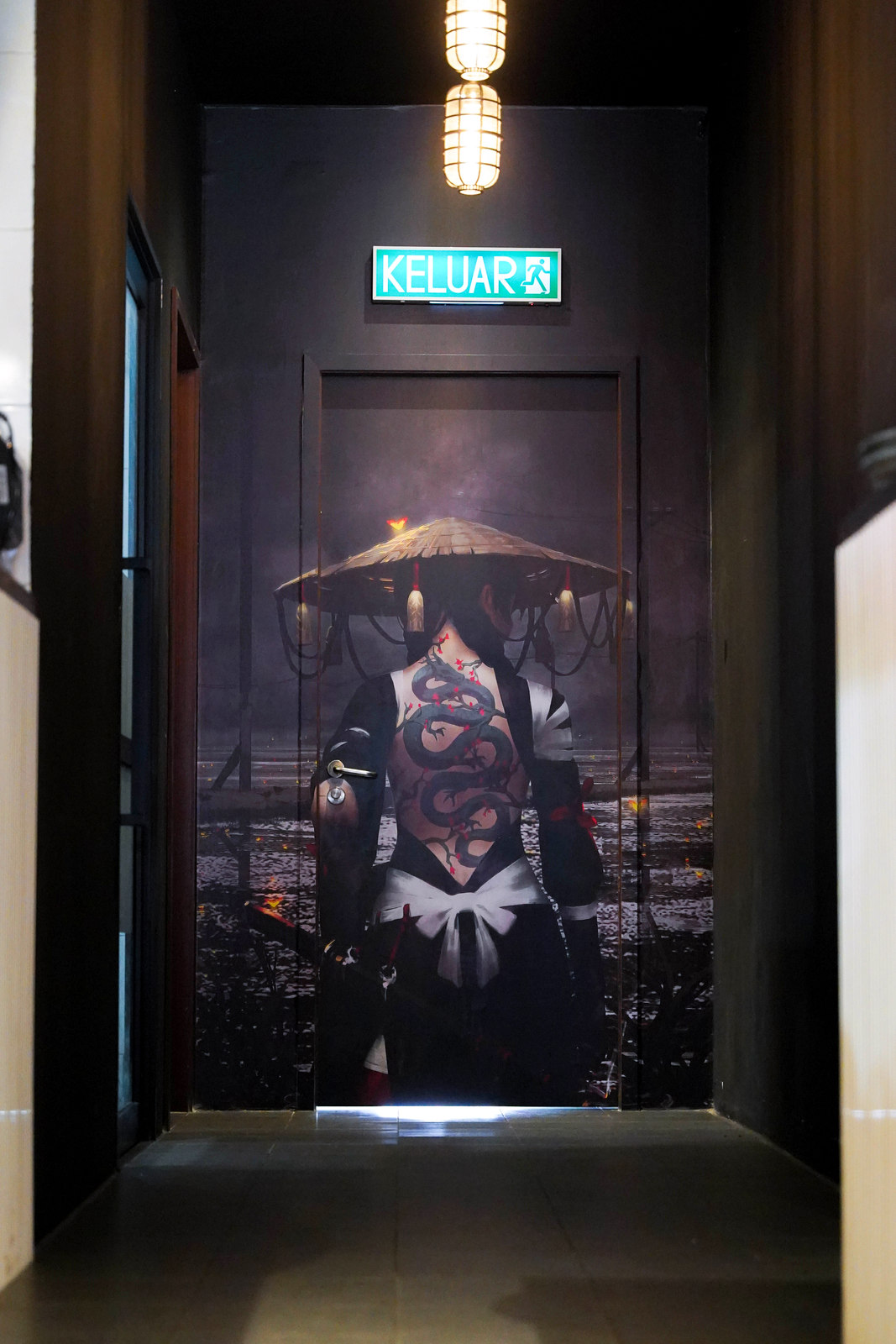 Flipp Kuala Lumpur
33, Wisma Winbond, Jalan Yap Kwan Seng, 50450 Kuala Lumpur.
Open Tuesday-Sunday, 530pm-12am.