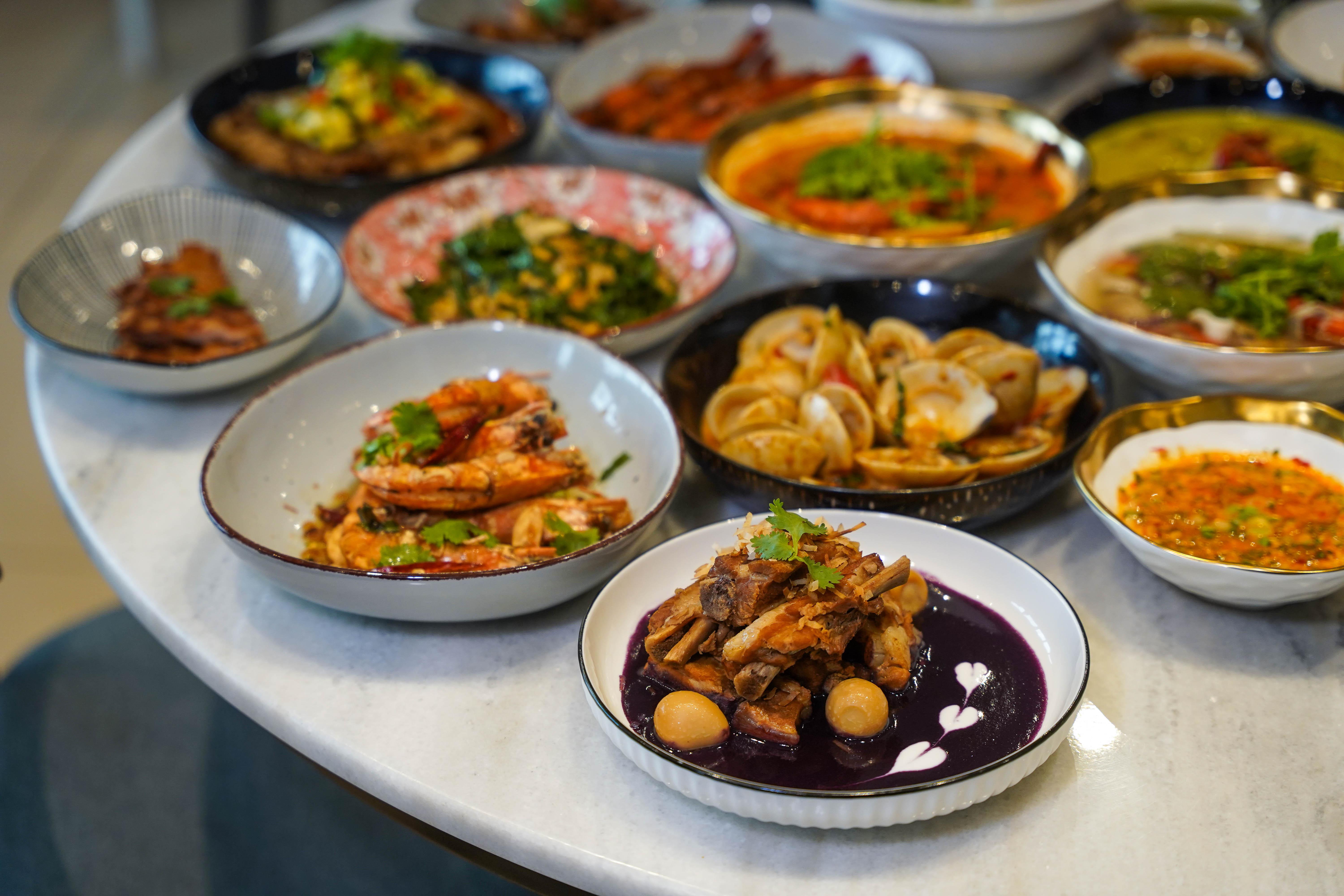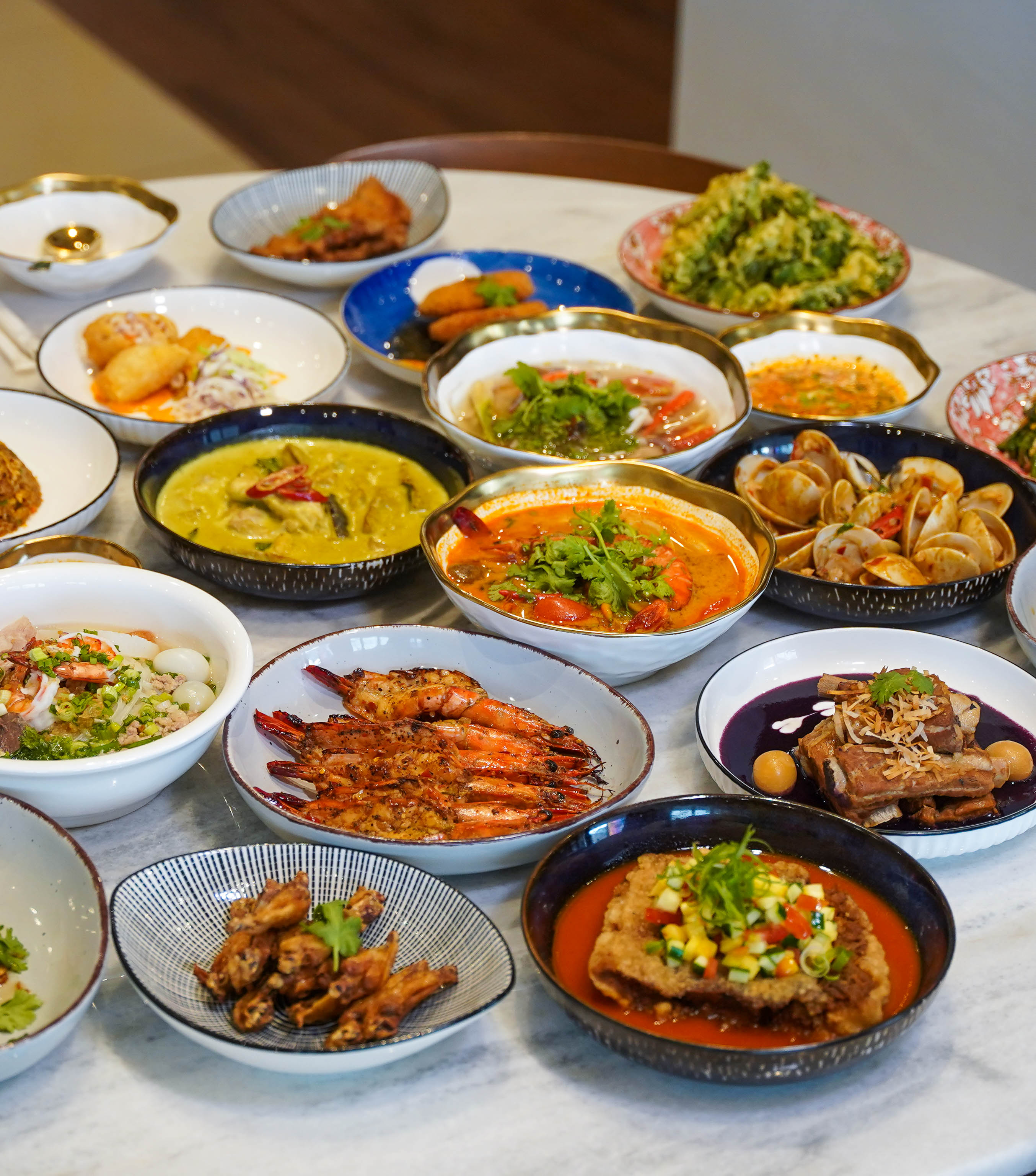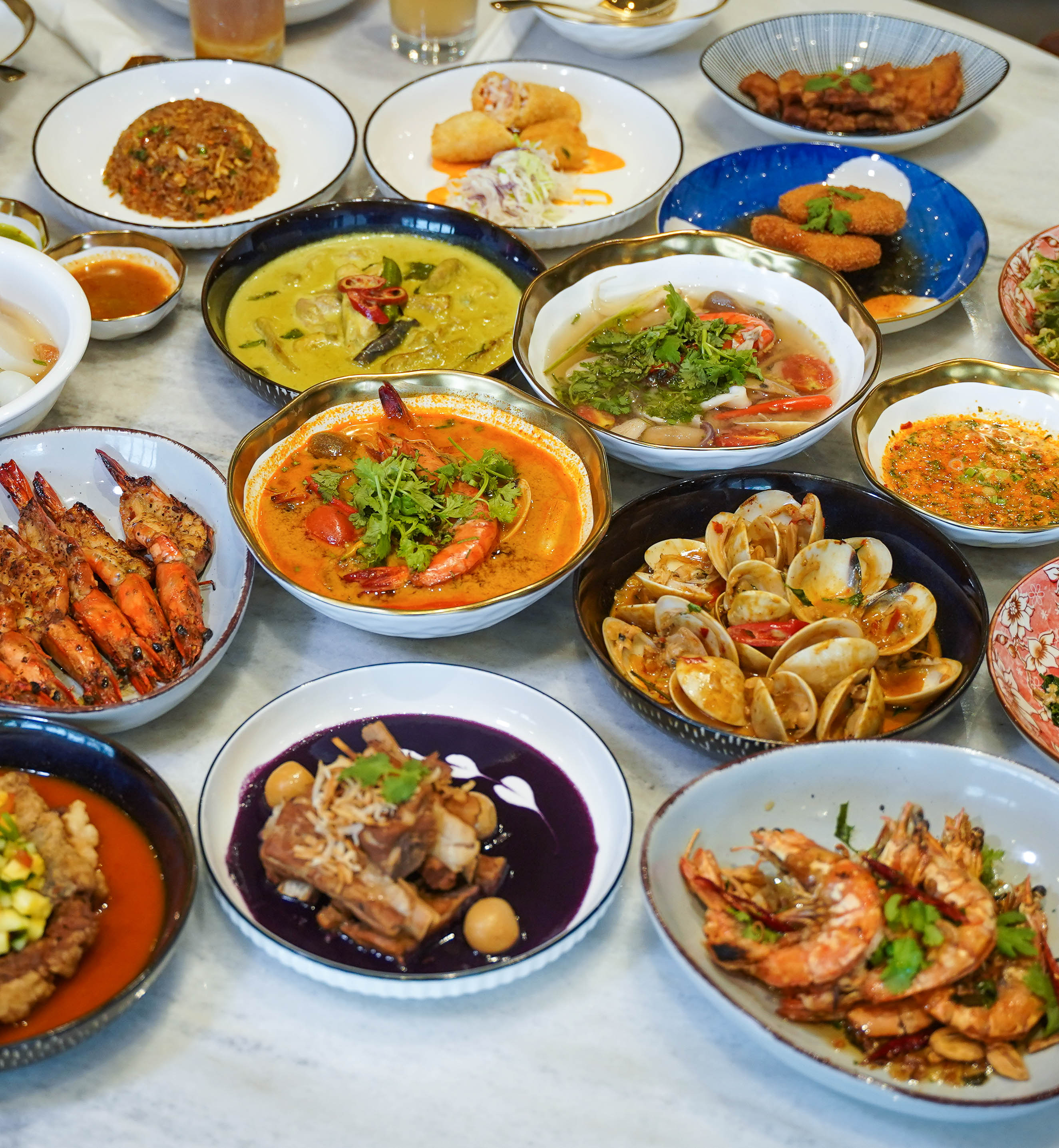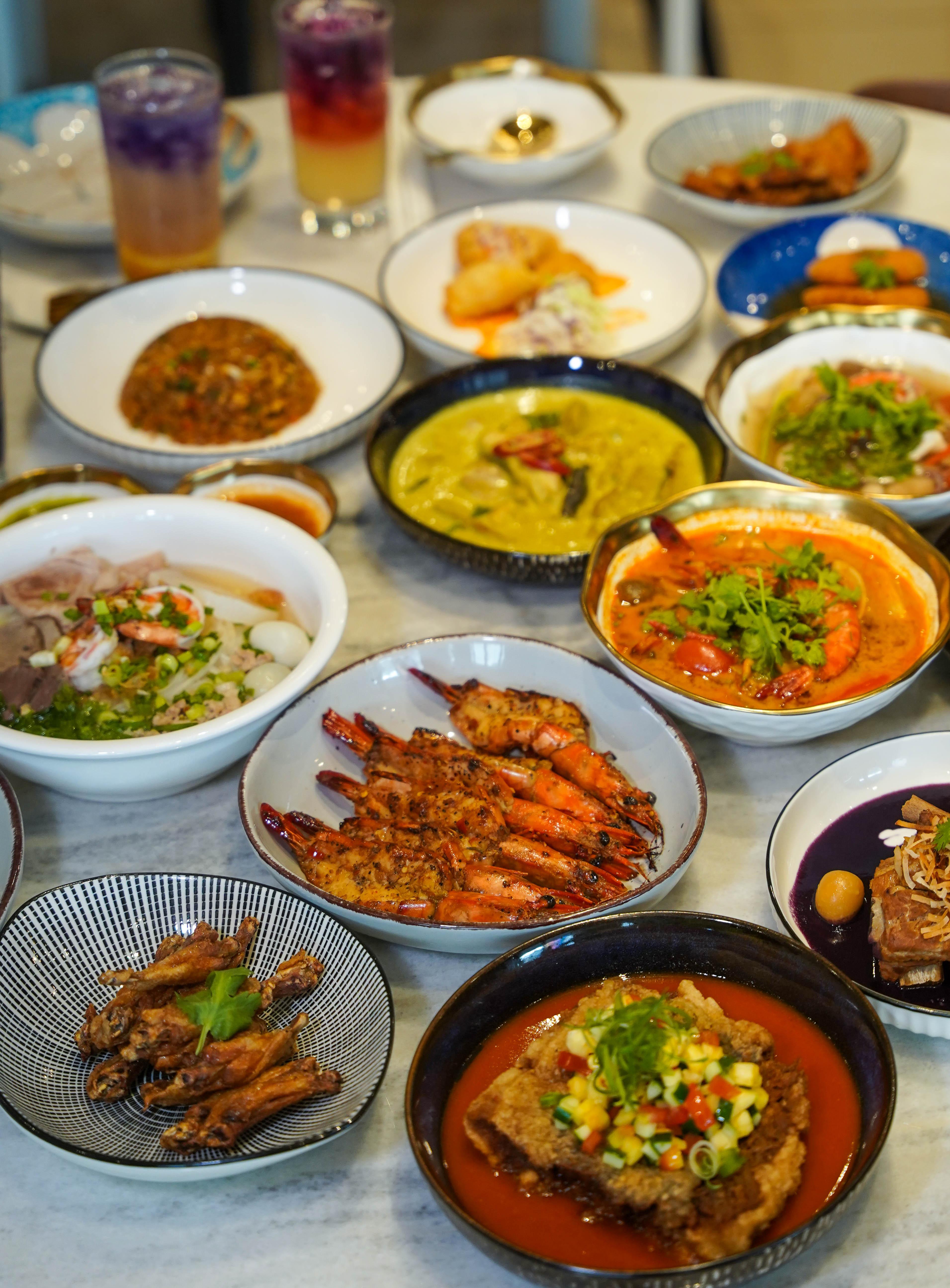 In a city that's flooded with pineapple fried rice and pho in every neighbourhood, Em Teerak channels a different perspective to Thai and Vietnamese soul food, admirable for authenticity but even more respectable for its risk-taking.
We won't find pad Thai on Em Teerak's menu: Instead, this bold new restaurant in Kota Damansara explores more distinctive dimensions of Malaysia's northern neighbours, from Northern Thai Wild Curry Chicken to Vietnamese street staples like Hu Tieu Nam Vang with Cambodian inflections.
Em Teerak's fare is vibrant in colours and flavours, robust in herbs and spices, curated by Malaysian co-founder Kenny and head chef Max, who both have familial ties in Indochina.
Max has embraced Thai and Vietnamese cooking throughout two decades of professional experience, while Kenny brings a contemporary, cosmopolitan flair to Em Teerak's food and service after years of living in Melbourne. Their team includes skilled Sabah-born chefs with specific culinary strengths, perfecting a precision in produce and processes.
Em Teerak's fresh ingredients are conscientiously sourced, spanning Malaysian probiotic-farmed tiger prawns to Australian barramundi; its recipes have been researched and refined for nearly a year before the restaurant launched; its signature creations are unmistakably unique, with playful names like Swimming Swine In Purple Lake and The Rough Sea & The Butcher.
The result: Beautiful concoctions built with honest produce, honourable effort and wholehearted inventiveness, served at sensible, suburb-friendly prices. After two visits, this is one of our favourite new kitchens of 2023.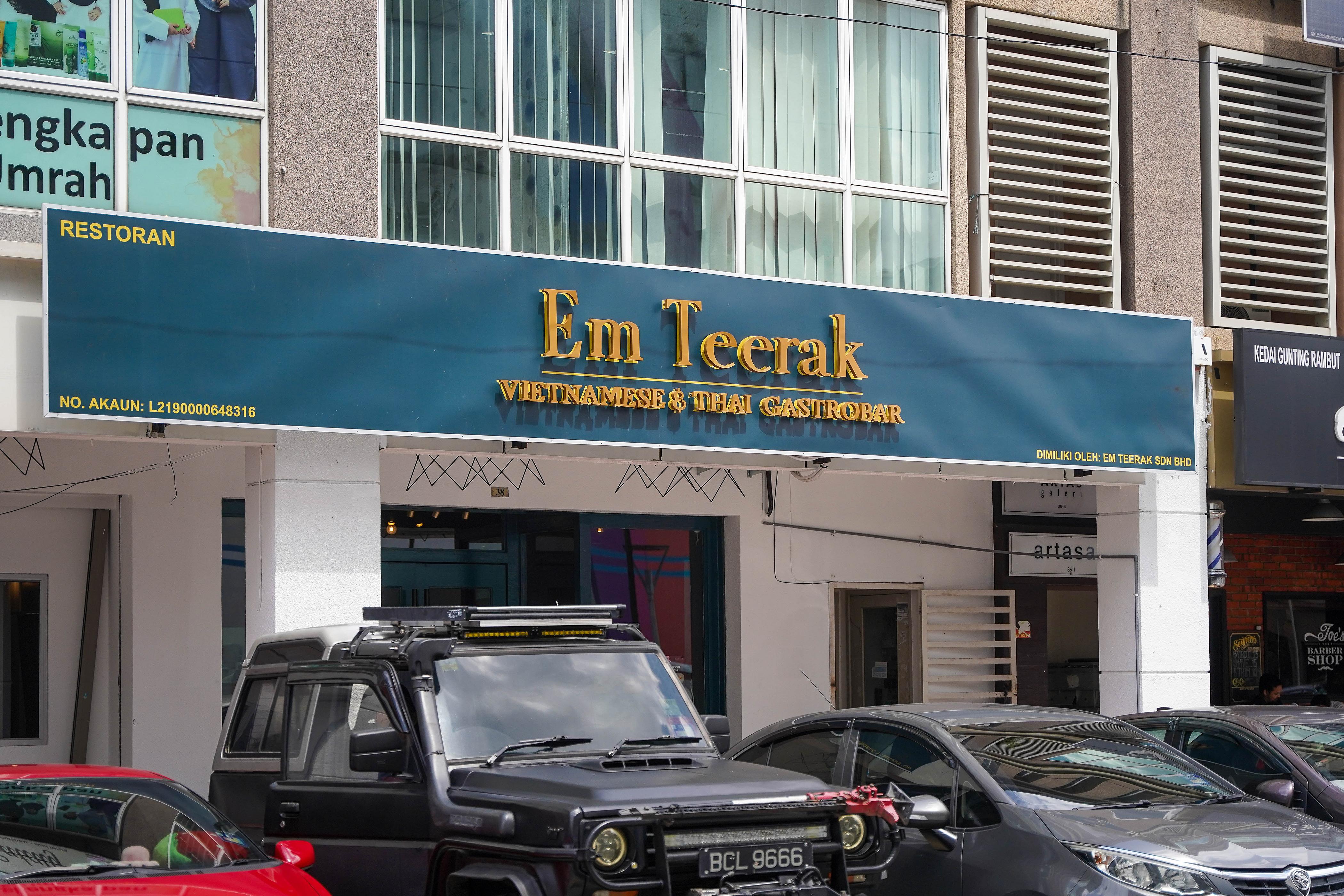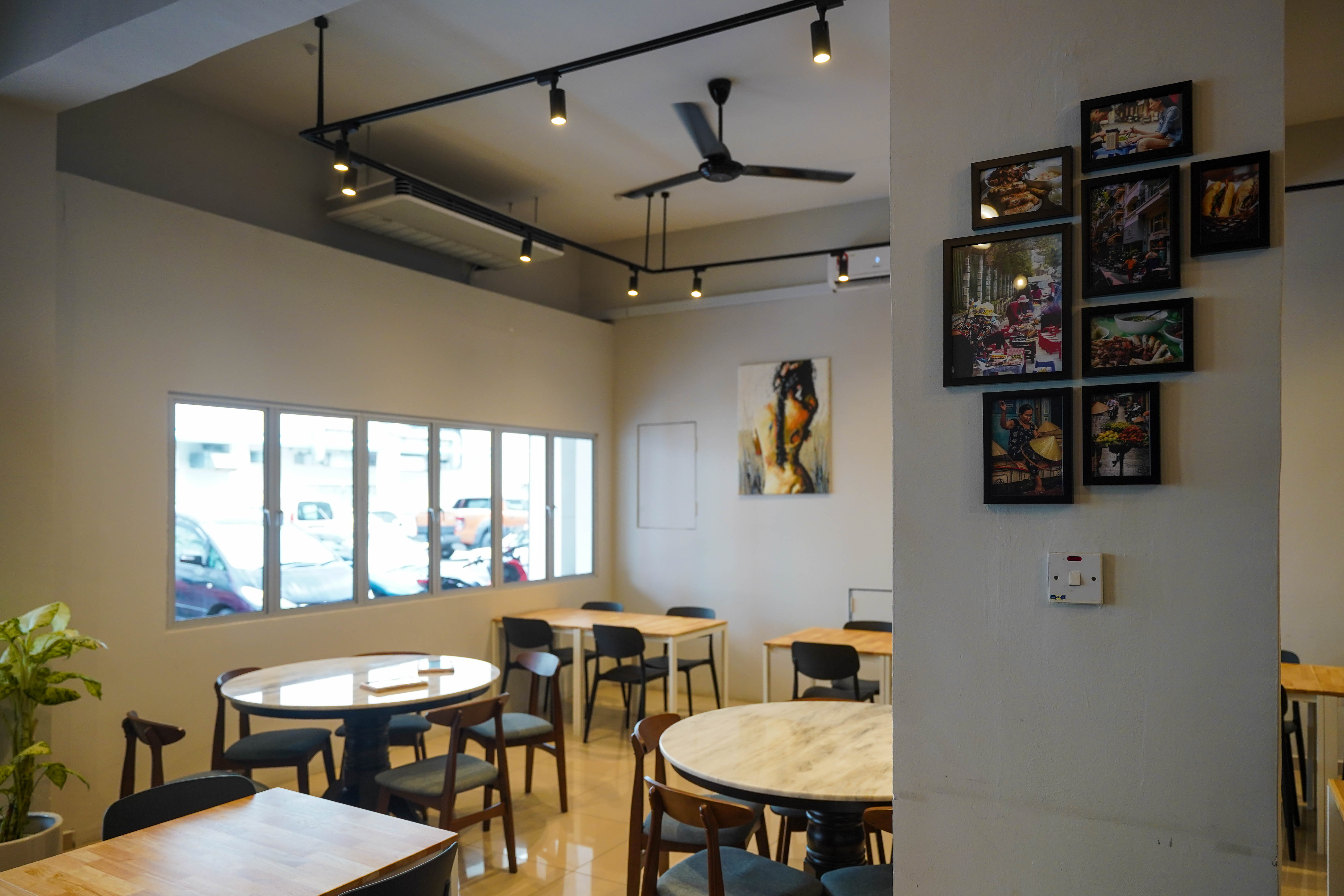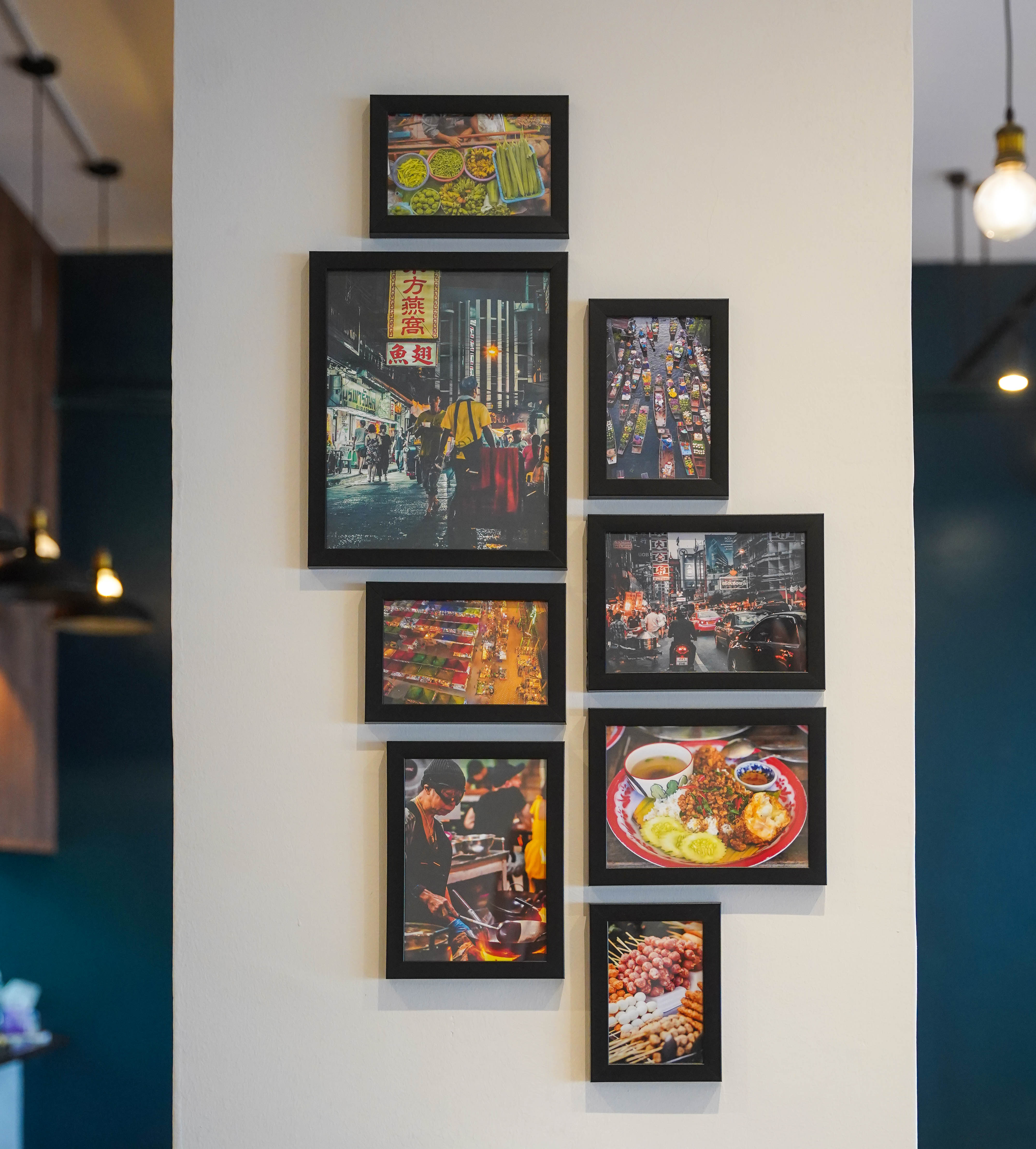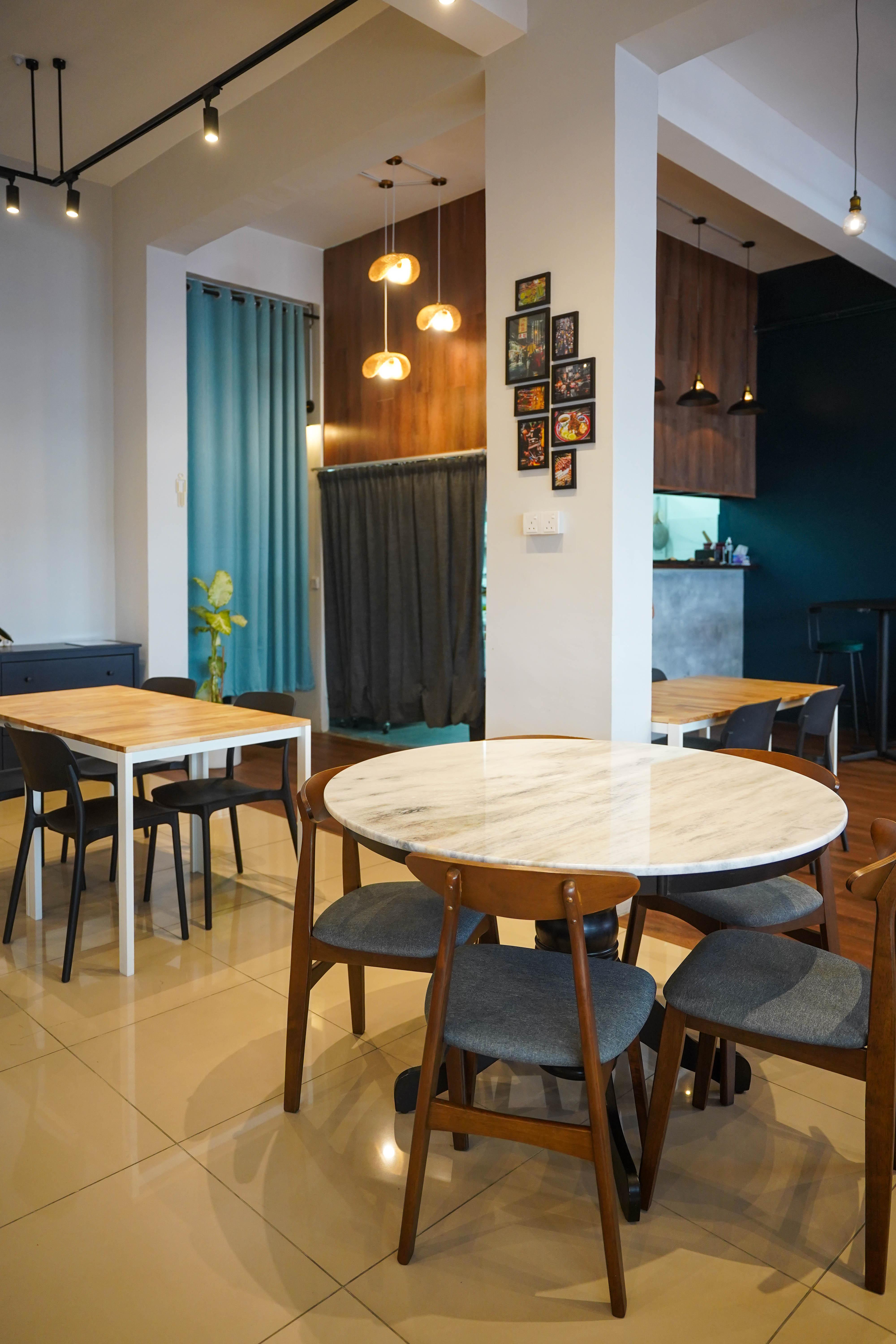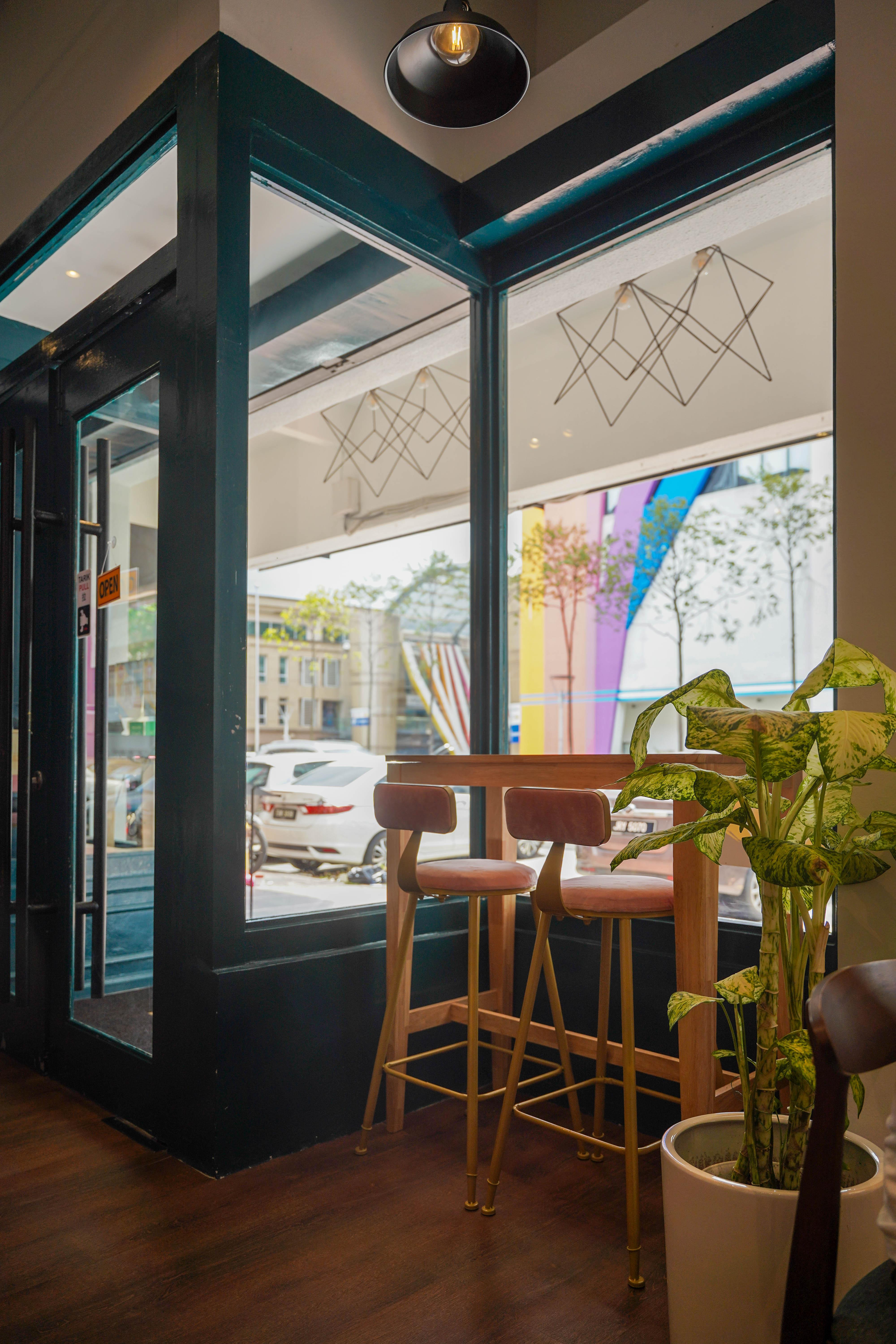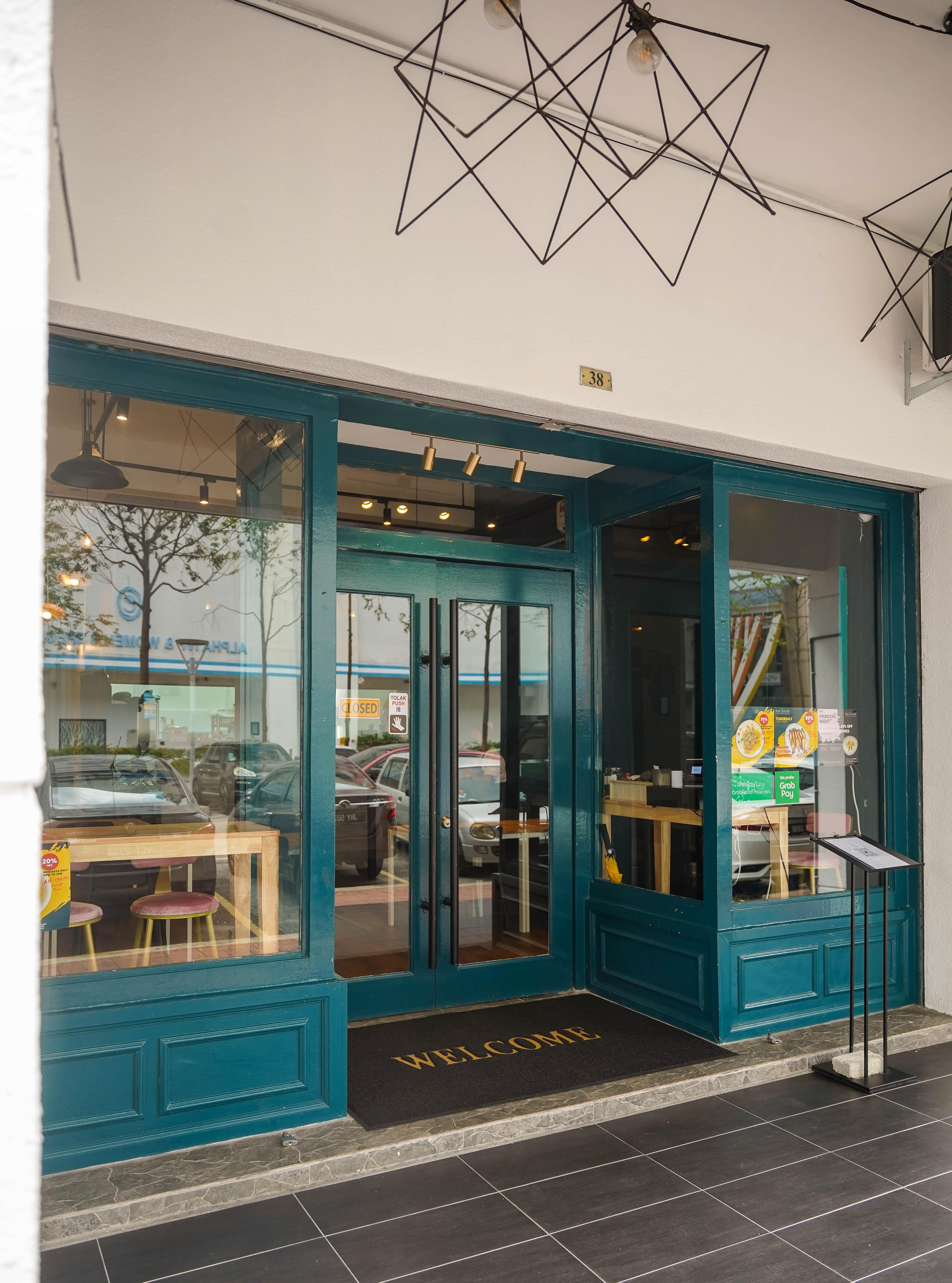 The setting is comfortably spacious and fuss-free. On weekday afternoons, the working crowd flocks in for lunch specials that promise spectacular value, starting at RM12.90 for a main course with a beverage. In the evenings and on weekends, families head here for a comforting meal; some even drive from out of town, having discovered Em Teerak's one-of-a-kind menu through word of mouth. Em Teerak's team is enthusiastic to welcome everyone - reservations are recommended on Saturdays and Sundays.
Repeat visits are typical. Since launching early this year, Em Teerak has consistently released new creations every week, focusing on what Max and Kenny want to share with Malaysians: Max's wife is Vietnamese, and her family has run restaurants for over 30 years in Hanoi - their most famous dish is the Princess Roll Công Chúa Cuôn, served in Em Teerak. Kenny's mission is to bring true Thai and Vietnamese fare into the Klang Valley with a twist of modern plating.
Female patrons, take note: Every Wednesday, 5pm to 10pm is Princess Night, Em Teerak's equivalent of Ladies' Night, when women enjoy 50% off a selection of specialities, such as the Princess Roll, Em Teerak Vegetarian Roll, and the Dessert of the Day.
If you're bringing wine to Em Teerak, corkage is complimentary for orders above RM150.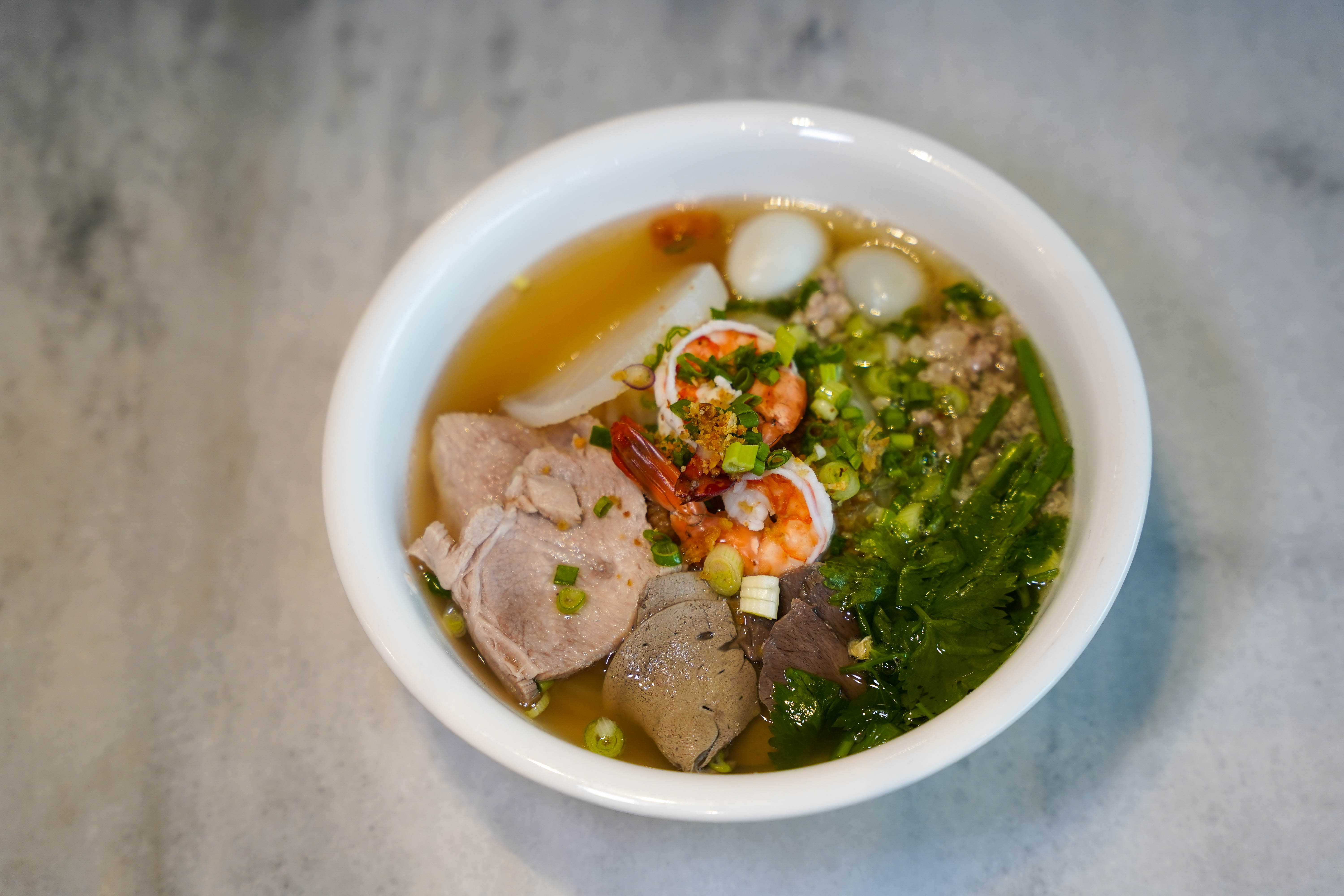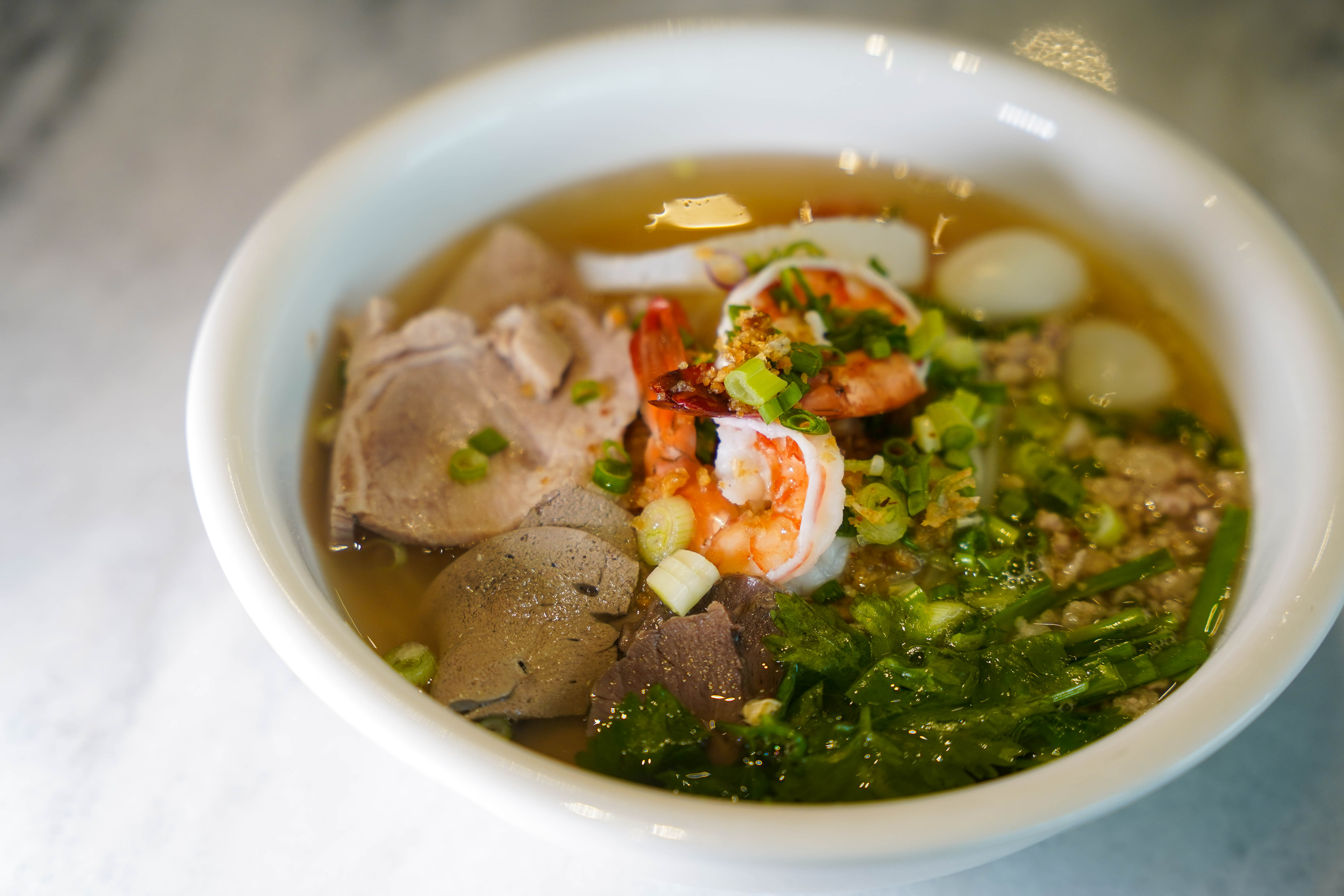 For first-timers, Em Teerak's heartwarming wonders in a bowl are the ideal introduction - Hu Tieu Nam Vang features Vietnamese and Cambodian-inspired rice noodles in clear pork broth (RM22), while Kao Tom Kung is the Thai breakfast bowl of soft-boiled rice in seafood broth with prawns, pork, herbs and house-blended shrimp oil (RM22).
The Hu Tieu Nam Vang - seldom seen in Malaysia, but a favourite in Vietnam as well as among the diaspora in Melbourne - is unmissable.
For the broth, the kitchen harnesses the marrow of big, brawny pork bones below the neck, slow-boiled for eight hours to result in gelatinous decadence.
The science of this soup is carefully calibrated - 25 kilograms of bones per batch, brimming with carrots and radish to extract their natural sweetness, plus dried squid and dried shrimp for MSG-free umami, balanced with coriander, chives and parsley.
The soup is visually clear, equalled by its clarity of flavour, addictively slurp-worthy, heartily rounded out with imported kuey tieu, topped with tiger prawns and plenty of pork meat and offal, instantly transporting patrons to the street stalls of Ho Chi Minh City and Phnom Penh.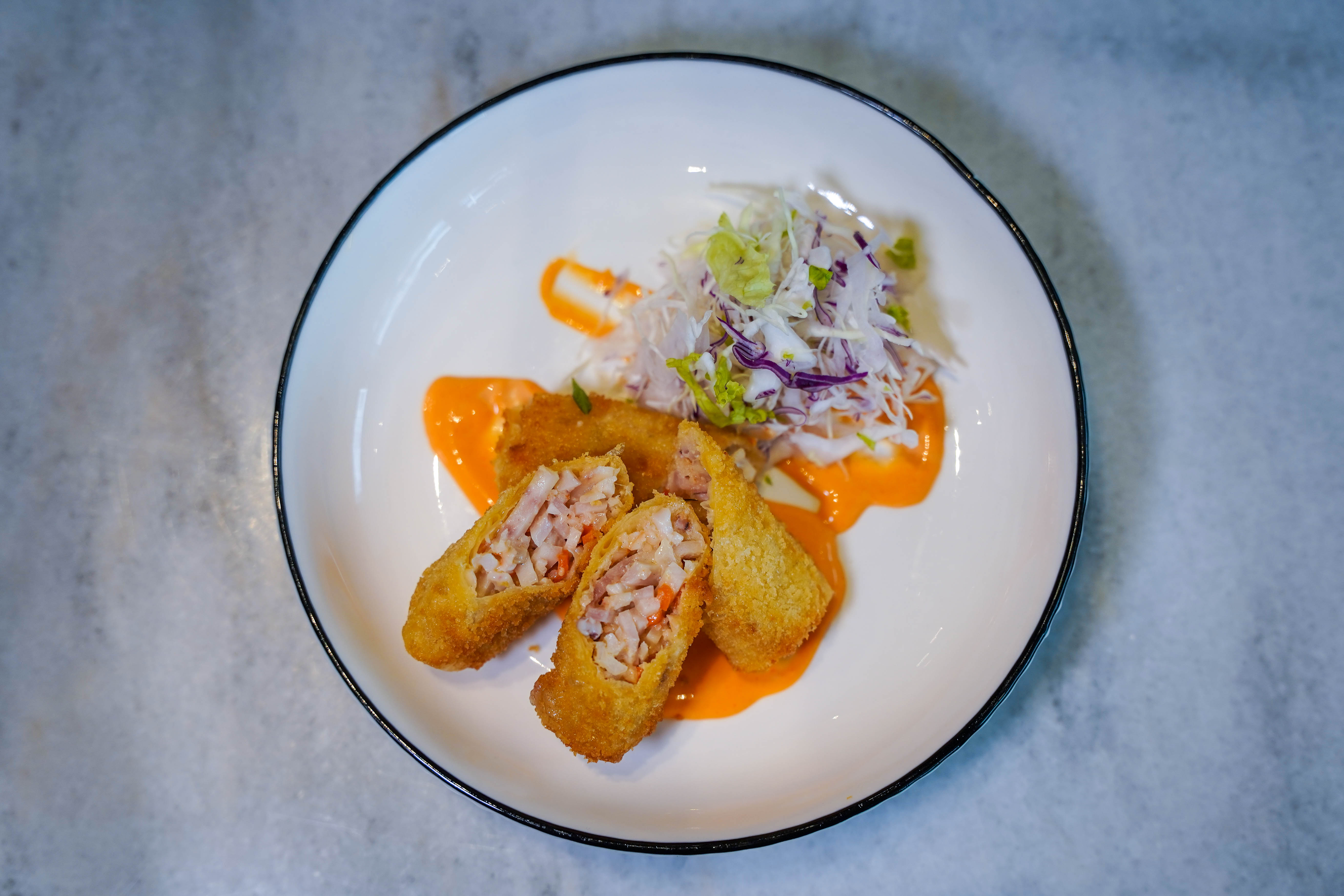 For sharing and snacking, start with the Princess Roll Công Chúa Cuôn (RM18), a Hanoi treat with an Em Teerak twist, showcasing seafood and vegetables stuffed in a breadcrumbed wrap that evokes Japanese panko, crisp to the bite, terrifically textured and tasty to the chew.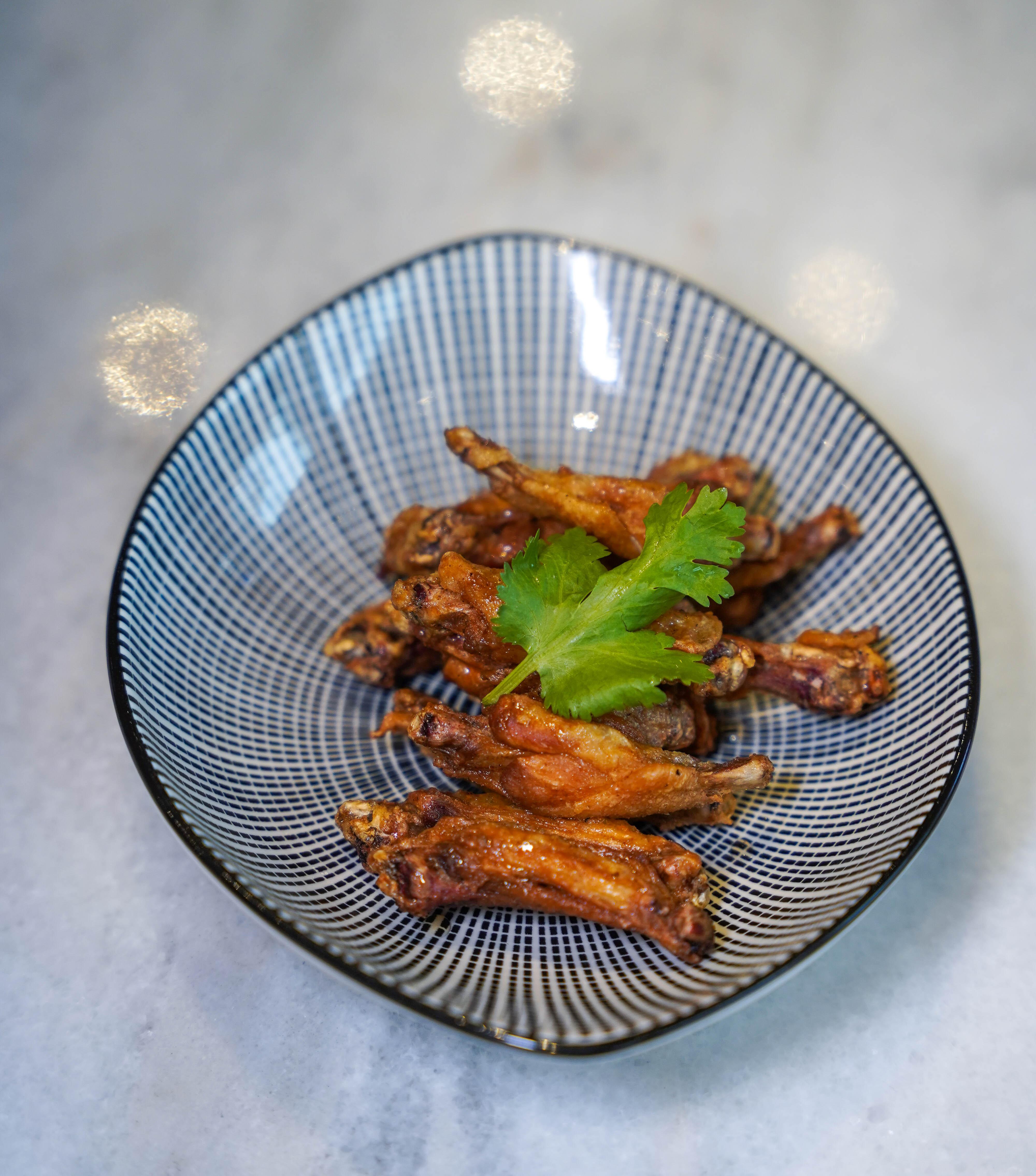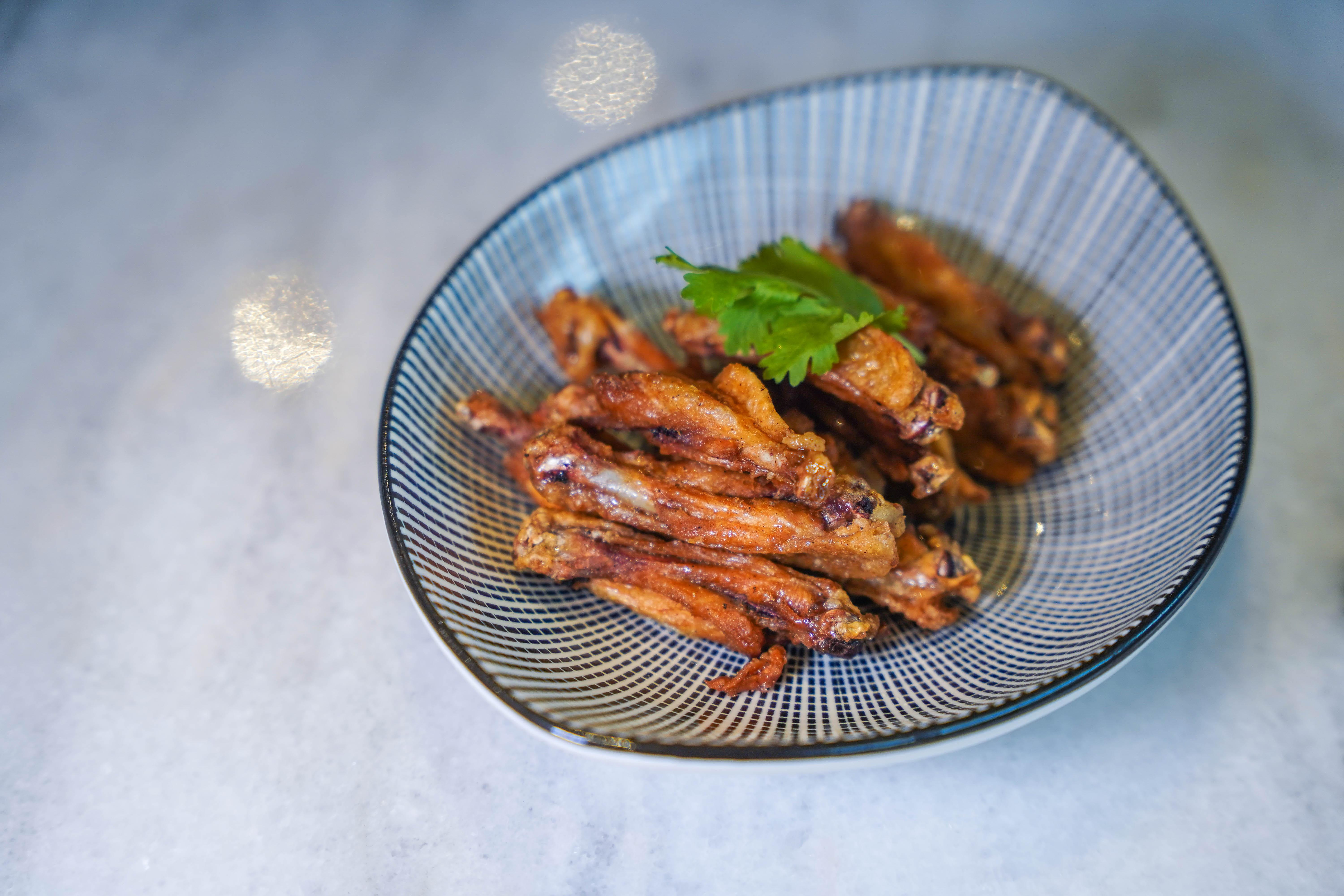 The Single Bone Chicken Wings (RM18) take us to the cafes of Thailand - these deep-fried, golden-brown wings make for merry munching, shaken in Em Teerak's own-formulated sauce in varying proportions, making each wing taste a little different in its savoury dynamics.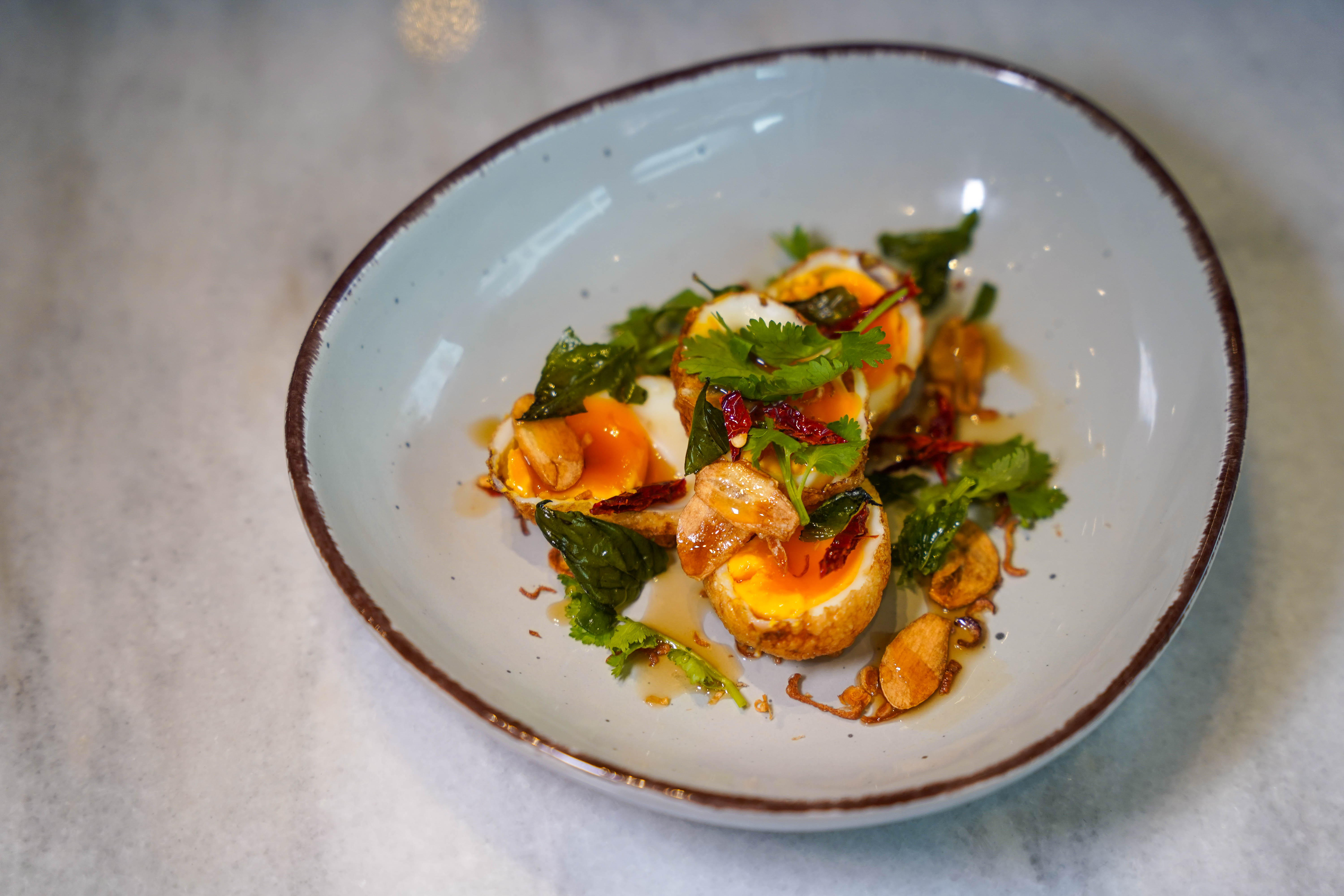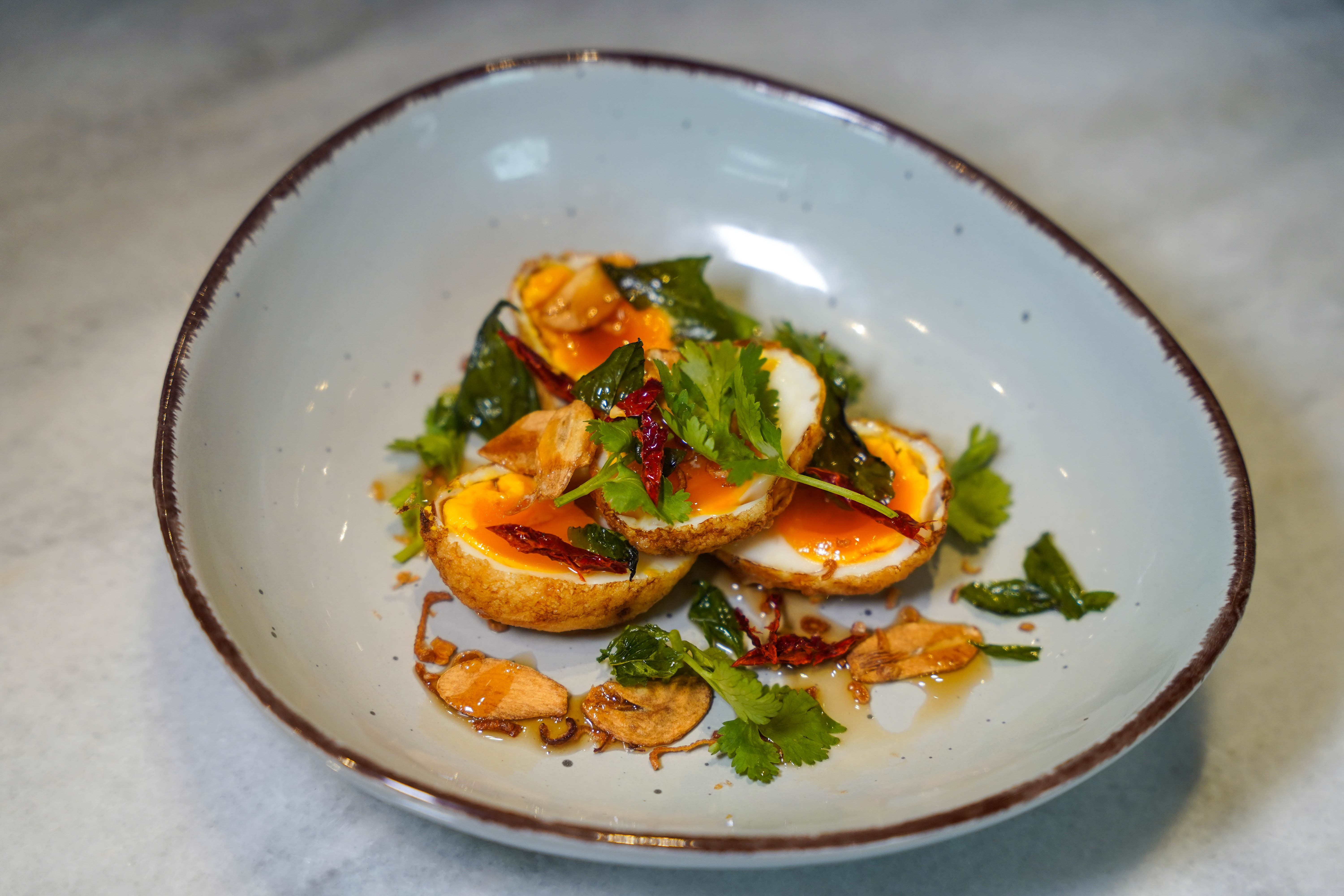 Kai Loong Keuy (RM15) highlights Thailand's traditional son-in-law eggs, again with Em Teerak's tailored flair - these kampung eggs are poached instead of hard-boiled, yielding the creamiest yolks, then fried in high heat for a lightly crusty surface, splashed with tamarind sauce and sweet basil for an irresistible indulgence.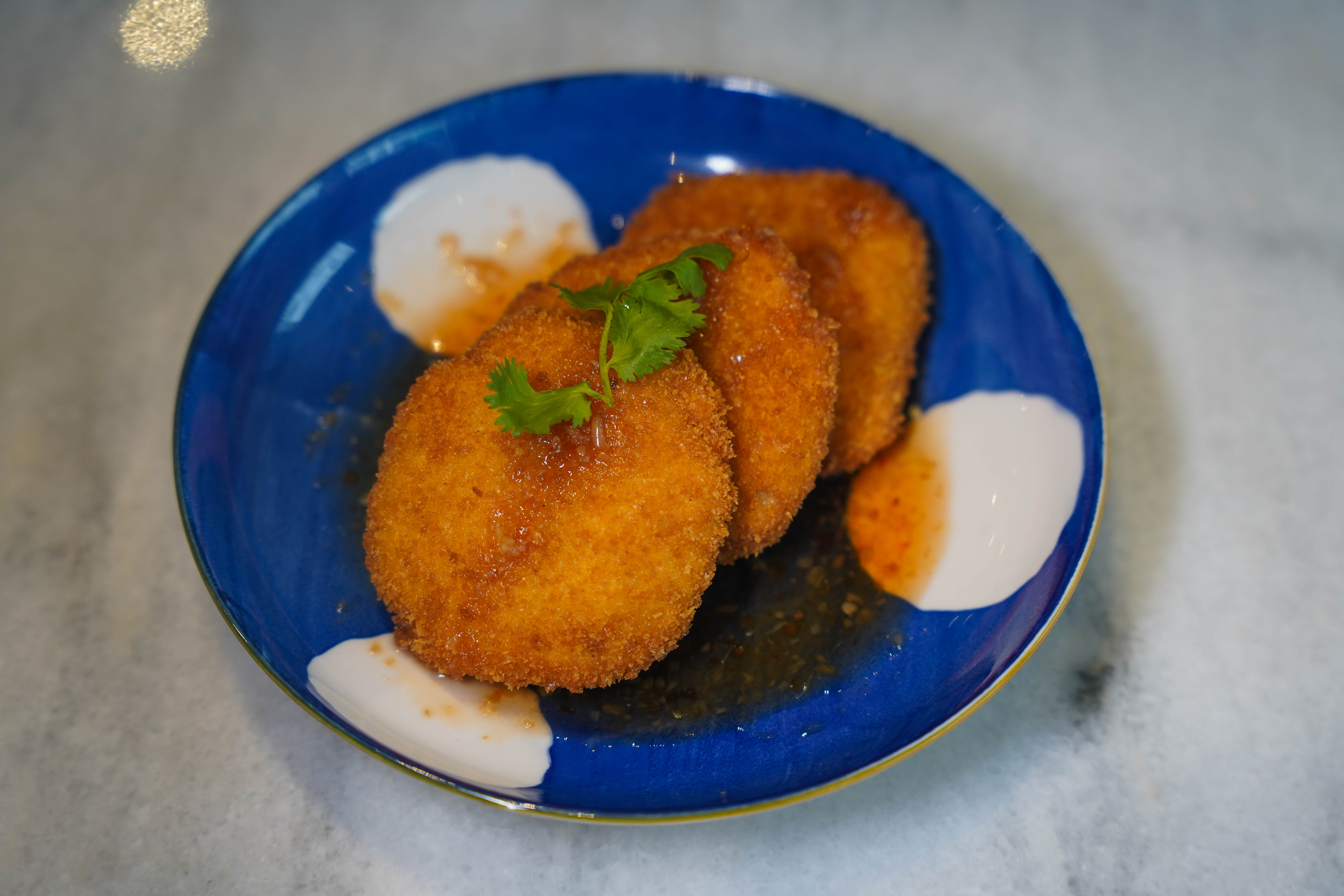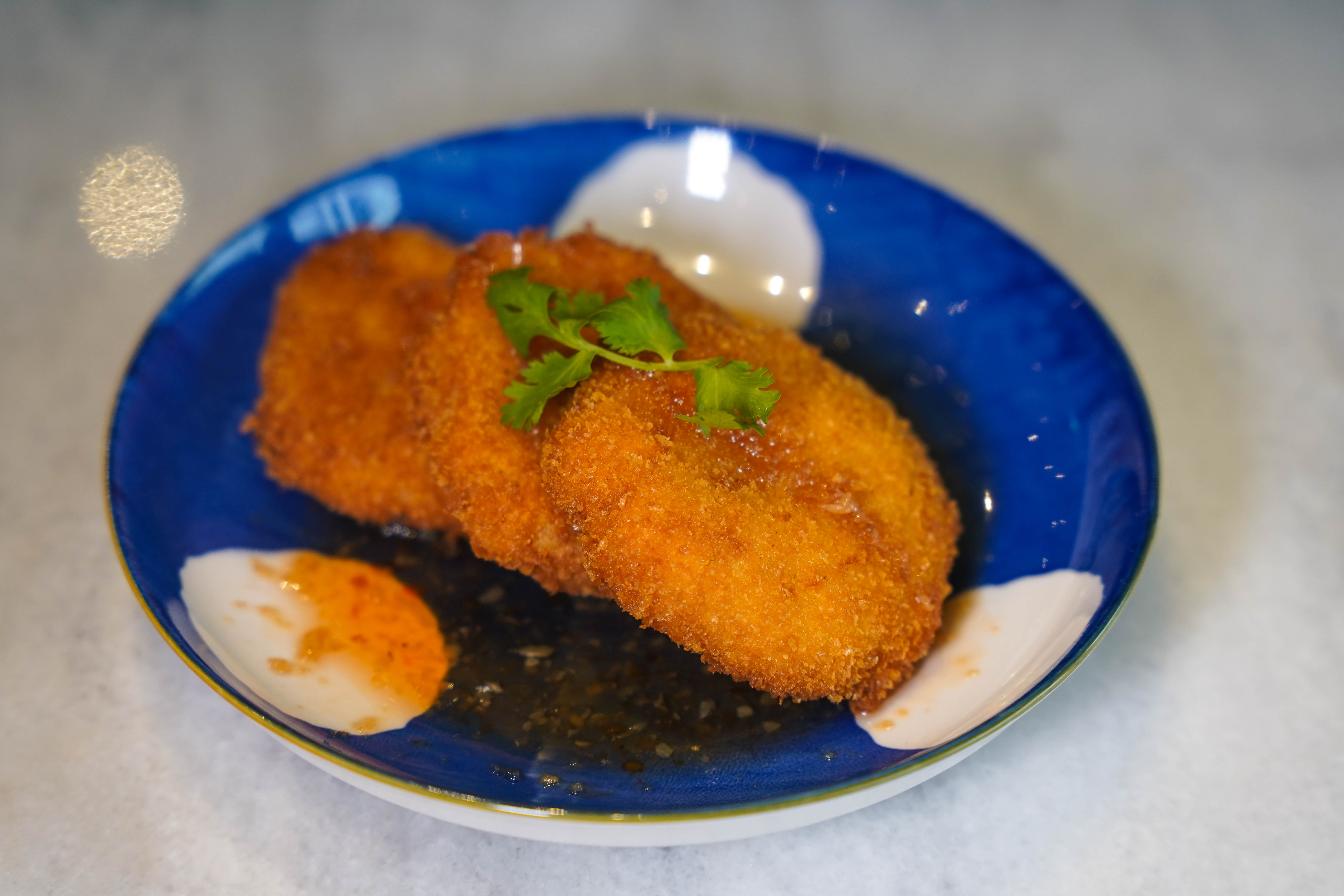 Thai Prawn Cakes (RM24) embody Em Teerak's commitment to shun commercially processed, mass-manufactured food. The kitchen meticulously hand-smashes a mix of tiger prawns and squid to fine-tune this temptation, thick and buoyant with briny subtleties, gently batter-fried. It's a lot of extra work and cost, but the outcome merits the move.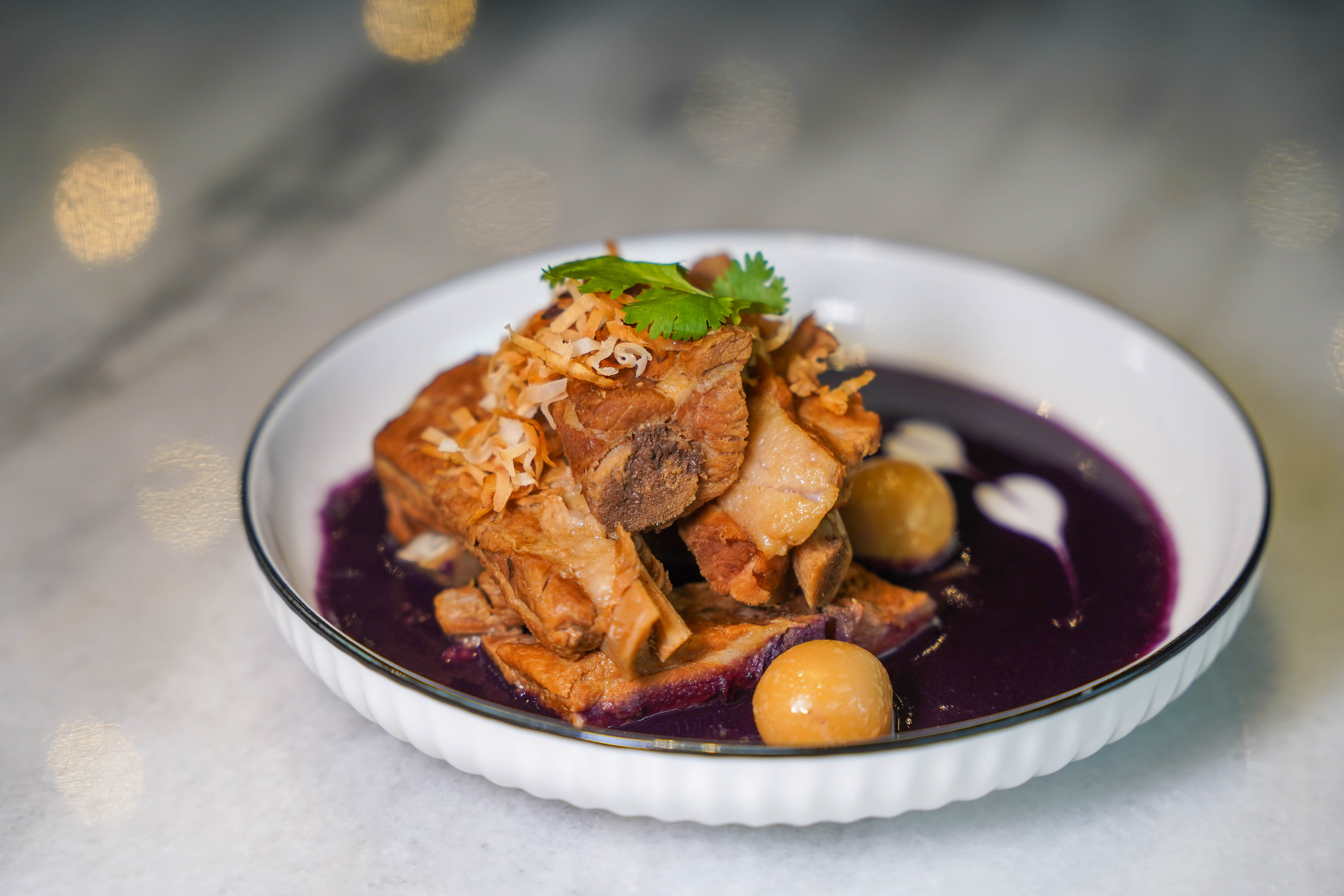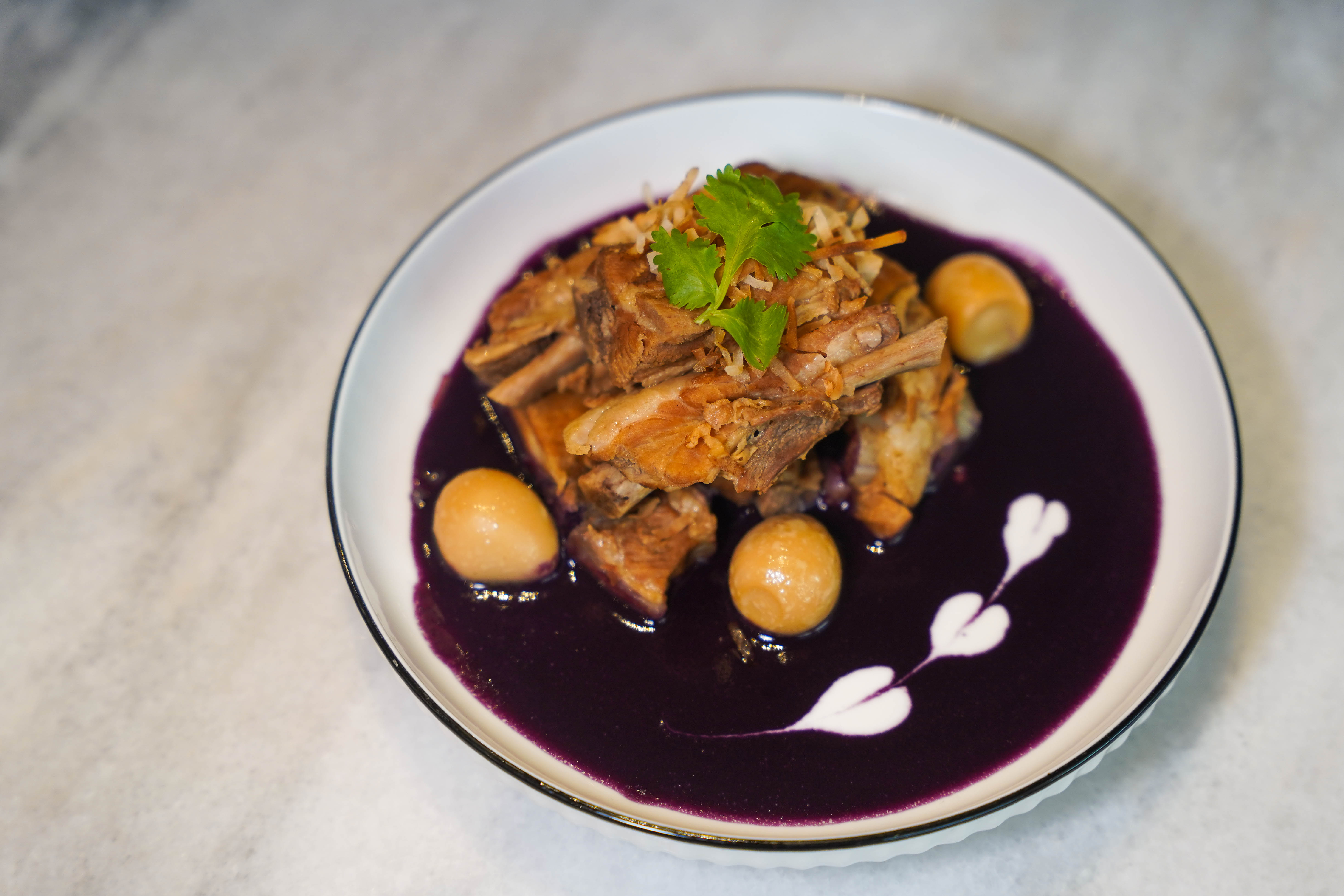 For main courses, the Swimming Swine in Purple Lake (RM45) is a beauty to behold - the most tender Thai-style pork ribs, double-braised first with lemongrass, coriander, ginger and young coconut spices, then with palm sugar, yielding fork-succulent flesh.
This carnivore magnet of chunky meat is laid over lovely sauce that's dark, deep and dense with a duet of Japanese and Indonesian sweet potatoes, earthy and elegantly enhanced with latte-like art, charmingly complete with boiled quail eggs.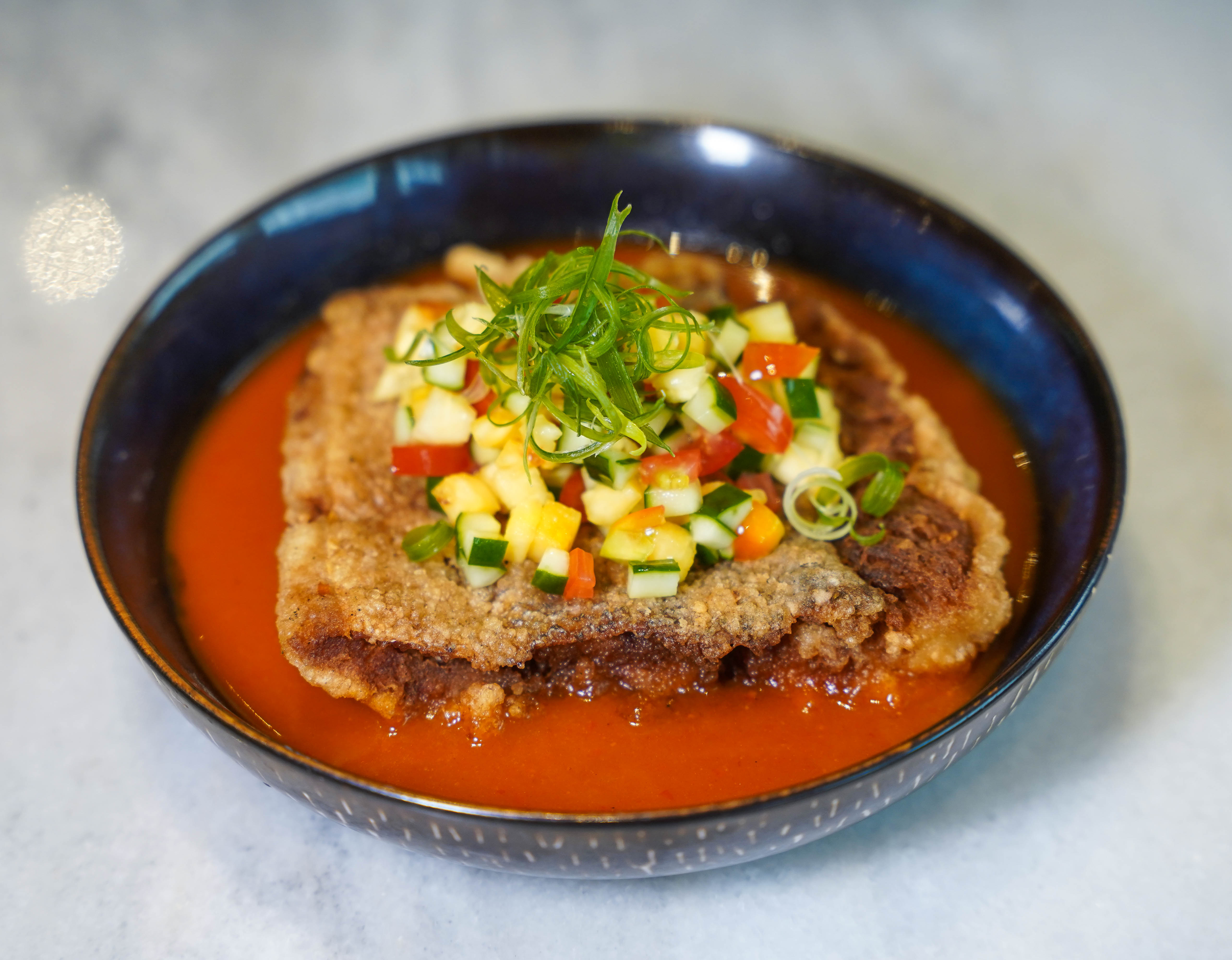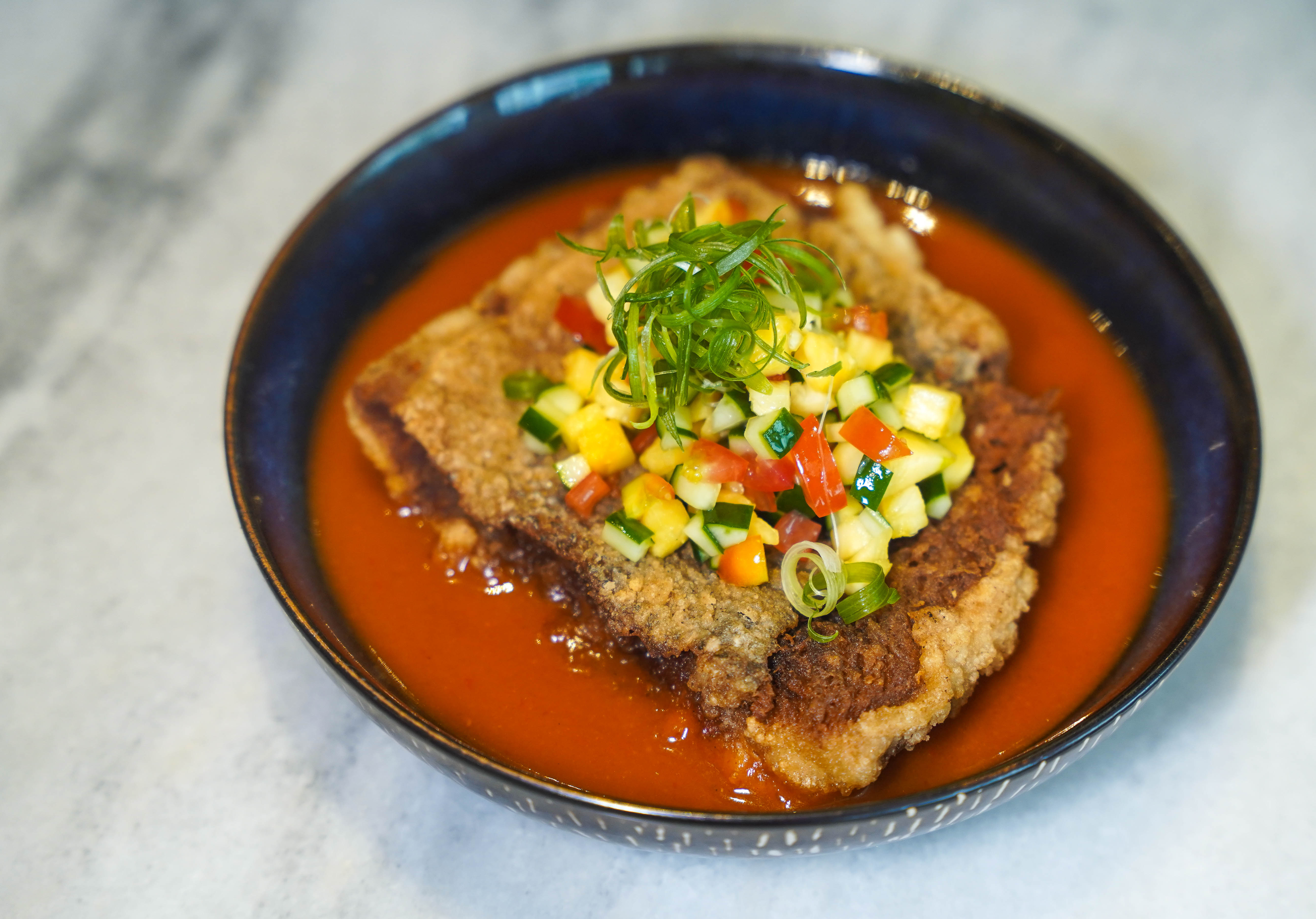 Also alluringly lip-smacking is the Three-Flavour Fried Barramundi Fillet with Fresh Pineapple Salsa (RM45) - the fish proves firm and full-bodied, clean-tasting and crackly-skinned, brightened with sauce and salsa in a sumptuous
synergy of
sweet, sour and spicy, relying on the ripest MD2
pineapples
and cherry tomatoes,
skipping
sugar additives entirely.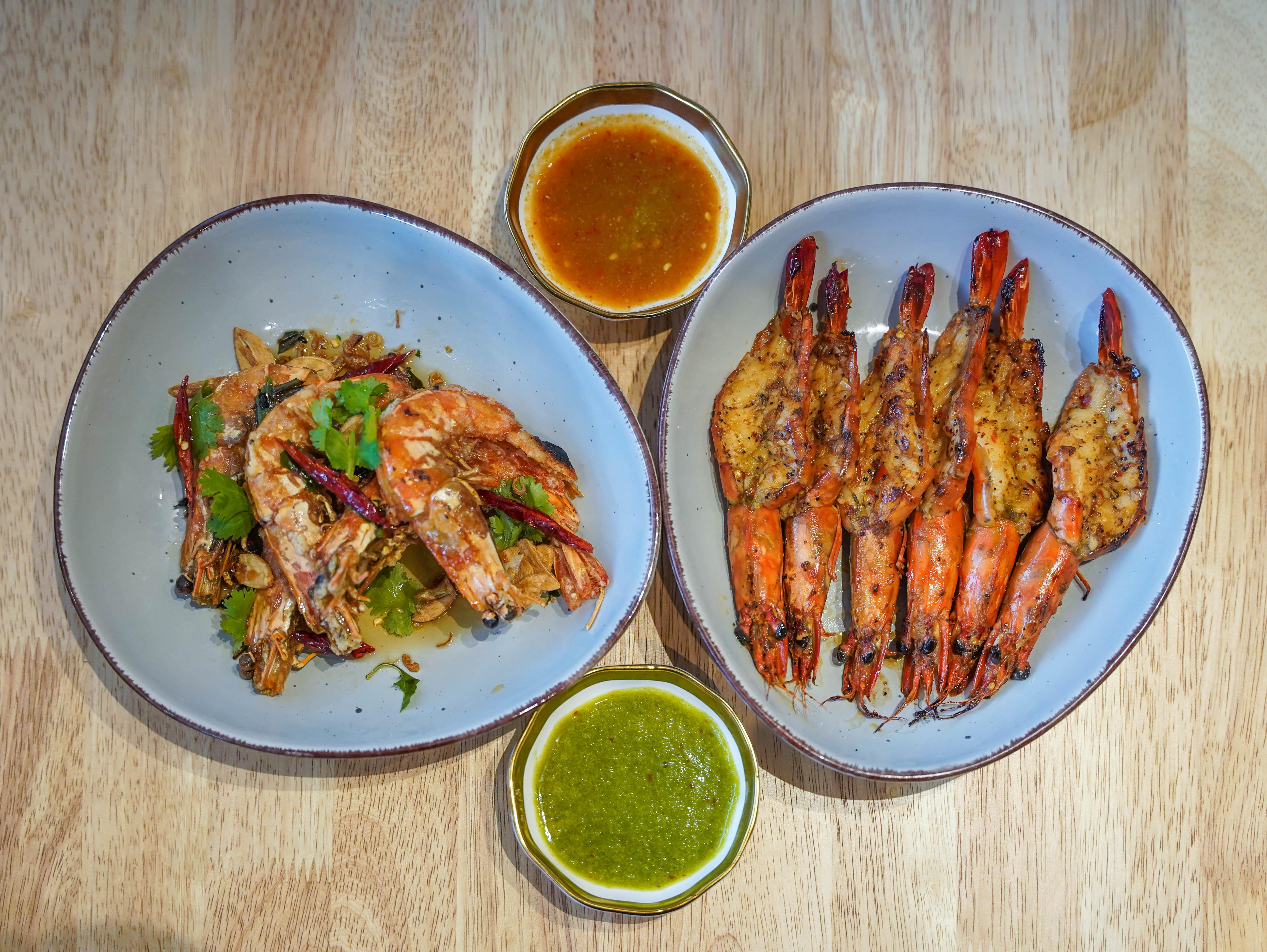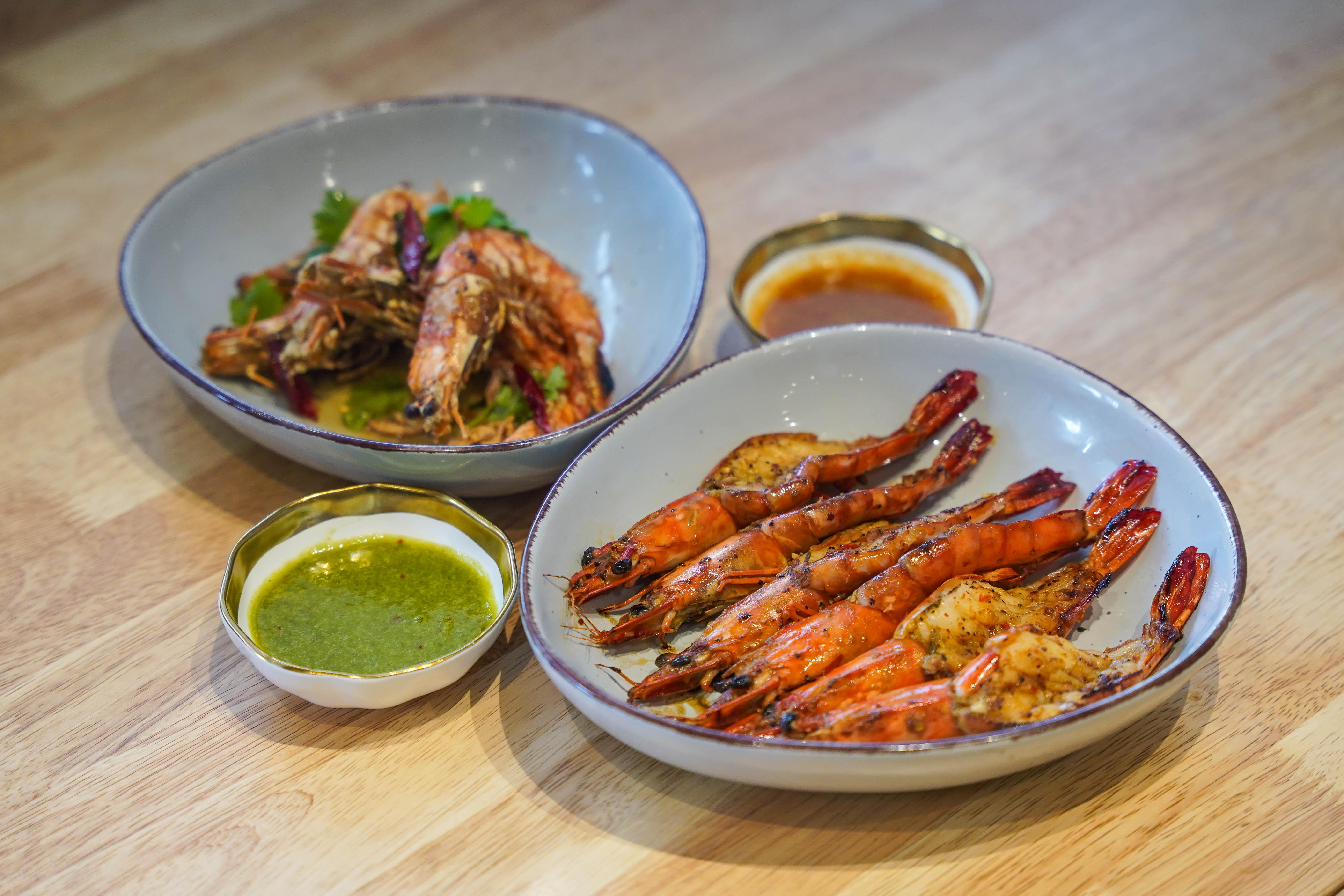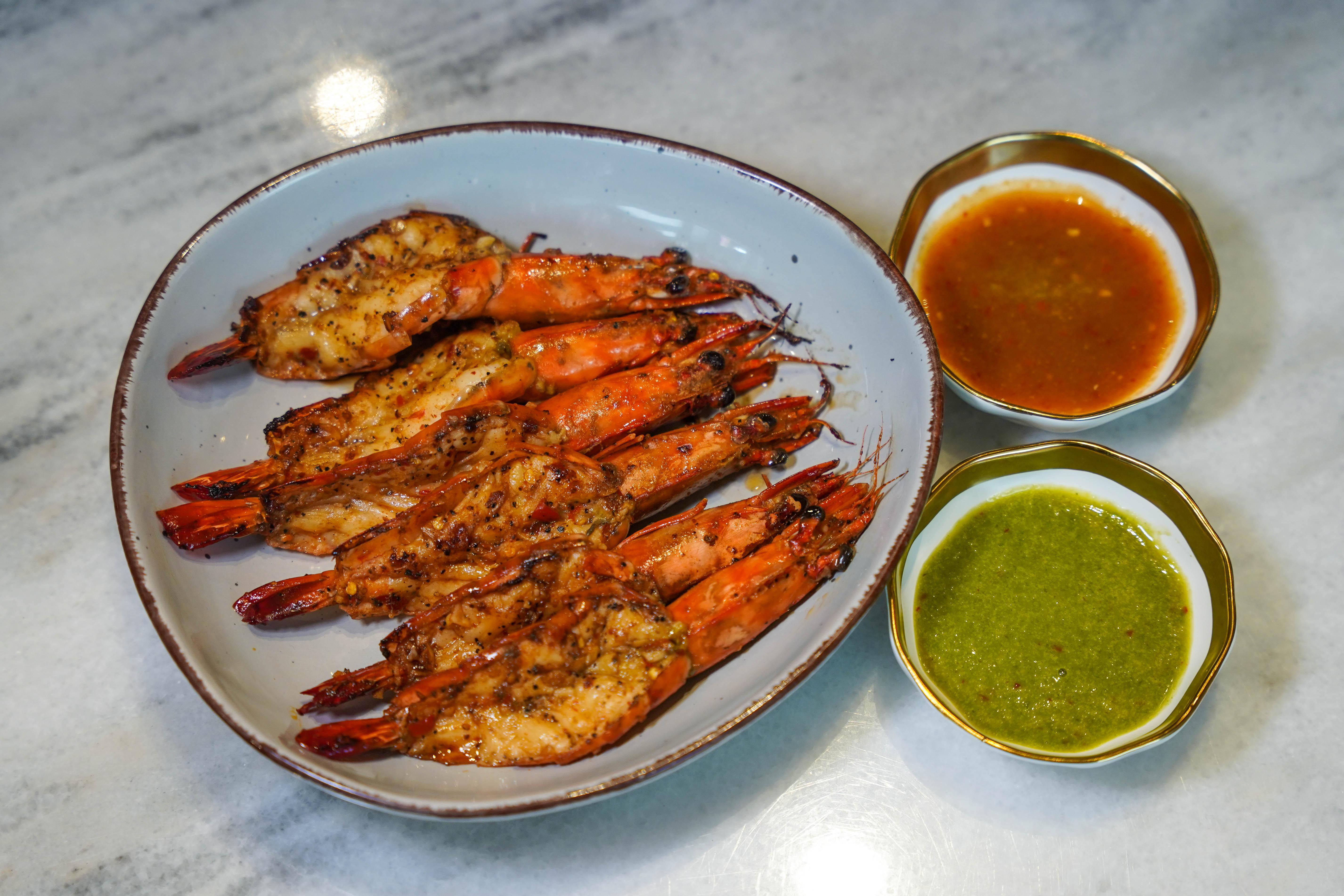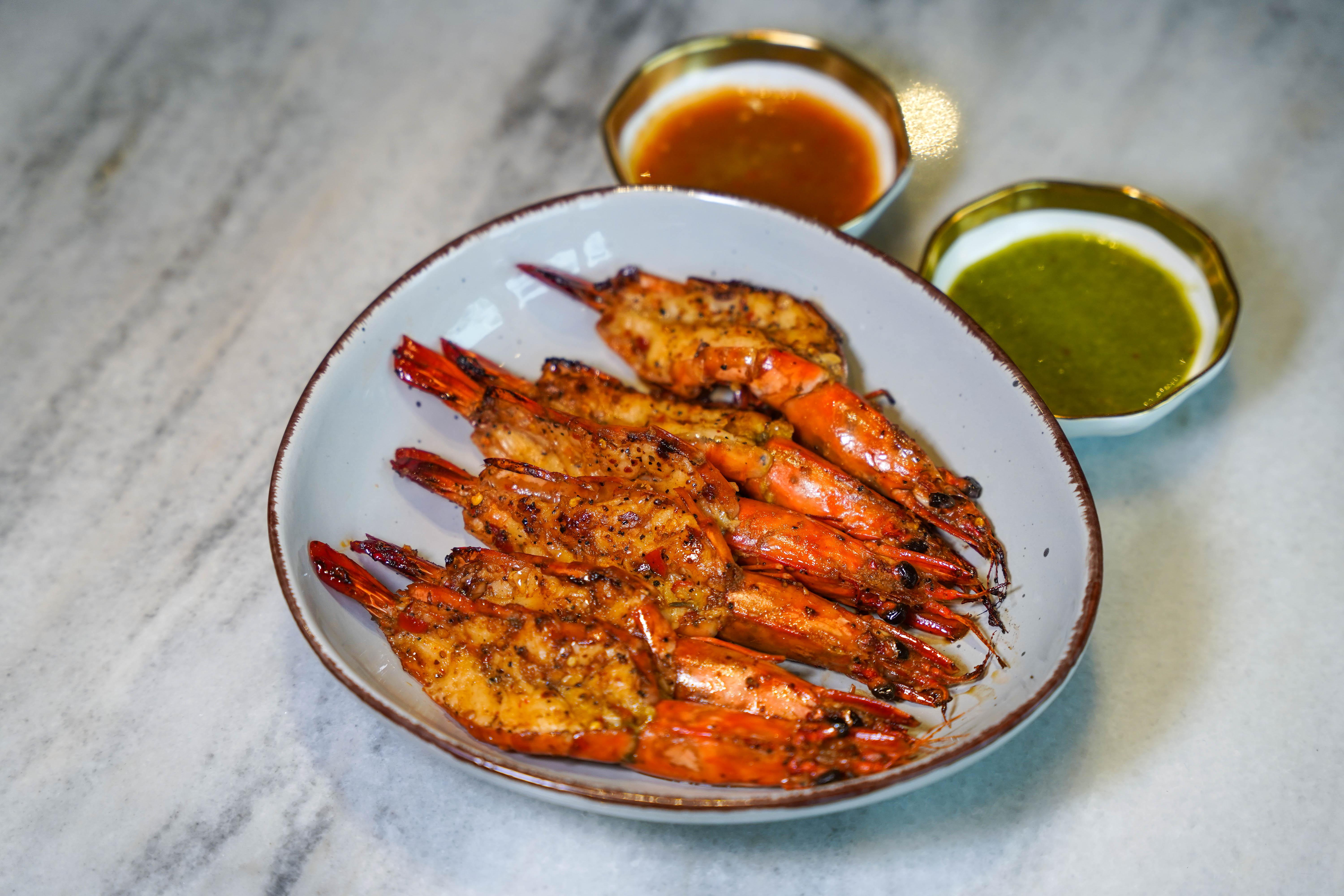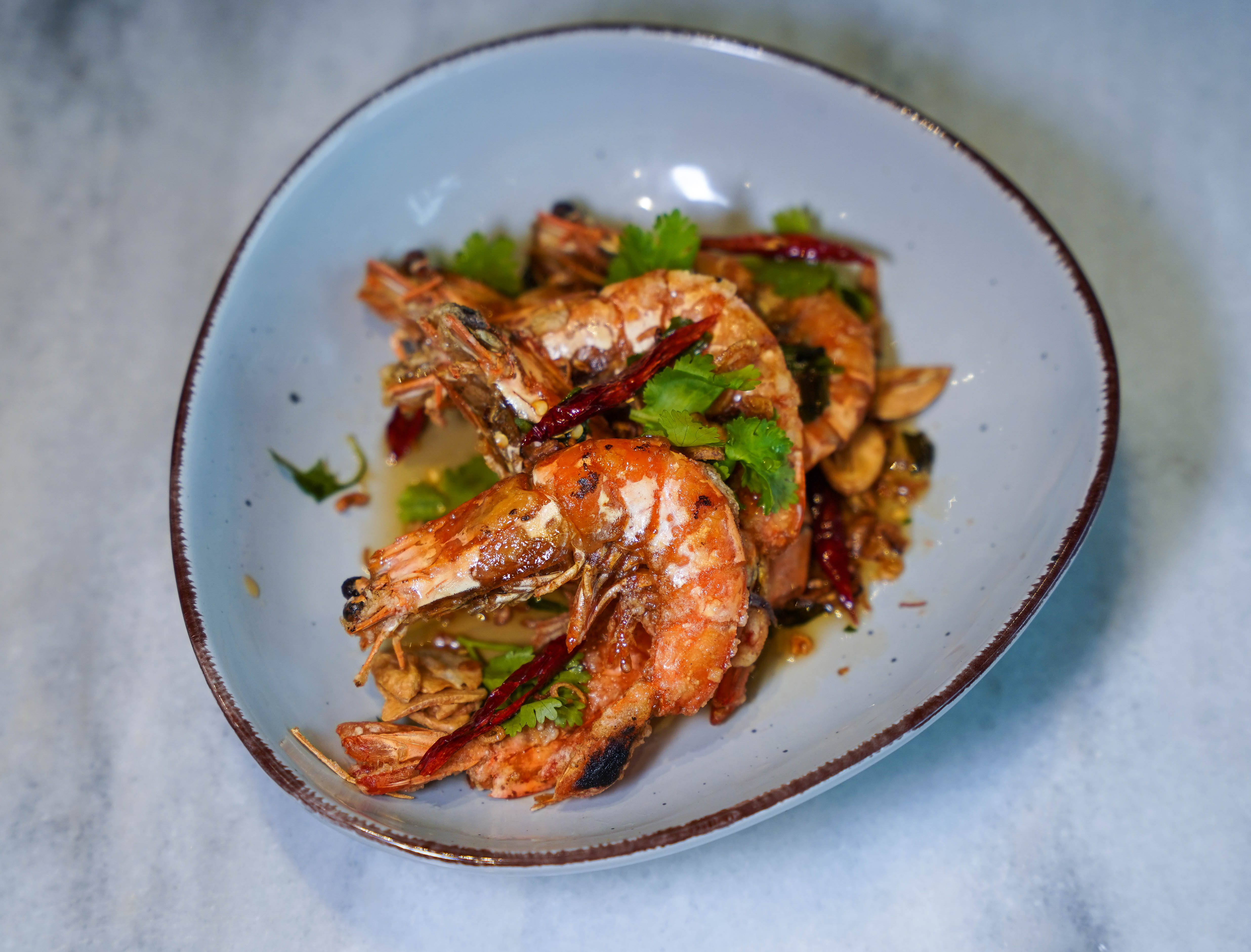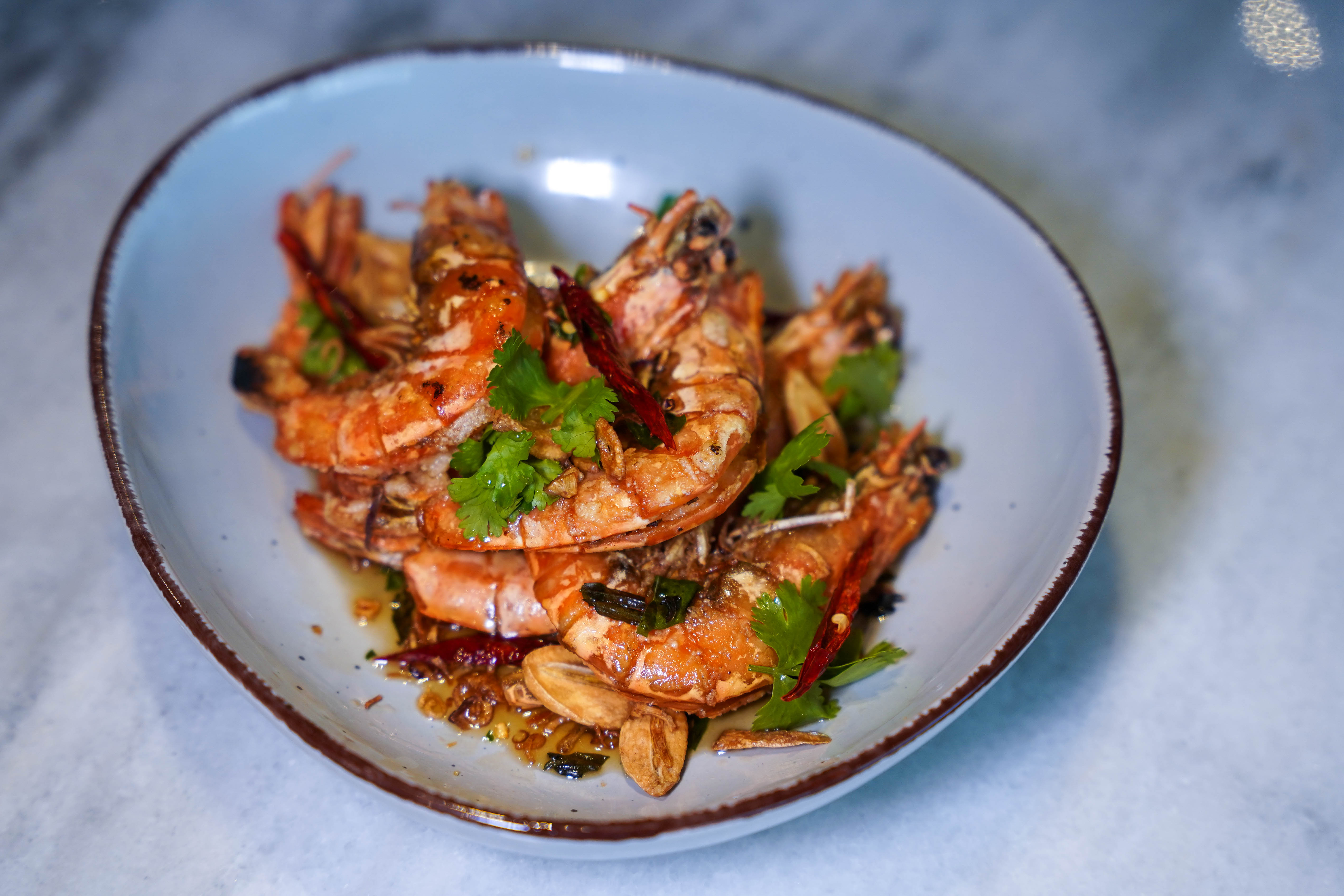 Crustaceans are consistently crave-worthy at Em Teerak - if you must try them all, the triumphant triumvirate is the
Grilled Tiger Prawns (RM35 for five XL size prawns, RM88 for XXXXL size prawns),
Tamarind Tiger Prawns (RM35 for XL size prawns, RM88 for XXXXL size prawns) and
Royal Sauce Fried King Prawns (RM88), featuring
probiotic-farmed prawns.
The gorgeously grilled prawns, plump and succulent, come coupled with two engaging seafood sauces - a red Thai mookata sauce that's upliftingly zesty with fresh Aussie limes and lemon, alongside a green Vietnamese sauce with apple-evoking zip and zing.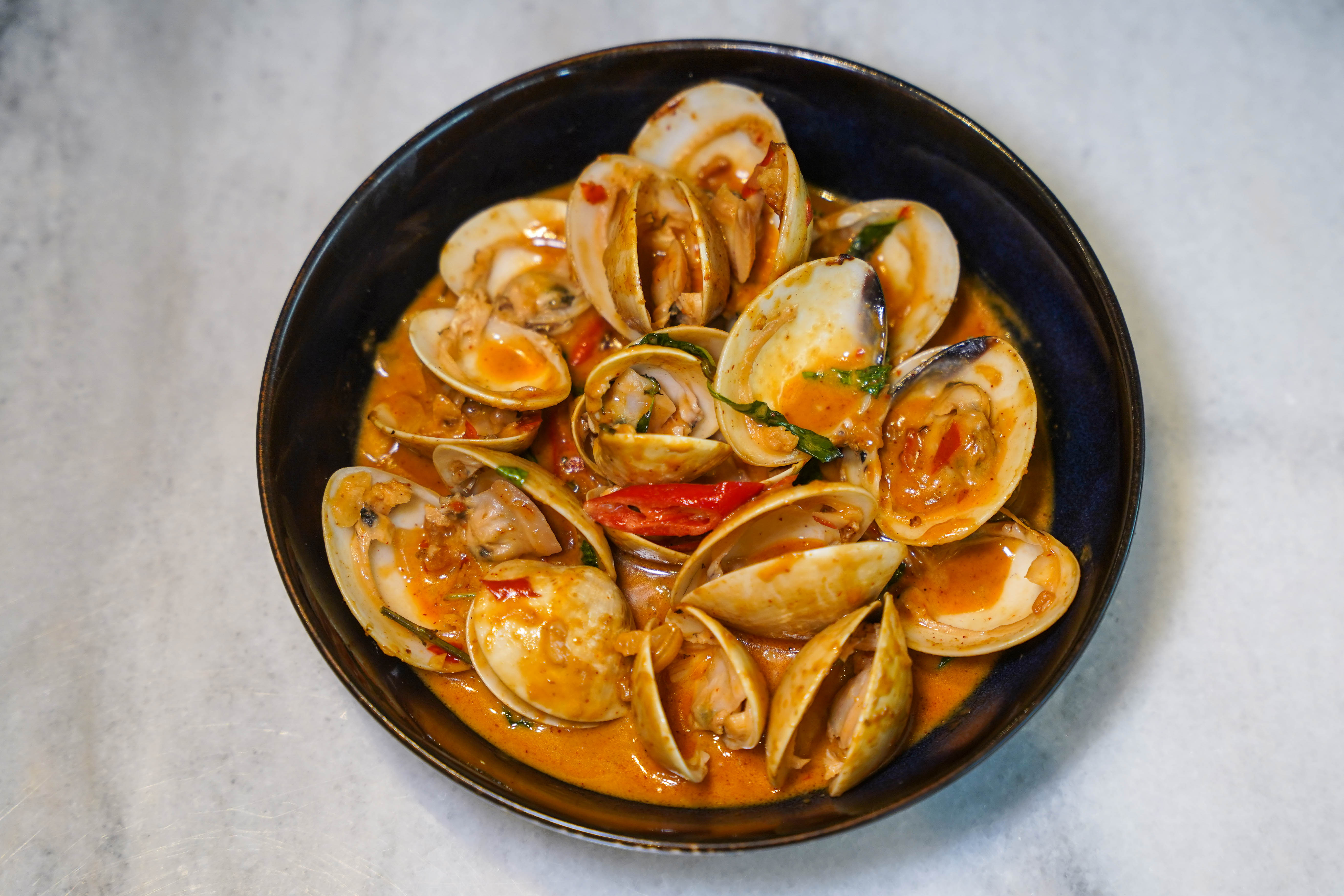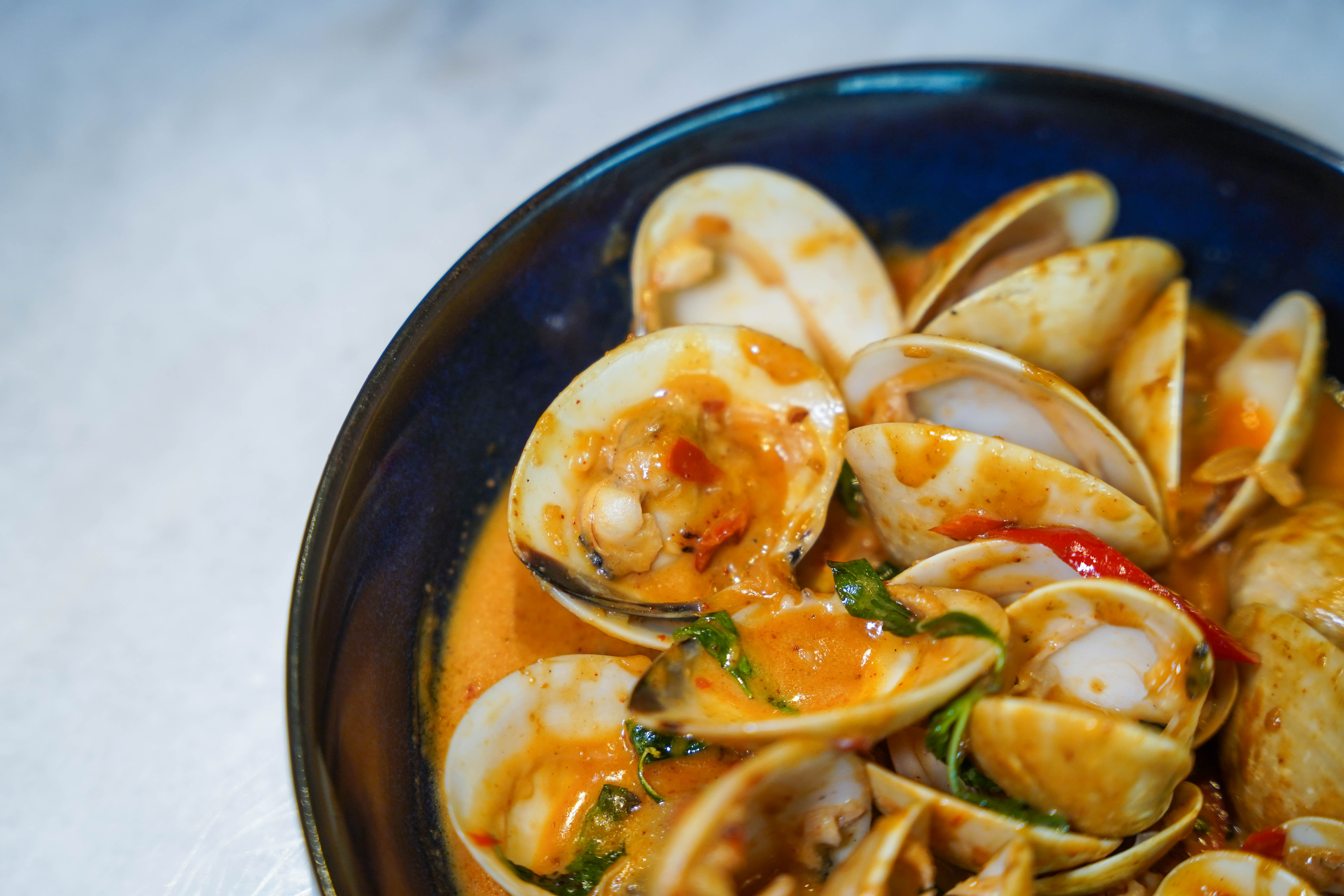 Prawns and clams can also be ordered in Em Teerak's latest Royal Sauce - the Royal Sauce Fried Clams (RM35) spotlights stir-fried Japanese clams in an appetising orange-hued sauce that accentuates the lusciousness of the clams without overpowering them with spicy fieriness.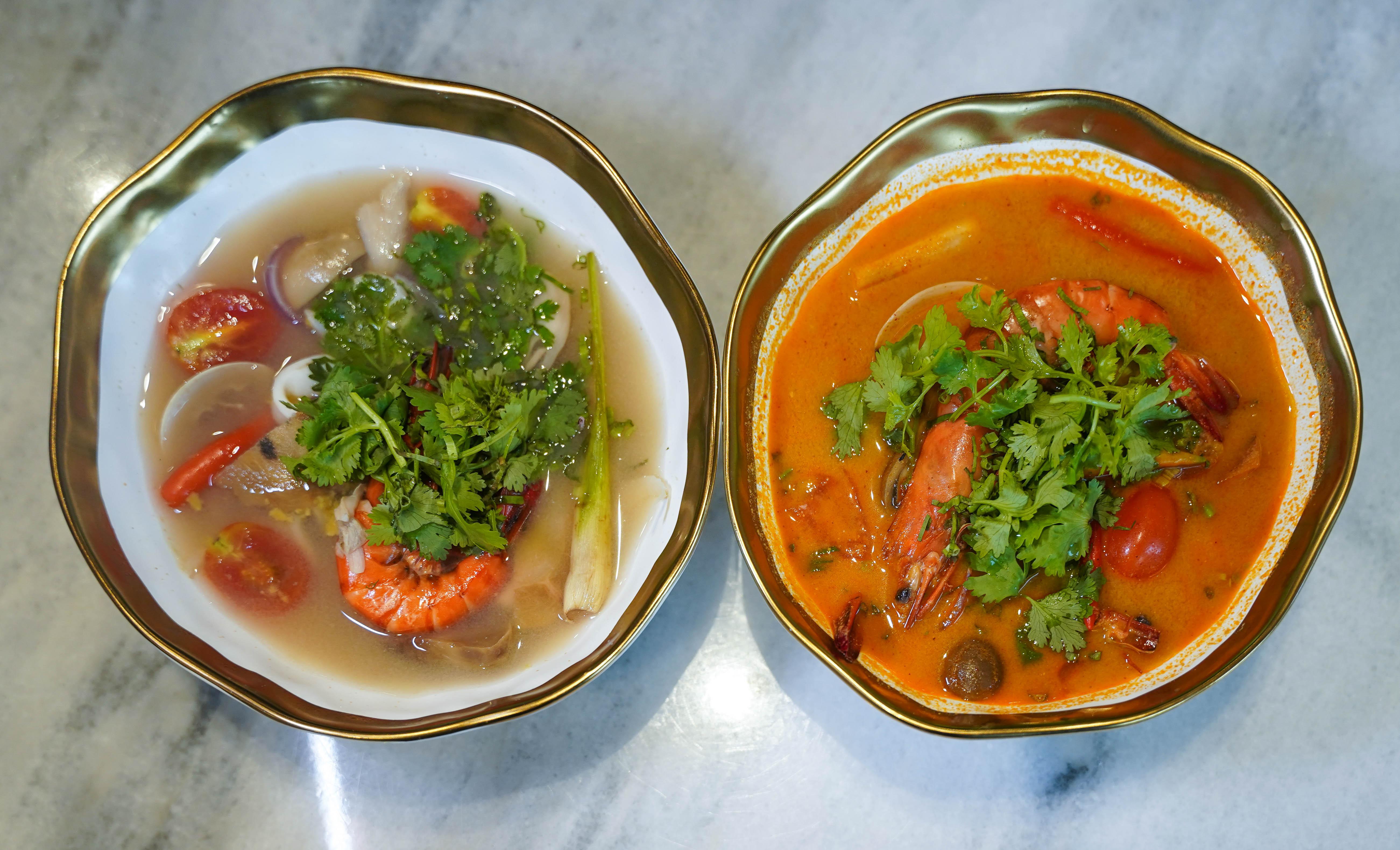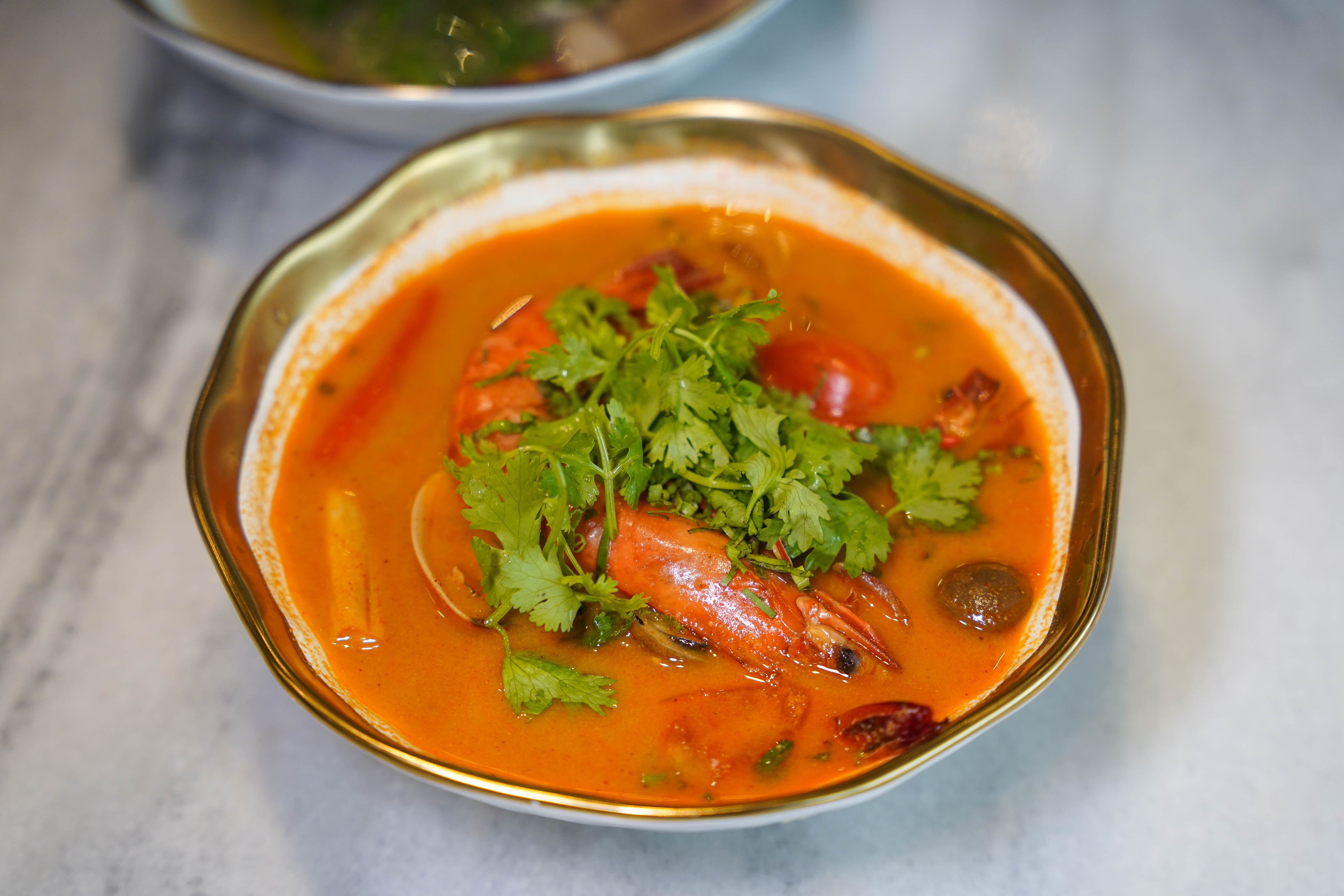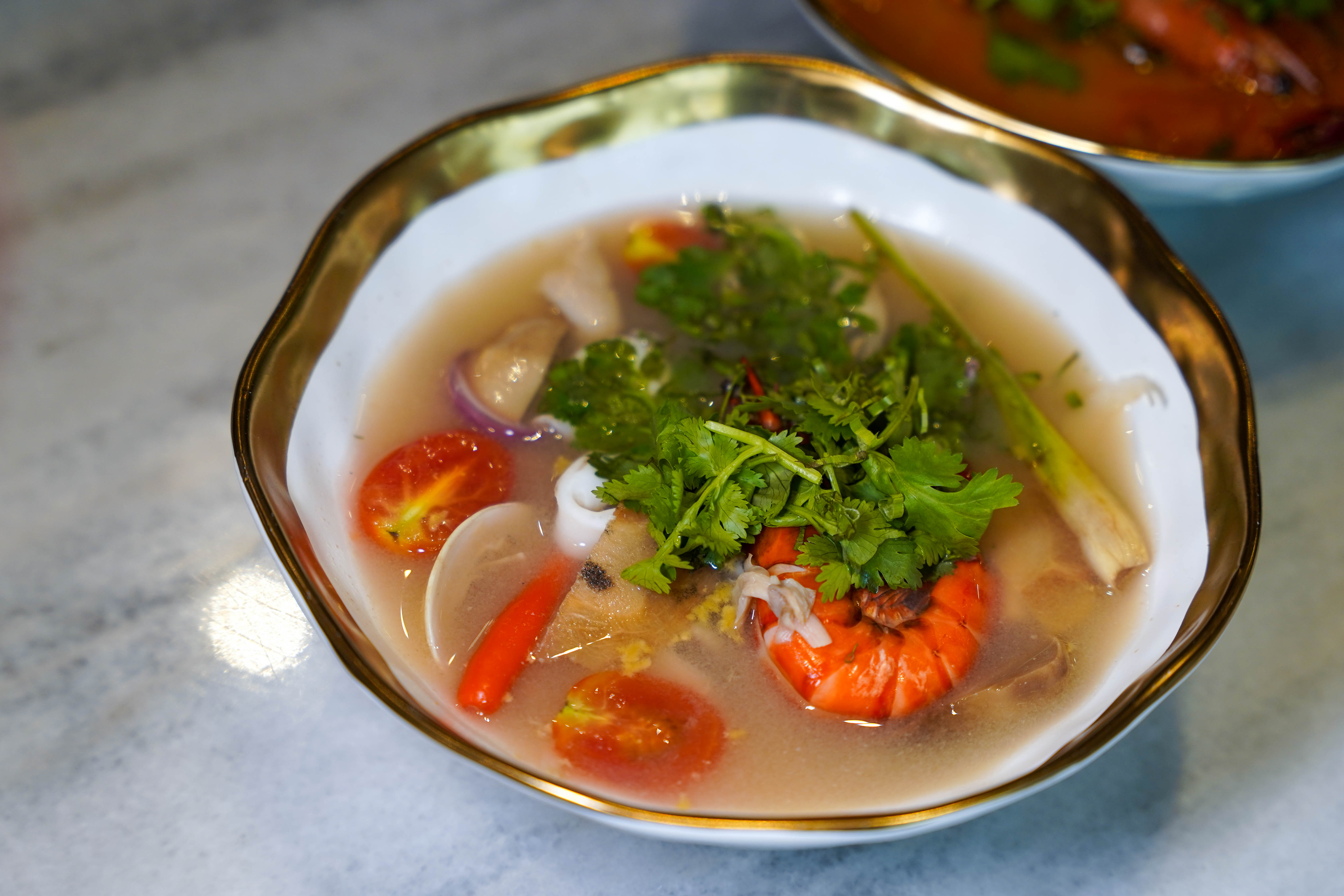 Tom yum enthusiasts have two to try: The
Red Tom Yum Seafood Soup (RM20 for smaller serving, RM39 for large) and
Clear Tom Yum Seafood Soup (RM20 small, RM39 large), each with its own fanbase, both with made-from-scratch stocks instead of supermarket pastes.
The crimson tom yum channels the sultriness of Bangkok - it's convincingly rich and tangy but not too creamy or cloying,
satisfying the starving spirit on stormy evenings.
The clear tom yum is comparatively more sourish but even lighter-textured, lavishly aromatic with herbs and spices, easy to polish off to the final spoonful without feeling overloaded.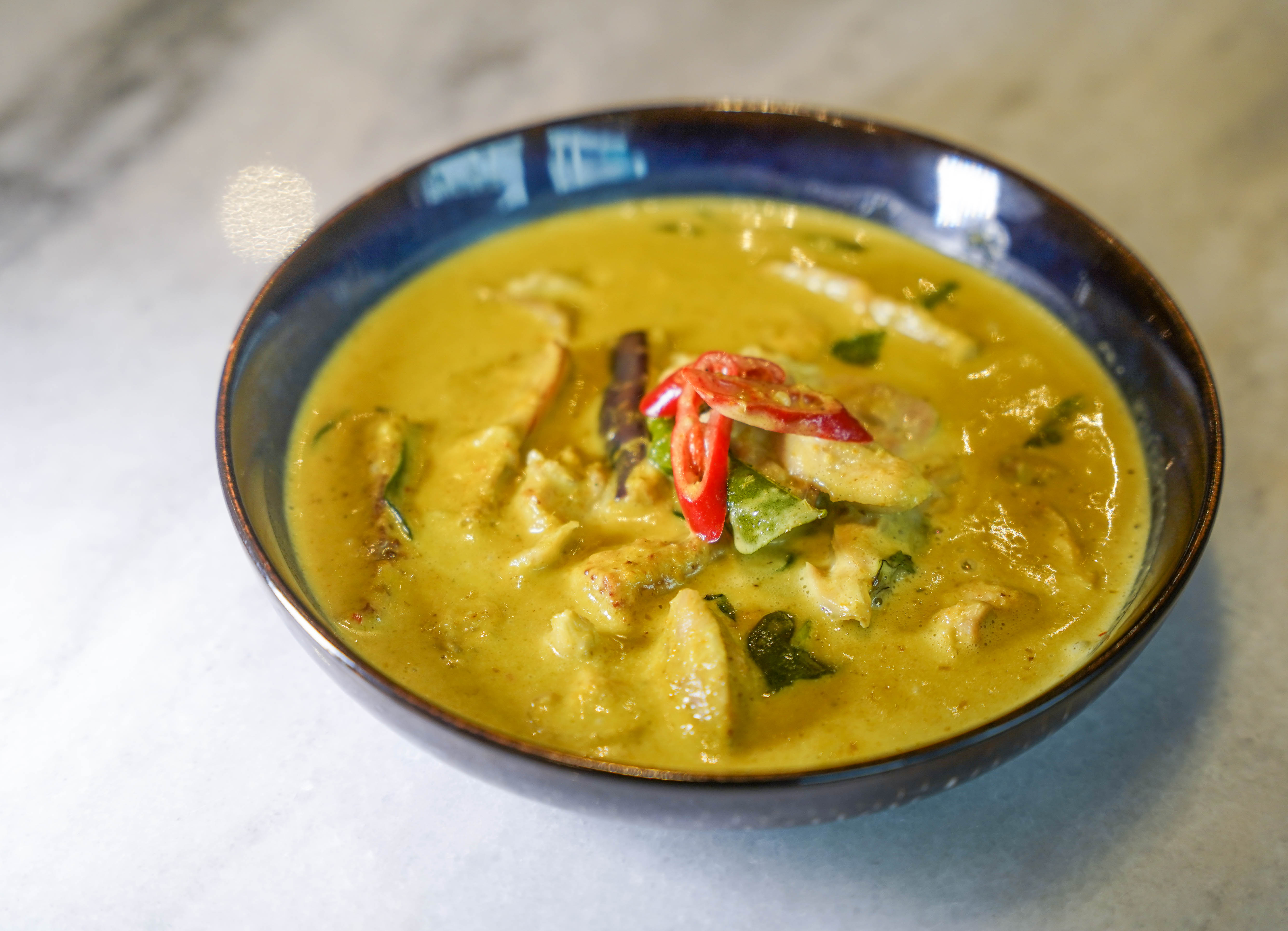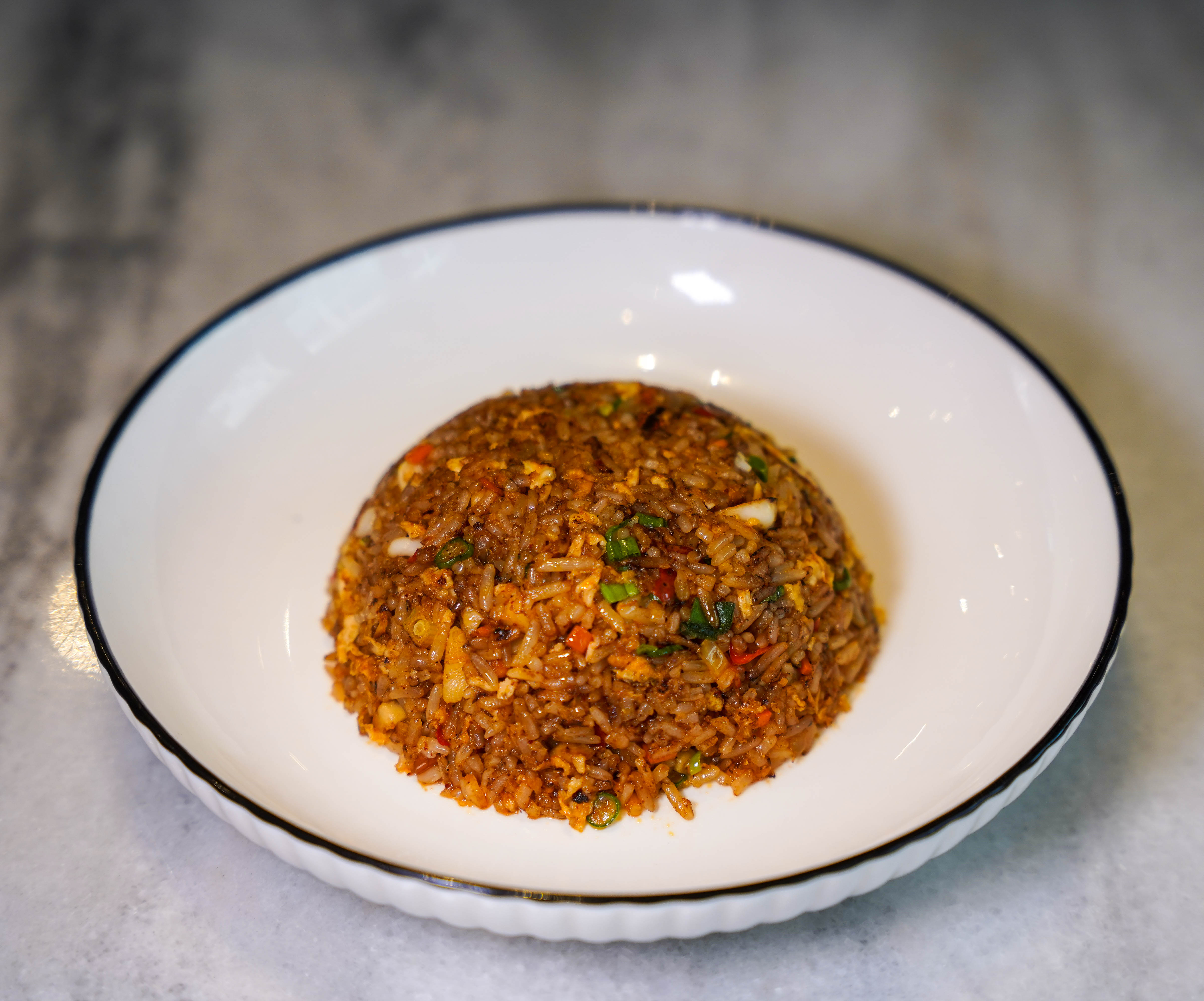 Em Teerak also does justice to essentials like the perennially popular
Green Curry Chicken Thigh, sweetish and
santan-saturated, bursting with free-range boneless thigh meat
(RM25), and the
Em Teerak Signature Spicy Seafood Fried Rice, crafted with
the eatery's
own chilli paste that's reminiscent of tom yum
(RM15).
The
restaurant
takes pride in everything from its kitchen - other flagship offerings include the menu headliner of Pad Kra
Pao Moo, stir-fried minced pork with just the right ratio of holy and sweet basil with fragrant Indian-origin garlic, showered over smooth scrambled kampung eggs and a special selection of chillies.
Fun fact: Em Teerak ensures its chefs can cook with conviction - for example, none of them consume beef in their everyday lives, so that's not on the menu here.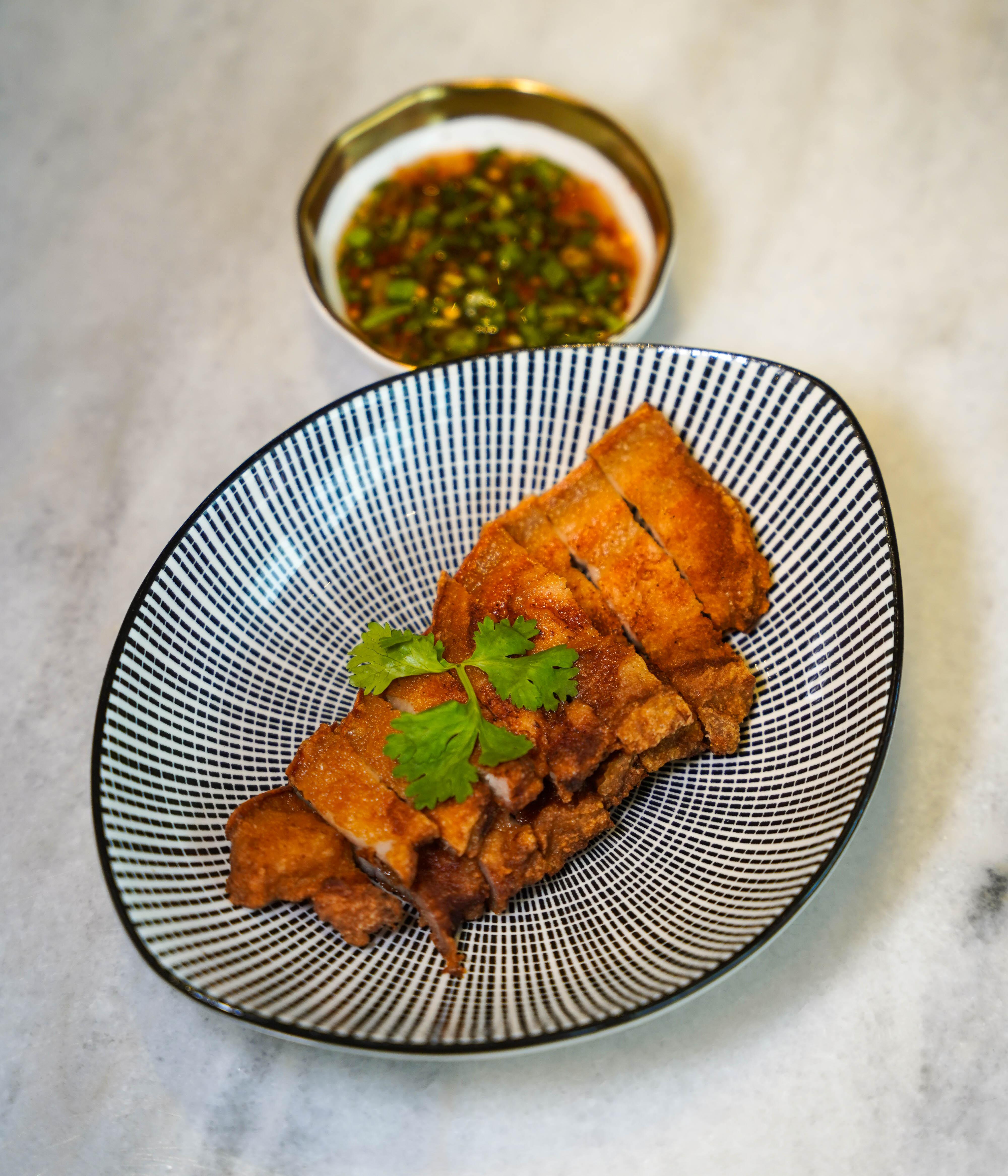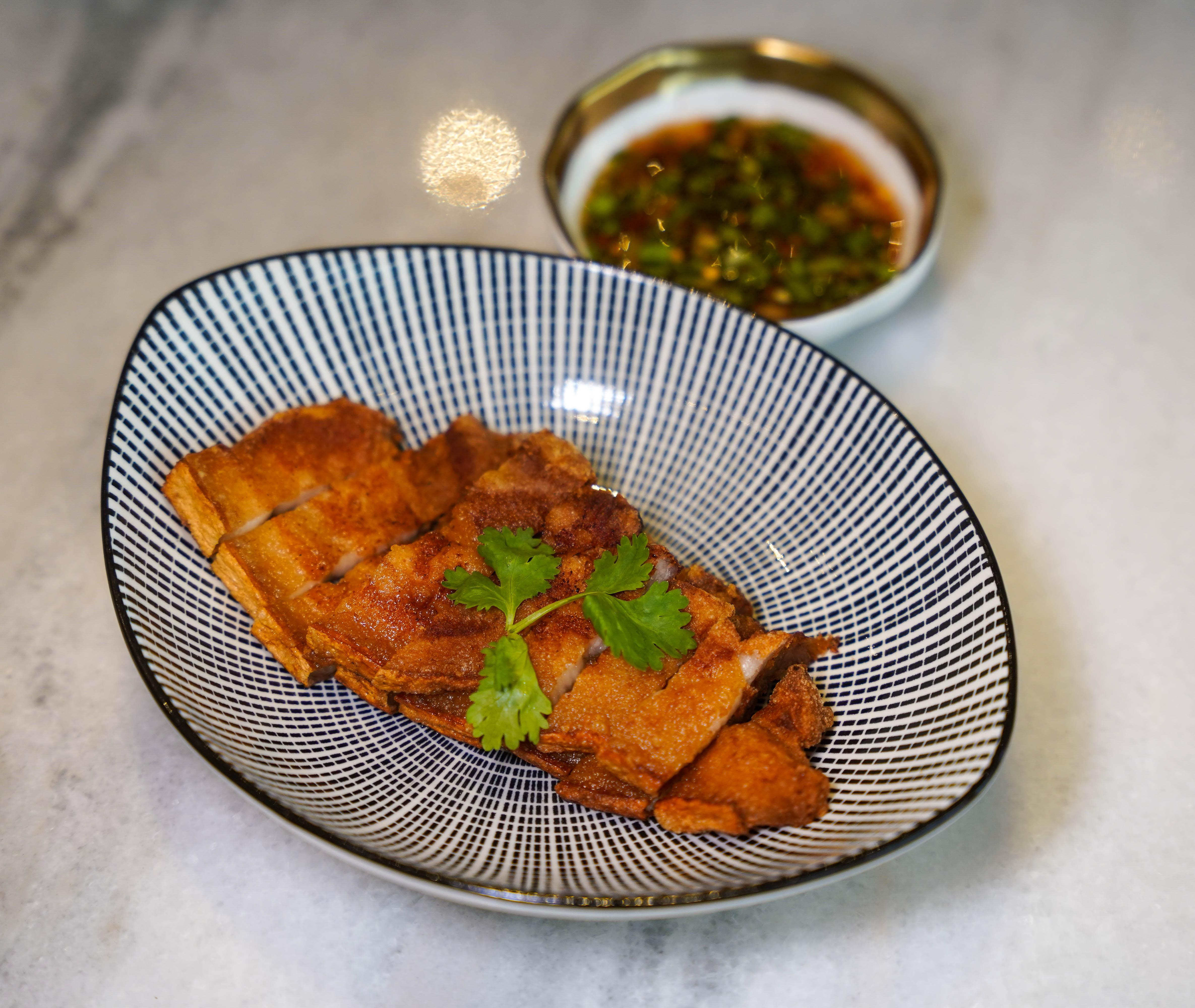 One more pork pleasure for the road: The Crispy Fried Pork Belly (RM20) takes us straight to hog heaven, with marvellously marinated meat that's perfectly paired with Thai herb sauce.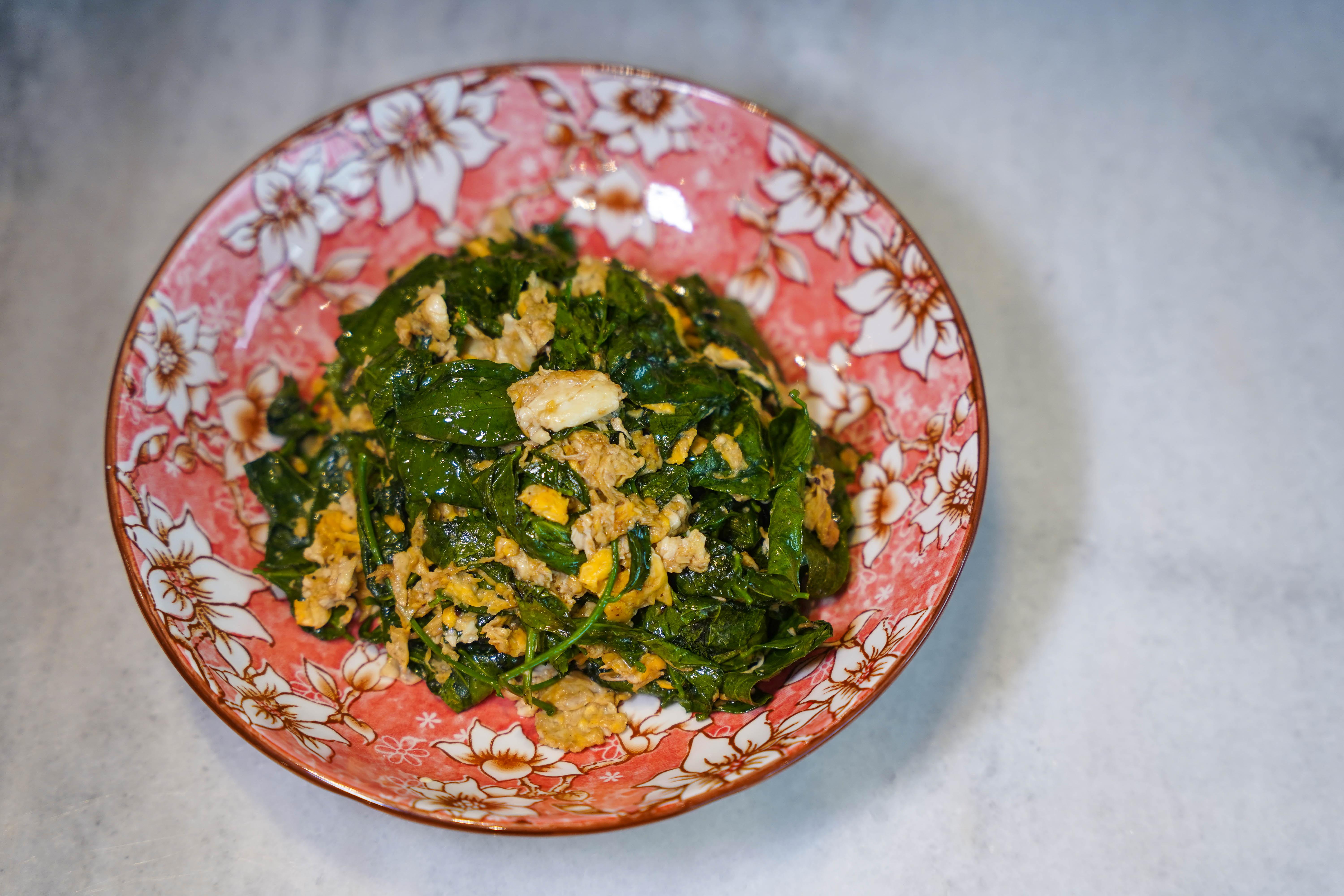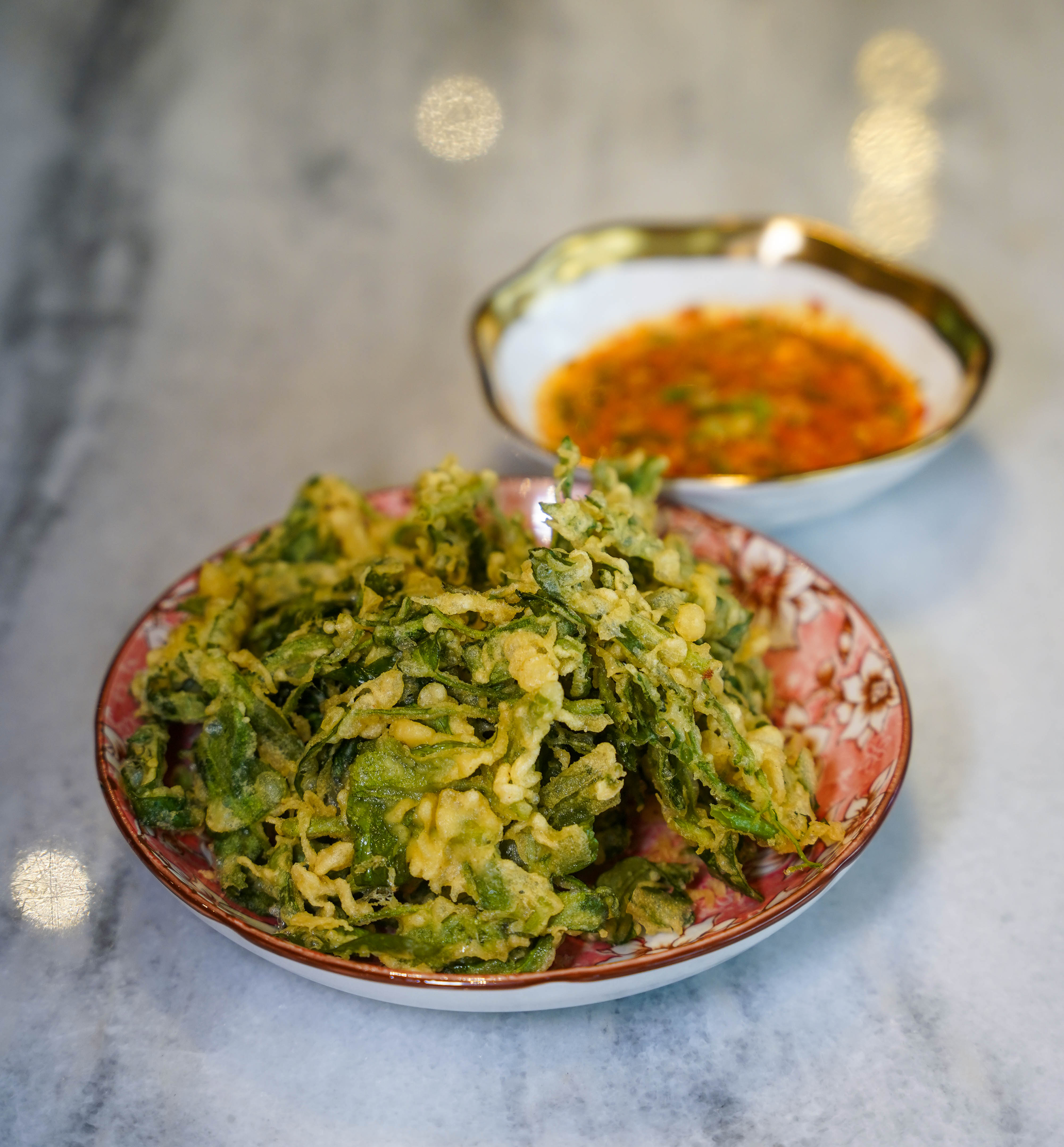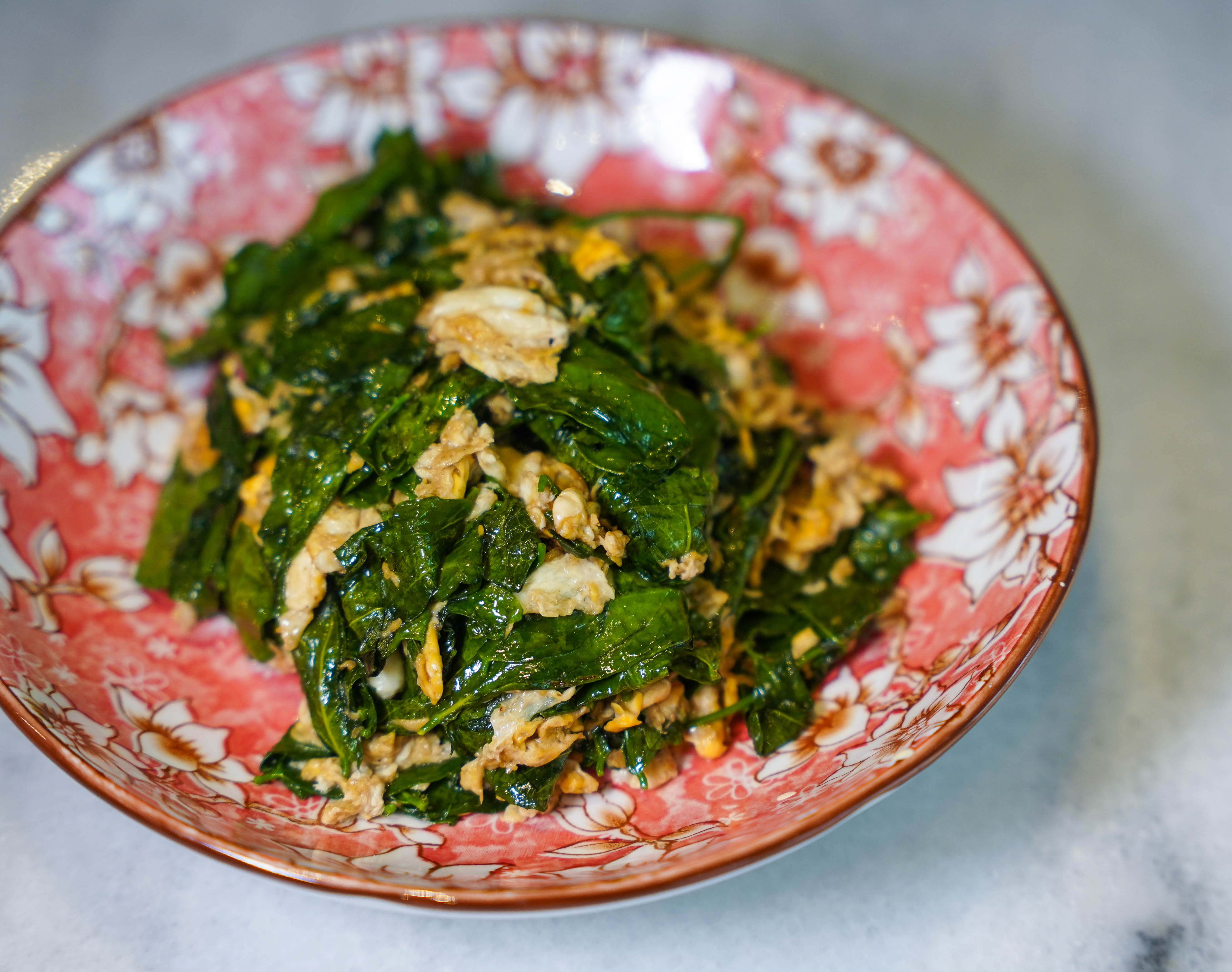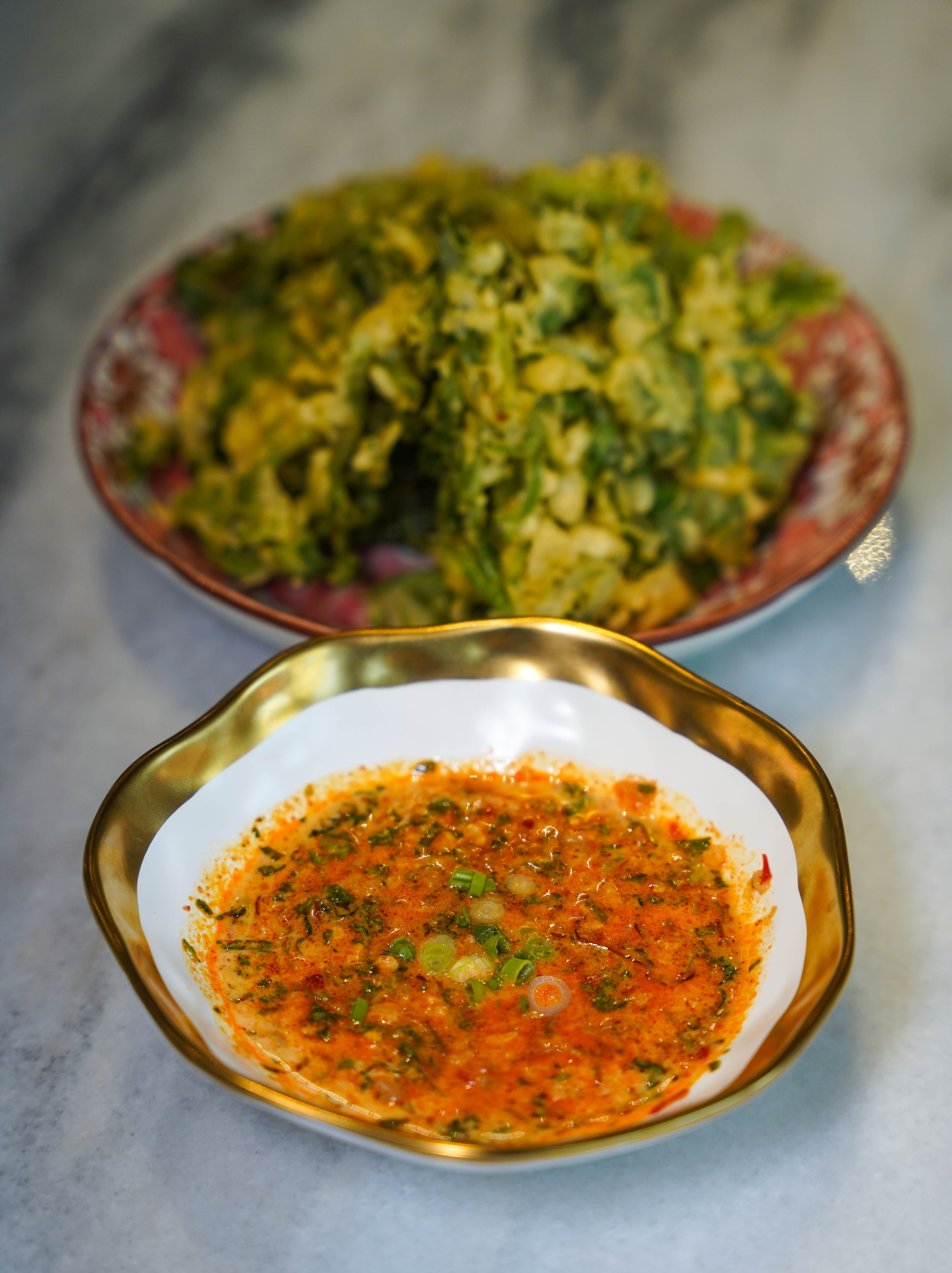 Vegetables aren't neglected - Em Teerak makes memorable work of mani cai, Sweet Leaves in an authentic Thai preparation that reminds Kenny of his grandmother, scrumptiously stir-fried with scrambled kampung eggs and pork lard (RM20), and Fried Crispy Water Spinach, coated in fluffy
tempura-style
custard flour, fun to dip and dunk in seafood sauce (RM20).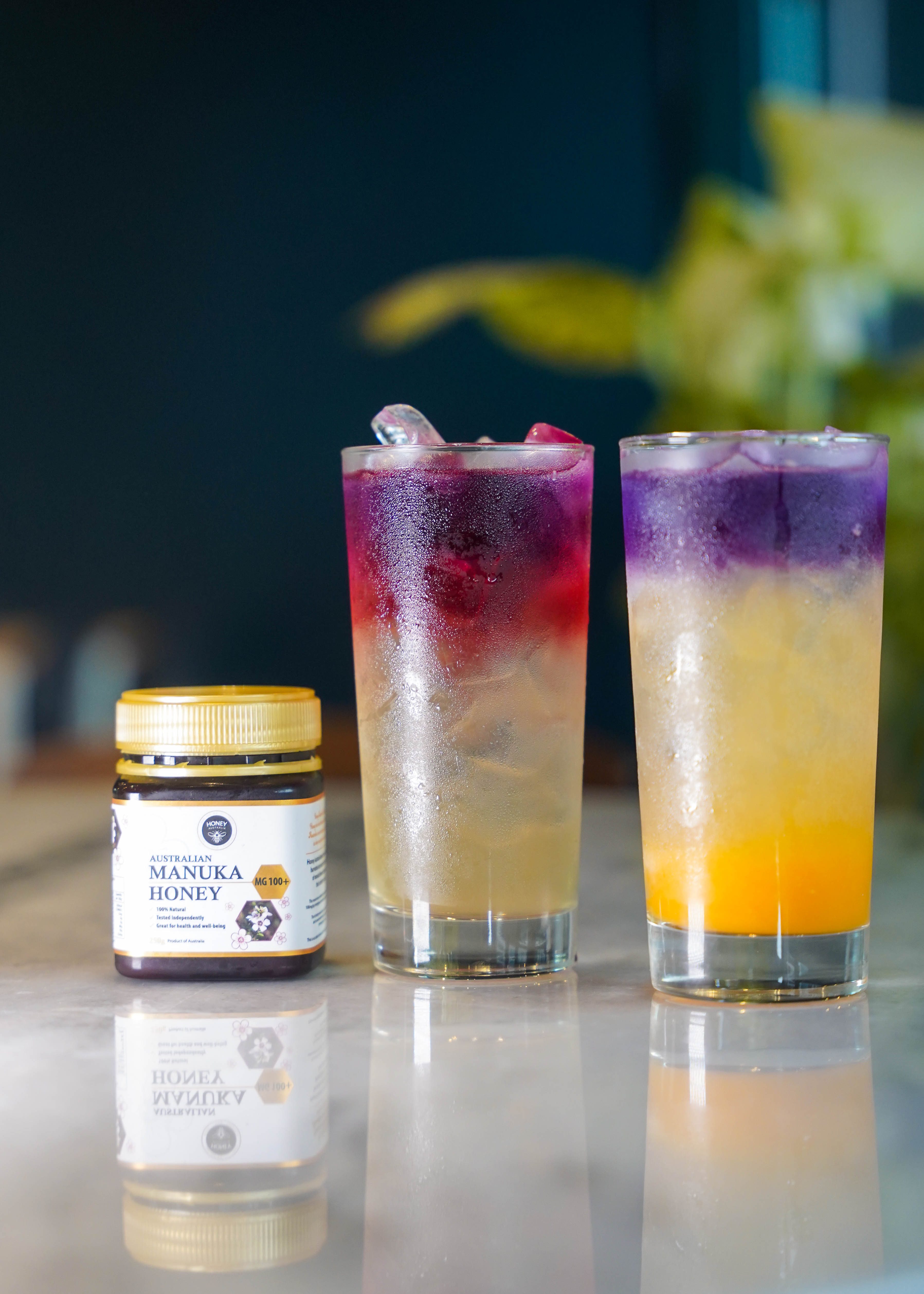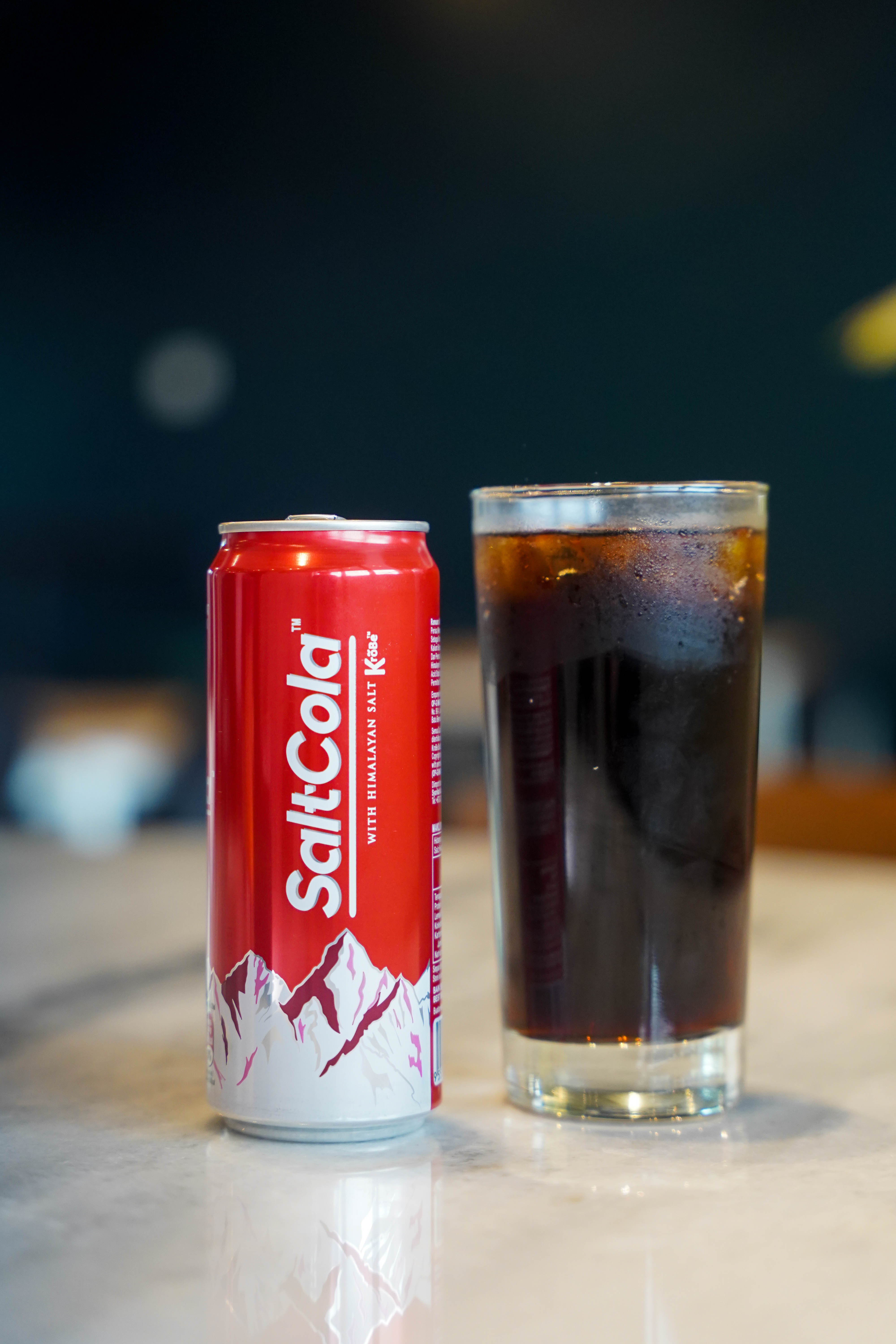 Beverages bring a splash of cheer to the table -
My Em Teerak is a
mild palate-cleanser, layered with Manuka honey (which, coincidentally, is
also used to sweeten Em Teerak's moo ping skewers),
butterfly pea and hibiscus, free of syrups and sweeteners
(RM13);
Sour Passion is perky, puckered up with p
assionfruit, calamansi, asam boi, Manuka honey and butterfly pea
(RM13); and the
Himalayan Salt Coke is a cool quencher that's offered in lunch sets (RM4).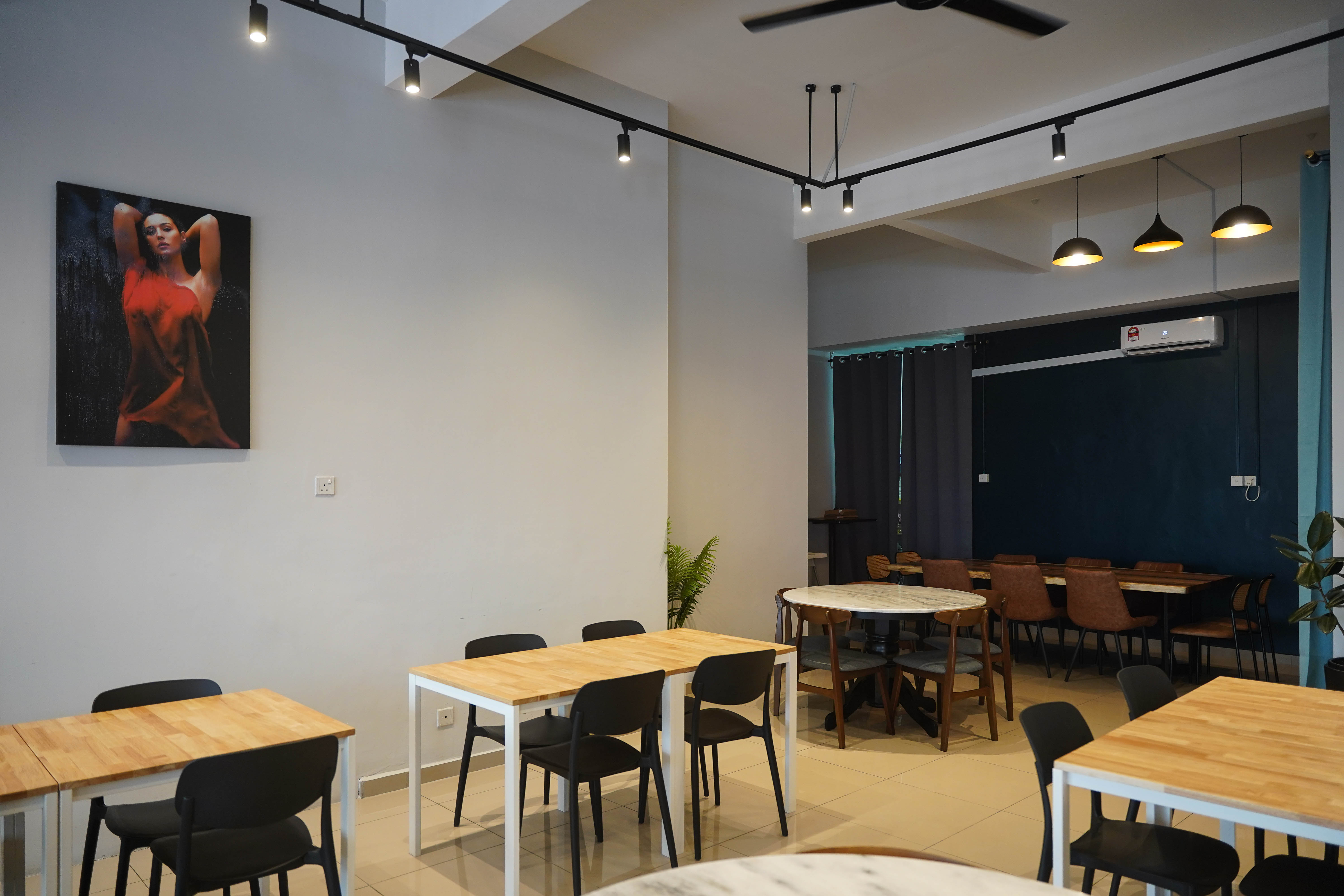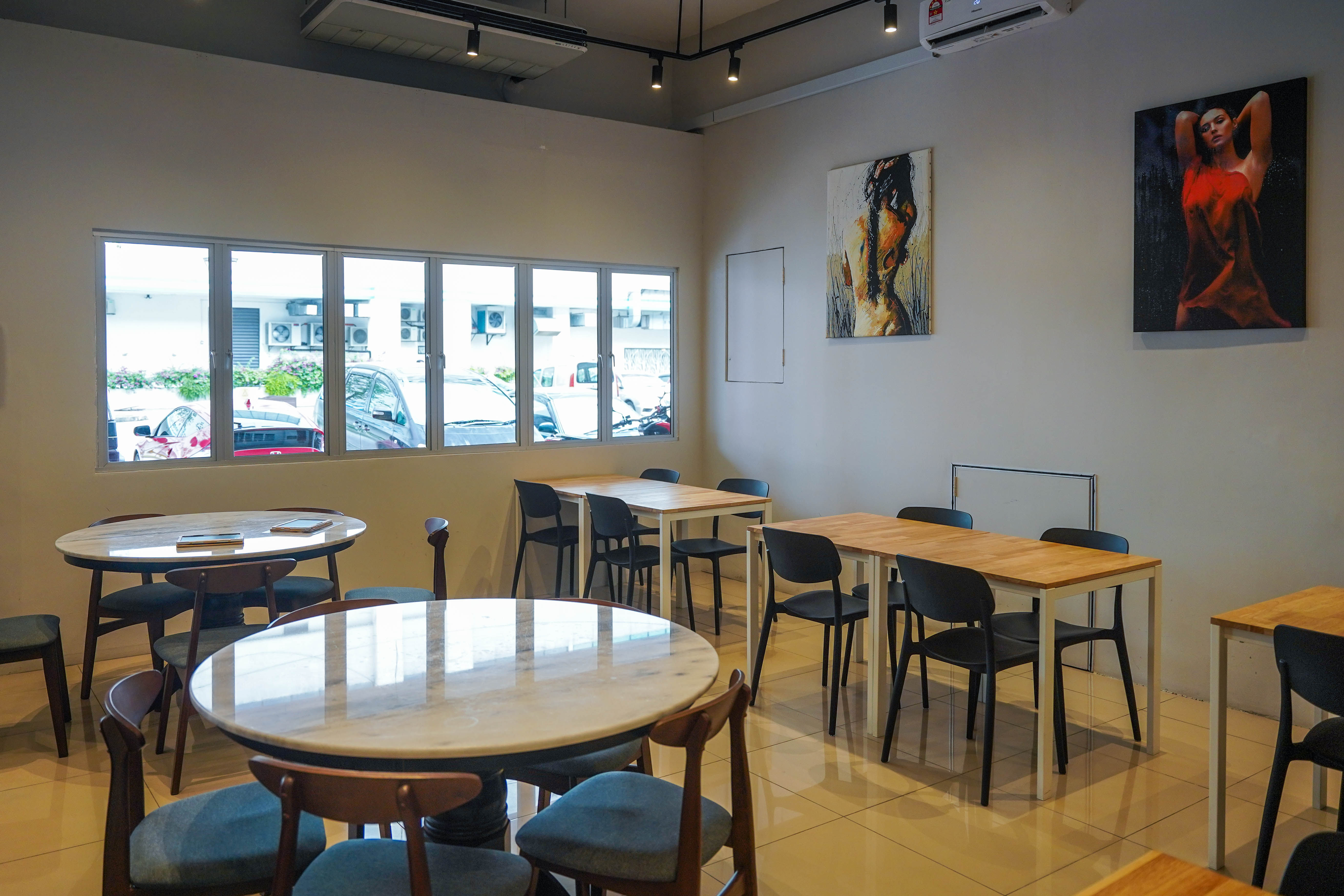 Em Teerak
38-G, Jalan PJU 5/20D, Kota Damansara, 47810 Petaling Jaya, Selangor.
Open Wednesday-Monday, 12pm-3pm, 5pm-10pm. Closed Tuesday.