A globe-trotting adventure in burgers that goes from Greek to Norwegian, Cuban to Korean: Butter Burgers has launched a World Burger series on its
menu
that caters to Malaysian customers seeking international inspirations and ingredients. This selection harnesses border-busting flavours to put a fun, fresh spin on the classic American burger!

Butter Burgers' delivery kitchen currently serves up a whopping 27 different burgers, featuring thick, 120-gram patties of pure beef, chicken, or meatless vegan plant-based, seared to order, made fresh daily with soft, fluffy brioche buns that taste milky-sweet.
Patrons can customise and tweak their burgers throughout this range of Legendary Cheeseburgers, which pays tribute to destinations like Britain, Cuba, Greece, Norway, South Korea and Switzerland.

Excited to take your first trip around the world with Butter Burgers? Check out this introductory itinerary of 10 distinctive burgers with special toppings, various cheeses, aioli-style sauces and other playful condiments to take your palate on a tasty voyage.


27 of The Worlds Best Burgers Menu by Butter Burgers
1. Double Beef-Streaky Jam Cheeseburger (RM29.90) - USA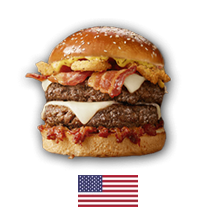 This huge burger come with 2 x quarter-pound patties, Philadelphia-inspired Beef Streaks Jam, 2 x American Cheese, Beef Streaks, Onion Rings, Carolina Mustard BBQ and BB Garlic Aioli sauce. If you're craving meat, this protein-packed powerhouse is your best bet.
2. Swiss Onion Truffled Chicken Burger (RM24.90) - Switzerland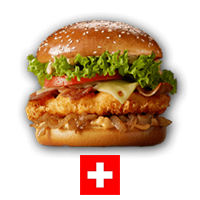 With a Buttermilk-Brined Crispy Chicken Fillet, Caramelised Onions, Chicken Streaks, Lettuce, Tomatoes, Black Truffled Butter, Swiss Cheese and BB Garlic Aioli, this well-balanced beauty hits you with a pleasurable aromatic punch.
3. The Juicy Lucy Burger (RM24.90) - USA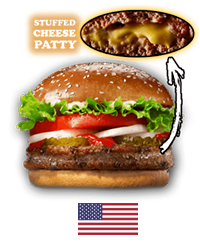 A mouthwatering Minnesotan marvel, the Juicy Lucy is simple but ingenious, with the cheese sealed inside the beef patty instead of layered on top of it. As the patty cooks, the American cheddar melts, making the centre very juicy and richly savoury, topped further with Pickles, Onions, Tomatoes, Lettuce, Carolina Mustard BBQ and BB Garlic Aioli.
4. Frita Cubana Cheeseburger (RM22.00) - Cuba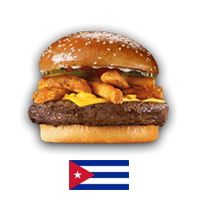 The captivating Cuban burger owes its roots to 1930s Havana, reinterpreted nearly a century later in Malaysia by Butter Burgers, strikingly topped with piri-piri spiced potato fries for a burger with fries in the same bite, complete with melty sharp cheddar cheese, Jalapenos, Mustard Mayo and BB Garlic Aioli.
5. Ultimate American Cheeseburger (RM16.90) - USA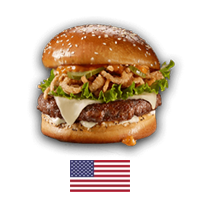 Chew on the classic, Big Apple-style, with this standard-bearing New York-influenced cheeseburger, perennially popular and crowd-pleasing, rounded out with American Cheddar, Lettuce, Dill Pickles, Caramelised Onions and BB Garlic Aioli.
6. Swiss Truffled Lamb Cheeseburger (RM33.90) - Switzerland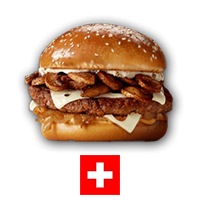 Lamb lovers, this is the one to sink your teeth into - transport yourself to the Alps with this prime-meat-with-cheese combo of a 1/4-Pound Lamb Patty with 2 x Swiss cheese, made fragrantly earthy with Black Truffle Sprinkles, Sautéed Mushrooms, Lettuce, Caramelised Onions, BB Garlic Aioli and Honey BBQ.




7. Le Bleu Cheeseburger (RM21.90) - France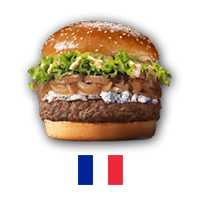 Beat the burger blues with the Le Bleu Cheeseburger, sandwiching Butter Burgers' signature 1/4-Pound Beef Patty with a generous cushion of creamy, robust Blue Cheese, balanced perfectly with Lettuce, Caramelised Onions, BB Garlic Aioli and Mustard Mayo, a memorable burger that packs a flavourful kick.
8. Greek-Style Feta Cheeseburger (RM20.50) - Greece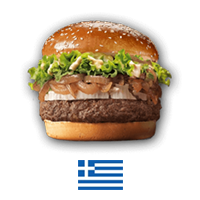 For a change from cheddar and mozzarella, take a tour of the Greek isles with Butter Burgers' Greek-Style Feta Cheeseburger, bringing together a 1/4-Pound Beef Patty with probiotic-rich Feta Cheese, complete with Caramelised Onions, Lettuce, BB Garlic Aioli and Mustard Mayo.
9. English Breakfast Cheeseburger (RM20.90) - Britain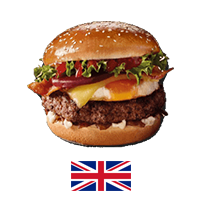 A British brunch in a burger: The English Breakfast Cheeseburger is worth savouring anytime of the day, from morning to night, conquering your hunger pangs with a 1/4-Pound Beef Patty, Sharp Cheddar, Caramelised Onions, Free Range Egg, Beef Streaks and Mild Hot Sauce.
10. Mango Habanero Chicken Sandwich (RM23.90) - Mexico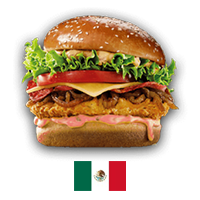 Hola, Habanero! This burger channels the tangy, spicy dynamics of Mexican fare with a Crispy Chicken Fillet dressed with Mango Habanero Sauce, Caramelised Onions, Chicken Streaks, Lettuce, Tomatoes and Sharp Cheddar.
There's much more to try at Butter Burgers - the customisation means you can personalise your burger to your heart's content, so that you can sink your teeth into a burger that's all your own. All these burgers are big, brilliant for hearty appetites!