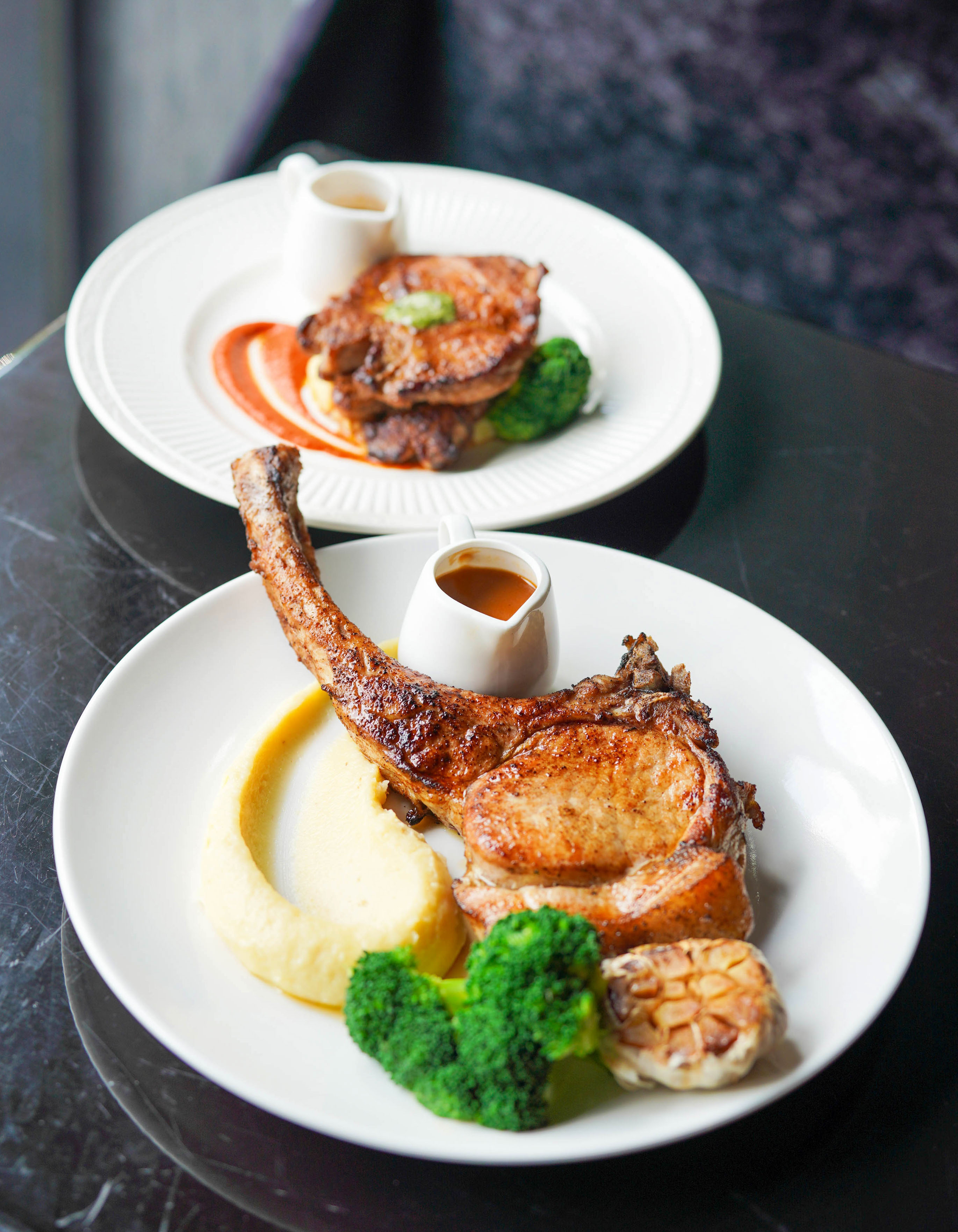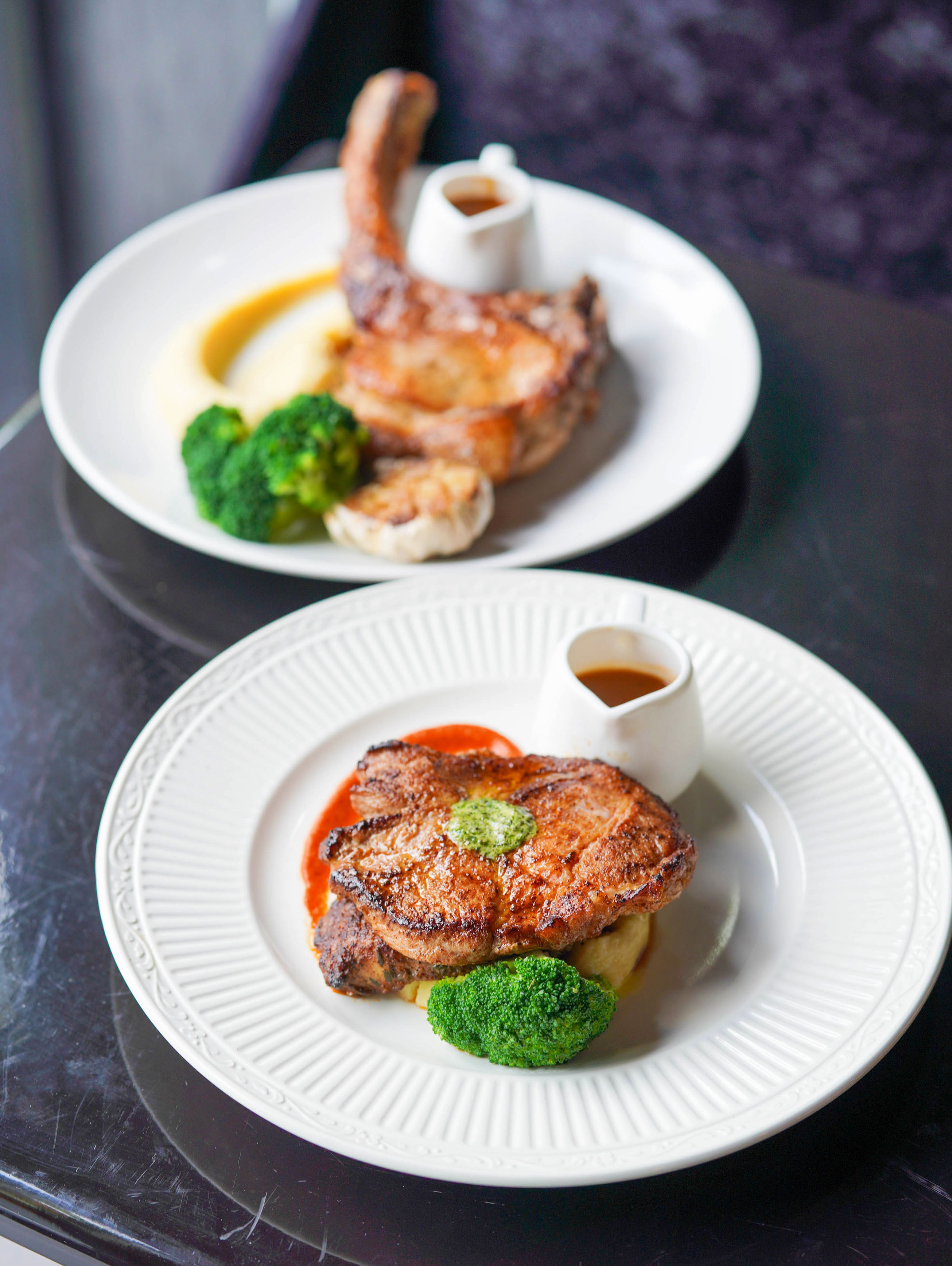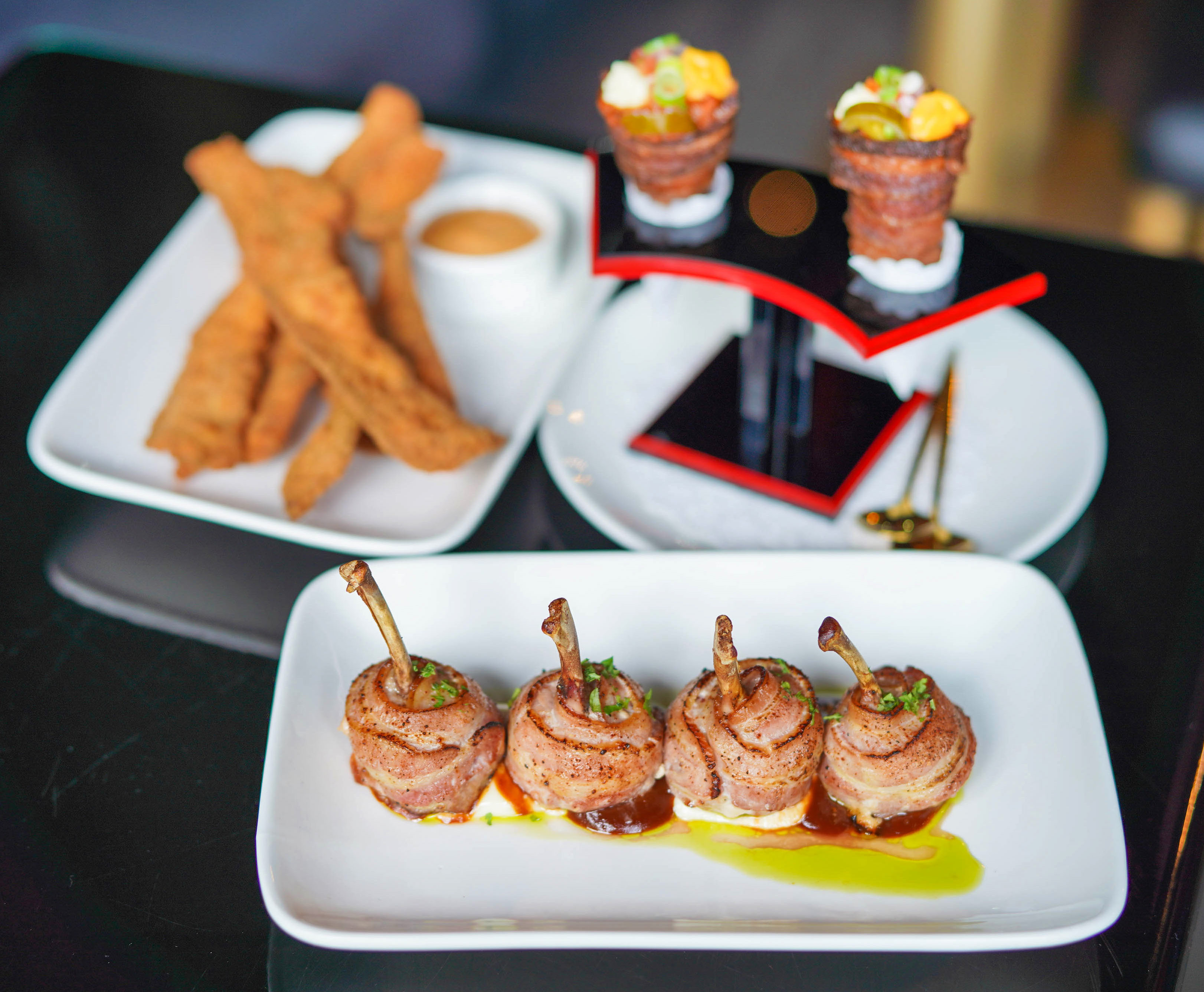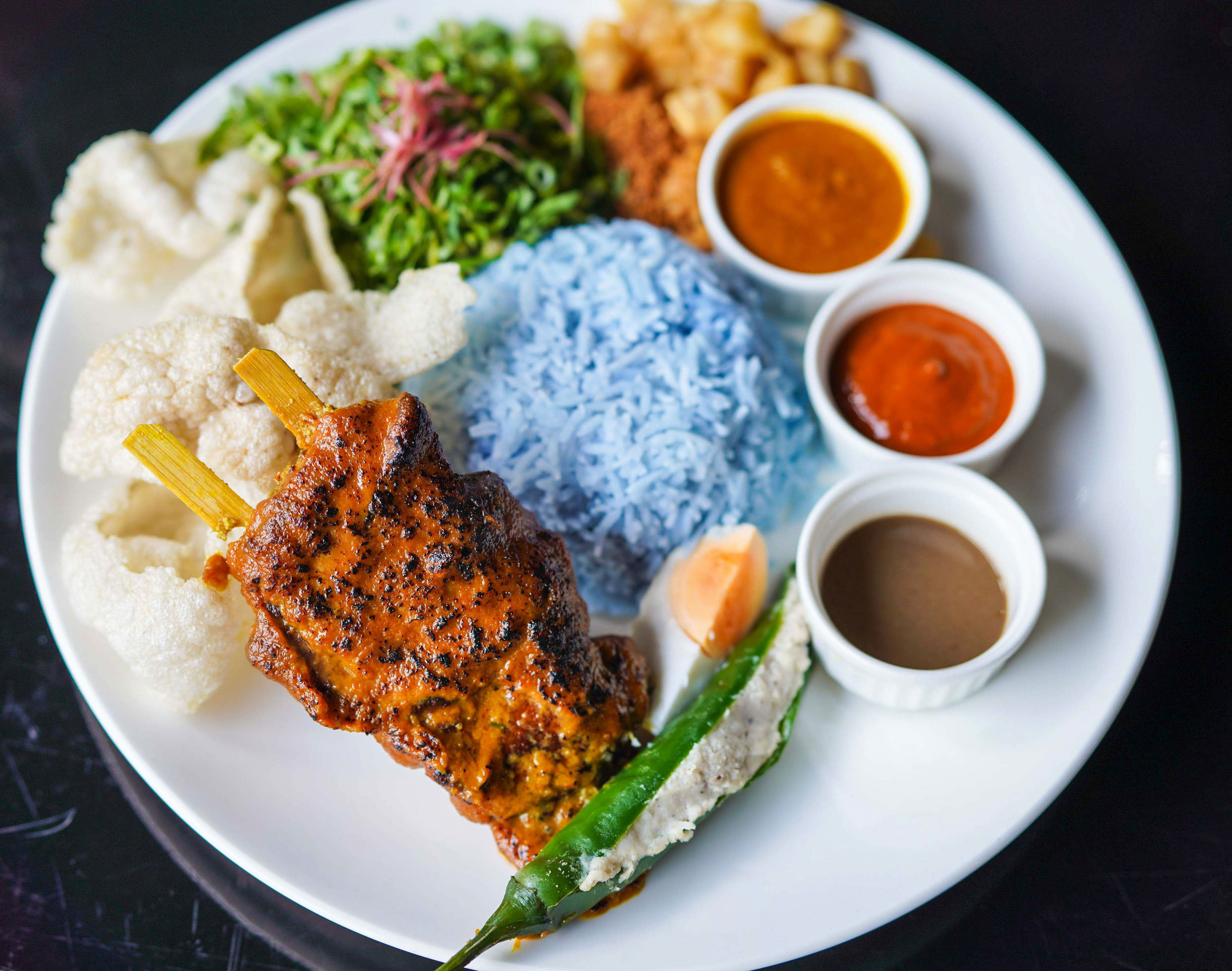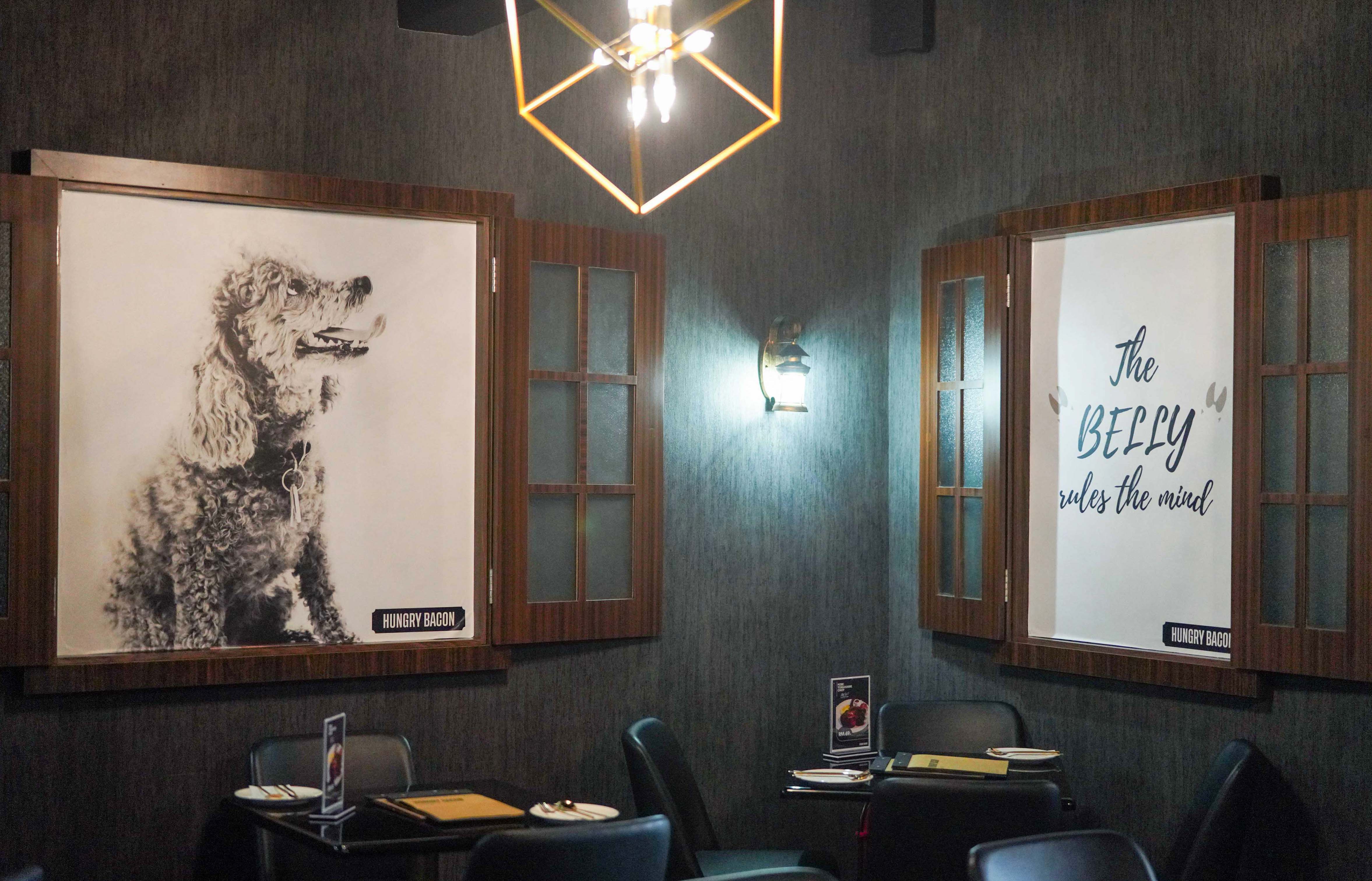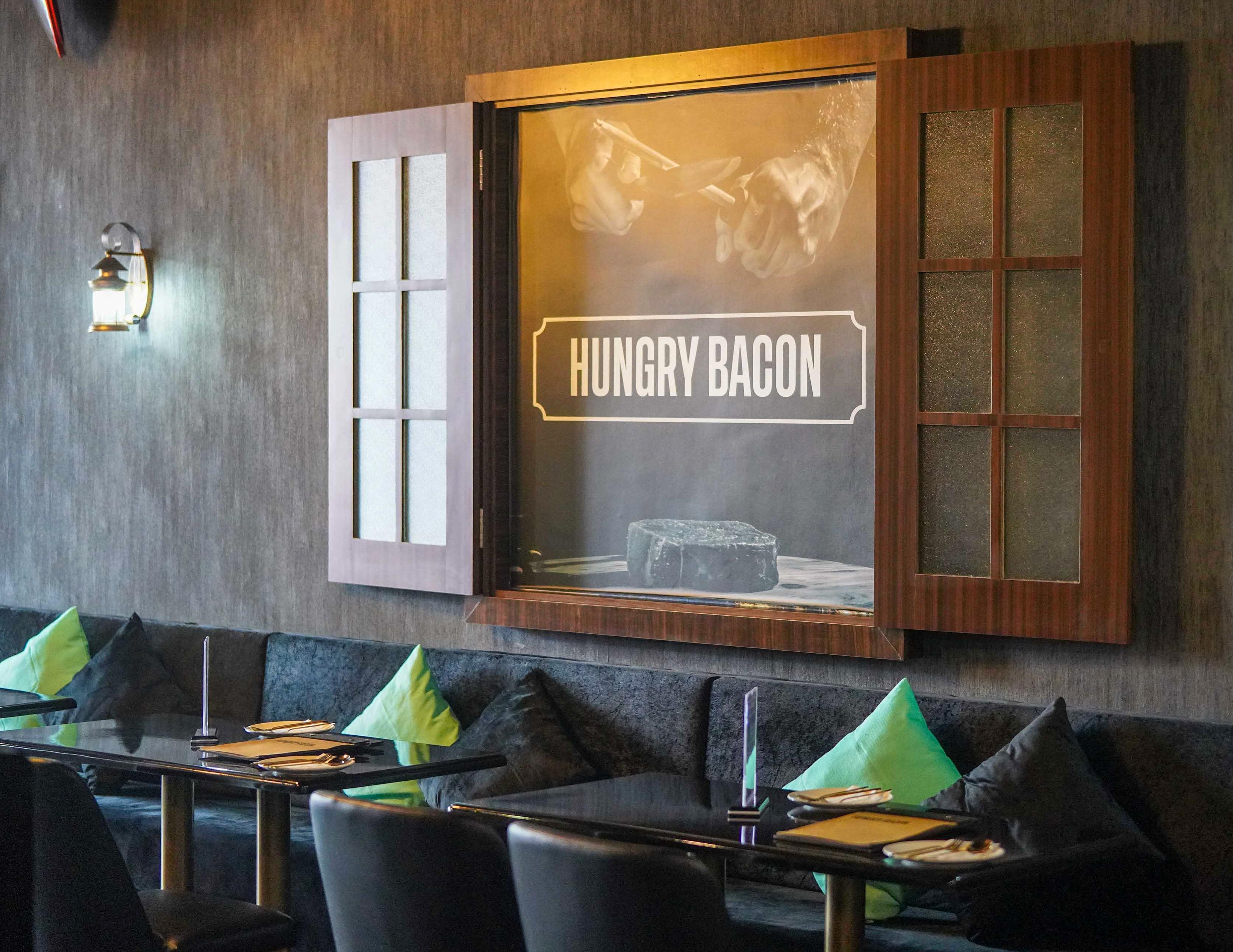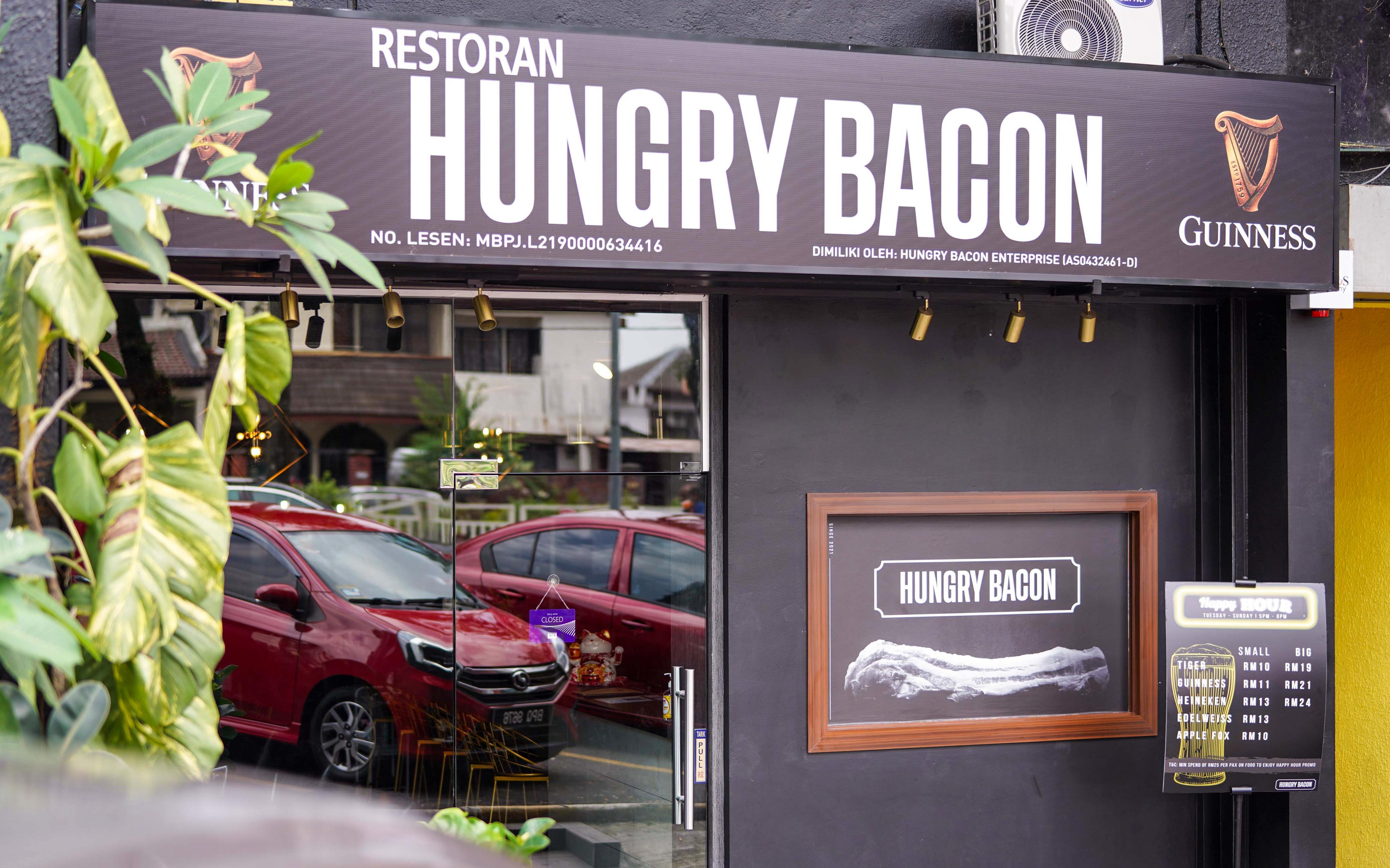 When a meat-loving chef with two decades of experience opens his first independent restaurant, the result is powerhouse of pork, served in playful styles, from bacon-wrapped 'lollipops' to bacon cured ribs, mighty tomahawks to marvellous nasi kerabu babi kembar.
Malaysian chef Timothy Sebastian previously ran the kitchen at eateries respected for steaks and BBQs in Bangsar and Petaling Jaya. In October 2021, he and his wife Pearl launched their own venue, Hungry Bacon in Damansara Utama.
This is a haven for pork enthusiasts, thanks to a remarkably skilled chef who turns every recipe into a rich, robust masterwork, beautifully brined, gorgeously grilled. If you're seeking a succulent encounter with pork, Hungry Bacon will have you as pleased as a pig in mud.
Fun fact: Hungry Bacon is named for Timothy and Pearl's five-year-old miniature poodle, Bacon, who seems constantly famished. Look for the photo of Bacon on the restaurant's wall.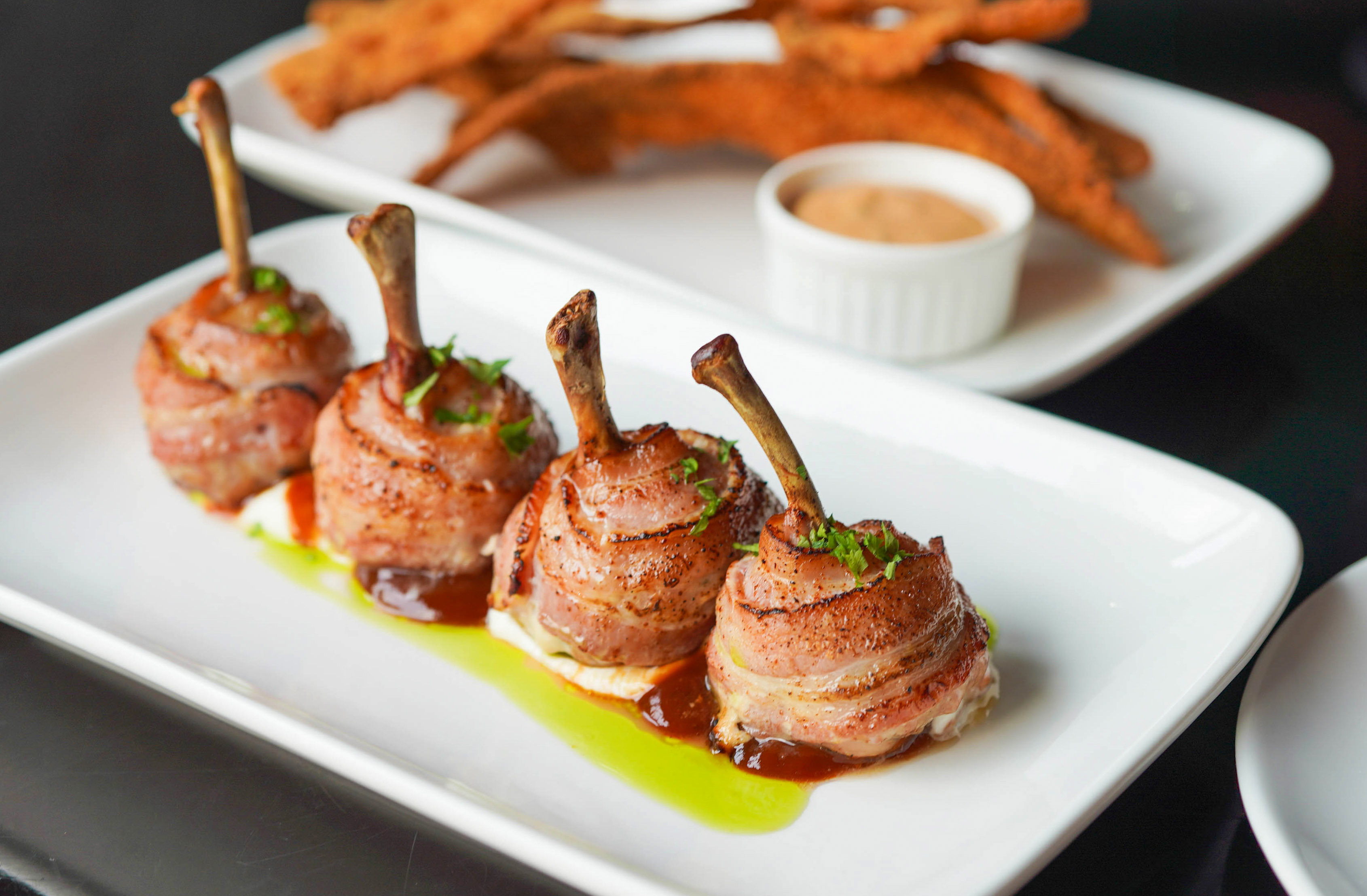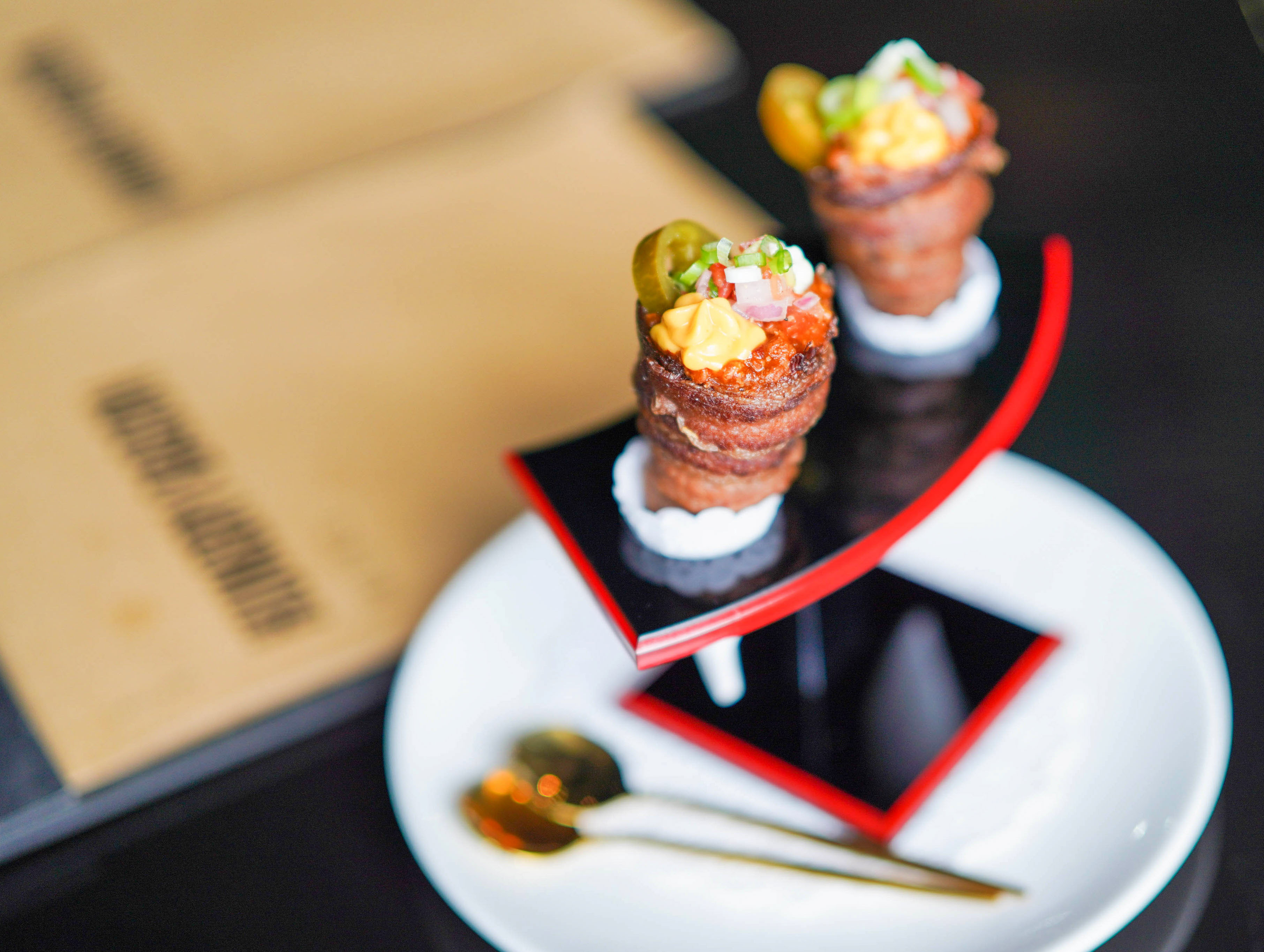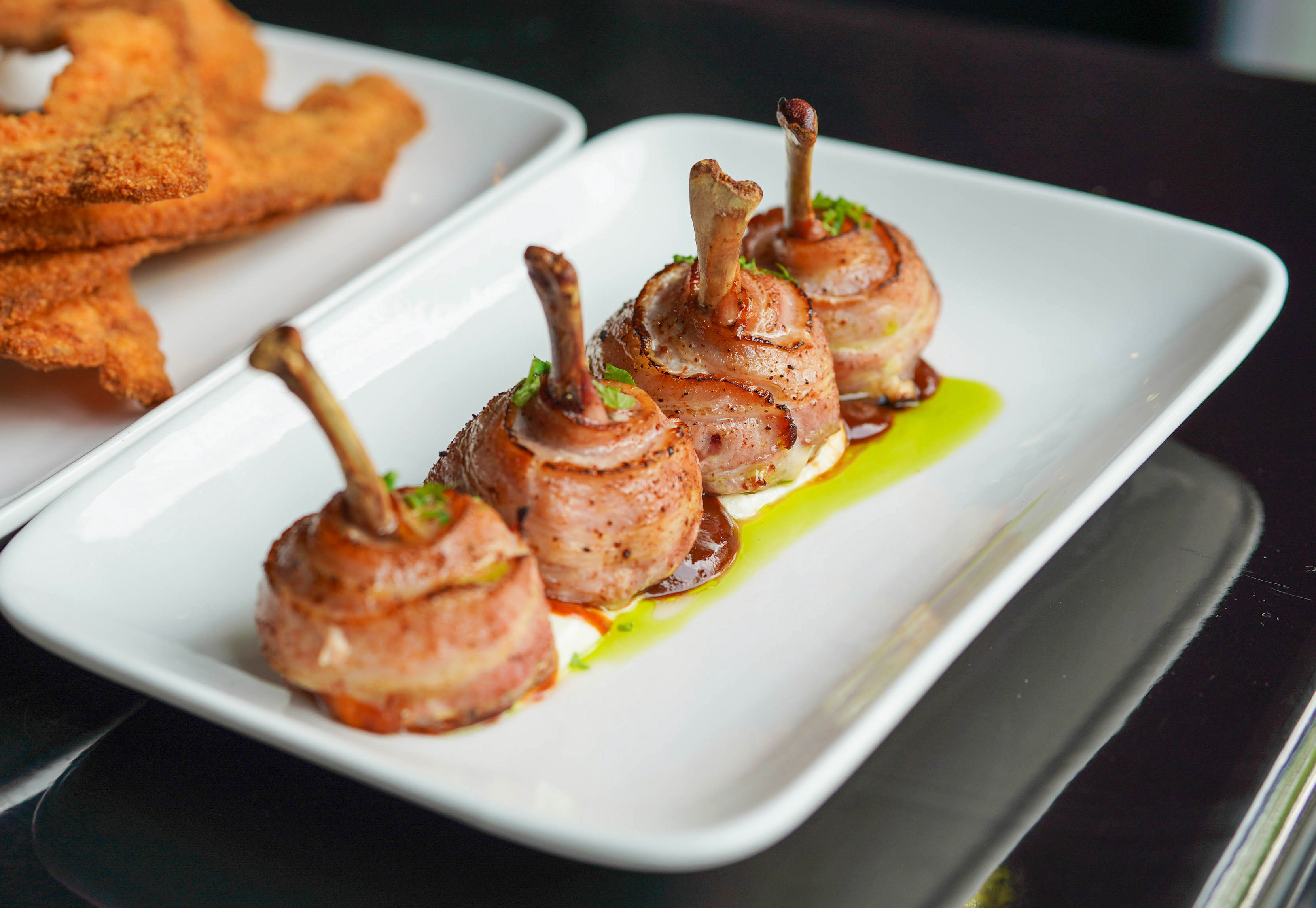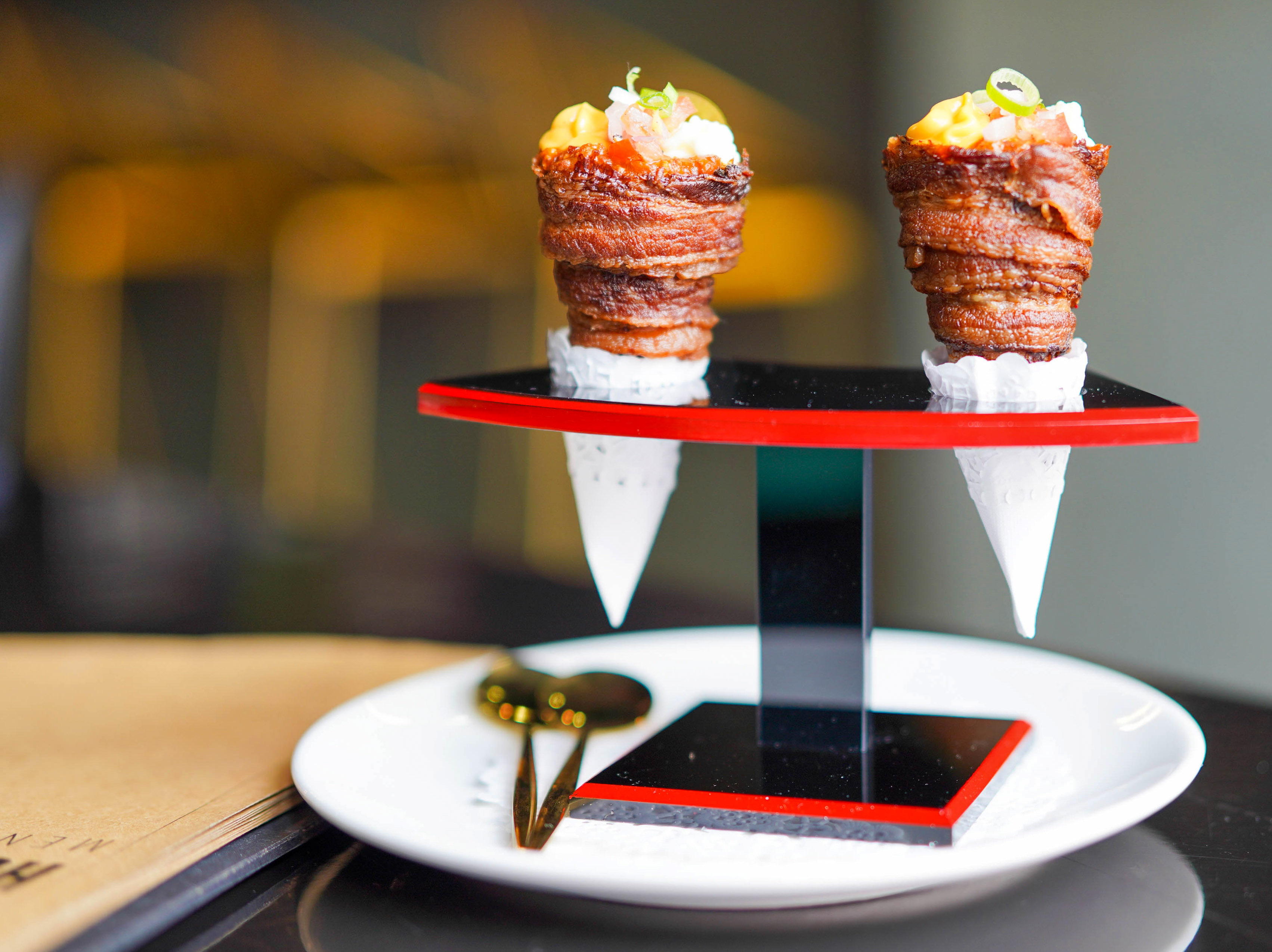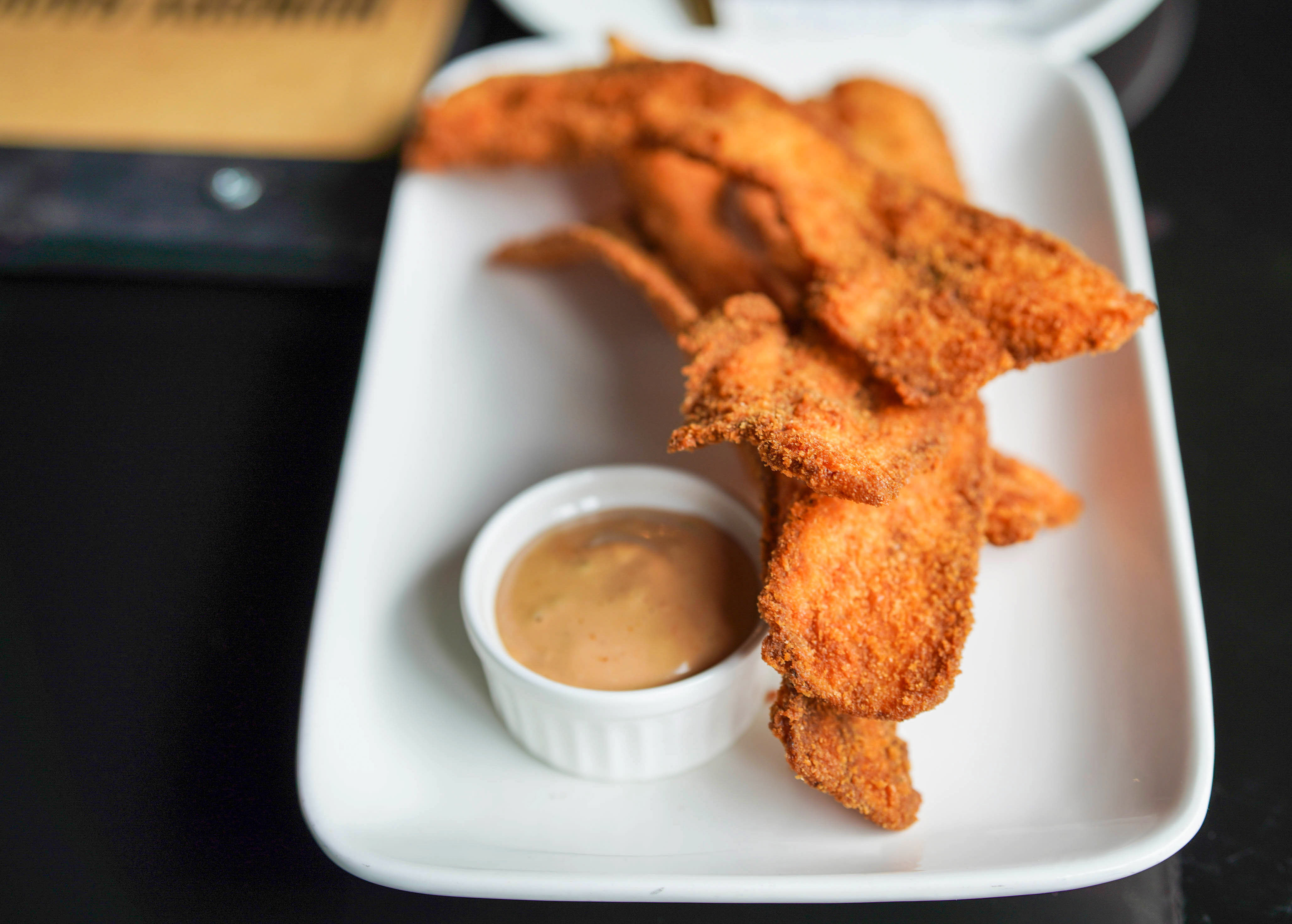 True to its name, there's no lack of bacon at Hungry Bacon.
You can have an entire meal consisting of bacon, sharing a trio of terrific bacon-based starters.
The bacon-wrapped lollipops, cooked to order, are an irresistible porcine reinterpretation of boxing chicken, with juicy pork sausage meat blanketed in savoury bacon, served on mayo, barbecue sauce and basil oil (RM24). Great if you love your meat moist and mouthwatering.
The bacon cones offer crisply firm cone-shaped bacon stuffed with bacon chili con carne, topped with sour cream, cheese sauce, pico de gallo and jalapeños - a Tex-Mex take that's tangy and tantalising, proving that everything tastes indisputably better with bacon (RM25).
The bacon crunchies - deep-fried breaded bacon strips - might look simple, but they're so perfectly executed, they're positively addictive (RM18). We couldn't stop snacking on these.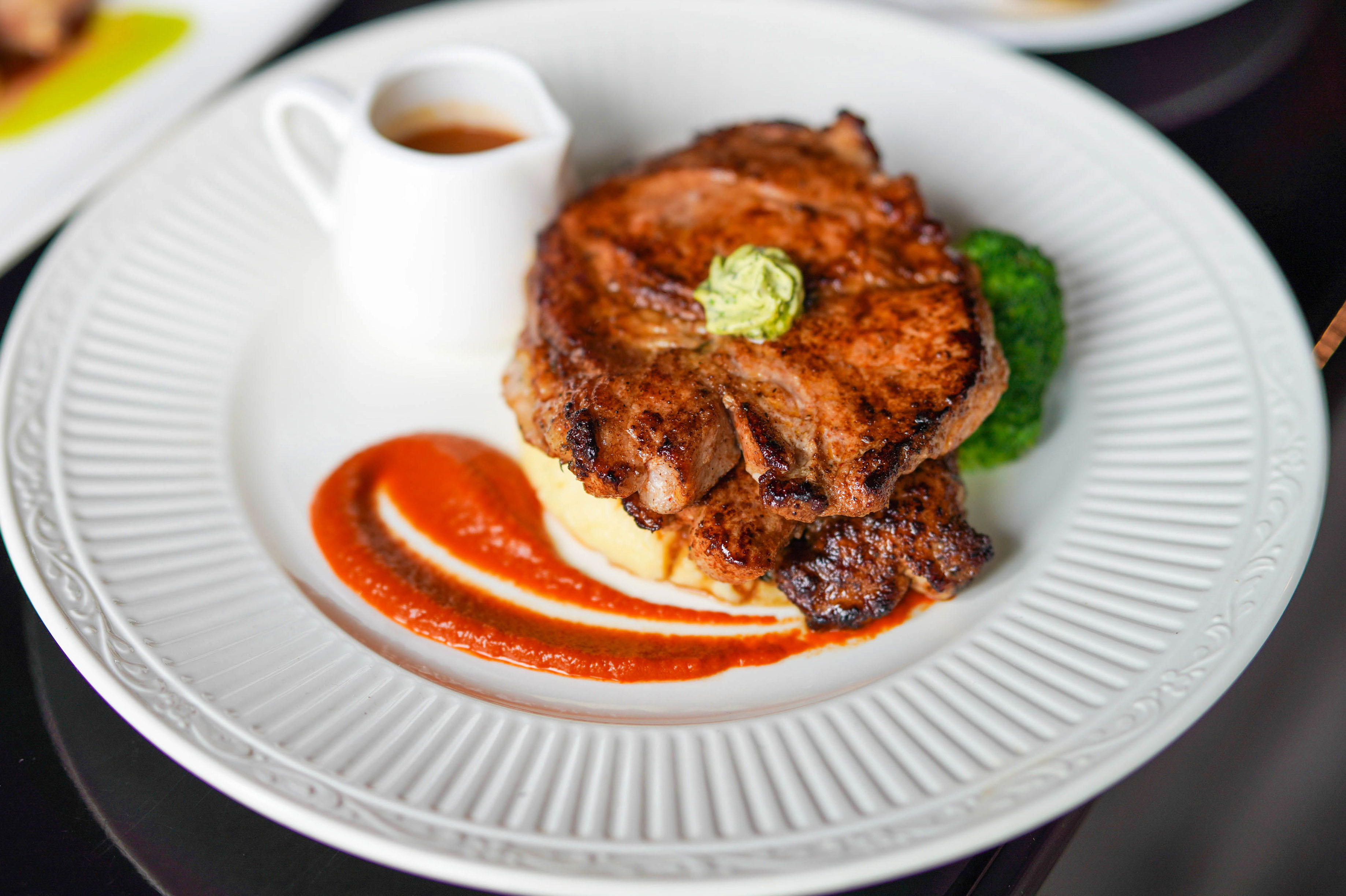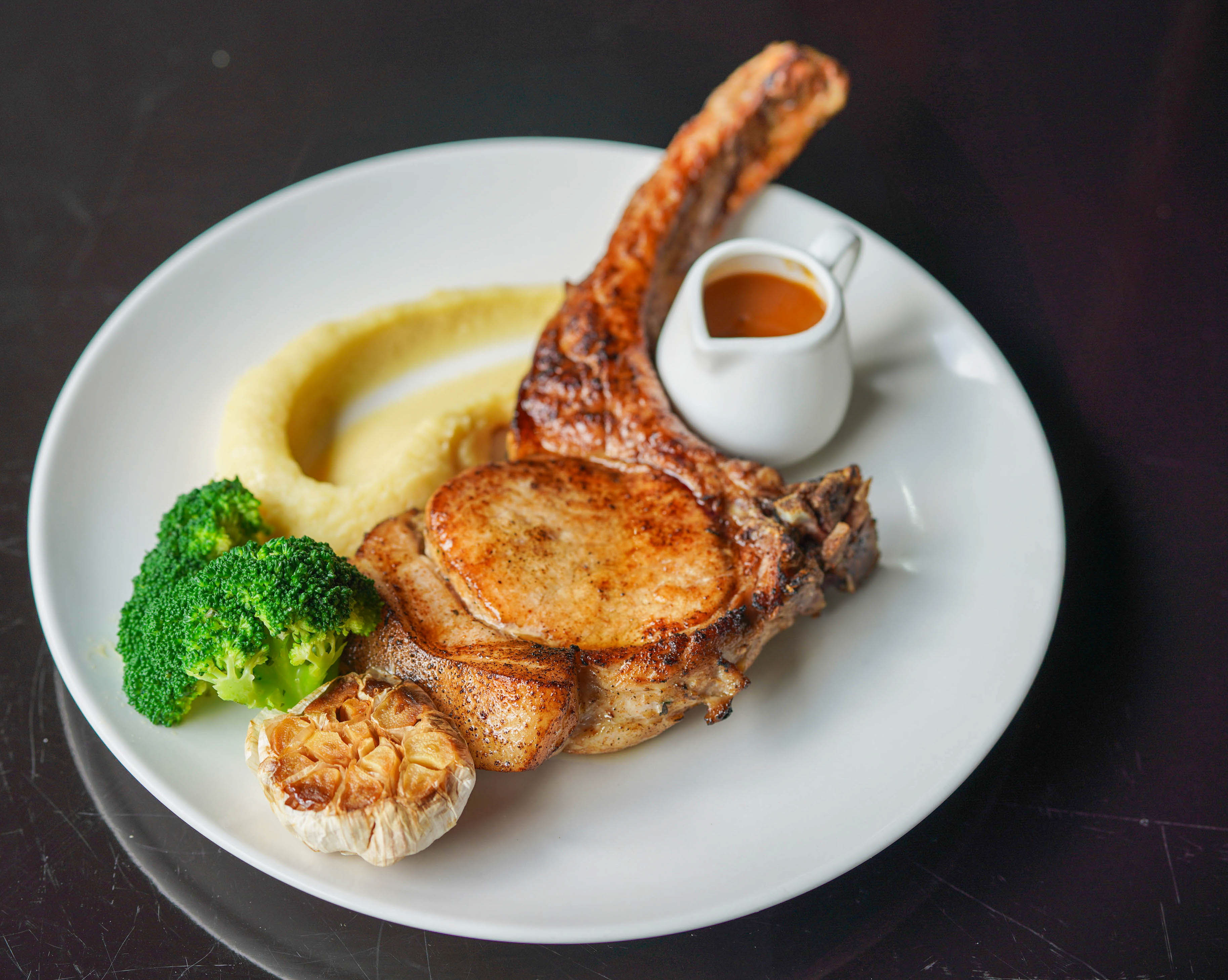 For mains, Hungry Bacon's bestseller is deservedly the pork shoulder chop (RM35), a cut with tons of character in taste and texture. This 250-gram chop is brined for 48 hours, its sinews and muscles turning out triumphantly tender with a naturally sweet marbling. Romesco sauce provides a zesty uplift for this cut's pure carnivorous bite.
Even more primal, the 48-hour brined bone-in pork loin is 500 grams of caveman comfort, clean-tasting but potent in its concentrated meatiness, with a precise char that paves the path to a luscious chew. Ideal for two to share or for one enthusiastic pork lover (RM69).
Both the shoulder and tomahawk are thoughtfully rounded out by a house-made truffle mash, broccoli, herb buttter, and a nuanced jus that's meticulously made with roast chicken and pork bones, roasted with jicama, slow-boiled with tomato and bolstered with stout.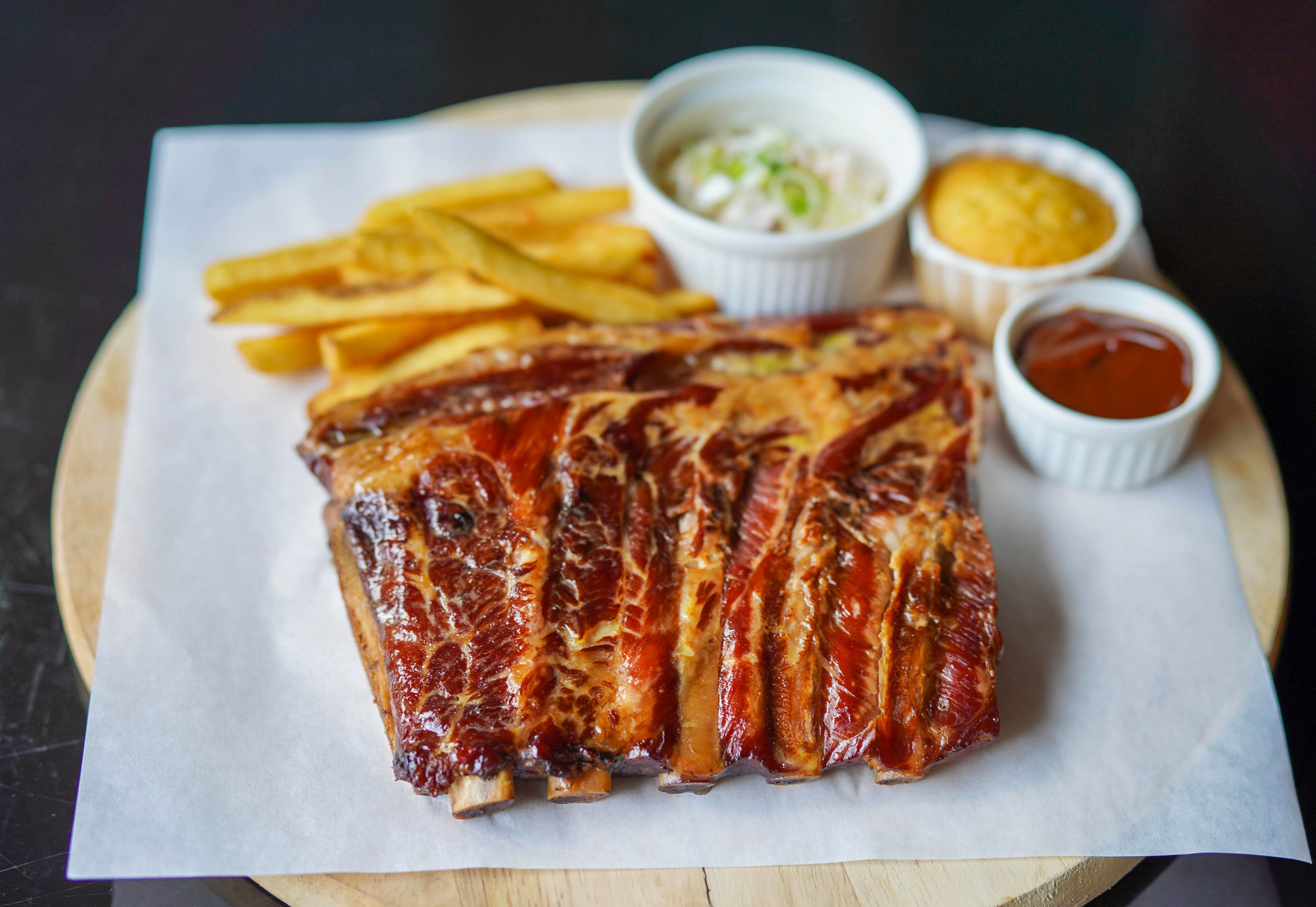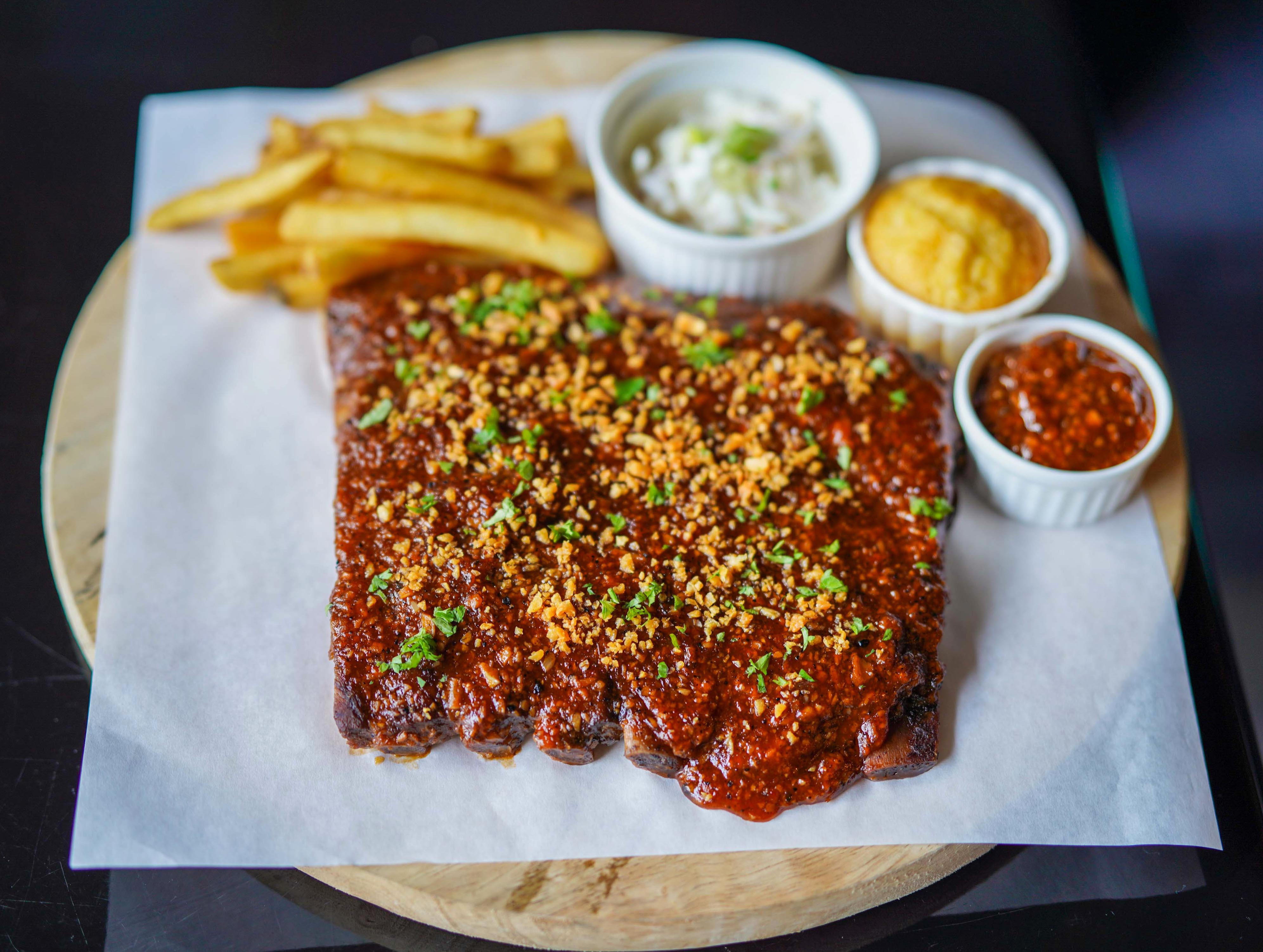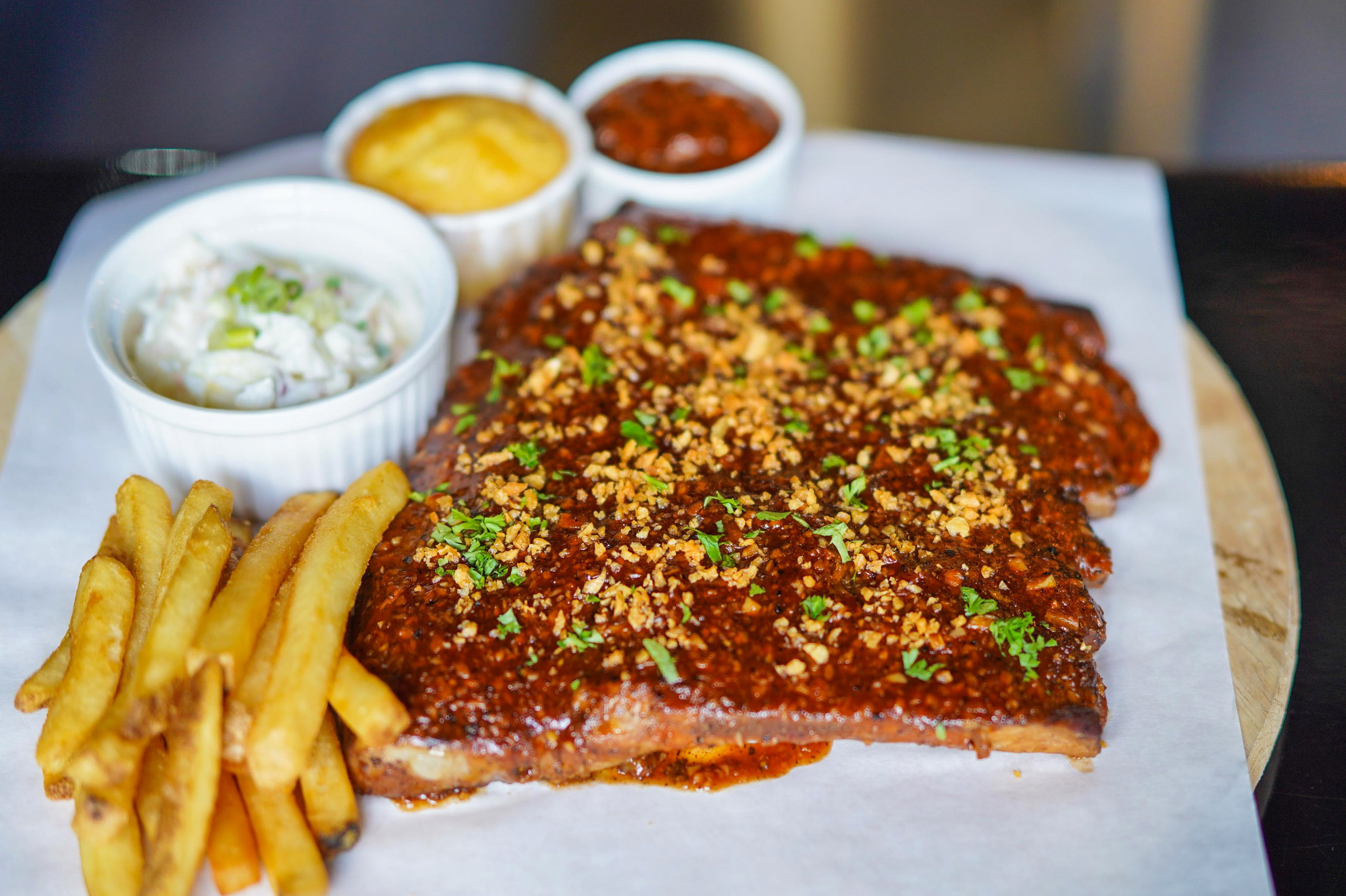 For fans of pork ribs, bookmark Hungry Bacon for your next destination - its Spanish ribs are a distinctive delight, slow-cooked with American dry-rub inspirations, buoyed by seasonings and sauces that complement the meat powerfully without being cloying or suffocating.
The bacon ribs are a brilliant must-try, cured to a light smokiness, like having bacon and ribs together, featuring lip-smacking, fall-off-the bone flesh (RM69 for a hearty 450-gram portion).
The BBQ ribs showcase a choice of four basting sauces - Garlic BBQ, Sweet Guinness, BBQ or Black Pepper - that flavour the meat fabulously. The Garlic BBQ is our best bet, penetrating through the 500 grams of ribs for sheer aromatic bliss. All the ribs come complete with house-made coleslaw, cornbread and U.S. potato fries for a full-bodied feast.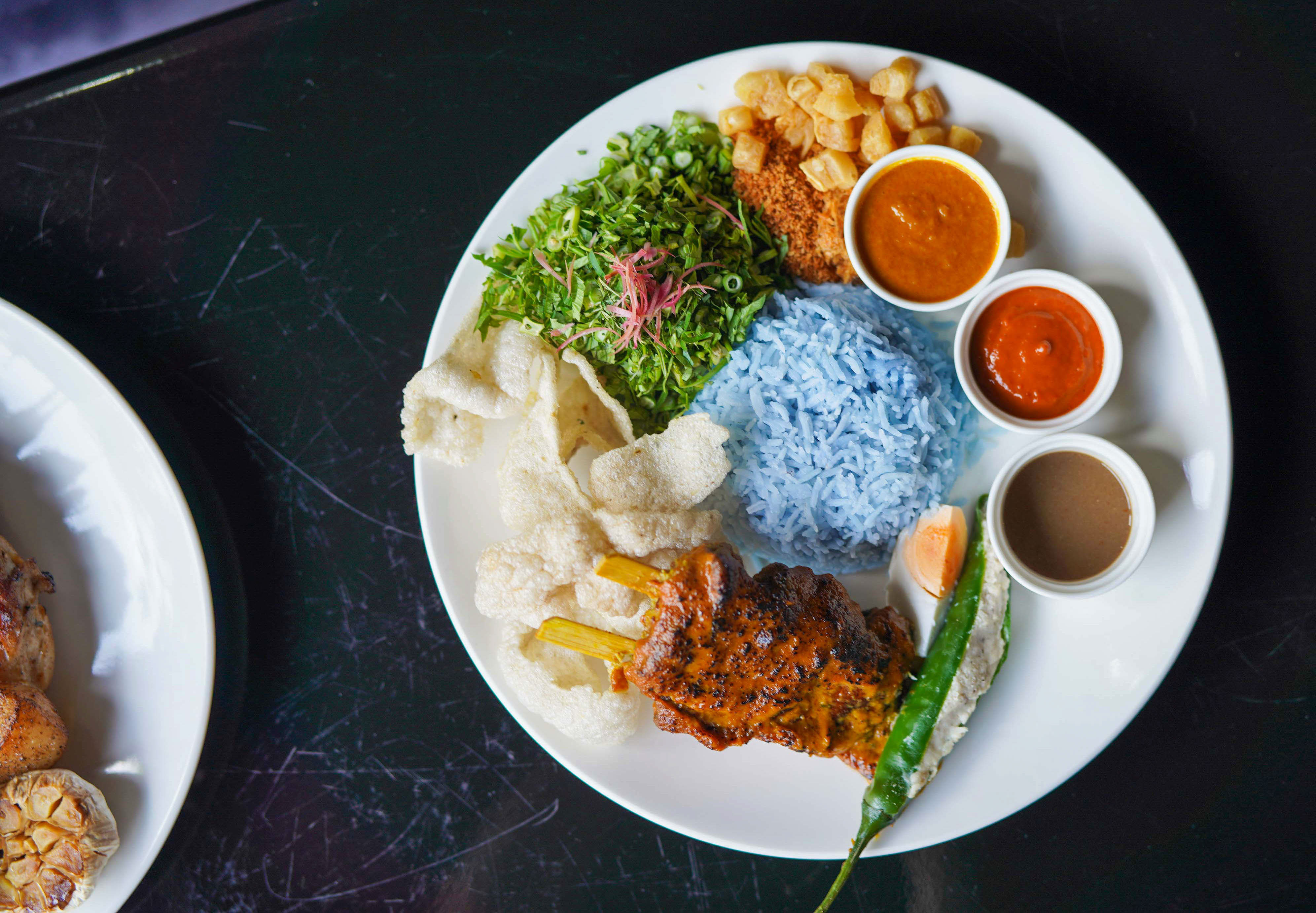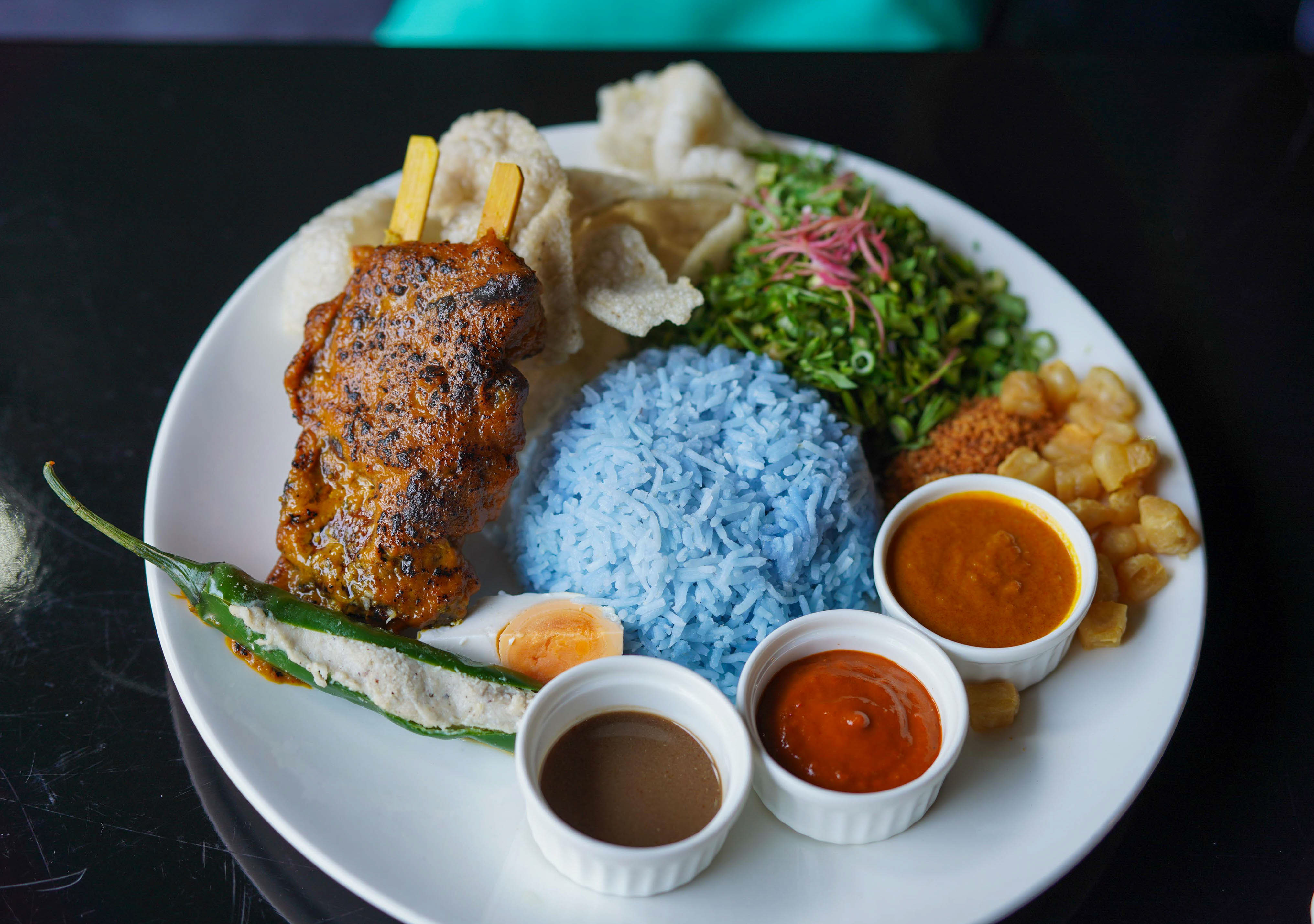 Hungry Bacon's kitchen is relatively tiny, so it's a miracle that chef Timothy and his team can whip up all these temptations.
They're equally at ease with creations that span East to West, with a menu that leaps from Swedish-style pork meatballs with lingonberry sauce and Hungarian sausage platters to bacon fried rice, Hokkien mee and Timothy's family recipe of wild boar peratal with papadom.
We're instantly smitten with the Nasi Kerabu Babi Percik Kembar (RM35), which weaves its Kelantanese influences into a painstakingly prepared plate of lovely blue pea flower rice, encircled by twin pork shoulder skewers, the traditional solok lada, fish crackers and salted egg, plus budu, sambal belacan and percik sauce for a medley of authentic Malaysian flavours.
Two more elements elevate this exceptional ensemble. Fresh-fried pork lard lends a captivating crunch, while local ulam infuses a rejuvenating herbaceousness to the vibrant mix.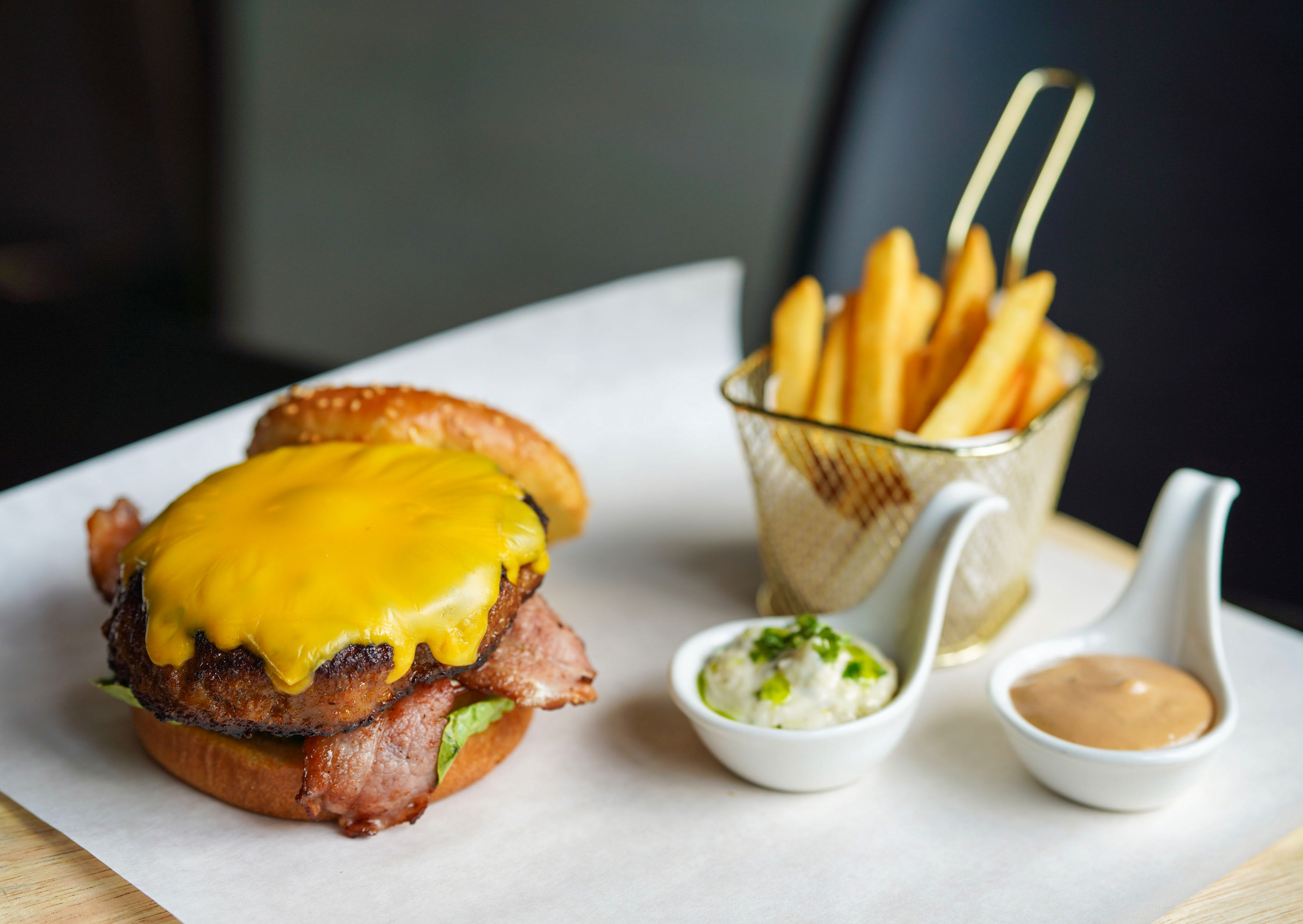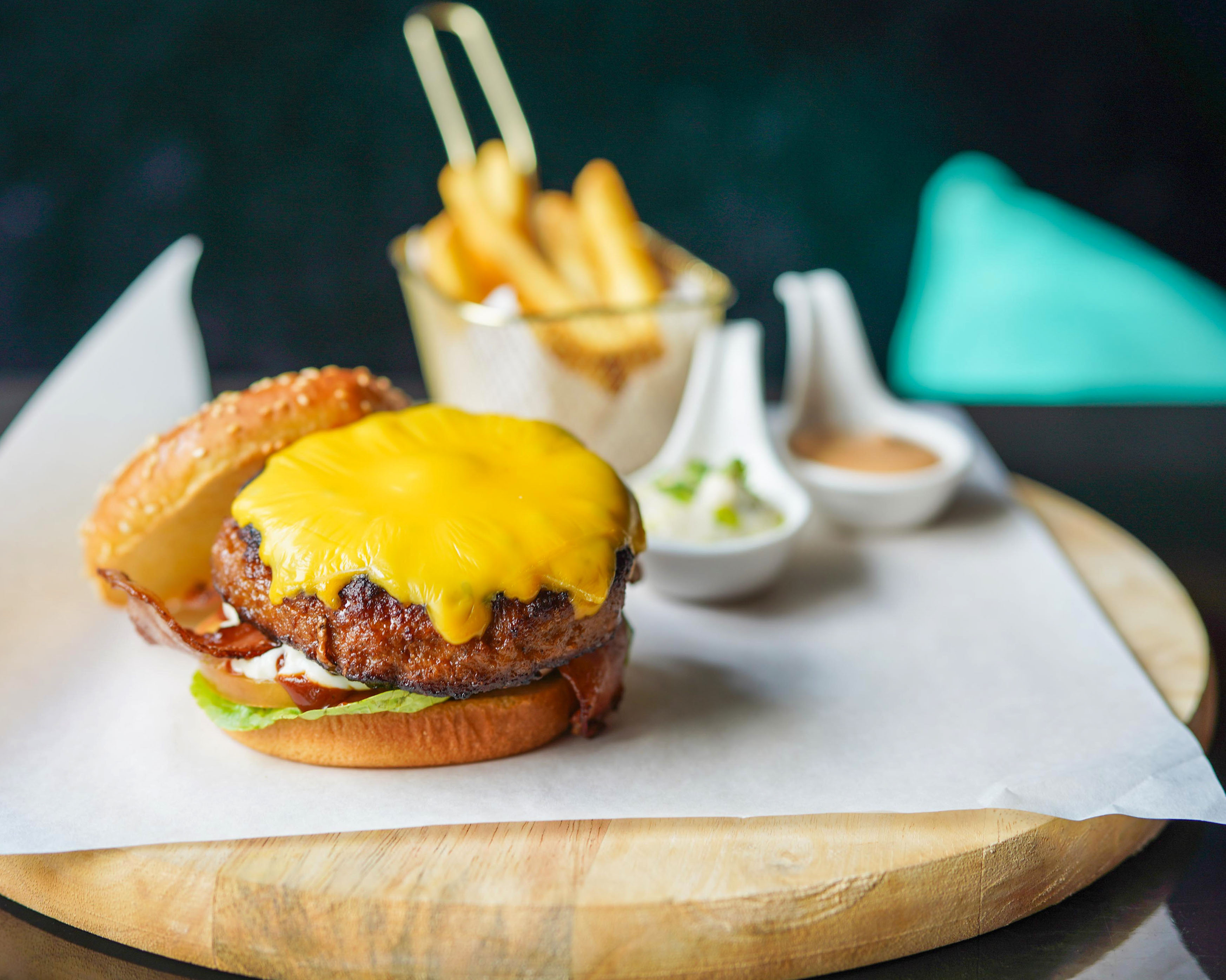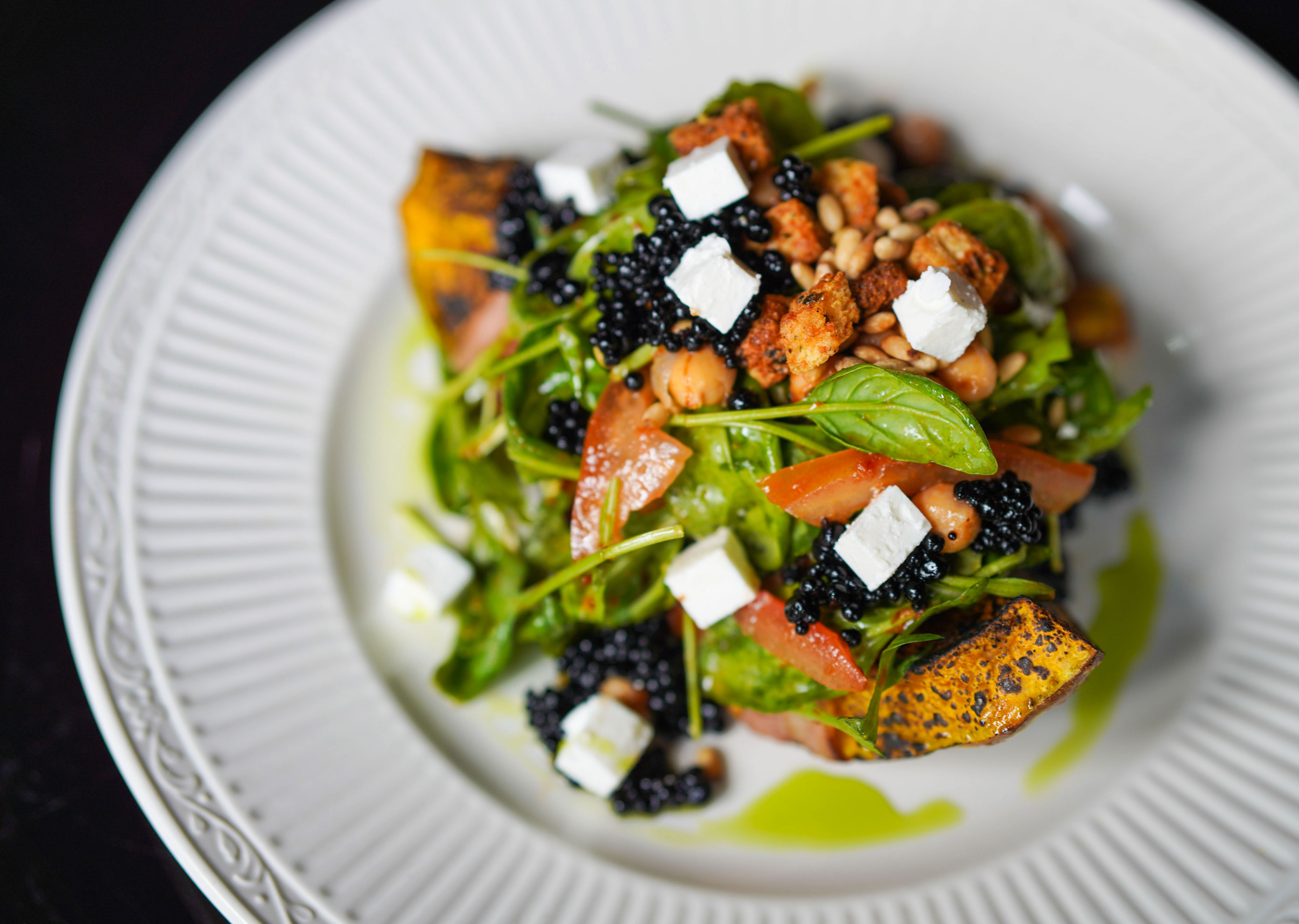 Vice and virtue sit side by side on Hungry Bacon's menu, propelled by delicious decadence in the form of nourishing produce.
If you feel guilty about indulging in a pork burger (RM30), with a punchy 180-gram patty marinated in Cajun spices, crowned with melted American cheddar and cushioned with caramelised onions and bacon (of course!), complete with U.S. potato fries, then order the slow-roasted pumpkin salad (RM30) - it's our favourite pumpkin salad in the Klang Valley, with a generous wedge of sumptuous pumpkin, not only wrapped with bacon but rendered with bacon oil for a warming depth of savouriness, showered prolifically with rocket, spinach, chickpeas, sun-dried tomatoes, feta cheese, pine nuts and balsamic pearls.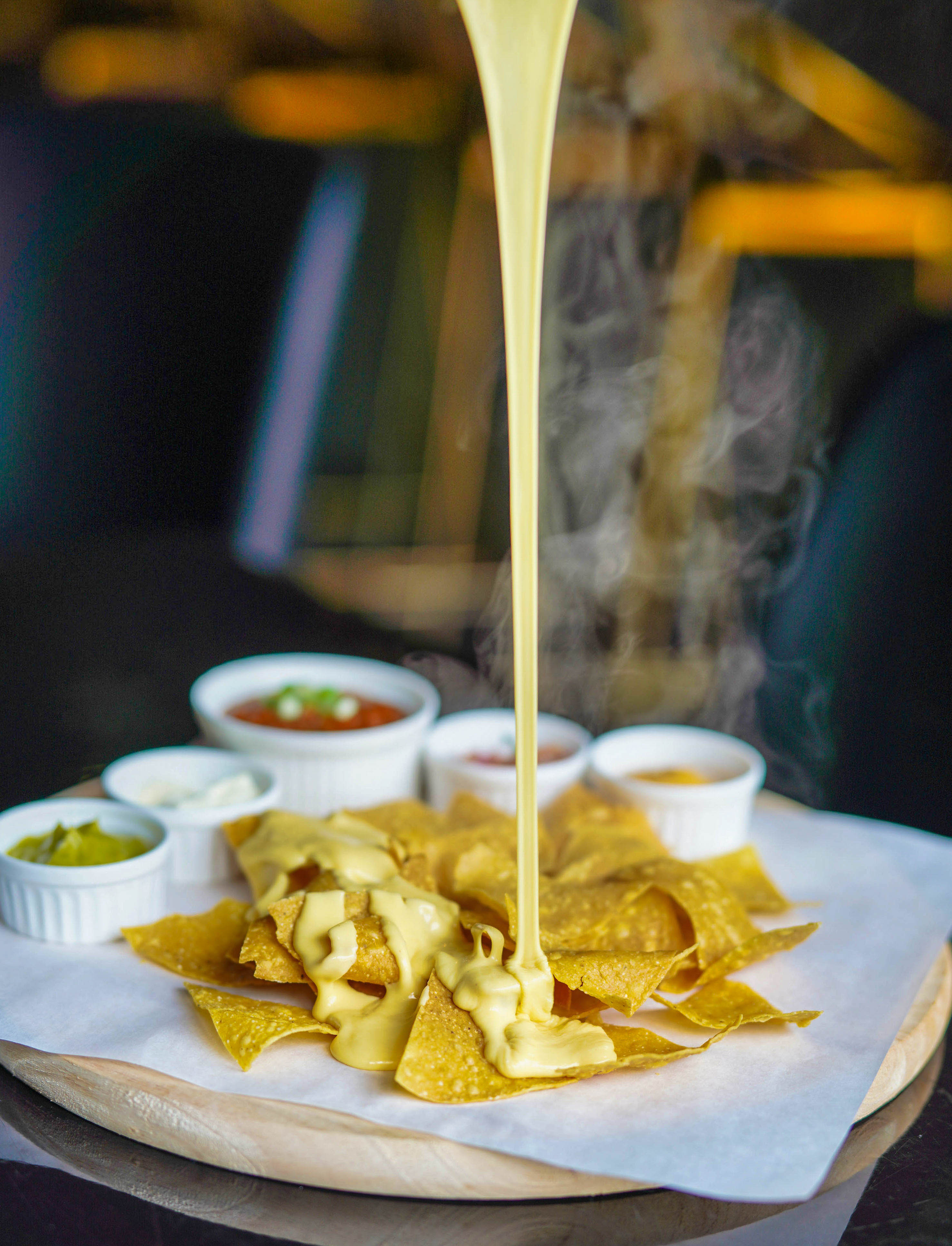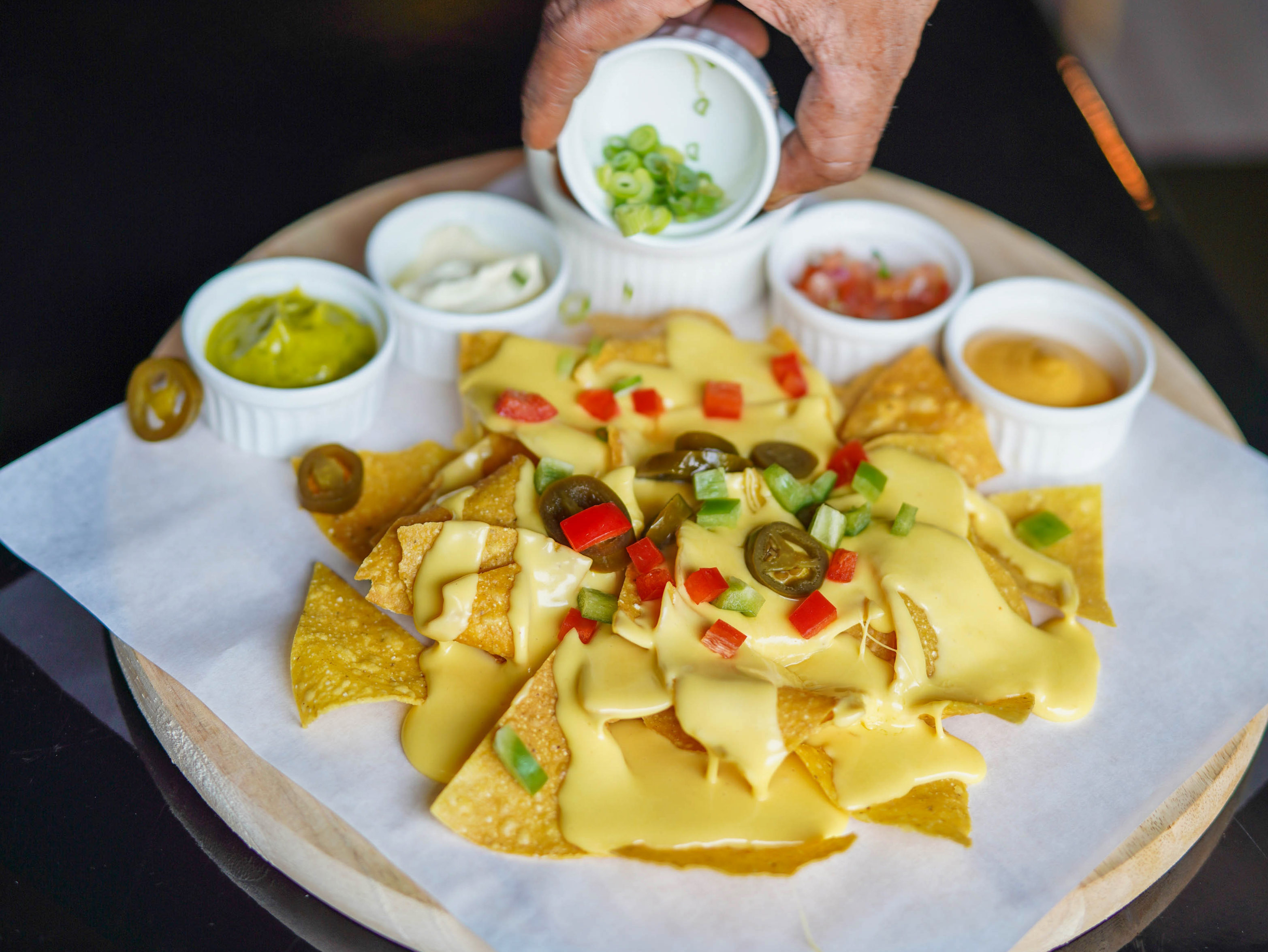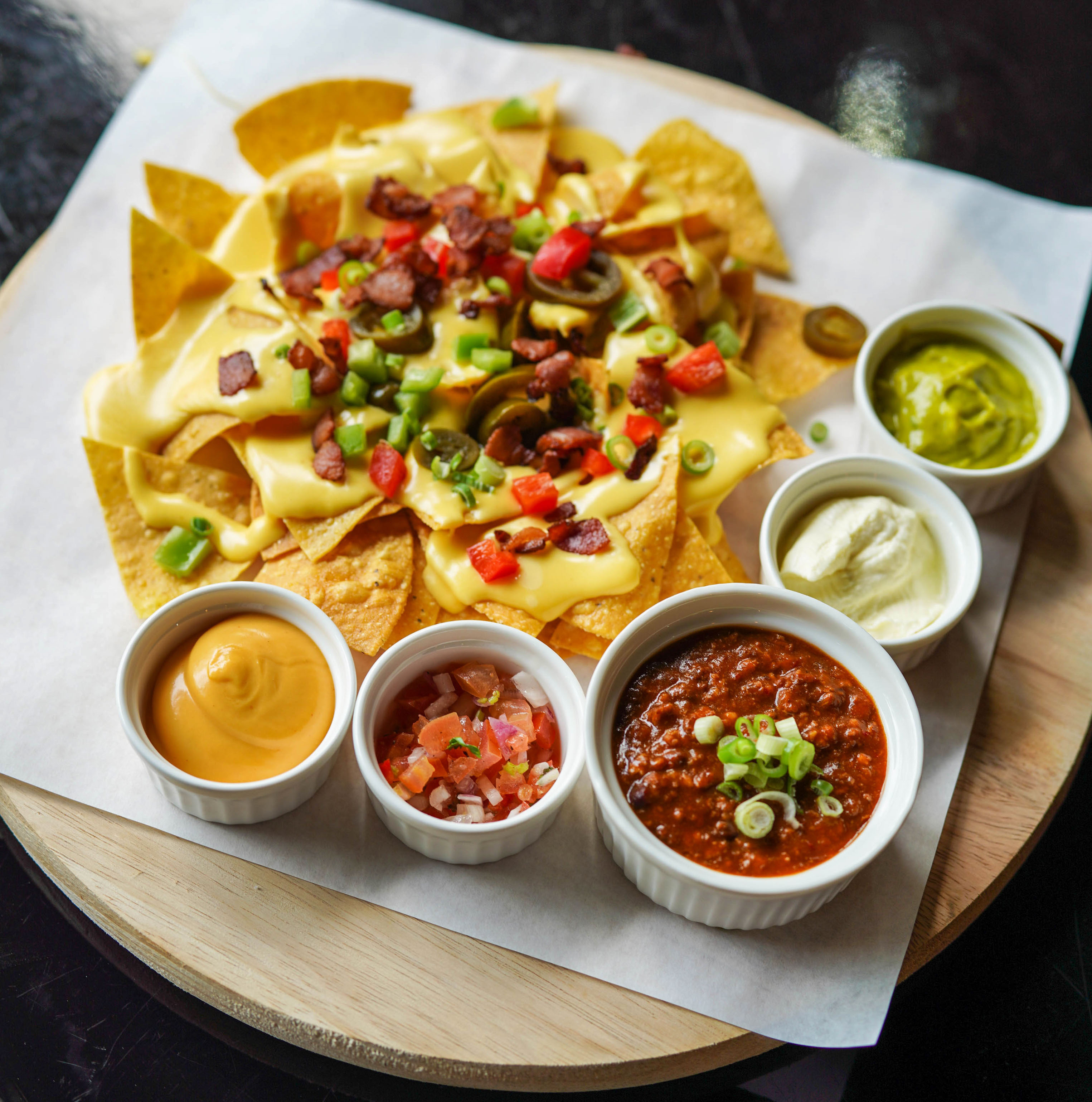 Chef Timothy comes to the table for the climactic Ultimate Nachos - corn tortilla chips presented with a flamboyant flourish, poured over with a creamy-stretchy, steaming-hot cheese sauce, living up to the 'ultimate' in its name with thick bacon chili con carne, sour cream, guacamole, pico de gallo, jalapenos & bacon bits for very merry munching (RM40).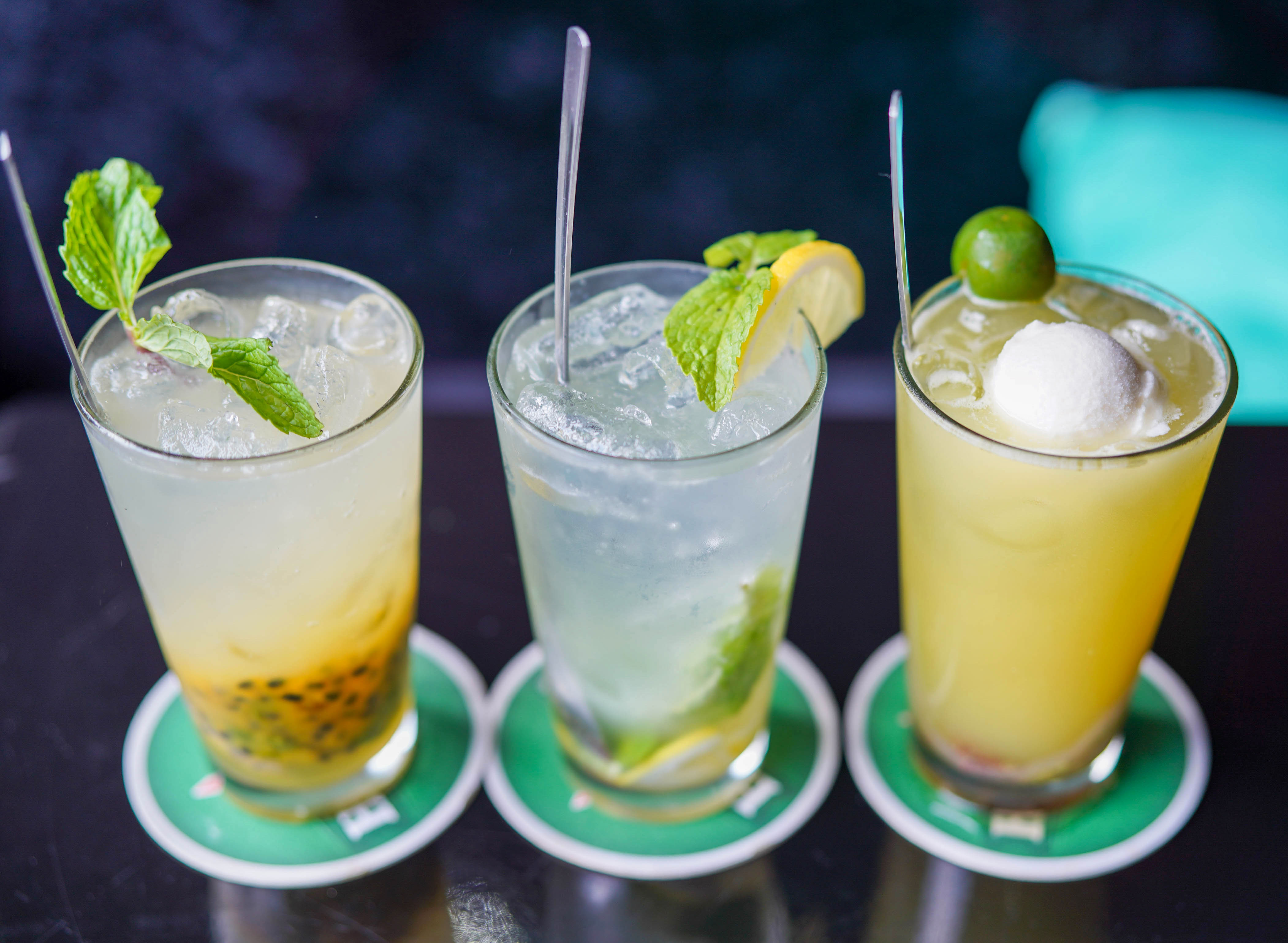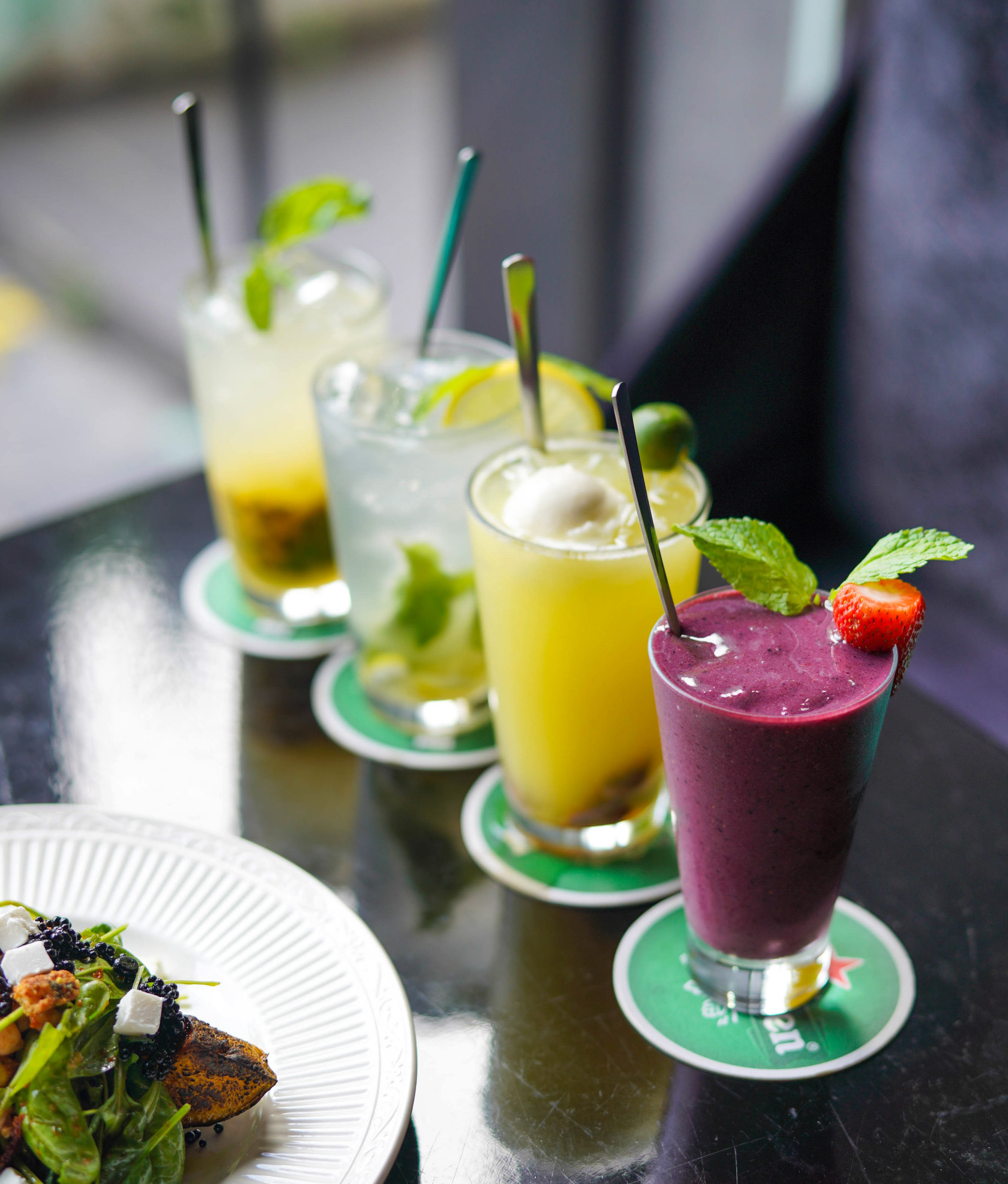 Even Hungry Bacon's beverages aren't an afterthought, crafted with care and mindfulness.
Assam The Bois is a piquant blend of hand-squeezed calamansi and dried sour plum, promising a salty-sweet-sour kick, soothed with calamansi sorbet, while the classic Lemonade is a reviving thirst-quencher, perfectly proportioned with fresh lemon juice, mint and soda,
The beverages are light and wholesome, a lovely counterpoint to heavy cooking. Sip on the Minty Passion, fresh passionfruit pulp with lime juice and soda water, or the Berry Healthy smoothie of blackberries, raspberries, strawberries and yogurt for a nutritious pick-me-up.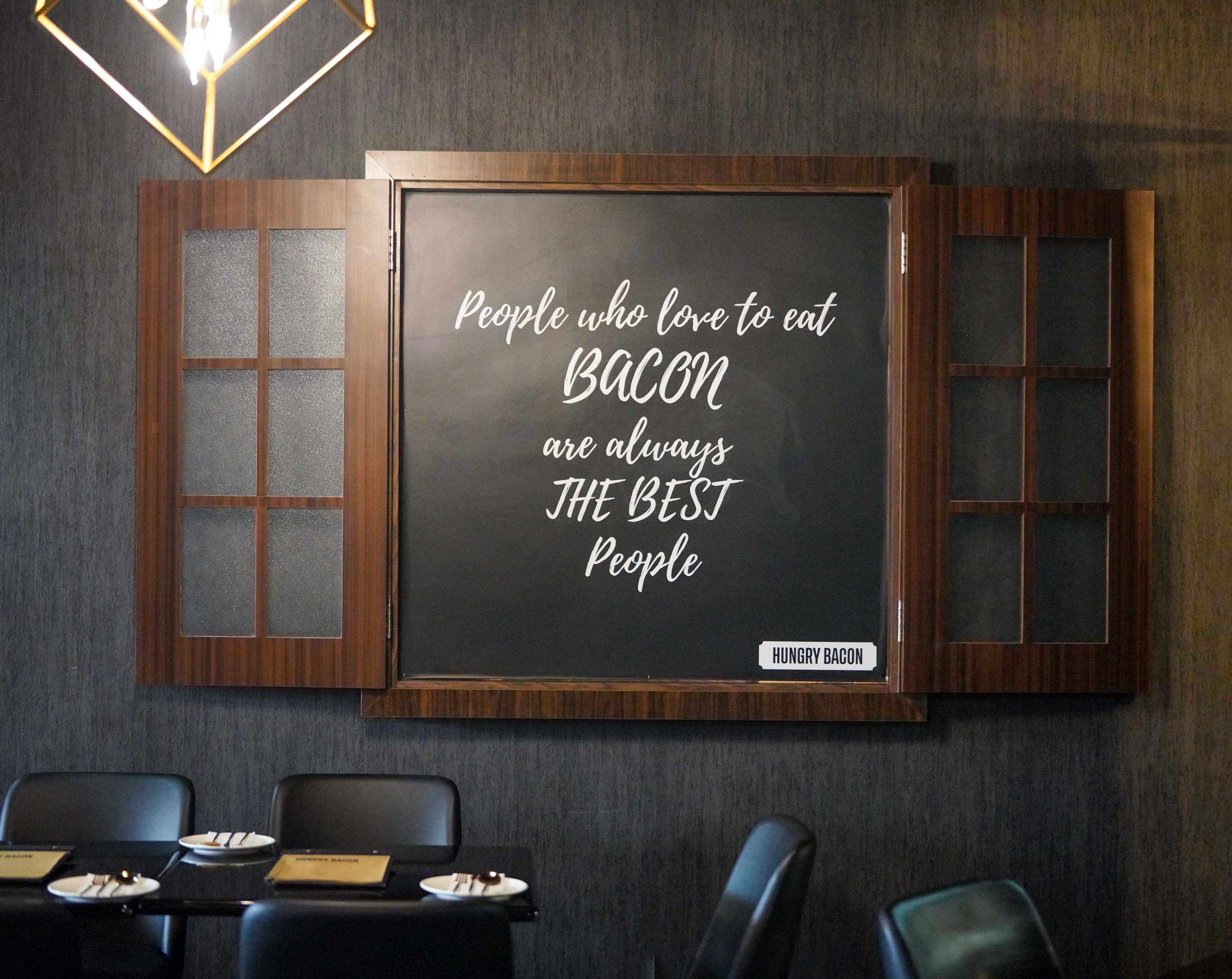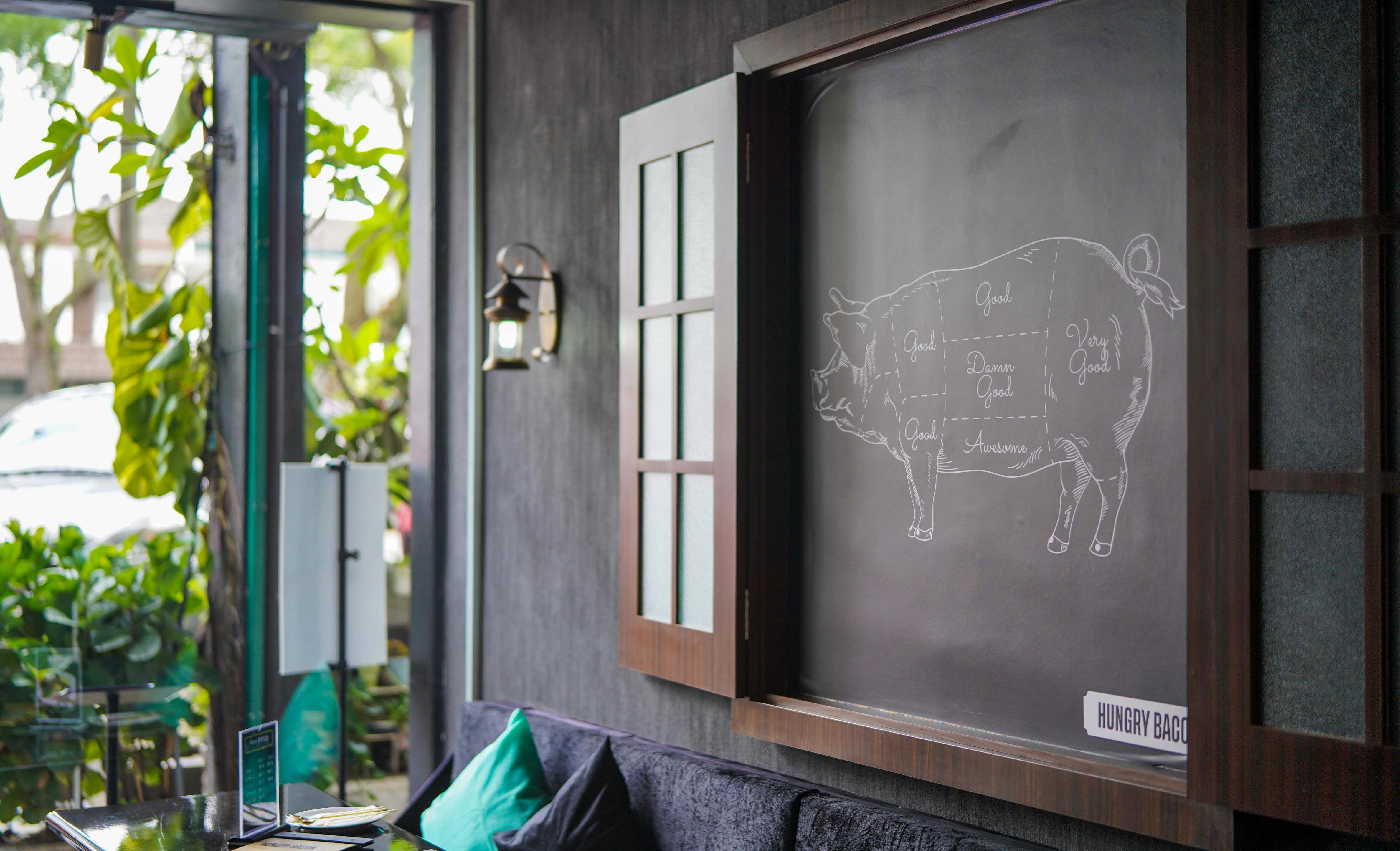 Hungry Bacon
33, Jalan SS 21/56b, Damansara Utama, 47400 Petaling Jaya, Selangor.
Open Tuesday-Friday, 5pm-12am; Saturday, 12pm-12am; Sunday, 12pm-10pm.
Tel: 012-355-0857