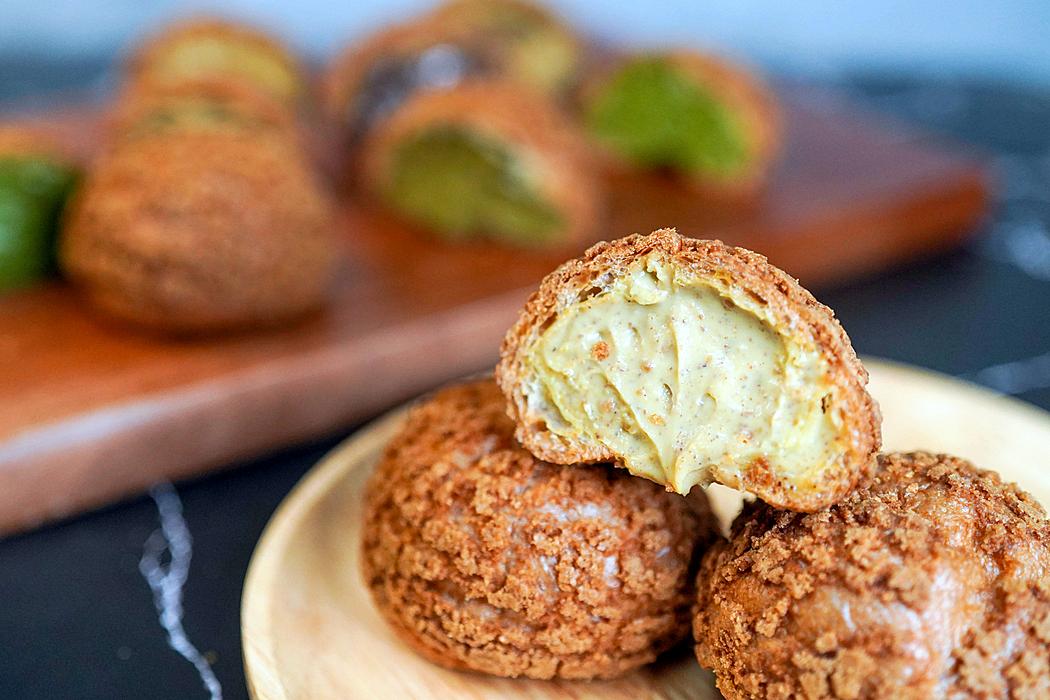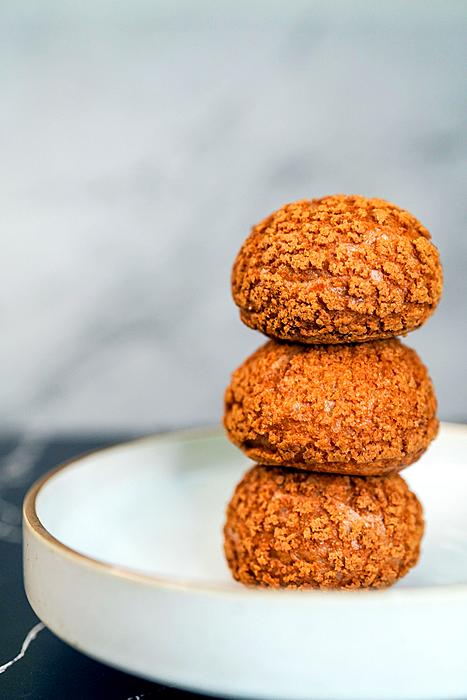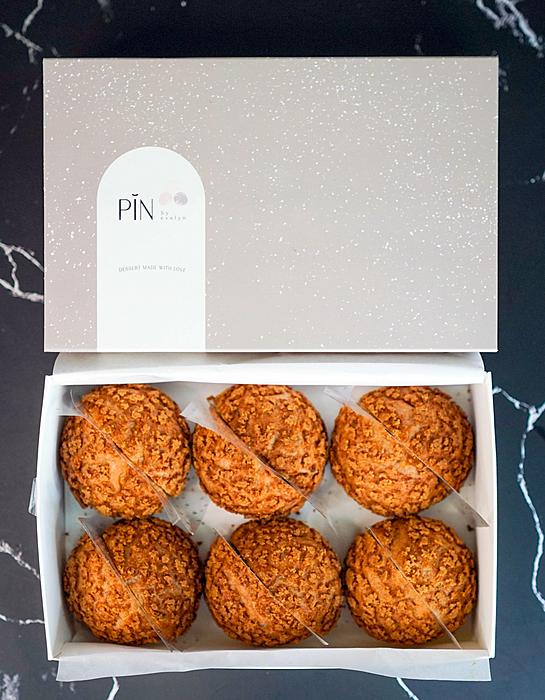 Charming choux au craquelin, the crackly-skinned, crunchy-textured puffs stuffed with custardy cream: Launched in June 2021, Pǐn By Eve's temptations have fast won the hearts of dessert devotees, offered in creative flavours that span oolong longan to pistachio rose.
You might already have tasted Pǐn By Eve's choux without realising it: Niko Neko Matcha relies on these elegant pastries for the matcha, houjiicha and genmaicha choux served at its cafes in Chinatown and Bangsar.
Pǐn By Eve's full selection can be ordered directly from Evelyn and Bryan, the couple who founded this brand, promising choux made with love. During their seven years together, they've long talked about starting a business together. After marrying in 2020, they followed that commitment with this leap of faith.
Why choux? These French-inspired pastries provide the perfect canvas for Evelyn and Bryan's inventiveness, letting them experiment not only with fillings but size, shape and structure.

Evelyn is no stranger to the kitchen. Her mom was her first inspiration at home before she pursued culinary management at Sunway University. She then moved for a time to Australia and earned her professional stripes at Sydney's Black Star Pastry before also working with acclaimed pastry chef Christy Tania.
All those years of training and planning have prepared Evelyn and Bryan to launch Pǐn By Eve as a fully formed product, looking beautiful for your Instagram feed, tasting blissful for your sweet tooth.
Evelyn and Bryan make the perfect team for crafting these picture-perfect pleasures. She spearheads the operational responsibilities, developing new recipes, sourcing ingredients and managing production. He harnesses his accountancy expertise to handle finances and marketing - plus, Bryan also juggles tasks as a full-time dishwasher in Evelyn's kitchen and a taste-tester to provide input on her ideas.
The result: Choux oozing with irresistible allure, inside a golden shell of delicately mixed dough, patiently rising in the oven before it's ready for its close-up, at just RM45 for a box of six flavours.
As you lift it on your fingertips, the craggy exterior feels light and airy to the touch, filled to bursting with thick custard that furnishes real heft to the choux.
It's lovely to the touch and luscious to the bite, fragrantly buttery-crumbly and sugary on the outside, with no skimping on the full-bodied custard within. Deliciously decadent.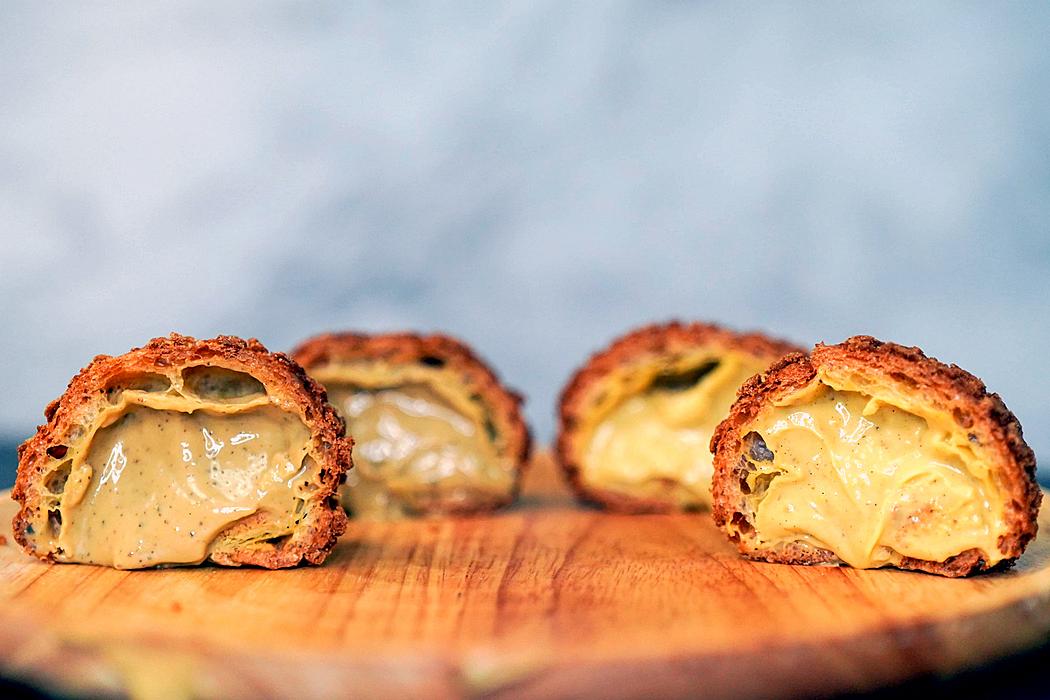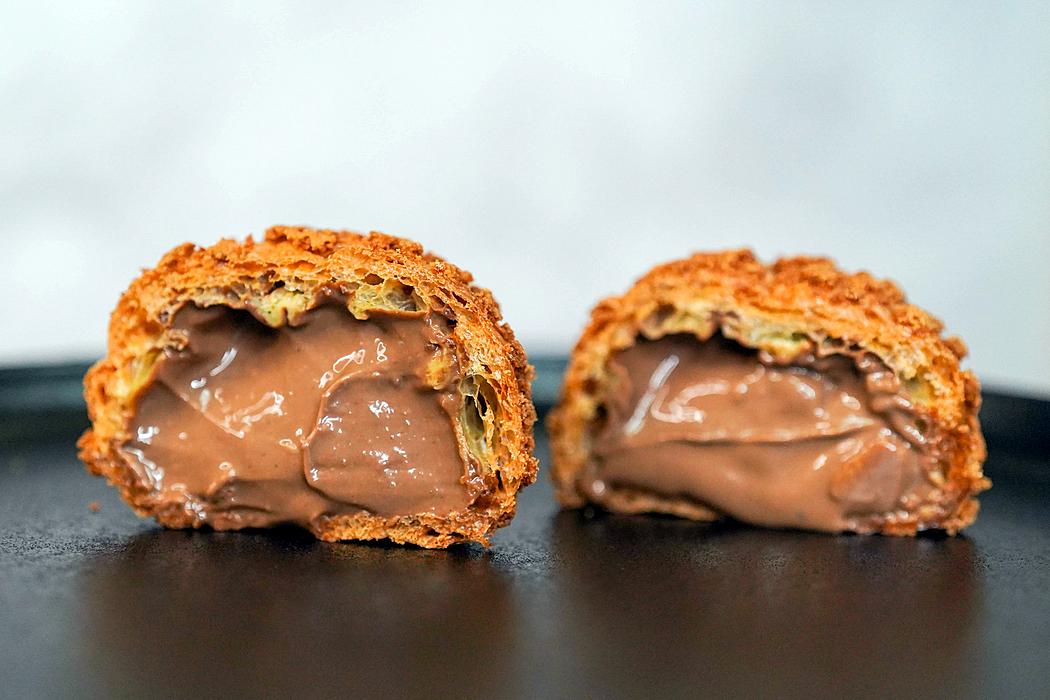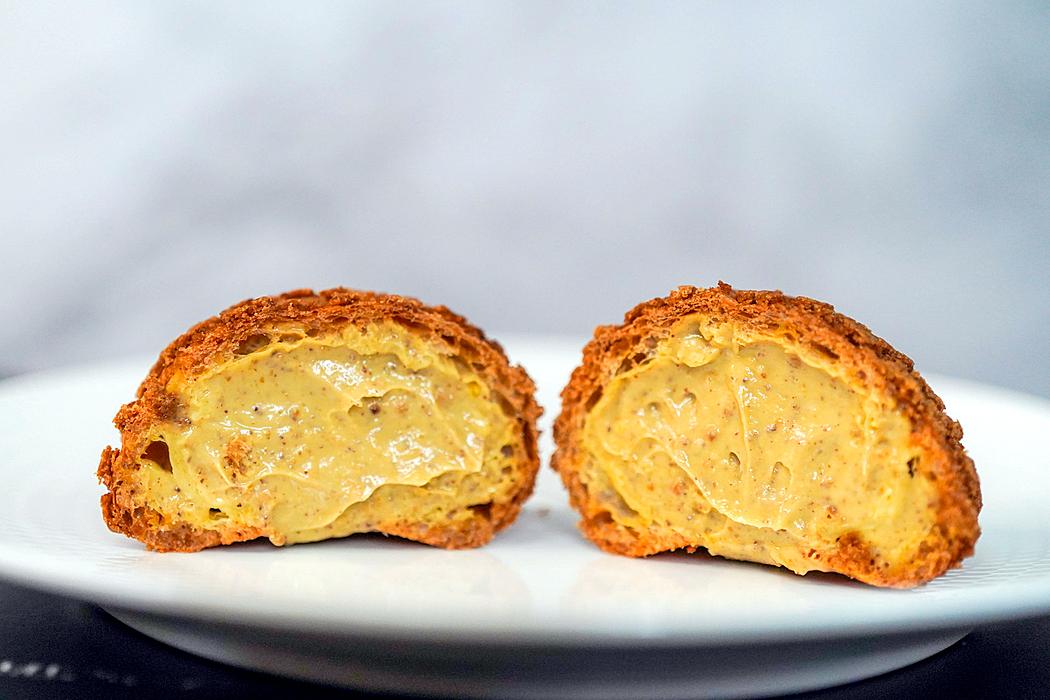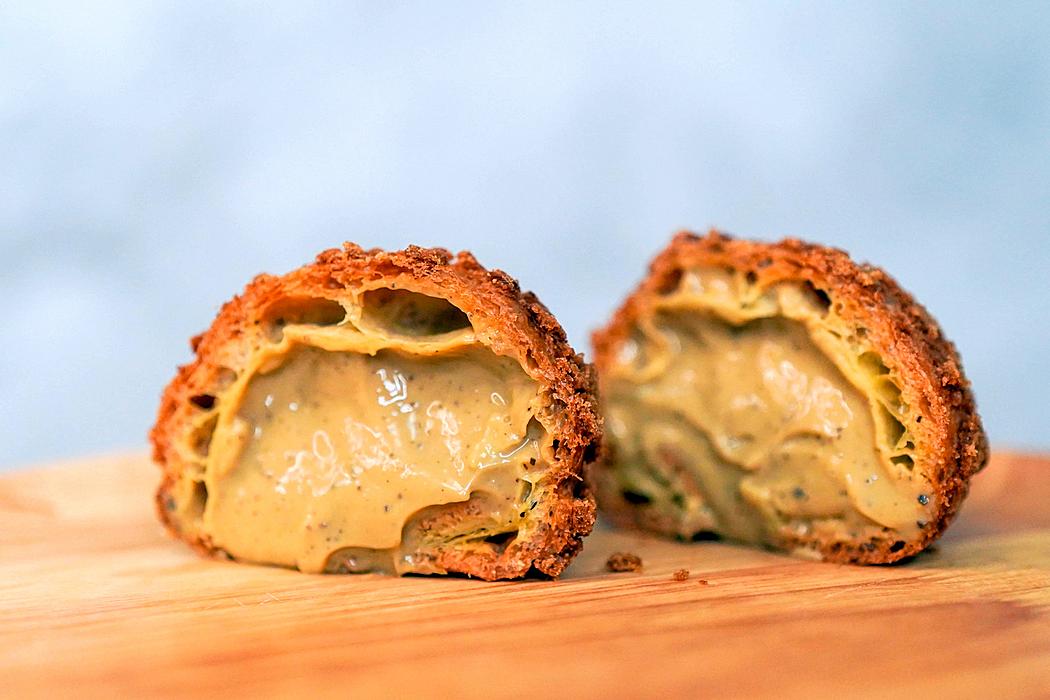 Pǐn By Eve's range of choux hits all the necessary notes, genuinely relying on the best ingredients.
There's Madagascar vanilla, the gold standard of vanilla, for those who favour aromatic simplicity with sweetly subtle complexities.
There's French 63% dark chocolate, an indulgently rich bean-to-bar varietal by Saint-Etienne's 140-year-old Weiss chocolatier.
There's Earl Grey, with smooth, soothing dulcet notes, boldly floral with citrusy undercurrents.
And there's our personal favourite, the nicely nuanced Hazelnut with hints of earthiness to balance out its velvety character, made from scratch with roasted hazelnuts.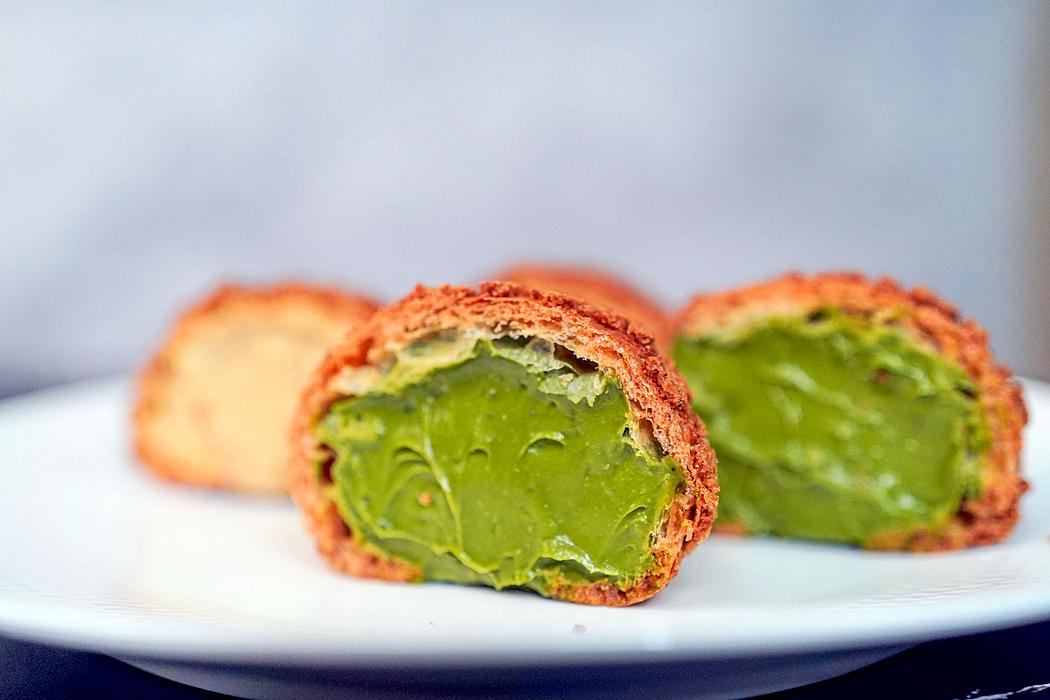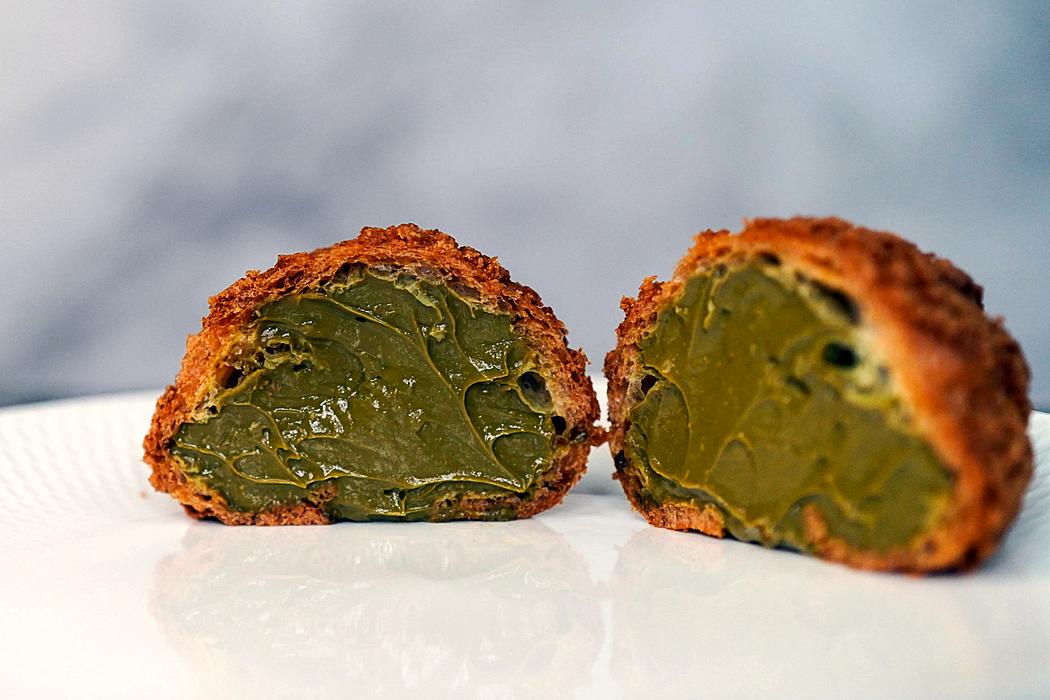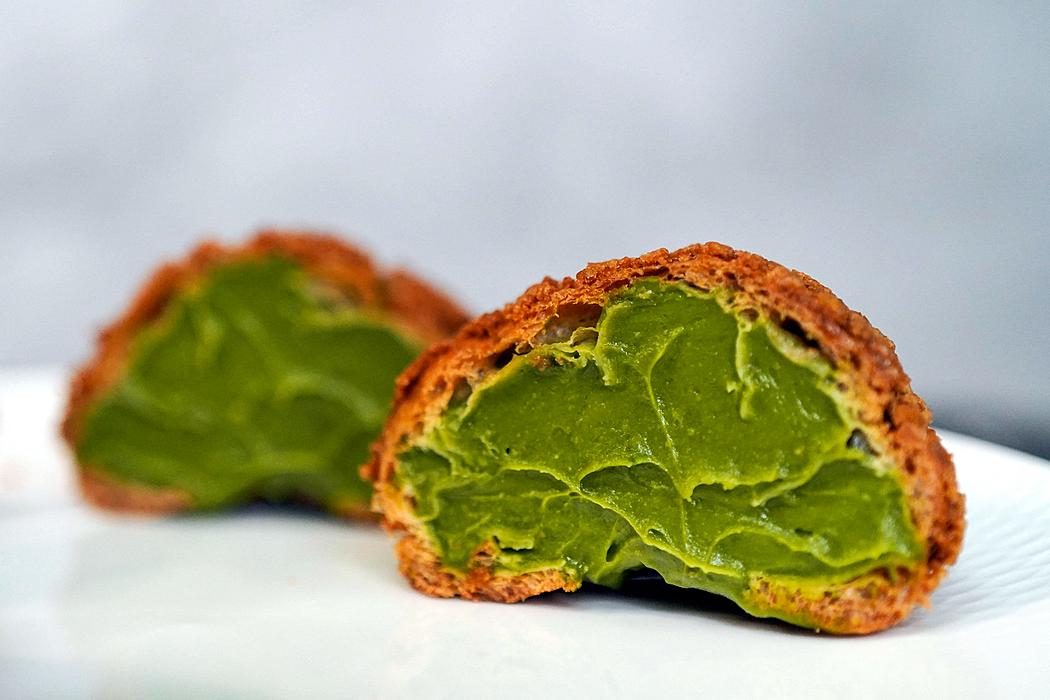 Pǐn By Eve's most original concoction might be the Oolongan, with mildly bitter oolong tea cream punctuated with the fruitiness of longan, ideal for fans of Asian-inflected desserts.
The lineup is still evolving, with newbies like the Yuri Matcha, a Niko Neko classic that channels a Japanese meadow, grassy with a lush vegetation depth and gentle astringency.
Seasonal specials are available, with Niko Neko currently also featured in the Tsubaki Houjicha, its smokiness ending with a fantastic finish of caramel and seaweed, and the Mokuren Genmaicha, toasty like rice crackers, its umami emanating from its blend of shaded green tea and roasted brown rice.
Other recent highlights include Chrysanthemum with Cacao Nibs and Black Sesame with Ginger Gula Melaka Caramel. For the Mid-Autumn Festival, Pǐn By Eve even offered a limited-edition Mooncake Choux series featuring Pandan Lotus Seed, Vanilla Butterscotch, and Matcha with Mango Passion Jelly.
Pǐn By Eve's Yuletide choux set includes new flavours like Pistachio Rose, Chocolate Raspberry and Lotus Biscoff. You can also order Pǐn's Christmas Roulade or a Christmas Tree built with 11 choux and a Christmas Wreath constructed with eight mini choux.

Keep an eye on Evelyn and Bryan - they've been busy with delivery orders, private events and playful collaborations this year, but they also eventually hope to start their own cosy cafe. We'll see you there!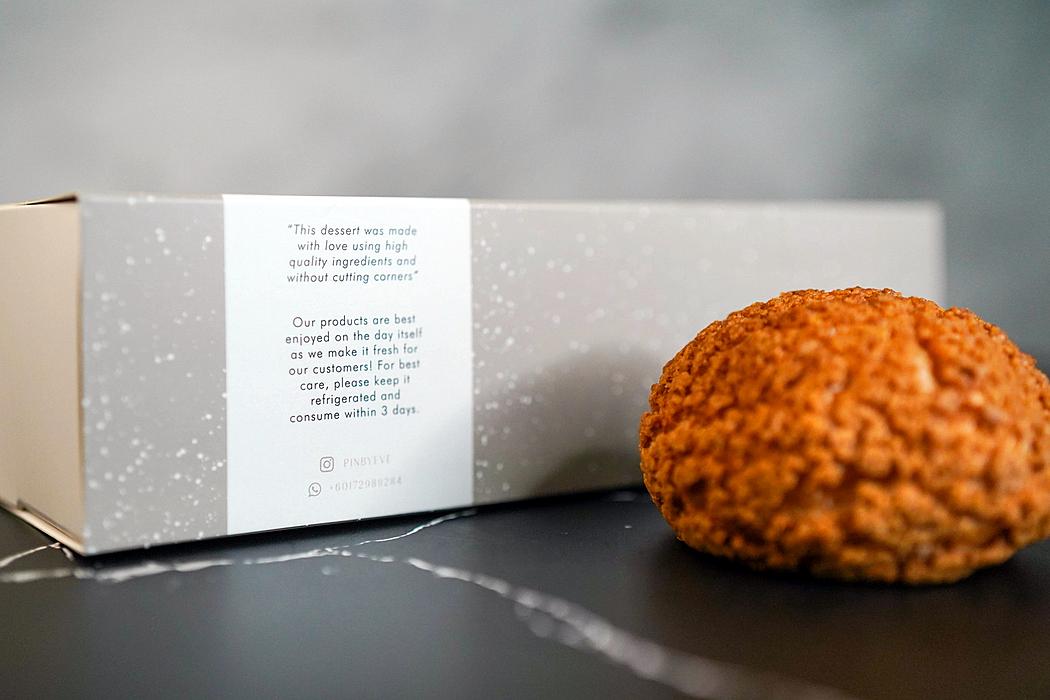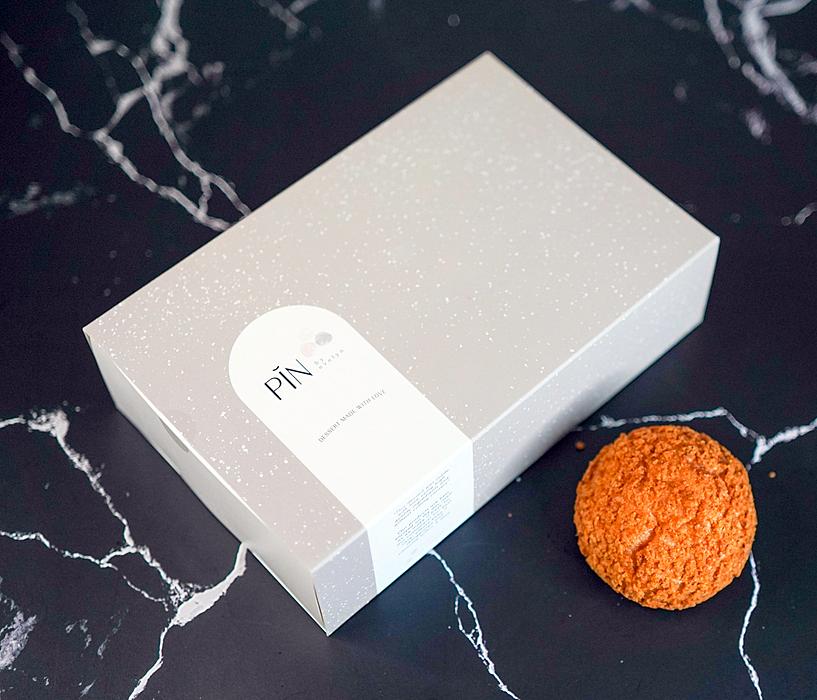 Pǐn By Eve
instagram.com/pinbyeve